This post may contain affiliate links. Please read our full Disclosure Policy.
A home office can sometimes turn into a dumping ground for paper work and odd house hold items that we can't find other places for in our homes. Sometimes a space can also not turn out quite how you want it to the first time around. Over the years, I have renovated our office and craft room areas and LOVE how they have turned out. Follow along as I share some of our best tips for achieving your ideal functional home office and how to choose the right office decor!
Interior Designers hate to see home office spaces crammed into tiny dark spaces or converting a closet in the basement into a work space. Lets face it, even if you don't "work" from home there is always still paperwork and computer work to tend to and it usually is one of those chores that you dread and put off doing.
 A home office should be a space that is inviting and functional. the right room, proper lighting and Choosing the right office decor are important. You want this to be a space you want to spend time in!
We are going to share some inspiration for how you can think outside the box about home office decor and some basic office organization so that your space can be inspiring and practical in one!
My office space has had many uses along the way. It began as a designated craft room area for her work and handmade products for B Vintage. I had a permanent space set up for her sewing machine and a large craft table in the middle. As her business changed and she wasn't making all of her products anymore, her needs for this space changed too. She wanted to have a room that felt more like a studio or office space that could double as a craft room for her kiddos too.
Let us share our mistakes with you so that you can create a home office space with practical office decor that you love! You don't need to have a large designated office to create the space that you need and LOVE too!
Here are a couple before images of some of the previous ways our office and craftroom spaces looked.
My Office Before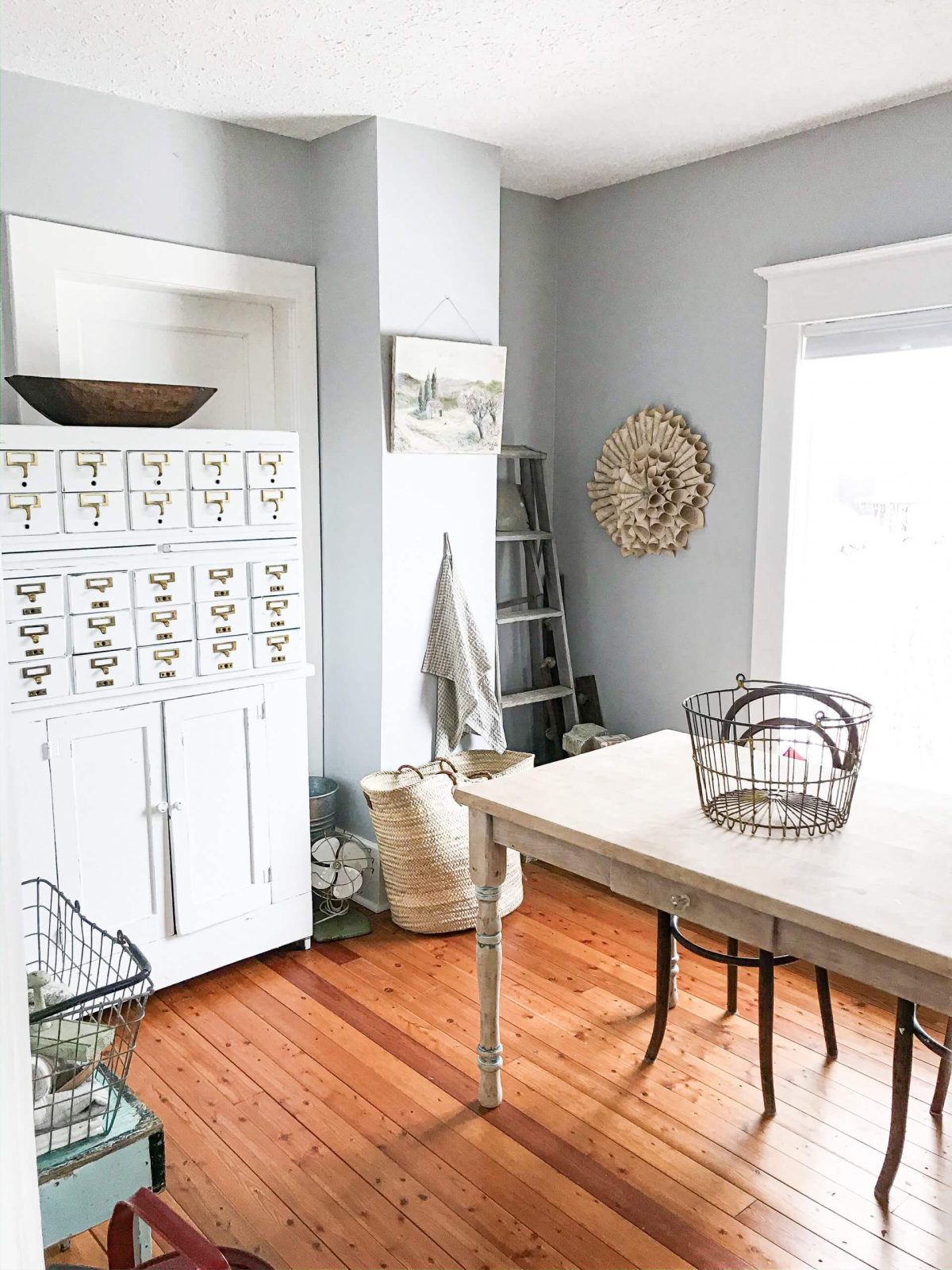 STEP #1 – Choosing the Room & NATURAL Light
Choosing the right space in your home can be more difficult then you think. Yes, there may be an area in the house that seems like it should be the office space but ask yourself if it is a space you could see yourself spending time in? Is there ample natural light, or natrual light at all? So many people think have an office in a dark basement is fine but we promise you that after a few weeks you will feel like you are depressed from it. Choose a space with a window and an open feel to it, you will be happy you did in the long run!
Step #2 – The first step is to think about what is the primary use of your space…
You can start by asking yourself these questions:
Are the kids going to be using it?
Are you simply doing paperwork and books?
Does your main job include working from home?
Are you crafting or creating in this space?
How much time are you spending in this space?
Step #3 – Prioritize & Be Practical with your Home Office decor Needs
The next thing that really changed how we thought about our office was:
What do I really need to have accessible on a daily basis?

What are some of the things that I want to see displayed?

What would inspire me to want to work in this space?
Deb knew this space was going to be used for not only an office but also as a studio space. She also knew that there was an old chimney that ran up the wall and she wanted to try and expose that! Exposing the chimney and paring it with ship lap would be the ideal look in this space. There already was a small closet in the room so she purged all unnecessary items and condensed all her needs to fit into that closet.
The key to organization we have come to realize over the years is that you need to think about areas of your home being more valuable for some items over others! If you put items closer to where they are needed that it is easier to maintain a clean and organized home.
For more organization Ideas you can check out my 10 simple organization ideas!
 You wouldn't put your fridge in the laundry room, just like you wouldn't put your bed in the kitchen. When items in your home have designated areas that actually make sense it really does make life easier.
I had brought coat racks back with me from France last summer and also had this pretty salvaged hook from New York! She painted these the same colour she painted the floors in this room. Hanging it in this space allows her to change up the decor seasonally with out making marks on the walls!
Again, allowing your decor to have 2 functions – 1. Decor 2. Storage. Hooks let us hang things like the market baskets that we carry in our Vintage Society shop, but these items are also pretty and look displayed.
,Make sure the decor you add to your space is inspiring to you in some way. Just because that Ikea desk is affordable, doesn't mean you are going to love how it feels in a room. Invest in one or two items that you love to make the space feel more like YOU!
For both of us, the needs of this home office didn't require a traditional desk with drawers and a rolling chair. I kept my Vintage French café chair in here and every time I walk by this office I WANT TO COME IN! In fact, I am currently writing this post from this very spot! And that is how Deb and I love to create spaces in our homes! The spaces need to be functional but they also needs to inspire you above anything else so that you use the space for its intended purpose.
Both of us painted our floors in these spaces and we LOVE it! Head to our post on painted floors to get step by step tutorial on how we achieved this look and how they are holding up !
Step #4 – Finding the Perfect Location
Okay so what if you don't have a bright office space? First, ask yourself where do you gravitate towards to work on your business stuff? Your bedroom, kitchen island, kitchen table? If you don't have room for an actual desk near one of these spaces then can you put together a portable office? Find a pretty crate to put some of your essentials in, like a couple pens, paper and your laptop and then you can pull it out when you need to work and tuck it away maybe in your bedroom closet of broom closet when its not in need.
Step #5 – Choosing the right office decor
We have both been starting to add ship lap throughout ours home's and wanted to have a ship lap wall's that we could take pictures of our Vintage Society stock against so we knew we wanted to ship lap the entire room's as opposed to just a feature wall.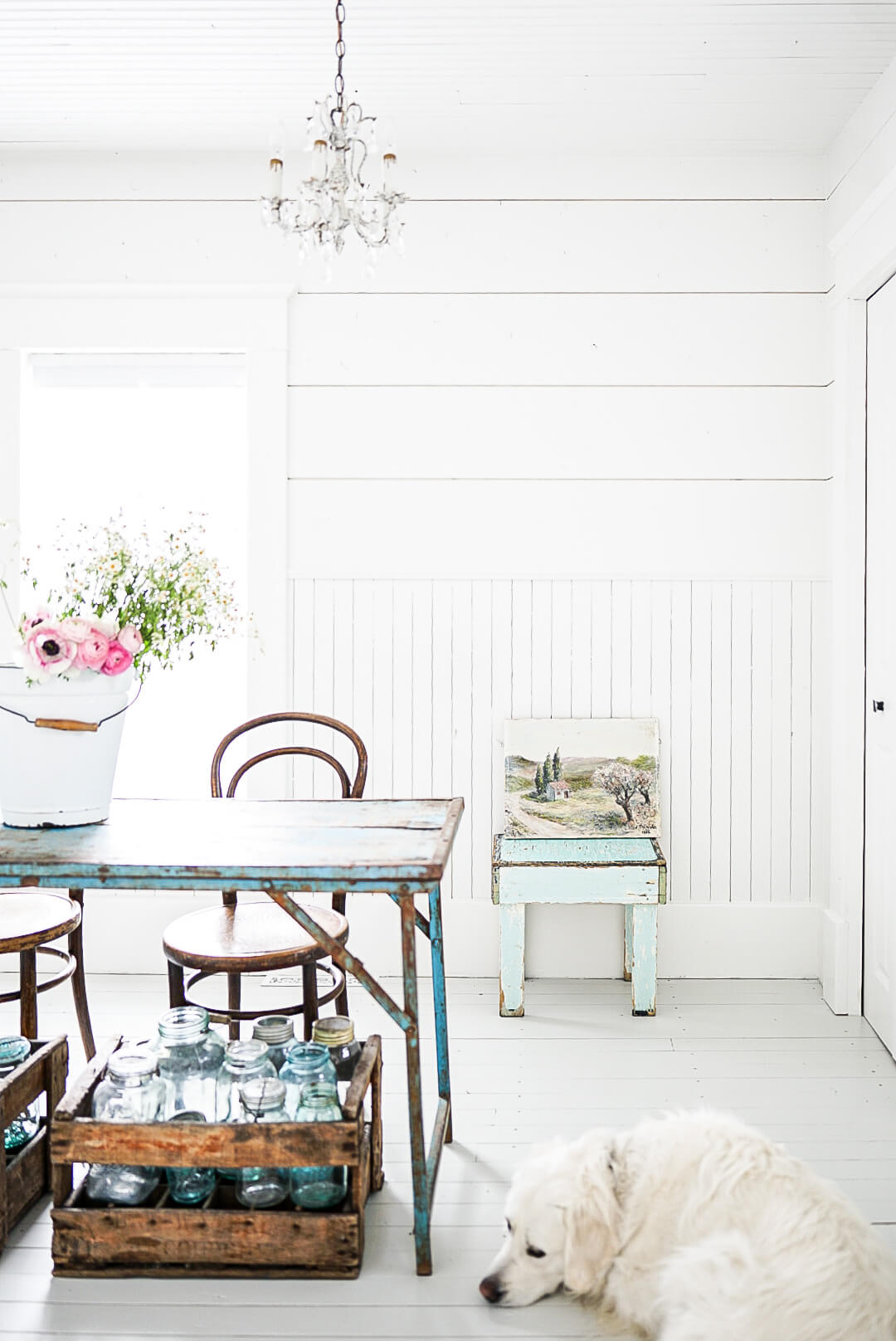 I even went one step further by having custom shiplap wainscotting made. This post on shiplap will show you see exactly how this was done!
Shiplapping was the biggest investment both of us made in these room and we love how it gave this room texture but it also helped cut down on the echo in this small but tall room. The shiplap also gives us more opportunities for hanging things around the room without needing to patch walls if we want to take it down.
Step #6 – How to tie everything together in your Home Office
Now you have all of these ideas and tips BUT how do you actually bring it to life?
1. Start small – purge out your office and minimize where you can.
2. Rethink your office desk and make this the focal point of your space.
3. Give it a facelift – paint, shiplap, wallpaper! Add a pretty element.
4. Try a different layout – trial and error is key.
5. Get creative with hiding cords! We all need cords in our office, but things like large market baskets and crates can hide some of the power bars and computer hubs.
Tip #7. Give yourself some grace – Rome wasn't built over night
So you can't expect spaces to turn out perfect the first time either. The key to creating spaces is to be patient and willing to adjust when things aren't exactly as you had hoped the first time. Or be willing to hire a professional if you would like it done right the first time!