One of the questions we get the most here at Vintage Society from both our clients and on social media, is how to pick the right paint colours for your home. Although there are no right or wrong answers to this, there are definitely some 'go to's' that we use to make the right decision for your home! We wanted to share these 11 tips to picking the right paint colour for your home interiors to hopefully help make the decision a bit smoother and easier.
PICKING PAINT FOR HOME INTERIORS
1. Use Large Designer Samples/ Swatches
There is nothing worse than trying to pick a paint colour by using the tiniest samples on the planet! If you are going to invest the time and money into painting a space, be sure you are 100% confidant in the colour you choose! Ask your paint company if they have designer size samples that you can sign out. These samples are usually larger and will give you a better idea of the true colour when held up in a space. Or spend the money on the small tester size samples so that you can test the colours on the wall and make a proper decision.
2. Think Fashion First
Take a cue from the cloths you wear. You don't buy colours you aren't comfortable in so when picking your paint colours, try to use the same philosophy! It is important that you feel the room is your style first and foremost. If you are someone who loves bold patterns and pops of colour, then don't feel the need to paint your whole home safe neutrals. You want to be able to walk in the space and feel comfortable and confidant just like you would in your favorite outfit!
3. The Importance of Lighting in the interior of your home
There is truly no element more important in the paint choosing process than having the proper light in the room. You don't want to choose the entire colour scheme of your home on a cloudy day! You also don't want to solely depend on daytime lighting for a space if you are going to predominantly be spending the evening hours in the room. It is best to make your decision after you have had the opportunity to see the colour choices in all different lighting.
Also we cannot stress enough to NEVER pick a colour in a paint store. Trying to select the colour for the interior of your home should only be done in the space itself. Every home has its own lighting and undertones. No colour will look the same in every home! We also recommend never choosing a colour simply because one of your favourite home decor influencers uses it. Grab that colour for reference but also grab samples that are similar and choose the colour that you love the most for your homes interior.
4. Use Your Home Décor to Help Decide
If you already have some of the furnishings for the house, then use those to help you make your paint colour decision! Pull a colour from a patterned rug or a favourite throw pillow. If you're wanting a neutral wall paint, try taking one of the whites or beiges from the pattern instead.
5. Work from the floor up
It's a good bet that you will be safe if you follow the rule of starting dark and lighten as you move up the space vertically. This vertical rule begins with a darker shade on the floor, the walls of your home interior can be a light or medium tone and the ceiling can be a light colour or a shade of white as it makes it feel higher! This is a simple concept and is pretty fool proof!
6. Choose your boldness first
When you are picking out the colour scheme for the interior of your home and know you want to have a pop of colour or a bit of boldness, it is a good idea to choose this colour first. Then base the rest of the colours off of it! A lot of paint companies will even showcase varying shades of complementary paint colours on the same swatch! This is always a great starting point to go off of once you have chosen the boldest colour!
7. Use the colour wheel
The colour wheel is a very simple tool that anyone can use to come up with a beautiful space! It uses analogous colours, or colours next to each other on the colour wheel like blue and green, to come up with a beautiful space. This is a great tool to use when you are trying to keep the space casual and comfortable!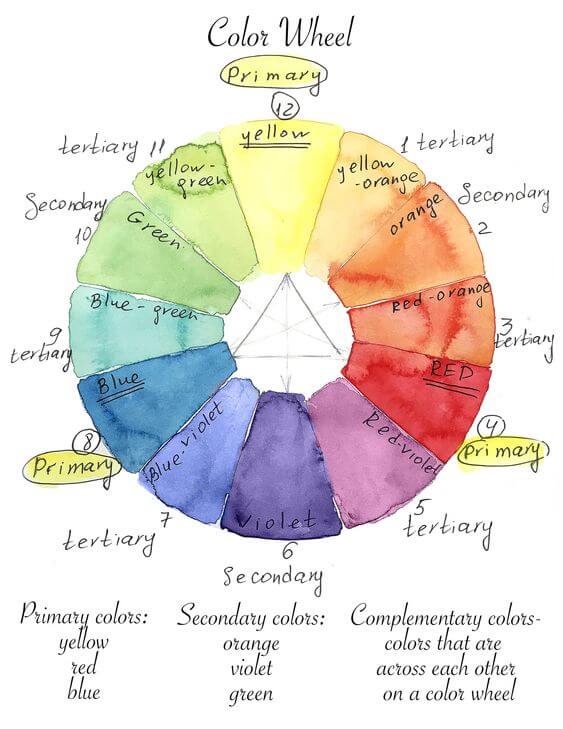 8. 60-30-10 Rule
This is another easy tool that can come in handy when planning paint colours for a space. The rule works like this: 60 percent of the space is the dominant colour (walls), 30 percent is the secondary colour (furnishings) and 10 percent is the accent colour (accessories)! This ratio is great for anyone trying to take on a space without the help of a professional. It also touches on the next tip. The Rule of Three.
9. The Rule of Three
Keeping a space simple is always a good idea. No more than three colours in a space will help make it not feel so overwhelming to the eye. Applying this rule can still allow you to have a major impact on any room! Maybe you work with a white, a light grey and a navy. Big impression with minimal colours.
10. Neutrals are a safe bet
A white room can be interesting. In fact, sometimes an all white or light backdrop is the perfect canvas setting for any space, small or large! The right shade of white is calm, comfortable and casual. When you are choosing a white, you want to be sure you know what you are looking for. Some will have a blue or cool undertone, while others will have a yellow or warm undertone. Both are beautiful choices and just depend on what you are wanting your space to feel like.
The best part of a neutral palette is that it is very easy to change the look of the room for very little cost or effort down the road. Add a few new throw pillows or accessories and you have a beautiful new space! Check out the neutral colour pallet we created for a Vintage Society Client's farmhouse!
11. Size does matter
You really need to have a good understanding of the size of the space when you are picking your room colours. Maybe the area has high vaulted ceilings or maybe it's a small bathroom. Both will require a different approach. One good rule to remember is that light colours work as a highlighter and will make the space and walls feel bigger and further away. Whereas dark colours will make the space feel smaller and the walls will feel closer together. Keep this in mind when you are deciding on any paint colour as it will make a major impact on the decision.
In conclusion, picking a paint colour can be a bit overwhelming unless you have a good idea of exactly what you are wanting out of the space. Using any one of these tips or even a combination of them will help you make a confidant decision and one that you won't have to spend time and money correcting if you aren't happy with the outcome! Here at Vintage Society Co, we offer Interior Design services for those of you who still feel you would like that extra bit of help or another set of eyes on the space before committing! We would love to know if these tips helped you at all so please feel free to leave us a comment below or send us an email! Until next time friends…
Name Email How Can We Help… Send message