This post may contain affiliate links. Please read our full Disclosure Policy.
Stop what you're doing and check out this stunning industrial modern farmhouse! From the concrete floors to the marble countertops, I can't get enough… and then she puts baby ducks in her farmhouse sink! I know you will love this beautiful home as much as I do! As always, please give a warm vintage welcome to my friend Annette, from Azure Farm!

Home Tour Series:
INDUSTRIAL FARMHOUSE
Azure farm
Can you give a brief introduction of yourself, your home
and

work?

Hi! I'm Annette and I live in a small town just north of Atlanta, Georgia. I am a mom to sweet Ava Rose and farm mom to lots of animals! I work as a rapid response nurse part time and love to spend my days off on our homestead spending time with my family and making our house a home. We custom built our home just over 4 years ago and it has been a true haven for us.
What year was your home built and do you have any details of the history or building process you would like to share?
We searched for land for over 7 years and finally found a property we loved. Our home was built just over 4 years ago and my husband served as a contractor. He grew up watching his dad build houses and it was fun for us to design our dream home together. We hired out for part of the work and did some smaller projects on our own. Lots of work and lots of time but we are so grateful for all we did.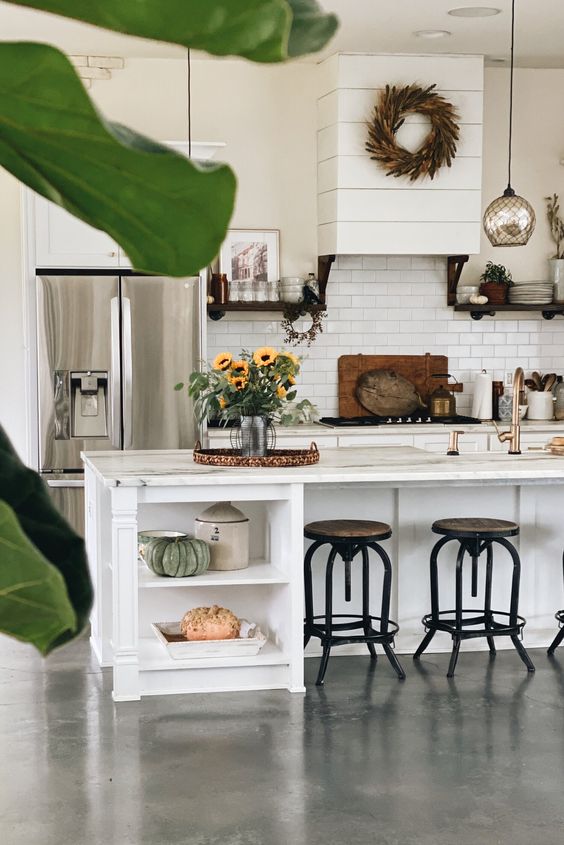 How do you define your decor style? What are your favourite types of decor?
Oh this is hard. I'm a bit all over the place! I love farmhouse style but with a mixture of industrial, modern, and vintage pieces. Is that too many styles? We have concrete floors which I love and definitely makes our house different from the rest. I do love white and have white kitchen cabinets and mostly white walls. Marble countertops were a must have for me. It's all a bit mixed but it's what makes a house a home. I don't think it's good to just stick to 1 style. It's great to infuse special details here and there to truly make the house unique and unexpected.
What is your favourite thing about your home? Do you have a favourite room or furniture piece?
Our main goal was to have lots of natural light and an open feeling. For that reason we have a window in every single room and bathroom of our home. Our main room has a large 20 foot sliding glass door that opens. Bringing the outdoors in was important to us. Our home is in the middle of our property on a hill and we can see the animal pastures behind us and in front. It's a great feeling to look out and see them.
The mantle in our living room is a beam that was pulled out of the savannah harbor and it's quite old. I've always loved it! And I have an antique buffet and mirror in my dining room which I love.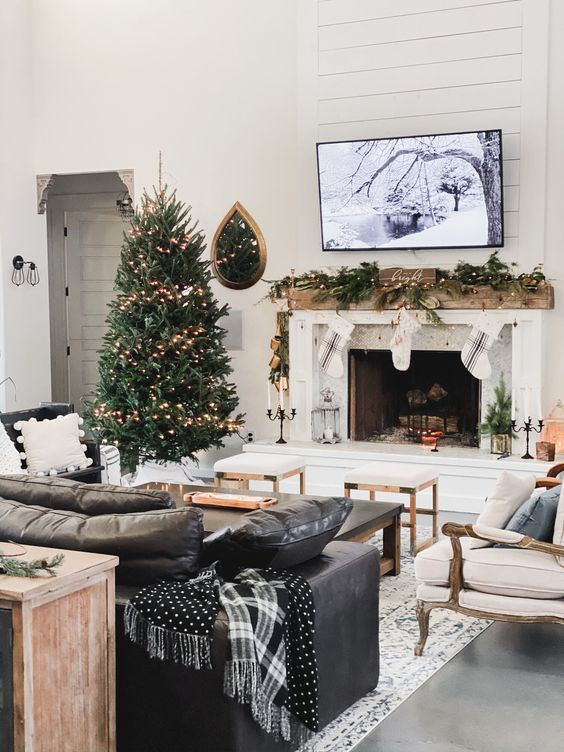 Do you have any big future plans for your home? What is next for you or your home?
I want to add whitewashed beams to our kitchen and main room. It's something we never got around to doing and I hope we can do it before the end of the year!
If you had one design or decor tip, what would it be?
Stay true to yourself and don't follow a trend just because. A house is beautiful and feels like home because it is a reflection of you and your family. Nobody else can replicate that. It's what makes our home different from the rest.
Do you have a business or social media tip you can give to all those who want to start a blog or home decor business?
Be consistent. People will come to you for inspiration because they know you will deliver. Post regularly and interact with your followers.
We aren't done obsessing over this beautiful farmhouse so if you need us, we will be over on Annette's feed @azurefarm creepin' on all her farm cuteness. remember, we love hearing from you, so let us know what you think of these home tours in the comments below.