This post may contain affiliate links. Please read our full Disclosure Policy.
Farmhouse Fall Decor
If you had the option to build a house from scratch or take on an old fixer-upper, what would you choose? Don't answer that just yet, because this home tour is about to change your whole perspective. As always, please give a warm vintage welcome to Rachel from Sugar Maple Farmhouse.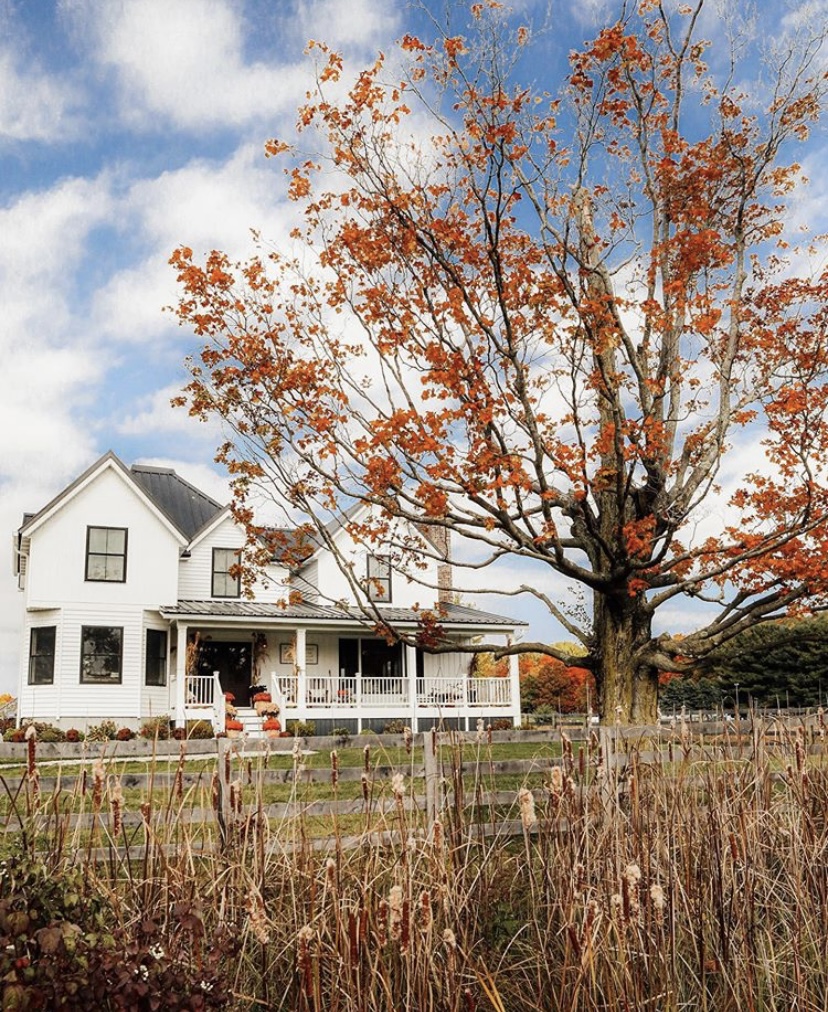 Home Tour Series:
sugar maple farmhouse
Can you give a brief introduction of yourself, your home
and

work?

I'm Rachel from sugarmaplefarmhouse.com and used to be a suburban, stay-at-home mom from Illinois with two kids. Then two years ago, on a whim, we decided to sell our home and buy a farm in Michigan. We fell in love with a little 7 acre property with a home that was originally built in 1900 but had been completely remodeled in 2017. We shocked everyone with this move – even ourselves. Neither my husband Kevin nor myself had ever lived in the country, but we dove in. We started remodeling the house a little more, rebuilt a barn and quickly added chickens and dogs to the family.
Shop Fall Farmhouse Decor

Now, two years in, I feel like we are really just getting started. We built a ¼ acre garden this summer and added a greenhouse, which has been a dream of mine. We have more remodeling planned to add some character back to this home (which was stripped out somewhere along the way), plans for two more barns and will soon be welcoming donkeys and a horse to our home. Next spring ducks are coming and we will hopefully start construction on a space for a large workshop and a store. In addition to all of that, my husband is living out a dream and creating a brewery space in one of the barns. We've been having the best time with our little slice of Earth and can't wait to see what happens next.
What year was your home built and do you have any details of the history or building process you would like to share?
Our home was originally built in 1900. Then it was remodeled in the 80's and an addition was added. In 2017, the house went through a major renovation. Everything was stripped out and while we love that it gives us a fresh space, we can't wait to add more of the historic touches back in. We already remodeled the mudroom space and added an office for me. Then we remodeled upstairs to make a true master with a good closet and dedicated bathroom with a gorgeous vintage tub. Last summer we remodeled our barn, by tearing half of it down and rebuilding a space for all of our out-of-town family and friends to stay.
How do you define your decor style? What are your favourite types of decor?
My decor style – when I get to do everything I want to a T – is somewhere between modern farmhouse with hints of modern French Country. My style is also a big work in progress. I felt like I've needed this time with the house to understand it's space and then to understand who I was in this space to really create a style that was all my own.
My favorite type of decor is really a very modern French country decor. I like straight lines but then I like a little flourish. I love fresh florals and a simple pieces that have character. My favorite furniture pieces right now are vintage, scrubbed pine pieces that I've found at stores around here. I found a gorgeous French side table from the 1800's, a stunning Secretary desk and my new, old desk that is actually a vintage work bench with a lot of dings, gauges and dents. Over the last year I've really been finding pieces that I love and they have started to shape my design style.
Farmhouse Fall Flowers to Use for Decor

What is your favourite thing about your home? Do you have a favourite room or furniture piece?
My favorite room is the "adult room" which is the living room in the old part of the house. It has a bay window space and on the opposite wall is a buffet that I actually designed and had built for our Illinois home. We lucked out that it fit here too. The light in this room is also beautiful. One day, I actually hope to move the buffet out and have library shelving built in. I've always wanted a library and I enjoy reading in this room a lot. We call it the "adult room" because we don't allow our kids to have toys in it. That makes it a really calming, peaceful place to read, talk and just be around one another without stepping on Legos or having electronics blaring.
I also love our master bathroom. It is the one room in the house that's done. When we converted it to a dedicated master we added a double sink to the space. I designed the sink vanity and I'm in love with it. It's a gorgeous wood color with enough space for us both without being massive. We continued some subway title up the wall and added two pharmacy mirrors too. With a walk-in shower, a vintage claw foot tub, a pretty tiled floor that has more of the French Country feel and the vanity, I think it's one room that will stand the test of time.
Do you have any big future plans for your home? What is next for you or your home?
So next is the barn of the donkeys and then the barn for the store and workshop. The donkey barn will be done by mid-November and the new barn will hopefully happen next spring. I'd also like to finish the basement for the kids. Long term plans include knocking out a wall in the house to build a more formal space for the dining room table. I love the idea of open concept, but I cook a lot and I hate seeing the cluttered kitchen while we eat.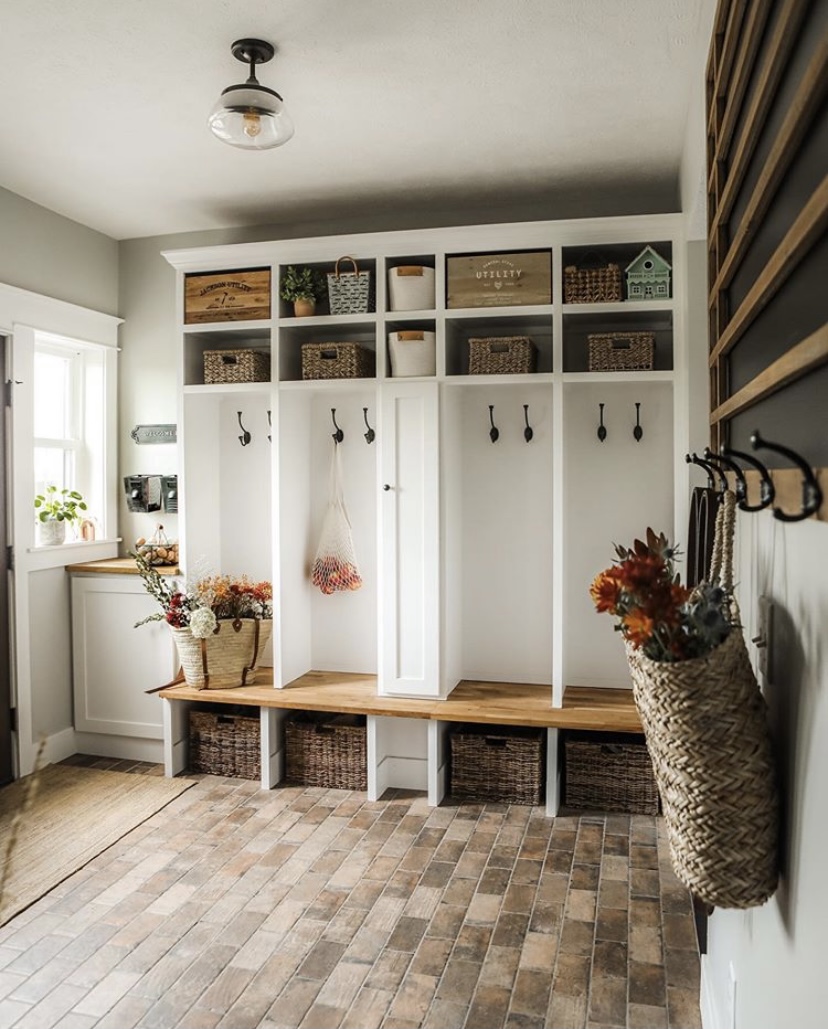 have you seen this industrial farmhouse from Azure Farms?
If you had one design or decor tip, what would it be?
I would say, sit with your space if you can. I sometimes find people jump into filling a space or doing projects too soon, and in doing that, sometimes there's design or pieces of furniture that you end up not loving. I even have that here. But the longer I'm in my space, the more I understand what I need to make it work for our family or how I want it to look to reflect our family. Obviously, you can't always wait to buy a couch or a bed, but when you can wait, take a beat and let the space sink into you and you into it. Whenever I do this, I'm always much happier with how our space looks. And I'm always more thrilled with a vintage piece of furniture I've found versus a new piece that looks great in someone else's Instagram feed.
Do you have a business or social media tip you can give to all those who want to start a blog or home decor business?
In terms of blogging, I would say make it your's. Be true to yourself, your home, your ideas and your family. Our farm blog is actually my second blog. I started with a mom blog, but I soon found out that I didn't want to write about all the mom experiences – especially once my kids started getting older. Then I found myself writing about parenting tips and recipes, which I was passionate about, but no longer reflected the changes in me as a person. When I started this blog, I kept the recipes because I love to cook and bake, but I also added back in the "us" piece. I really started making this blog about what we are doing, learning and loving at the moment. Because of that, I feel more myself than I have in years.
As for a home decor business, I don't have that – yet. 😉 But a blog is an awfully good place to show off all your work.
And so I ask you again; if you had the option to build a house from scratch or take on an old fixer-upper, what would you choose? Let me know in the comments below.