This post may contain affiliate links. Please read our full Disclosure Policy.
Peach crumble with oats is a classic dessert with juicy, sweet peaches and a crunchy, buttery topping. This crunchy crumble is the perfect treat to enjoy warm with a scoop of vanilla ice cream.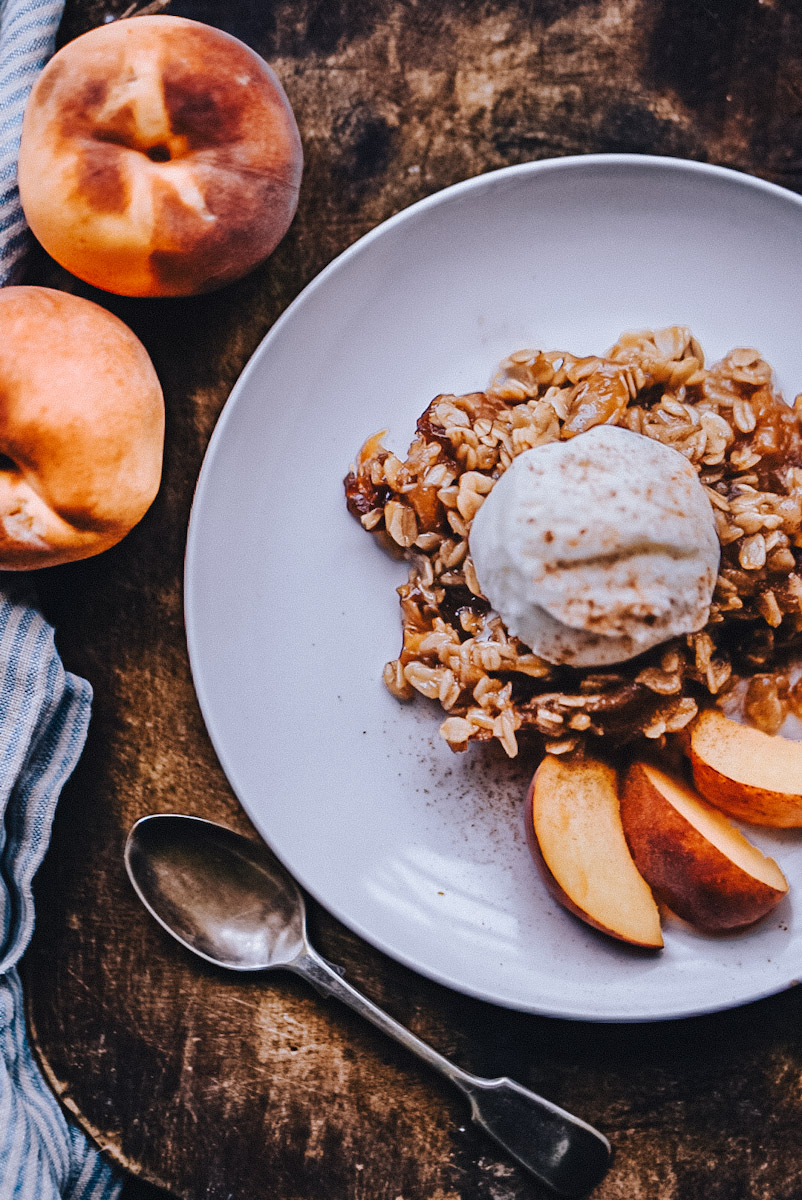 My family LOVES it when I make any crisp or crumble for dessert, and honestly, I find crumbles so easy that I don't mind at all! This easy peach crumble recipe is a classic dessert that can be perfect for any occasion, but it is especially good with fresh peaches during peach season! It's buttery crumble topping, and juicy peaches make it a dessert that's hard to resist.
Why You'll Love This Peach Crumble
There are plenty of reasons why we love this simple crumble recipe. Firstly, it is a great recipe to make last minute, and it is an easy dessert that can be made with just a few simple ingredients. Secondly, combining juicy peaches and a crunchy topping made of flour, sugar, and butter is simply irresistible. Lastly, it is a versatile recipe that can be customized to suit any taste preference by adding spices like cinnamon, ginger, or nutmeg or using different types of fruit like apples or berries.

Picking The Best Peaches
So, let's dive into this easy and delicious recipe! The first, and maybe the most important, step is to use the freshest peaches! Like any other crisp recipe, it is always going to taste better if you have fresh fruit for the fruit filling. Here are a few tips on what you should look for:
Look for ripe peaches that are firm but not too hard. They should give slightly when gently pressed.
Check the color of the peach. A ripe peach skin should have a deep, rich color and be free of any green patches.
Smell the peach. A ripe peach should have a sweet, fragrant aroma.
Avoid peaches that are bruised or have soft spots.
If you are buying peaches that are not yet ripe, store them at room temperature until they are ready to eat. You can speed up the ripening process by placing them in a paper bag with a ripe banana or apple.
So what do you do if you want to make peach crumble and peaches aren't in season? Simply use canned peaches or frozen peaches instead!
Peach Crumble Ingredients
A delicious peach crumble starts with a few simple yet essential ingredients easily found in most local stores. Focusing on quality will help to ensure the best possible end result.
Filling
Peaches – The star of the dish, peaches should be ripe, juicy, and flavorful. Fresh peaches are ideal, but canned or frozen can be used as a substitute. A peach crumble typically requires about 5-6 cups of sliced peaches.
Flour – Used in the crumble topping, all-purpose flour works well for this recipe. Usually 1 cup of flour is enough for a standard-sized dish.
Sugar – Both white granulated sugar and brown sugar are needed. Granulated sugar sweetens the peach filling, while brown sugar adds a caramelized flavor to the topping. Adjust the amount of sugar to suit personal taste preferences.
Optional
Lemon Juice – The acidity in the lemon juice balances the sweetness of the peaches, and creates an additional layer of citrus flavor. The lemon will also help keep the vibrant color of your peaches from going brown.
Cornstarch – For thickening, and turning the liquid from the peaches into the most delicious syrup.
Ginger – I love to add a touch of ginger or cinnamon in my crumble filling. The spice compliments the sweetness of the fruit filling perfectly.
Crumble Topping With Oats
Butter – Cold, unsalted butter is used in the crumble topping to achieve the desired texture. Cut the butter into small pieces or use a grater to make it easier to incorporate into the flour mixture, typically using around 8 tablespoons or 1 stick. Slightly melted butter will work, too.
Oats – Rolled oats add a nice crunch to the crumble topping. Using 1 cup of oats is common in many recipes for the perfect balance of texture.
Spices – Various spices can be used to enhance the flavors of a peach crumble. Cinnamon, nutmeg, and even a pinch of salt are popular choices. Adjust the amounts to suit individual tastes, starting with 1 teaspoon of cinnamon and 1/4 teaspoon of nutmeg.
Nuts – Pecans, walnuts, or almonds can add a tasty crunch to the crumble topping.
Variations
Although this is a pretty low-calorie and healthy dessert, I always love to include a few variations for you to try, but I recommend trying the recipe as written the first time. Afterward, you can mix things up and try experimenting with any of these different ingredients and variations.
Fruit Filling: ​You can substitute peaches with other fruits like apples, berries, plums, or pears to create different variations of the crumble.
Crumble Topping: Instead of using a traditional crumble topping made with flour, sugar, and butter, you can combine oats, nuts, and seeds to make a healthier and crunchier topping.
Spices: Adding spices like cinnamon, nutmeg, or cardamom to the crumble topping adds extra flavor and warmth.
Sweetener: Instead of white sugar, you can use brown sugar, honey, or maple syrup to sweeten the crumble.
Flour: You can use gluten-free or almond flour to make the crumble gluten-free.
Dairy-free: To make the crumble dairy-free, you can replace the butter with coconut oil or vegan butter.
How To Make This Peach Crumble With Oats
For the full step by step directions, see the printable recipe card at the end of this post!
Preheat your oven to 350°F (175°C).
Wash the peaches thoroughly to remove any dirt or pesticides. Peel the peaches (optional) if you desire; I prefer to leave mine on for added texture and nutrients in the skin.
Slice the peaches into even-sized pieces and remove the pits.
Toss the peach slices in a small bowl with sugar and lemon juice. This will help to bring out their natural sweetness and add a touch of acidity to balance the flavors. Allow the peaches to macerate for about 20 minutes before moving on to the next step.
In a separate bowl, whisk together the flour, brown sugar, oats, salt, and cinnamon. Then, cut in the cold butter pieces using a pastry cutter or a fork until the mixture resembles coarse crumbs. Make sure there are no large clumps of butter remaining, as they may result in uneven baking and texture.
Grease an 8×8-inch (20×20 cm) baking dish or individual ramekins with butter or cooking spray.
Fill the baking dish or ramekins with the macerated peach slices, arranging them evenly.
Sprinkle the crumble topping over the peaches, covering them completely.
Bake the peach crumble in the preheated oven for about 35-45 minutes, or until the topping is golden brown and the peaches are bubbling around the edges.
Once the peach crumble is finished baking, let it cool for about 10 minutes before serving. It's best enjoyed warm, with a scoop of vanilla ice cream or a dollop of whipped cream on top.
Tips and Tricks
Choose the right peaches: Remember that fresh, ripe peaches will have the best flavor and texture for your peach crumble. If they're too hard, they won't cook down properly, and if they're too mushy, they might become too watery during baking. Look for firm peaches with a slight give when pressed gently.
Adjust baking time as needed: Since ovens can vary greatly in temperature, always keep an eye on your peach crumble as it cooks. If it seems to be browning too quickly, you might need to lower the oven temperature or cover it with aluminum foil.
Use cold butter when making the crumble topping to prevent soggy crumble topping. Cut butter into small cubes before incorporating it into the dry ingredients. This will help create a crunchier texture.
Avoid over-baking the crumble, which can lead to a dry texture.
If your peach crumble becomes too watery, add a thickening agent like cornstarch or flour to absorb some excess liquid. Sprinkling the thickener over the sliced peaches before adding the crumble topping can also help.
Pre-cook the peaches (optional): If you prefer a softer peach filling, you can cook the peaches beforehand. This will help soften the fruit and allow some excess liquid to evaporate, helping prevent a watery crumble.
Spice it up: Don't be afraid to experiment with different spices and flavorings. Cinnamon, nutmeg, and ginger are common additions that can enhance the flavors of your peach crumble.
Storing and Reheating Peach Crumble
To store your peach crumble, follow these simple steps:
Allow the crumble to cool completely after baking. This should take about 30 minutes.
Wrap the dish in plastic wrap or aluminum foil. This will prevent the crumble from drying out or absorbing other flavors in the refrigerator.
Place it in the refrigerator. Peach crumble can be stored in the fridge for up to 5 days.
When you're ready to enjoy your peach crumble again, simply reheat the dish.
Oven: Preheat your oven to 350°F (175°C). Remove the plastic wrap or aluminum foil and cover the dish with a new piece of foil, leaving a small opening for steam to escape. Bake for approximately 30 minutes, or until the crumble is heated through and the topping is crispy.
Microwave: Remove the plastic wrap or aluminum foil and place the peach crumble on a microwave-safe plate. Cover with a microwave-safe lid or another plate to retain moisture. Reheat at 50% power for 1-2 minutes, or until warmed through.
Other Delicious Desserts
Frequently Asked Questions
How can I make a healthy peach crumble?
To make a healthy peach crumble, substitute refined sugar with natural sweeteners such as honey or maple syrup. A reduction in sugar is also a viable option. Opt for whole wheat flour instead of all-purpose flour to increase fiber content. Also, replace butter with healthier alternatives like coconut oil or olive oil, and consider adding nuts or rolled oats to the topping for extra nutrition.
What is the difference between a peach cobbler and a peach crumble?
A peach cobbler is a dessert with a fruit filling that is topped with a thick, biscuit-like dough and baked. It often has a soft, cake-like texture on top. On the other hand, a peach crumble has a fruit filling covered with a crumbly topping made from flour, sugar, and butter. The topping is typically more crunchy and crisp compared to a cobbler. Both dishes are baked and can be served with whipped cream or ice cream.
Can I use canned peaches for a peach crumble?
Yes, canned peaches can be used for a peach crumble. Drain the canned peaches thoroughly and pat them dry with a paper towel to remove excess syrup before using. This ensures that the fruit mixture does not become too soggy or overly sweet. It is important to note that the texture and flavor may slightly differ from using fresh peaches, but the result will still be delicious.
Print Recipe
Peach Crumble with Oats
Peach crumble is a classic dessert with juicy, sweet peaches and a crunchy, buttery topping. This crunchy crumble is the perfect treat to enjoy warm with a scoop of vanilla ice cream.
Ingredients
Peach Crumble Filling
6

large

peaches, or 6 -7 cups peach slices

ripe, sliced and optionally peeled

1/4

cup

granulated white sugar

1

teaspoon

vanilla extract

pure

1

tablespoon

cornstarch

optional

1/2

tsp

ginger

optional
Crumble Topping
1/2

cup

flour

all-purpose

1/2

cup

old-fashioned rolled oats

large flake

1/2

cup

brown sugar

lightly packed

1/2

teaspoon

cinnamon

ground

1/4

teaspoon

salt

kosher

1/2

cup

unsalted butter,

chilled and cut into small pieces or slightly melted
Instructions
Preheat your oven to 375°F (190°C).

Combine the sliced peaches, granulated sugar, and vanilla extract in a large bowl. Add the cornstarch if desired. Toss until the peaches are coated evenly.

Transfer the peach mixture to a 9-inch square baking dish or a 9-inch pie dish.

In a separate medium bowl, whisk together the dry ingredients. Combine flour, rolled oats, brown sugar, cinnamon, and salt.

Add the chilled butter to the bowl and use a pastry cutter or your fingers to work the butter into the flour mixture until it resembles coarse crumbs. Or if you are using slightly melted butter, drizzle and stir the mixture together.

Sprinkle the crumble mixture over the peaches, covering them evenly.

Bake the peach crumble for 30-40 minutes or until the crisp topping is golden brown and the peaches are tender.

Remove the crumble from the oven and let it cool for a few minutes before serving.

Serve the peach crumble warm with a scoop of ice cream or whipped cream if desired.
Nutrition
Serving:
1
serving
|
Calories:
255
kcal
|
Carbohydrates:
39
g
|
Protein:
3
g
|
Fat:
11
g
|
Saturated Fat:
7
g
|
Polyunsaturated Fat:
1
g
|
Monounsaturated Fat:
3
g
|
Trans Fat:
0.4
g
|
Cholesterol:
27
mg
|
Sodium:
85
mg
|
Potassium:
187
mg
|
Fiber:
2
g
|
Sugar:
27
g
|
Vitamin A:
696
IU
|
Vitamin C:
5
mg
|
Calcium:
22
mg
|
Iron:
1
mg