Charming homes always hold a place in our hearts, especially old fixer-uppers that were featured in vintage movies! This cozy farmhouse belongs to the clever and hilarious Jen from A Little Dose Of Jen. Her cozy style has us gearing up for fall decorating and we cant wait to show you! As always, please give a warm vintage welcome to Jen and enjoy this virtual home tour! Don't forget to Pin your favorite images for later!
Virtual Home Tour Series

:

A little Dose of Jen
Can you give a brief introduction of yourself, your home
and

work?

I am a stay at mom (soon to be empty nester) of teenage twins. We live in the Chicago suburbs in a fixer-upper vintage home. I started my Instagram journey as a way to share my love of interior decorating, and it's grown into so much more! I've developed so many amazing friendships, as well as business partnerships.
What year was your home built and do you have any details of the history or building process you would like to share?
My home was built in 1908. I've tried to research the history at our town's historical museum, but apparently there was a tornado at one time that blew the roof off the town hall, which, sadly, led to a ton of missing paperwork. The only details I could find about prior owners was a family of 3 in which the dad was some kind of driver (not sure if he was a delivery driver or more like a chauffeur of some kind?) A fun fact is that my home was in a movie in 1993! It was Margaret's house in Dennis the Menace! Our neighbours across the street lived here at the time of filming. They were kind enough to share their personal photos of the experience – I wrote a post all about it on my blog and even included the pics!
How do you define your decor style? What are your favourite types of decor?
I guess I would describe my style as cozy vintage farmhouse. I am drawn to woods and whites and love incorporating vintage pieces into every room. I also really love modern farmhouse style, as well as the whole Studio McGee vibe.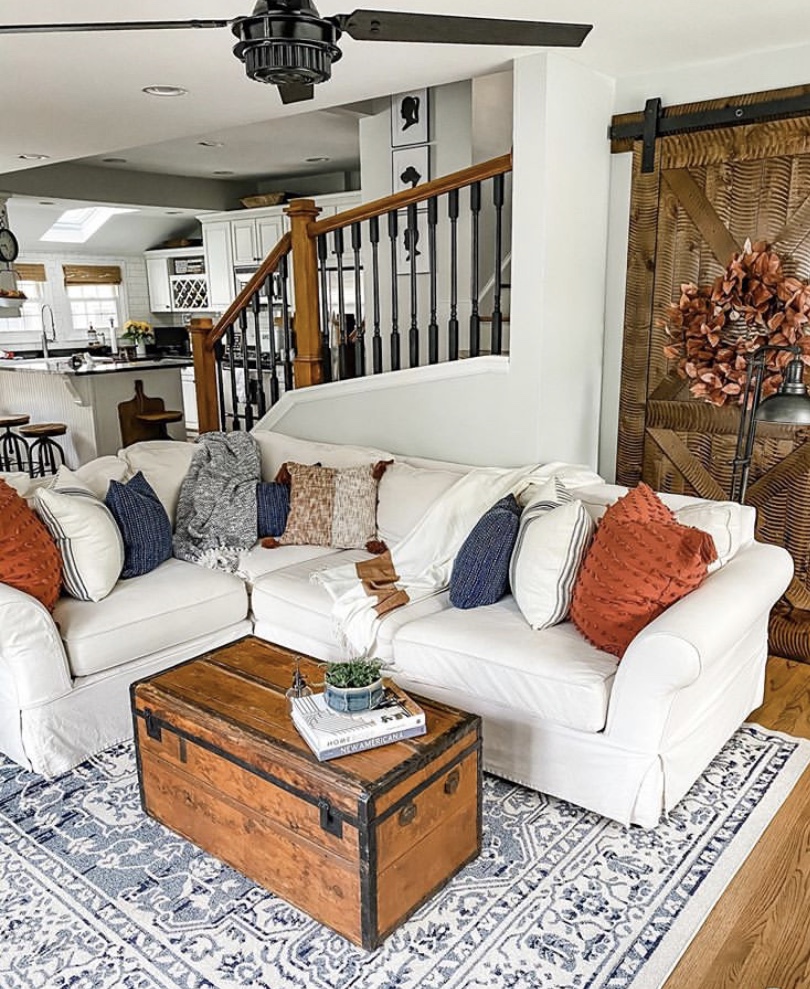 What is your favourite thing about your home? Do you have a favourite room or furniture piece?
My favourite thing about my home is the front porch and the front staircase. I fell in love with the porch immediately when our realtor first showed us the house. I think a big front porch is just so inviting. The front staircase also captured my heart right away. The detailing of the woodwork is just incredible. It really gives the home character. I also love the huge pocket doors into our living room, as well as the transom windows on the second floor. Those are the awesome vintage features that give a home its charm.
Do you have any big future plans for your home? What is next for you or your home?
Of course I always have a running list of 1000 different projects I'd like to do! I would love to redo the tile in our master bathroom but don't know if that's ever going to be in the budget with 2 kids about to head to college. I may end up just painting it. I'm also planning to add a laundry sink to our little laundry area, and we are going to be replacing the carpeting in my daughter's third floor bedroom with laminate flooring that looks like wood planks.
Here's another simple, cozy and charming home tour you are sure to love
If you had one design or decor tip, what would it be?
My biggest tip is to do you! Pick things for your home that make you feel happy!
Do you have a business or social media tip you can give to all those who want to start a blog or home decor business?
As for advice on starting out, again, I'd say just do you. Be authentic and genuine because people want to be able to relate. I try to show the good, the bad, AND the ugly on social media because life is never perfect. It's messy. And always be willing to laugh at yourself. Life is too short to be too serious all the time.
So stinking cute! Thank you Jen, for this amazing home tour, you have such a charm. I loved every inch of your cozy farmhouse. If you guys loved Jen's cozy style, send her some love here @alittledoseofjen
Pin for later