This post may contain affiliate links. Please read our full Disclosure Policy.
Natural Christmas decorations are a beautiful way to decorate for the holiday season! In fact, not only do natural decorations look classic in a home during the holidays, but these simple ideas are also affordable, help to reduce waste during the holidays, and will make your home smell amazing!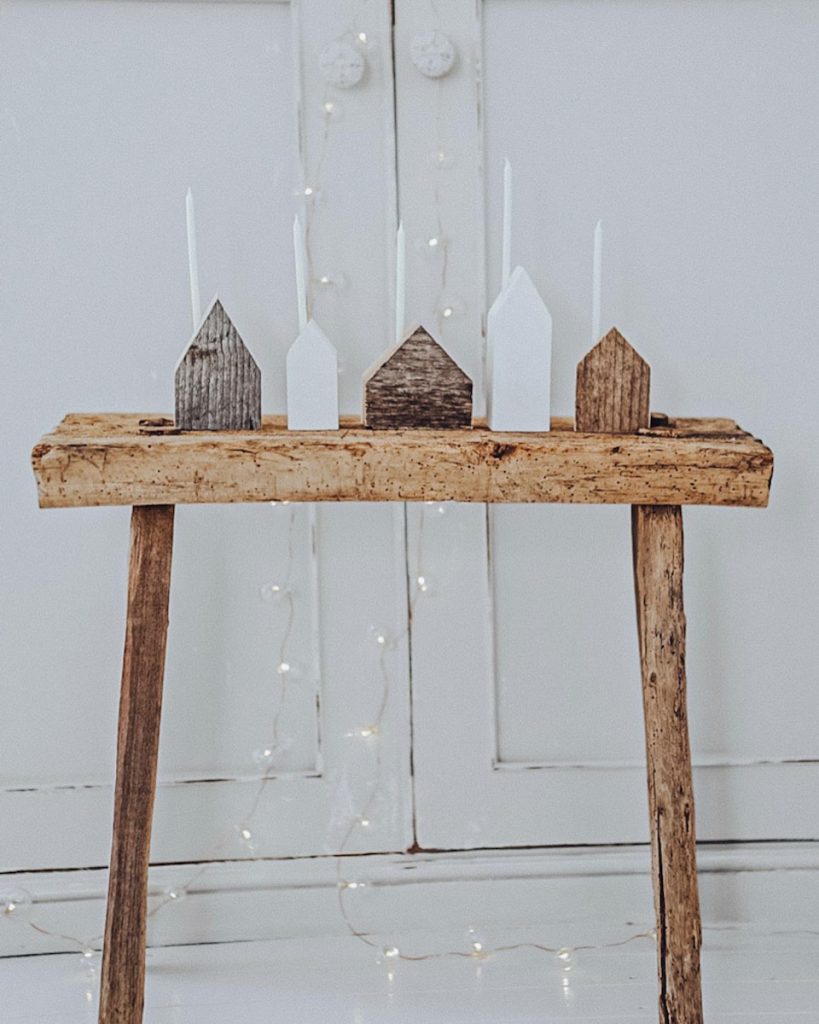 Decorating with Natural Christmas Decorations
Many natural materials can be found in your own backyard, or by going for a short walk in a local park or forest and then made into a decoration by an easy DIY. Adding touches of natural ornaments and homemade Christmas decorations is a simple way to give your home a minimalistic, Scandinavian Christmas feel and invokes a happy hygge feel to any space.
Here are 20 natural Christmas decorations and creative ideas that will help you to bring the outdoors, inside this holiday season.
Evergreen Christmas Trees
If you are lucky enough to live in a climate that has evergreen trees, then why not bring one into your home for the holidays? Of course, you can always purchase one from a tree farm too. Fresh evergreen trees come in many different variations and each type will look a little bit different.
If you're wanting a fully natural Christmas tree, try looking for a fir, cedar, or pine tree. These variations are full and bushy. For more of a minimal or sparse Christmas tree, go for a spruce tree.
No matter the type you decide on, natural evergreen trees are sure to give you all the Christmas feels and make your home smell amazing! Read these 10 ideas for decorating a minimal Christmas tree for more holiday inspiration on how to bring a beautiful evergreen tree into your home this holiday season.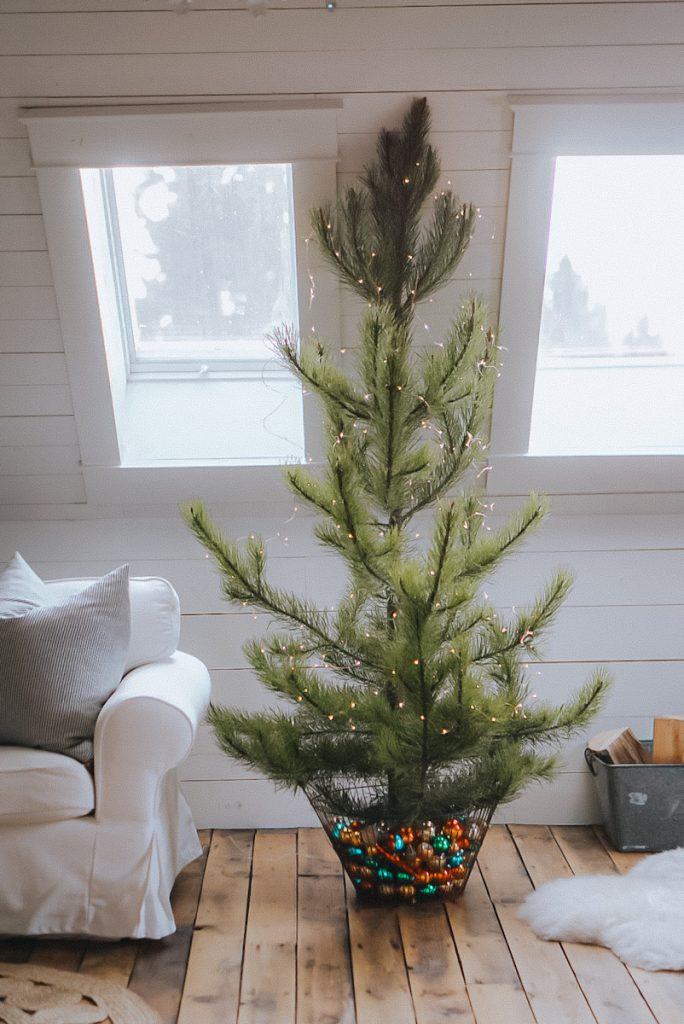 Just make sure to care for your tree properly while it is indoors or you will end up with pine needles everywhere in just a few short weeks. Cut the trunk prior to bringing the tree inside and add fresh water to the container every few days to make sure it always has water.
You can also add a mixture like this homemade flower food of sugar and vinegar to help make the fresh cut trees last longer. Check out this amazing DIY Scandinavian tree stand as well.
Fresh Garland
Fresh garland is sure to get your scent senses going, just like a natural tree. Natural greenery garland is so easy to make and can be added almost anywhere in your home for the holidays.
Use it as a table runner, over an archway, above the mantle, or even over the front entrance. It is easy to add other natural elements to your garlands like dried fruit, eucalyptus sprigs, or pinecones.
Try this easy step-by-step tutorial on how to make a fresh garland using evergreen branches.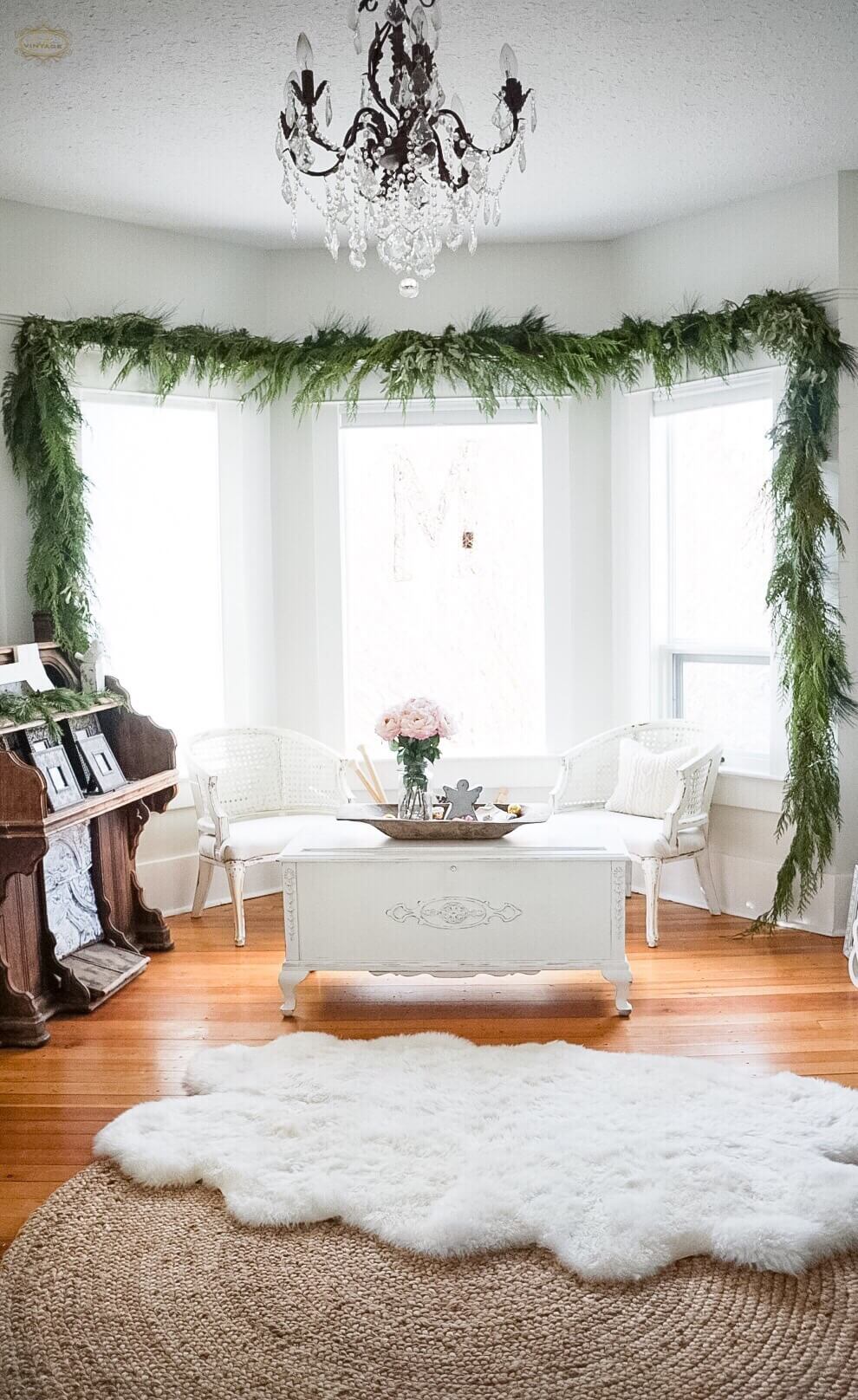 Simple Natural Wreaths
Evergreen wreaths are a classic natural Christmas decoration. It is very easy to make your own natural wreath or add to an existing one to make it fuller.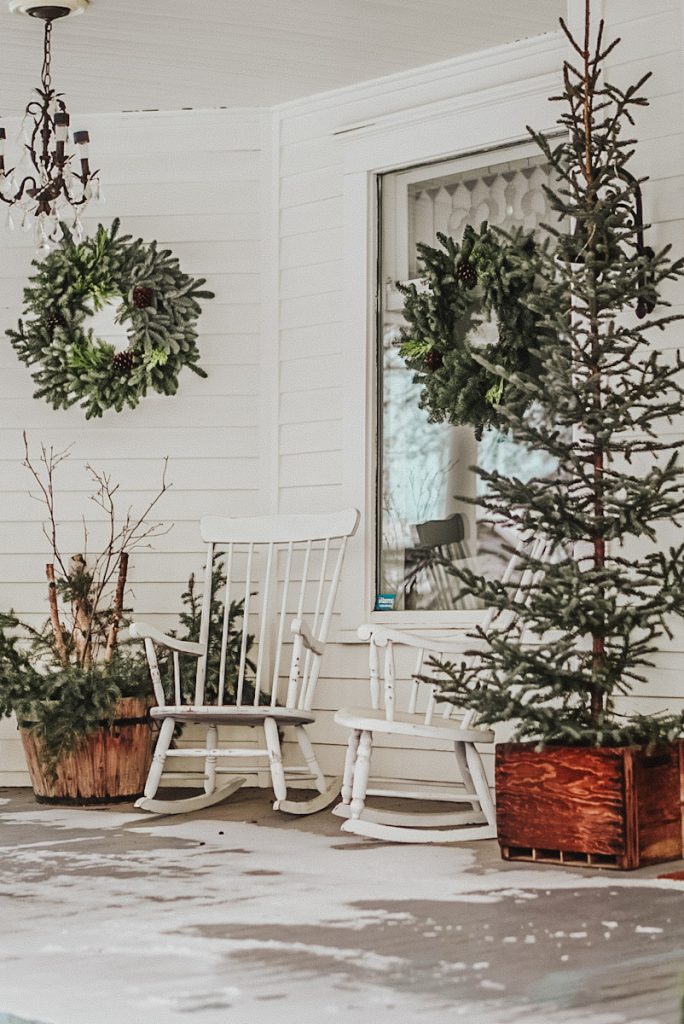 Natural wreaths don't need to be made just from fresh evergreens. Try making one using a grapevine wreath base and layering dried fruits, orange slices, or pinecones. The options this time of the year are endless.
Birch Pole and Stacked Wood Logs
Few types of wood feel more like Christmas than birch poles or stacked wood beside a cozy fire. Adding birch poles beside a front entrance or to an evergreen arrangement is an easy way to add some texture.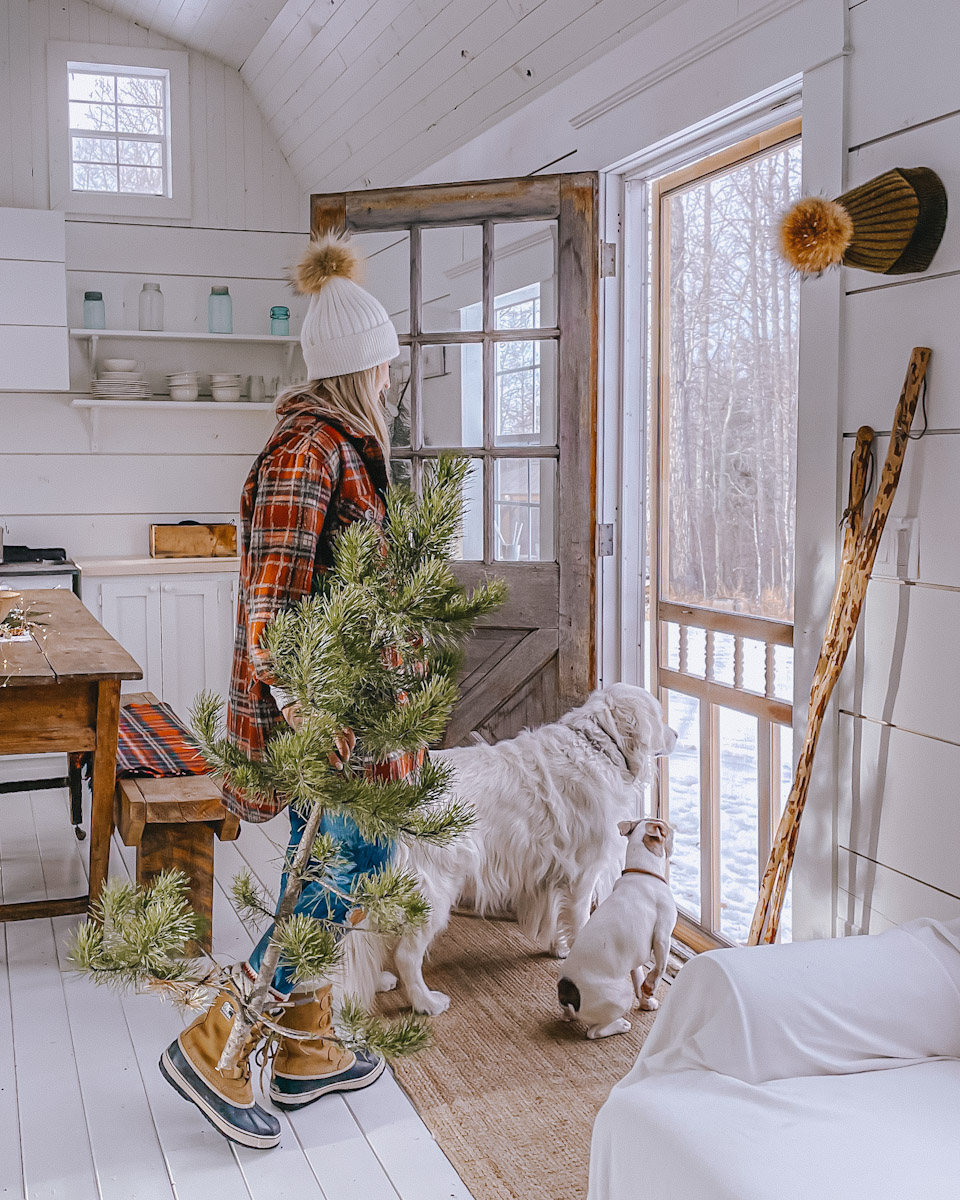 Birch trees also make a beautiful wall hanging. Tie some twine on either side of the pole and hang different decorations from it. Simple Scandinavian style.
Logs stacked beside the fire make a space automatically feel oh-so-cozy!
Twigs and Branches
Twigs and branches can make the most beautiful natural Christmas ornaments and decorations. Make them into stars, trees, or other ornaments, or add them into evergreen arrangements! Either way, they are sure to add tons of texture to your holiday decorations.
There are a few types of branches that are better than others. Try finding branches with red bark from trees like Dogwood to add a pop of color to your decorations.
Pine Cones
Pinecones come in all shapes and sizes! They are easily painted and can be made into a beautiful Christmas decoration simply by adding a velvet ribbon or piece of pretty twine around the end.
Pinecones can also make beautiful bird feeders! Tie a string to the top and then simply roll them in peanut butter and sprinkle birdseed on top. I have decorated my outdoor trees this way before and enjoyed watching the birds feast the whole holiday season.
Wooden Houses
Although making these wooden houses requires the use of a saw and a drill, these DIY Christmas decorations are extremely easy to make!
Begin with a beautiful piece of barn wood or salvaged wood and cut to the desired height you are wanting.
Next saw the peak of the house to the shape you like
Drill a hole for a candle to sit in and look like a chimney.
Lastly, paint or stain as desired and enjoy!
Beeswax Candles
Beeswax candles are beautiful natural holiday decor and will make your home smell wonderful! They come in many different shapes and sizes and if you are feeling crafty, are easy to make yourself.
Fresh Fruits and Nuts
A simple collection of oranges or pears in a vintage container is the perfect natural Christmas decoration. Seasonal fruits or nuts displayed for the holidays are not only practical but they look great too.
If you have an interesting nutcracker, display it beside a beautiful container of nuts for your family and friends to enjoy.
Berries
Adding fresh elements into our homes this time of year is also important for us all. Red berries, cranberries, or even purple juniper berries give a beautiful pop of color to your natural Christmas decorations.
Mountain Ash berries are white in the spring, begin to go a vibrate orange color in the fall, and turn the most vibrant red after the first frost in the winter. These berries are the perfect addition to any table centrepiece or even on a natural garland or evergreen wreath.
Cranberries look stunning displayed in a clear vase with water. They float to the top and give off all the Christmas feels over the holiday season.
Dried Fruits
Citrus fruits like oranges, lemons, limes, and even apples make the most beautiful natural elements to use in your home over the holiday season. Add them individually to a tree or holiday wreath, or string them together to make a beautiful Christmas garland.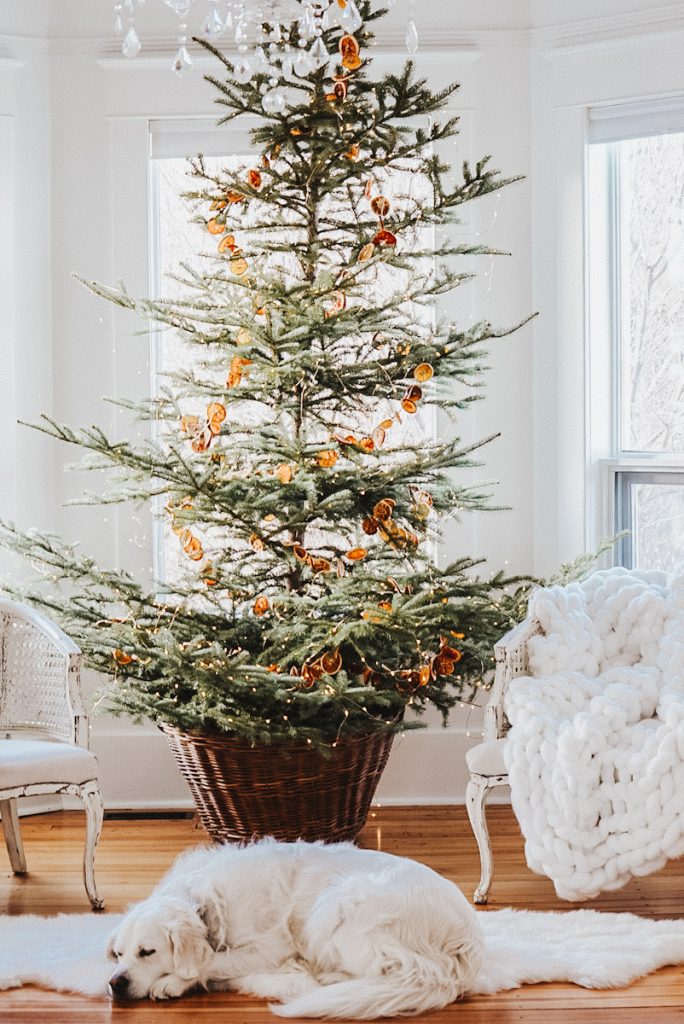 Dried orange slice garland and ornaments are a classic natural Christmas decoration! The best part is these beautiful DIY Christmas decorations are easy to make and can be stored and used year after year! See this full tutorial on how to make dried orange slices, how to store them, and where to use them.
Spices
Nothing gives off more of a Christmas scent than holiday spices. Cinnamon sticks, star anis, and cloves are a few favorites this time of the year. Place them together in a small cheesecloth bag and place them in a simmering pot of apple cider to have your home smelling like Christmas.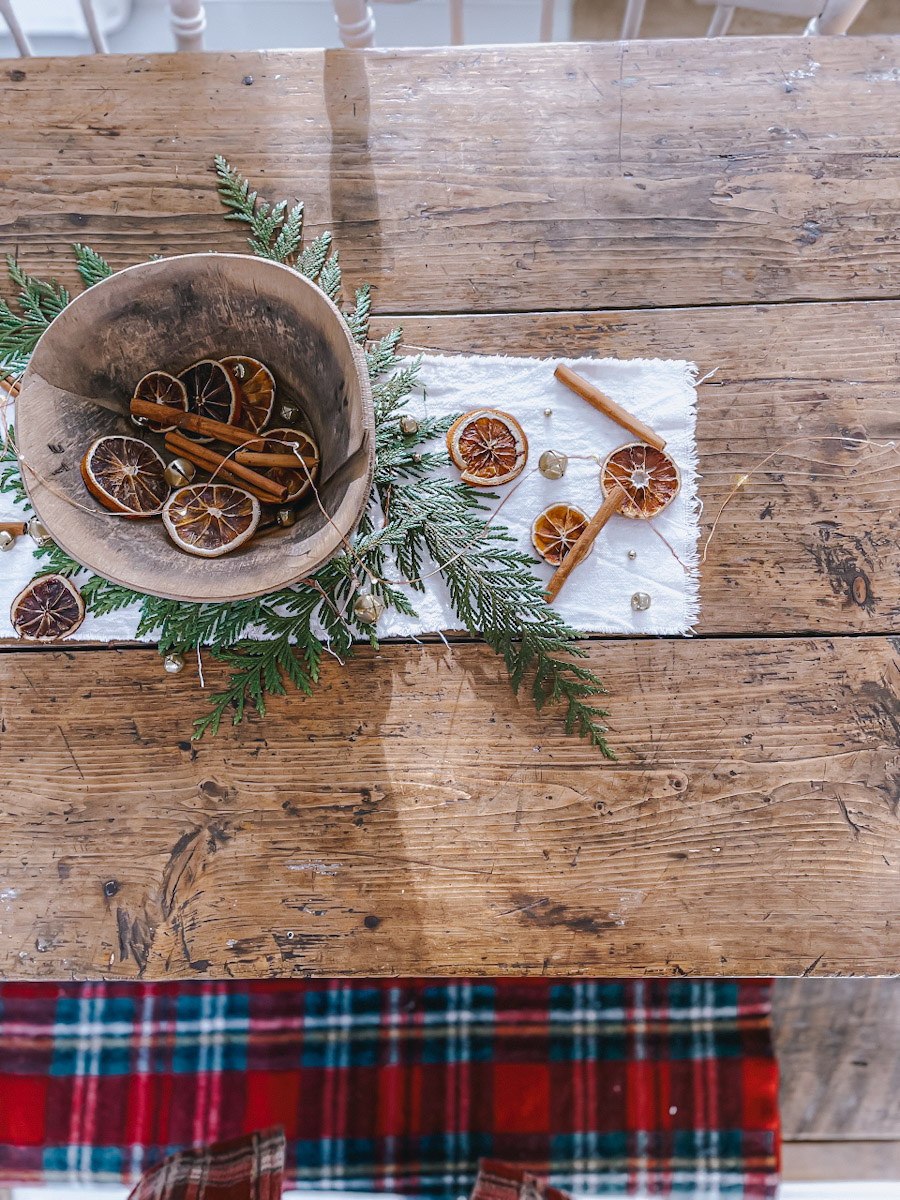 Cinnamon sticks are also a wonderful spice to use as a holiday decoration. Tie them together with a beautiful ribbon and then using a hot glue gun, add a string to the top to hang the ornament from.
Clay Ornaments
Clay Ornaments are a fun and easy DIY to do over the holidays. Add them to your Christmas tree or make them into a wall hanging. You can even make a clay village for the fireplace mantle out of them. The options are truly endless, so have a little fun and let your imagination run with these ones.
All that is required is your favorite cookie cutters, a rolling pin ( I love to use an embossed rolling pin for an added bit of detail to the ornaments), and some air-dry clay. See this full tutorial on how to make clay ornaments!
If you would rather, purchase the clay Christmas ornaments premade.
Seasonal Bulbs
Paperwhites, amaryllis, and hyacinth are pretty bulb flowers that grow indoors and can be purchased in the late fall to grow over the holiday season.
Paperwhites usually come with 3 to 5 small bulbs in a pack and will grow in water, rocks, or dirt. As the name states, the flowers bloom a beautiful white color. Add them to a beautiful vintage container or with water in a clear glass container for a beautiful natural Christmas decoration. Please note* Paperwhites don't smell very good when they are in bloom so enjoy them prior
Amaryllis bulbs are very large bulbs and usually come as a singular bulb in a package. They come in a variety of colors and one stems grows into a big beautiful multi-flowering head.
Hyacinths come in white, pink, and purple. They are large single bulb that blooms a large flowering stem. Hyacinths are beautiful to display over the holiday season.
Gingerbread Ornaments
Nothing and I mean nothing, will have your home smelling more like Christmas than fresh gingerbread ornaments! Making these is so easy and can be a fun holiday tradition.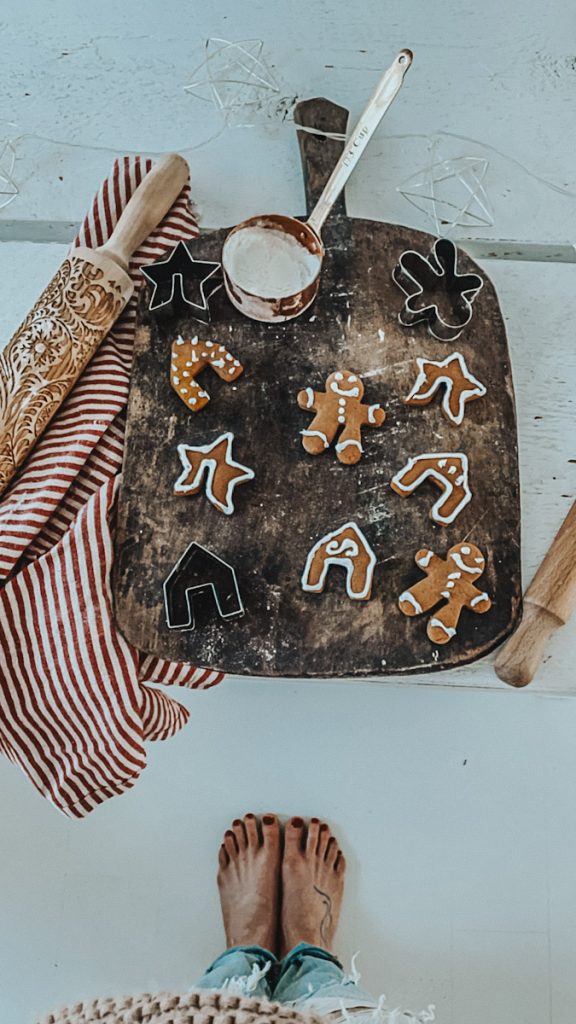 Try my delicious but easy-to-make iced gingerbread cookie recipe to start these gingerbread decorations.
Using tiny classic gingerbread men, stars, and gingerbread house cookie cutters and cut out your gingerbread shapes.
Use a wooden skewer or the end of a knife to poke a hole through the top of the cookie before you bake it. This will be to add some string or twine after the cookie is baked.
These also make an adorable addition to your gifts instead of a bow!
Wood Ornaments or Gift Tags
Another fun idea to use instead of gift tags is wooden tags or Christmas tree ornaments. These are very easy to make and require nothing more than a saw, drill, and a bit of elbow grease.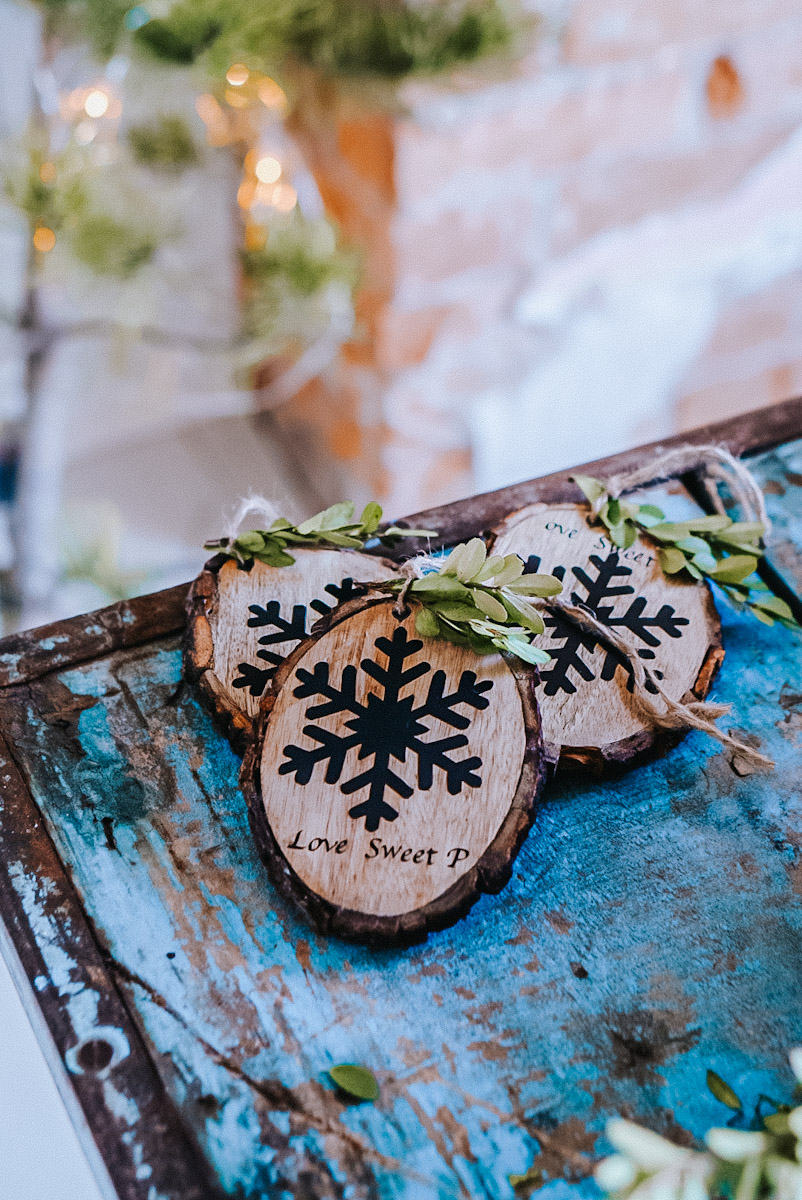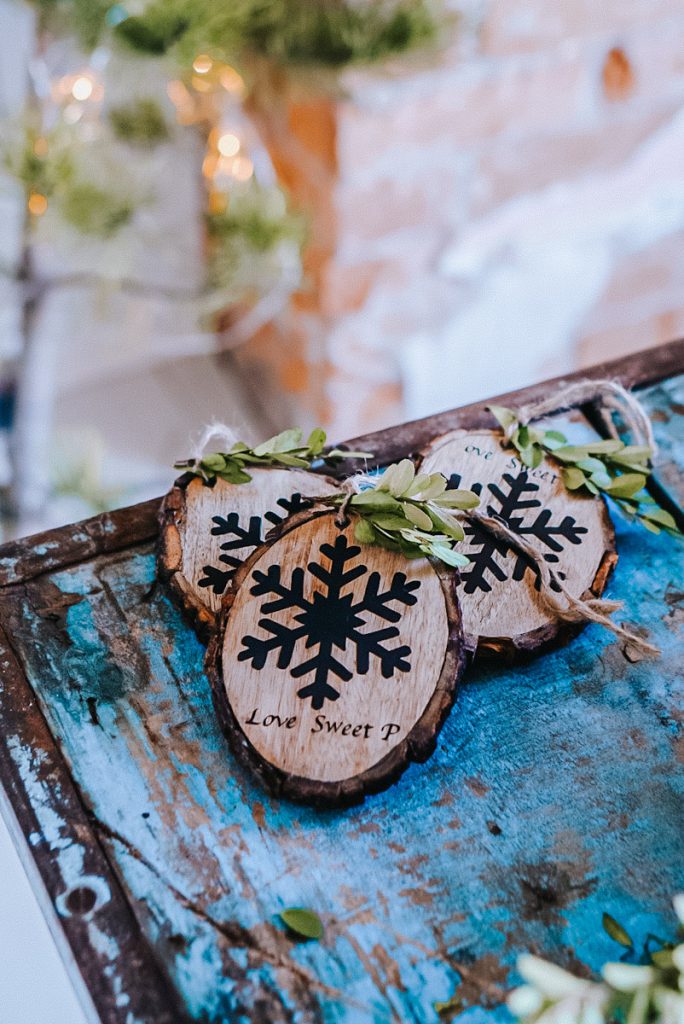 Birch poles work perfectly for making these tags. Simply saw 1" slices off of the pole.
Drill through the top of the wood slice to add a string or ribbon.
Add some fun text with stamps, markers, or even a vinyl decal, and hang it in your home.
Fresh Flowers As Natural Christmas Decorations
Poinsettias, lilies, roses, and more are beautiful natural items during the holiday season.
Poinsettias are a great way to add pops of color and can truly brighten up any space over the holidays. Place the potted plant into a beautiful festive or vintage container for a nicer look.
Make sure you don't over-water the poinsettia. Every second day is usually more than enough. Also, be sure to water the base instead of directly over the stem of your plant. These big bloomers love to soak the water up from their roots!
Fresh-cut roses are also lovely this time of the year. Get some great tips on how to make roses last longer!
For all other fresh flowers, be sure to try one of these homemade flower foods to keep your blooms lasting for weeks.
Ice Sculptures or Candle Holders
If you live in a cold climate, adding an ice sculpture or ice candle holder to your outdoor decor is a beautiful holiday touch. There are some amazing ice molds that you can purchase to try this fun DIY out.
Begin by adding some beautiful natural Christmas decorations to the bottom of your mold. Cranberries, pine branches or sprigs, and pinecones are all beautiful to include. You could also try orange or apple slices.
Fill the mold to the top with water.
Freeze outdoors or in the freezer overnight.
Add votive candles, display, and enjoy!
Try this ice candle starter kit to get you going on these beautiful ice candles.
Gingerbread Village
Like gingerbread ornaments or cookies, a gingerbread village makes your whole home smell amazing! These villages look beautiful displayed on a fireplace mantle, on a farmhouse kitchen hutch or even in a window.
See exactly how to make a gingerbread village and even get my free printable template in this gingerbread village tutorial. See if you can make a different type of village each year.
Tiny Real Trees
And finally, mini Christmas trees or evergreen sprigs. These adorable mini trees look beautiful displayed throughout the home over the holidays. If you can, try to dig one from the roots and have it in a clear glass container for a unique, minimalistic Christmas feature.
These small trees are the perfect natural element to add to almost any space in your home for the Christmas season.
I hope that you enjoyed these 20 natural Christmas decoration ideas! Make sure you Pin this post to come back to each year for inspiration!
Is there any that I have missed that you use? Share your beautiful natural decor with me over on my social media channels.
Looking for more inspiration? Try these 25 winter decor ideas!