This post may contain affiliate links. Please read our full Disclosure Policy.
Have you ever thought about owning a cabin, nestled deep in the woods? Building a tiny home shed or a shed cabin may be a great option! Using a garden shed as your tiny home is an affordable way to build a cabin and it also keeps the building process very simple. This post will cover all that you need to know about building a tiny house shed off the grid! Let's dive into the tiny house!!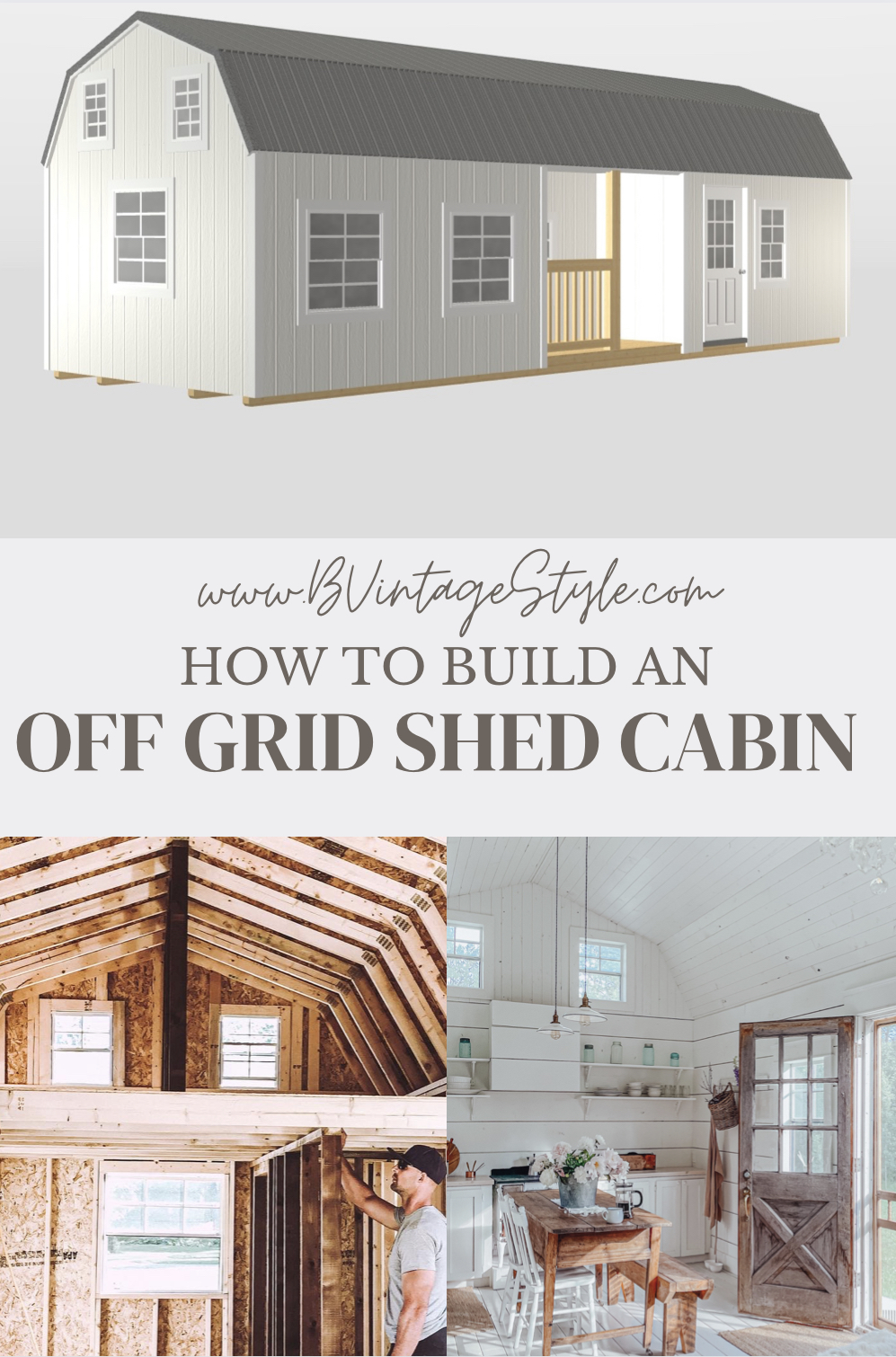 Building the Shed Cabin
When the pandemic started, building a tiny home shed cabin was not even something our family had thought would happen. We had vacation property that we pulled our trailer to each year but we weren't planning to build a cabin on it. The year the pandemic started, we were planning an adventure of a lifetime to Europe with our children. Then C____ began… it changed so much for so many.
We didn't want to let the pandemic change our plans for adventure so we allocated the money we had budgeted for the trip and turned a garden shed into a cabin in the woods. My whole family is so happy that we did. Sometimes there is a silver lining isn't there?!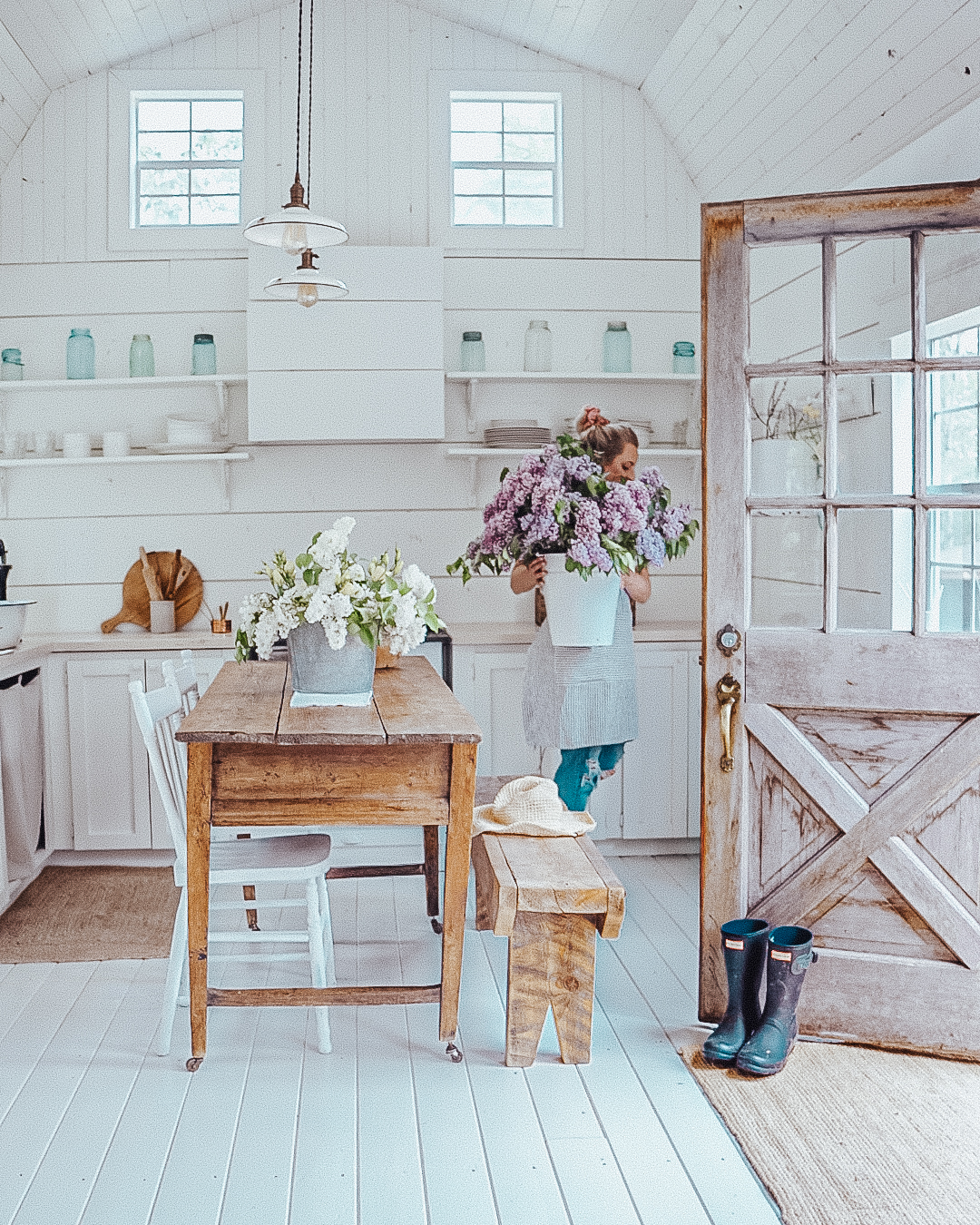 Choosing a Location for a Shed Cabin
When choosing a location for your tiny home or shed cabin, you will want to make sure you consider a few things, especially if it is going to be off the grid. It is alot like choosing a plot of land for a home and you need to make sure you have thought it through. Make sure to consider
Sunlight for Solar – If solar is going to be your main source of power, you will want optimal sun exposure for your panels.
Trees for Privacy and Protection – Although you want sun to charge your panels, a shady, treed area is wonderful for those hot summer days and it offers privacy as well.
Close Proximity to a Main Road – If you live in a climate that has changing seasons, this is very important to consider as you will probably need to deal with snow removal. A long road in to the cabin could prove to be difficult to navigate in the winter months.
Recreational Activities Nearby – Having lots of activities nearby is nice for the whole family! As enjoyable as a cabin is, it is always fun to head to the beach for the day or get out into the wilderness for a hike.
Cost and Affordability – Last but certainly not least, COST! Find something that won't break the bank and preferably something that doesn't have ongoing yearly fees.
Our Cabin Shed
The tiny house is located on a property that belonged to my grandfather! It is the last privately owned quarter section before 150 quarters of Crown land. Basically, it is our property and then open land until the mountains! There are also 4 lakes within a few minutes of us! Lots of boating, outdoor activities and fishing to say the least! I grew up spending so much time there as a child. He farmed the land that is surrounded by a cluster of Alberta lakes. My family has so many happy memories in this very spot.
For years now, my family has spent summers out here boating, fishing and having fun as a family. We would bring our Glamper at the beginning of summer and leave it there as long as possible. It was such a quick and easy getaway for our family all summer long as it is only a short drive away. Our family always joked about building a cabin there someday but never actually thought we would pull the trigger. When the pandemic hit and we couldn't continue with the holiday plans, there seem to be no better time than now!
Our cabin backs onto an open forest and is surrounded by trees. We get plenty of shade and very little wind as we are nestled into an area surrounded by trees. There is still enough sunlight for our solar panels to charge and the vegetation is thick enough that no one can see us when driving in the area! I would have loved to place the cabin deeper on the property but it would have been too difficult to get to in the winter when it snows.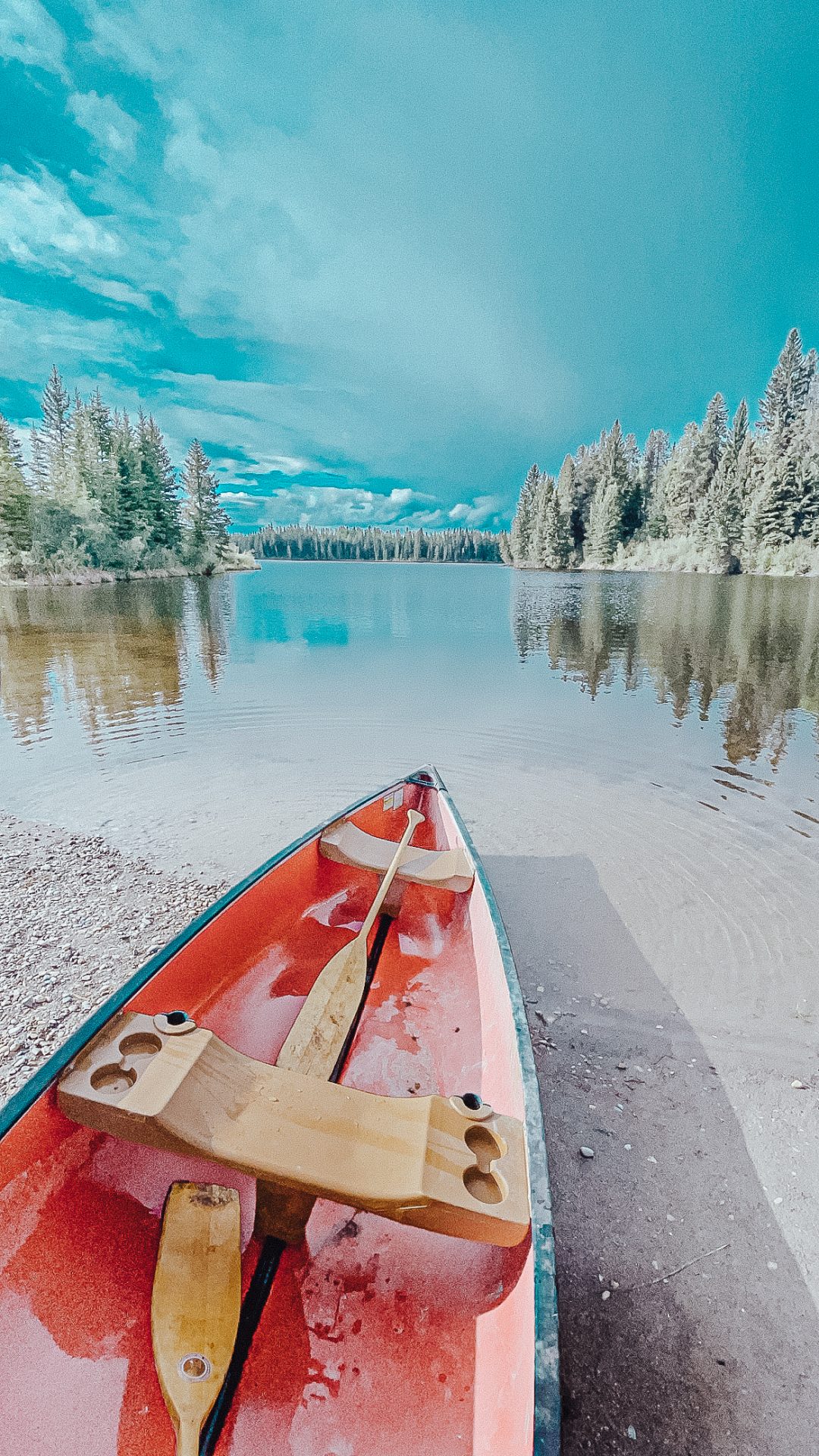 Using a Garden Shed as a Cabin
Although you can choose to build your cabin from scratch, a great alternative is to use an existing building, like a garden shed. Garden sheds come in all different sizes and styles nowadays and some are even built with full porches and loft areas! If you choose to work directly with the building company, you may even be able to customize some of the exterior features! A few customizable features are:
Adding additional doors and window plus the flexibility to change the sizes and quality of them.
Exterior hardy board siding and tin roof colour.
Adding insulation in the floor
Increasing the height of the building and changing the placement of entrances.
Adding additional lofts areas, the length and height of the loft areas.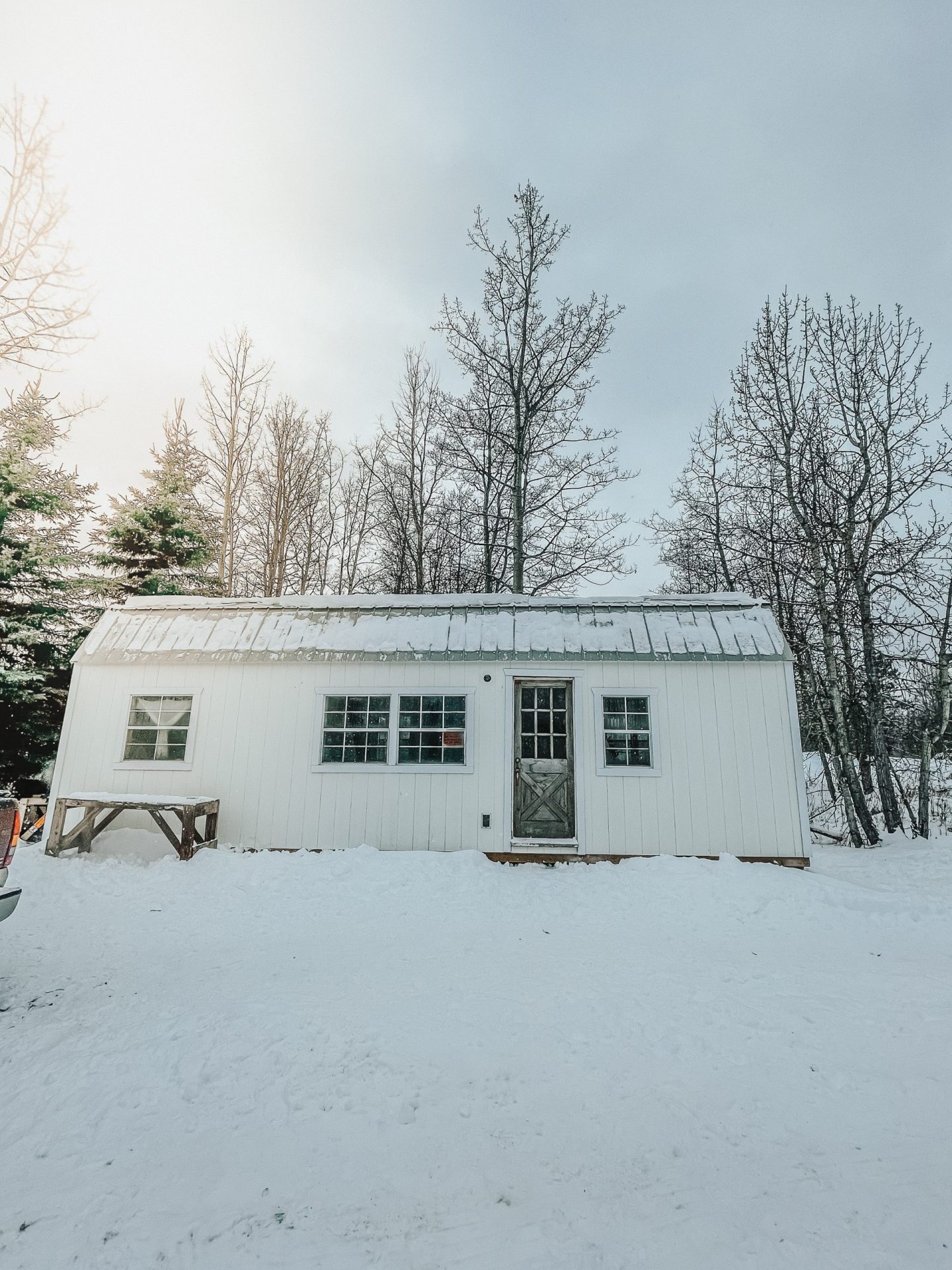 Our children are eight and 11 and only have a few years left with us as a family at home. We wanted to have a place to make memories and for all of them to go back to as they grow. My husband and I began to explore the options for moving something onto the property or building something, but it all seemed overwhelming and just not the right fit.
One night before bed, my husband was searching Kijiji and found a listing for Premier Buildings, which was selling prebuilt garden sheds and portable buildings. The very next day, we went and toured the existing buildings that were displayed on a farm outside of Didsbury, Alberta.
Turning A Garden Shed Into A Cabin
Some of the garden sheds seemed spacious enough that with the right design, the shed could work for the family and be quite cozy. I went home and used the building software on Premier's website and started to design the building that I thought would work so we could get a quote. I added tons of windows (13), changed the positioning of both the windows and doors, removed one of the lofts, bumped out the patio, insulation to the floor and even raised the ceiling height of the overall building.
Cost of a Tiny House Shed Cabin
The cost of the building will completely depend on the size that you choose for your shed cabin! You will need to budget anywhere from $10,000 to $25,000 for the exterior shell of the building and then approx another $15,000 to $30,000 for the interior. If you go the off-grid route, you may save a lot of money as both plumbing and electrical costs should be significantly cheaper.
When we submitted the quote for our cabin, I was pleasantly surprised by how affordable the cost of the shed came to. Even with the adjustments I had done, it was still between C$13-C$15,000!! That also included hardy board siding, a tin roof and extra windows/doors. From there, I budgeted another $15-$20,000 to finish the unit on the interior.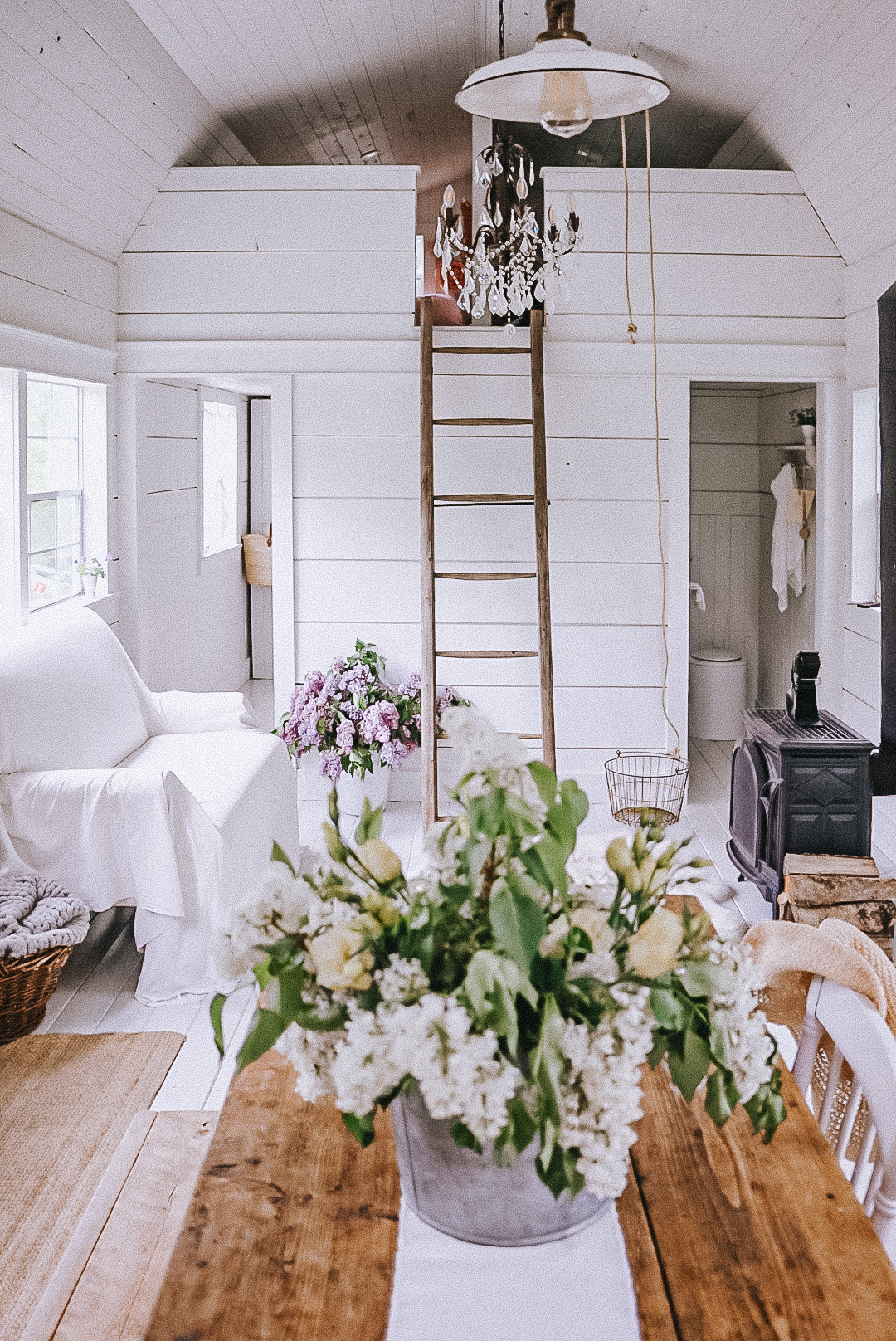 We decided to take the plunge!! There was a lot of preparation that had to go into the physical land to get it ready for the tiny house. The area needed to be surveyed and levelled so we brought in loads of gravel to help level the surface.
One pleasant surprise for us was because the shed cabin building comes on skids and is not classified as a permanent structure, therefore the taxes on the land did not increase! Once we decided to move forward with the build, it took approximately a month and a half for Premier to finish building our custom garden shed.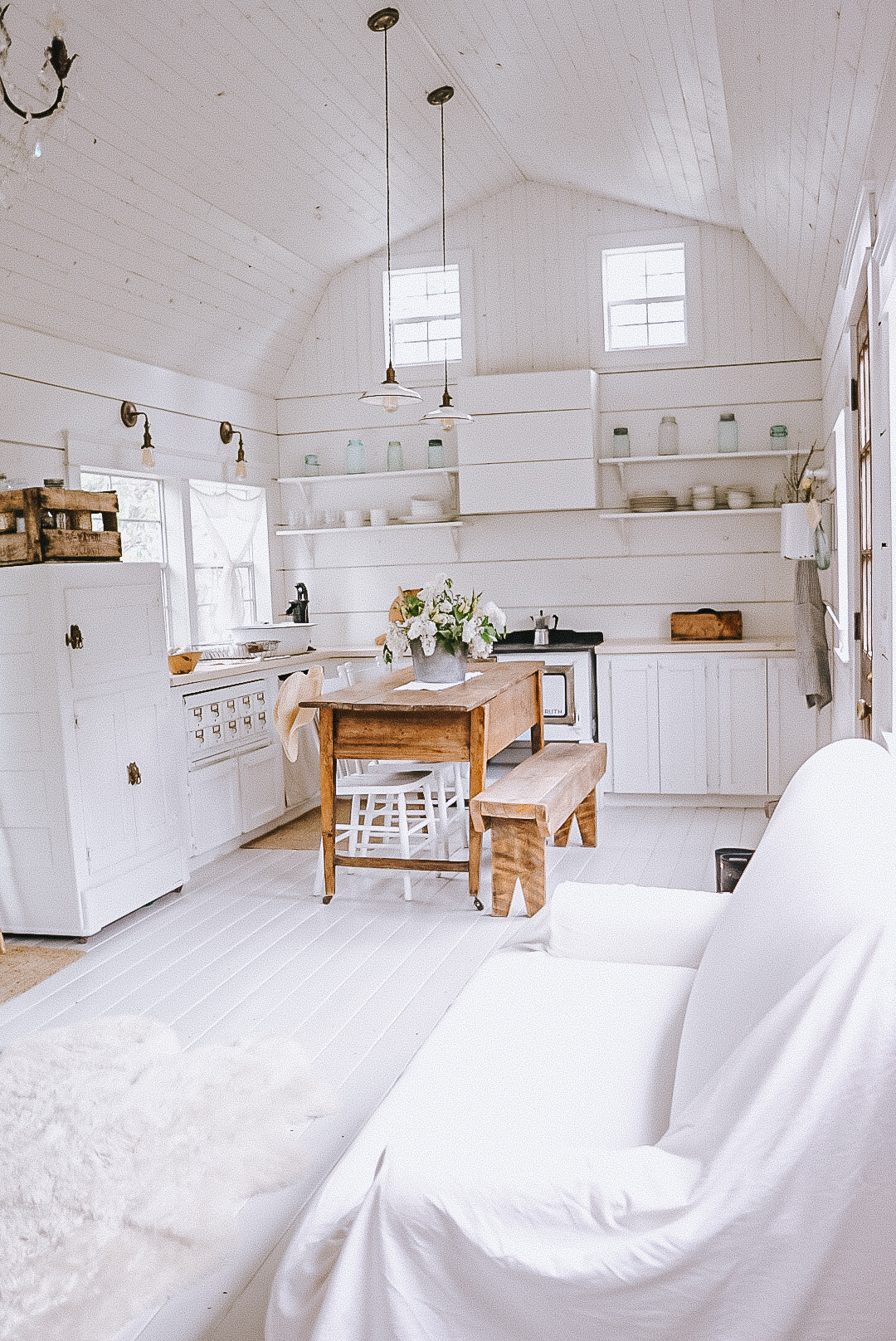 Finishing the Interior of the Garden Shed Cabin
When it comes to finishing any interior space, including a tiny home or shed cabin, it is important to follow the 5 principals of interior design.
Proportion – the relationship between various things in a group. Keep in mind the size of your furniture in comparison to the size of each of the spaces.
Balance – a variation of formal balance. Placement of your furniture plays a bit part in the balance of any space.
Emphasis – the centre of interest in any arrangement is created by emphasizing the most important feature. Emphasizing a beautiful stove in the kitchen or fireplace in a family room is following this principal.
Rhythm – rhythm is achieved through repetition and flow in a space. Repeating a colour, texture or shape in a home will achieve rhythm in your design
Harmony – produces the impression of unity through the selection and arrangement of consistent objects. How you place the objects in your home will give your space a sense of harmony.
It was very important for us to maximize the interior space of the building as much as possible. Our family needed a bedroom on the main floor for my husband and I, as well as some form of a bathroom. The loft would be used for the kiddos and needed to be separated into two separate rooms or spaces.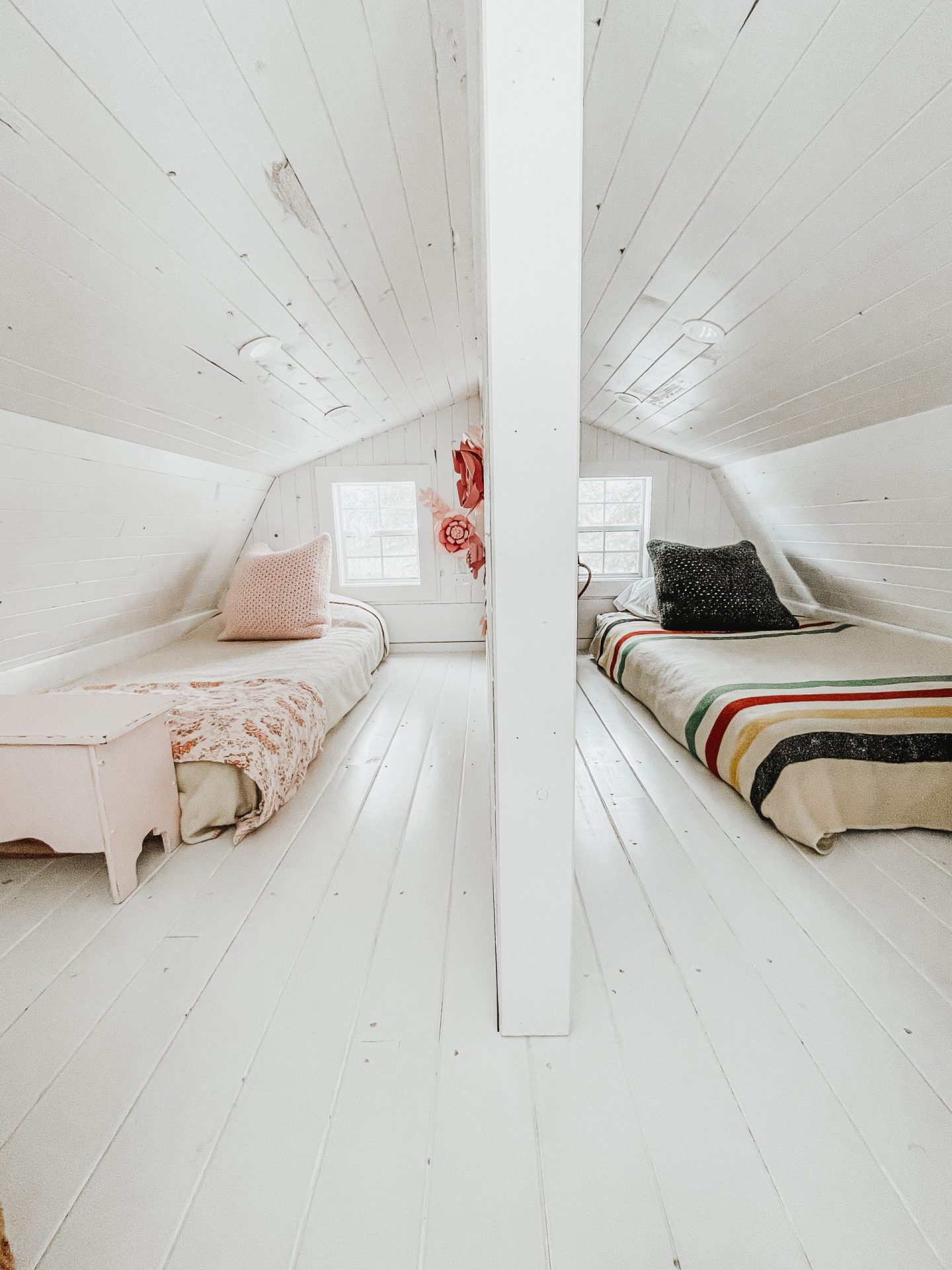 Tiny House Layout
When we started designing the 12' x 32' shed, we knew that we wanted it to have a very open concept but still be functional and have storage. The original building had not one but two lofts and a small porch that bumped into the building.
We began by removing one of the lofts and the porch to give the space a much more open concept. The new design also extended the remaining loft to 11 feet long. In addition, we added an additional 12 inches to the ceiling height, keeping the loft where it was and allowing for more overhead space for the kid's rooms. The master bedroom is approximately 11 feet long by 9 feet wide leaving just over 2 feet for the bathroom.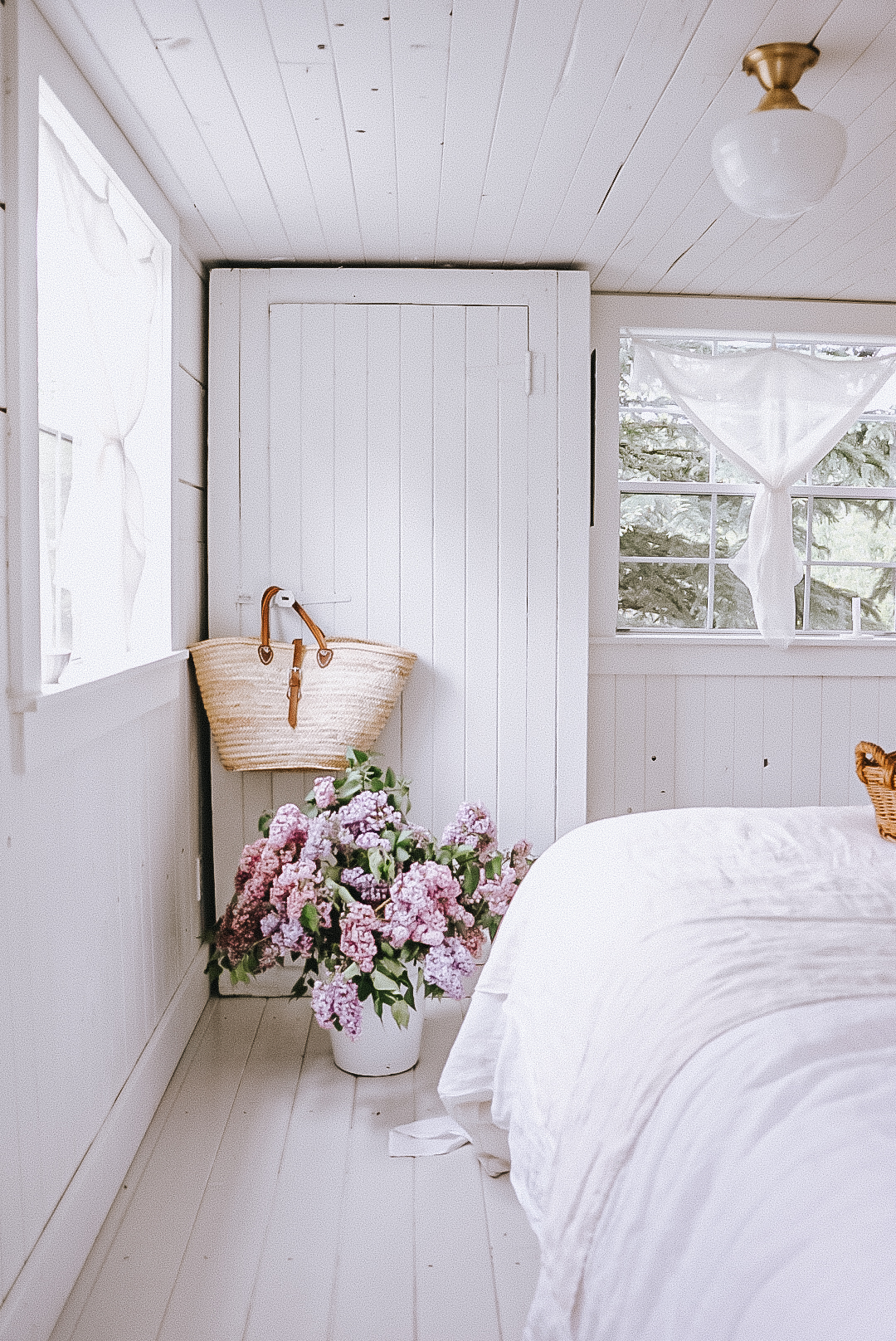 The entire time that we were building this tiny house, I knew we wanted to have shiplap on the interior! Over the years, we had slowly introduce shiplap into our historic home in town and loved how it looked. We purchased 12 x 1" planks that they cut down to 10 inch shiplap themselves.
For the walls and ceiling, we used cottage grade one by four, 5/16" Penny lap. In the bedroom and bathroom, we also did 4' wainscotting using the same material. If you're interested, you can learn all about how we made our own shiplap and how to install a shiplap ceiling.
Finishing Details in the Tiny House
The Paint Colour:
As so many of you already know, my favourite colour white is Oxford White by Benjamin Moore. I used a solid stain in this colour to paint the entire cabin using a spray gun. It was the perfect tone for the space love's the look of the shiplap as it adds so much detail the space but keeps it light and airy.
The Floors:
For the floors, we used a V groove pine board. This was the most affordable option for the cabin at under $3/square foot finished. Take a look at my post on painting floors for details on how I painted the floors and for the custom colour I used . They have held up extremely well and are relatively low maintenance to care for.
Shop the Tiny Home

Building a Shed Cabin Off Grid
Building off the grid can be a very affordable option when done correctly. It is amazing how little is needed to live a very comfortable and full lifestyle. A few of the benefits of living an off-the-grid are financial freedom, the ability to get away from traditional city living, a very high quality of life and connection to nature.
Off the Grid Kitchen
We made the kitchen cabinets in the tiny home cabin out of plywood and wood plank! They give a more vintage, rustic feel to the space than manufactured cabinets which is exactly the look I wanted. Open shelving was used to keep the space bright and airy, instead of using upper cabinets. The countertops were made out of 1 x 6" planks that have been stained a whitewash colour!!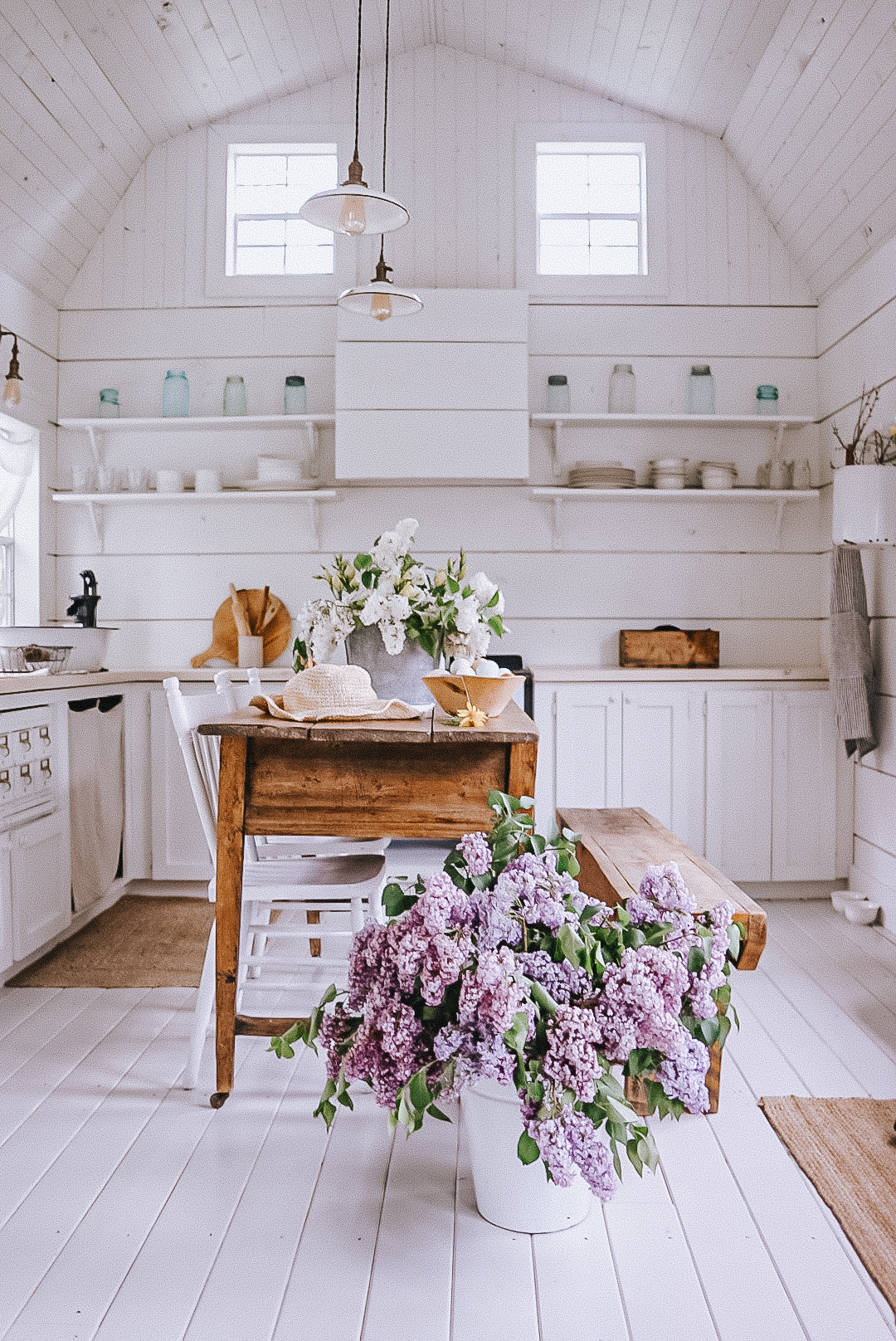 We also use a vintage ice box as a refrigerator out there in the winter. It takes about 5 blocks of ice every two days to stay cold down below. It's very easy to use and Deb loves that it is completely off the grid! In the summer months, we have a small refrigerator that runs on solar power. It is just too much work to keep the ice box cold in the hot summer months!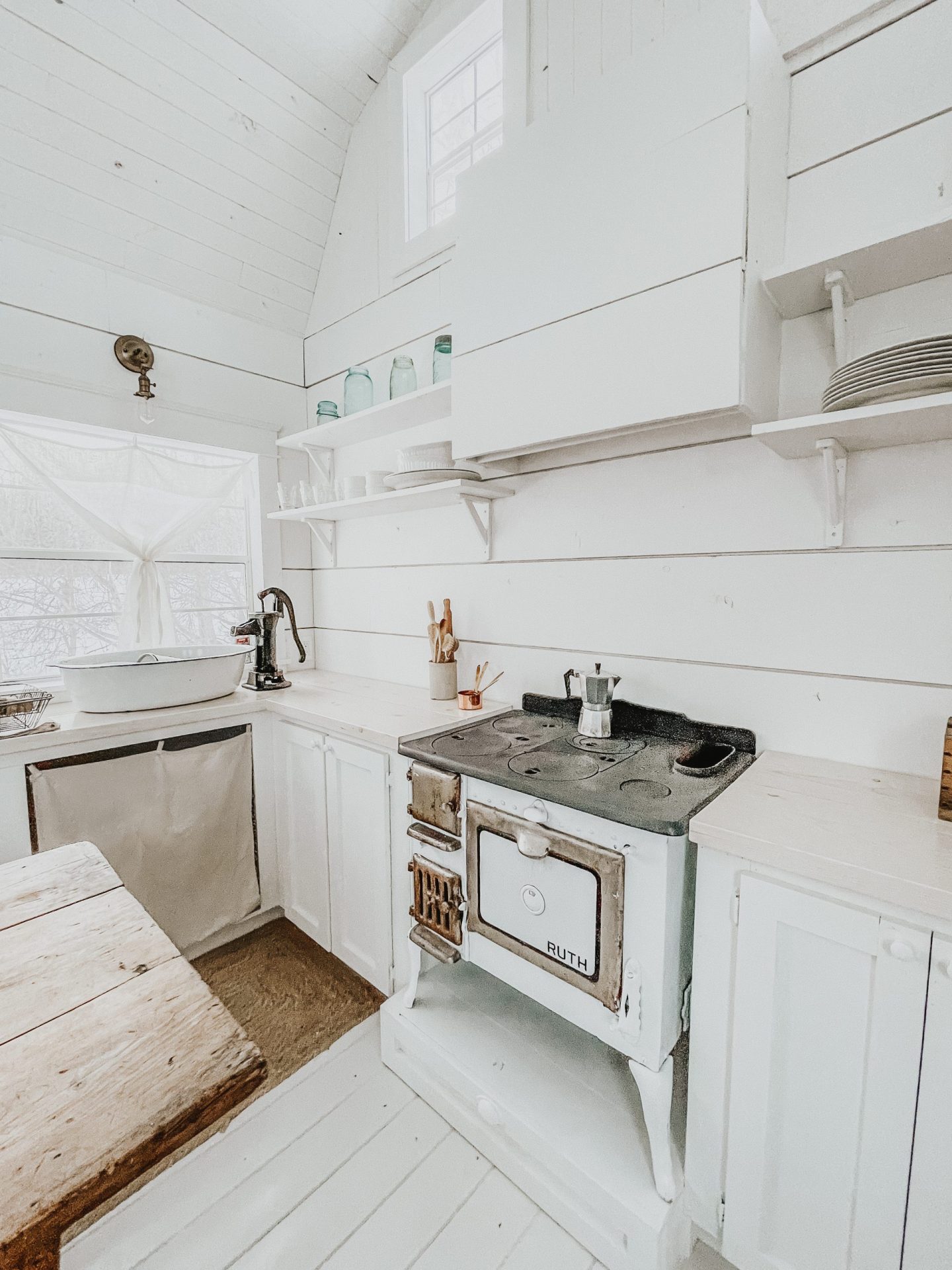 Propane Heating
We also added a beautiful natural gas stove to heat the unit. This adds an element of cosiness to the space, but is still practical and functions well. For now, it is attached to a 30 pound propane tank. Eventually, we may add a large propane bullet on the property. This particular unit takes about 4-8 hours to heat the cabin in the winter depending on how cold it is out!
Adding a fan to the top helps to circulate the air more and move the heat throughout the cabin. Without it, the loft becomes very warm while the rest of the cabin stays cool.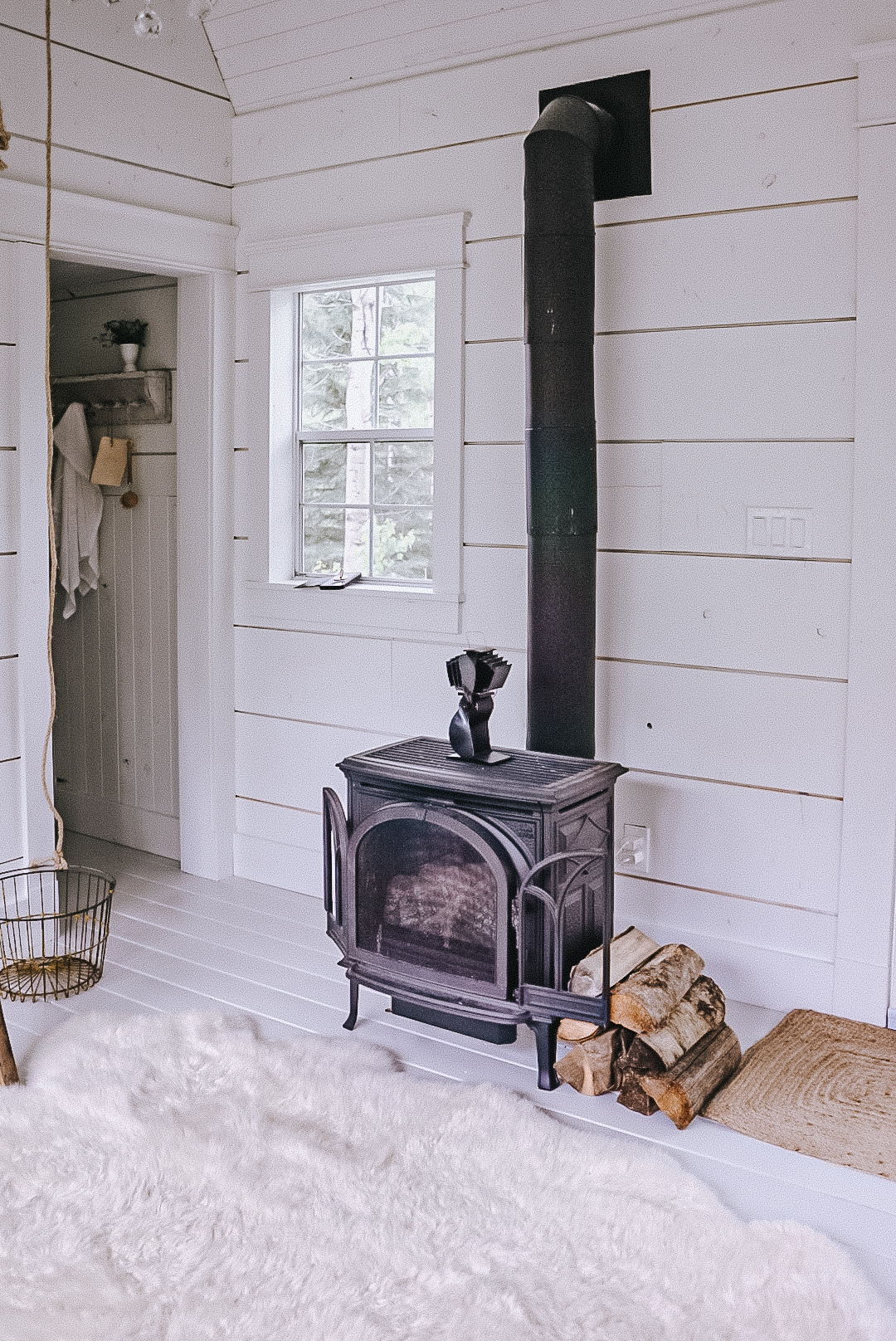 Solar Power & Electricity in a Tiny House
In the beginning, we used 3500 V generator to power the tiny house. The one we use has command start and works really well. The remote start is key to convenience for this source of power as it makes it so easy to turn on and off when needed no matter where you are indoors!
This past summer we added solar power that has made the unit completely off grid!! Using three 2′ by 4′ solar panels, we were able to charge 2 – 12 volt batteries consistently. A 600 watt converter is the perfect size to run the small refrigerator and all the LED lights in the home. We still keep the generator there in case of emergencies or if there has been a cloudy day. The 2021 summer was very smokey from all the fires in BC so it was difficult to keep the solar going some days. Overall we are very happy with how well solar works for us there.
Off Grid Bathroom
What do you use for a bathroom?? This is the question I get asked most most! Although we have an outdoor biffy (outhouse) on the property, we still decided to put in a separate room for a toilet and sink. There is no plumbing in this unit however, we use a simple compost style toilet.
You can purchase Double Dootie bags from Amazon. These work pretty good for a weekend away as most of the time they only use the indoor toilet in the night. The outhouse works fine throughout the day!
Plumbing an Off-Grid Shed Cabin
Although there are ways to add plumbing to the unit, we have chosen to leave it without for now. Instead, we pack water to the unit in large 5 gallon jugs and use a simple pump system.
I found this vintage kitchen pump and we attached a 4″ PCV plumbing hose to the end. The hose is just the right size to fit inside the jugs of water! The pump works like a charm and looks so good at the kitchen sink! I will also boil water and keep it in a thermos for quick hot water whenever needed!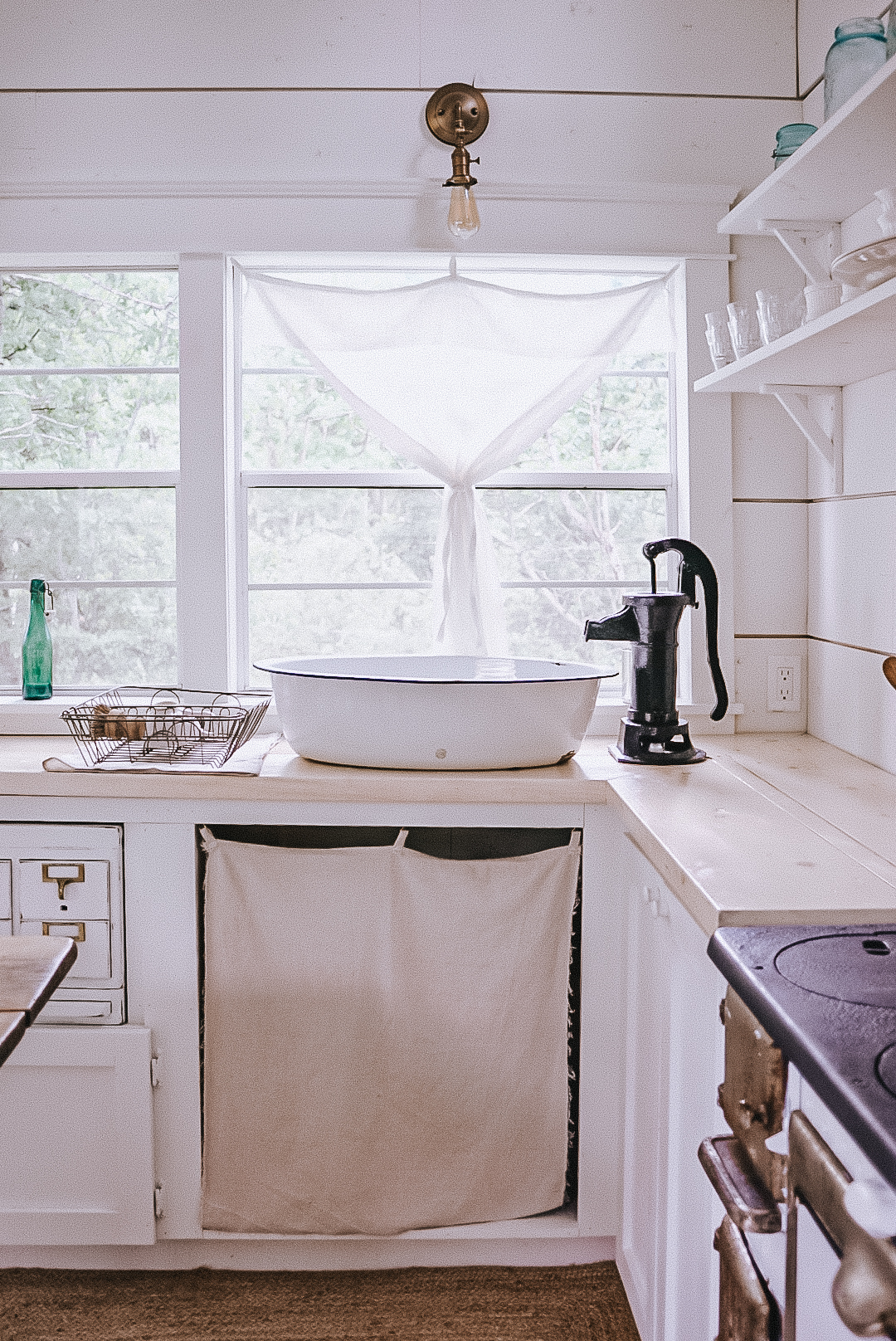 In the summer months, I will catch rainwater off the eaves which will also be used to wash dishes, etc. Eventually, we may add a drain pipe somewhere in the building for gray water.
If a shower or washing is needed, it is only a short drive to home or you can always go take a dip in one of the surrounding lakes to cleanup!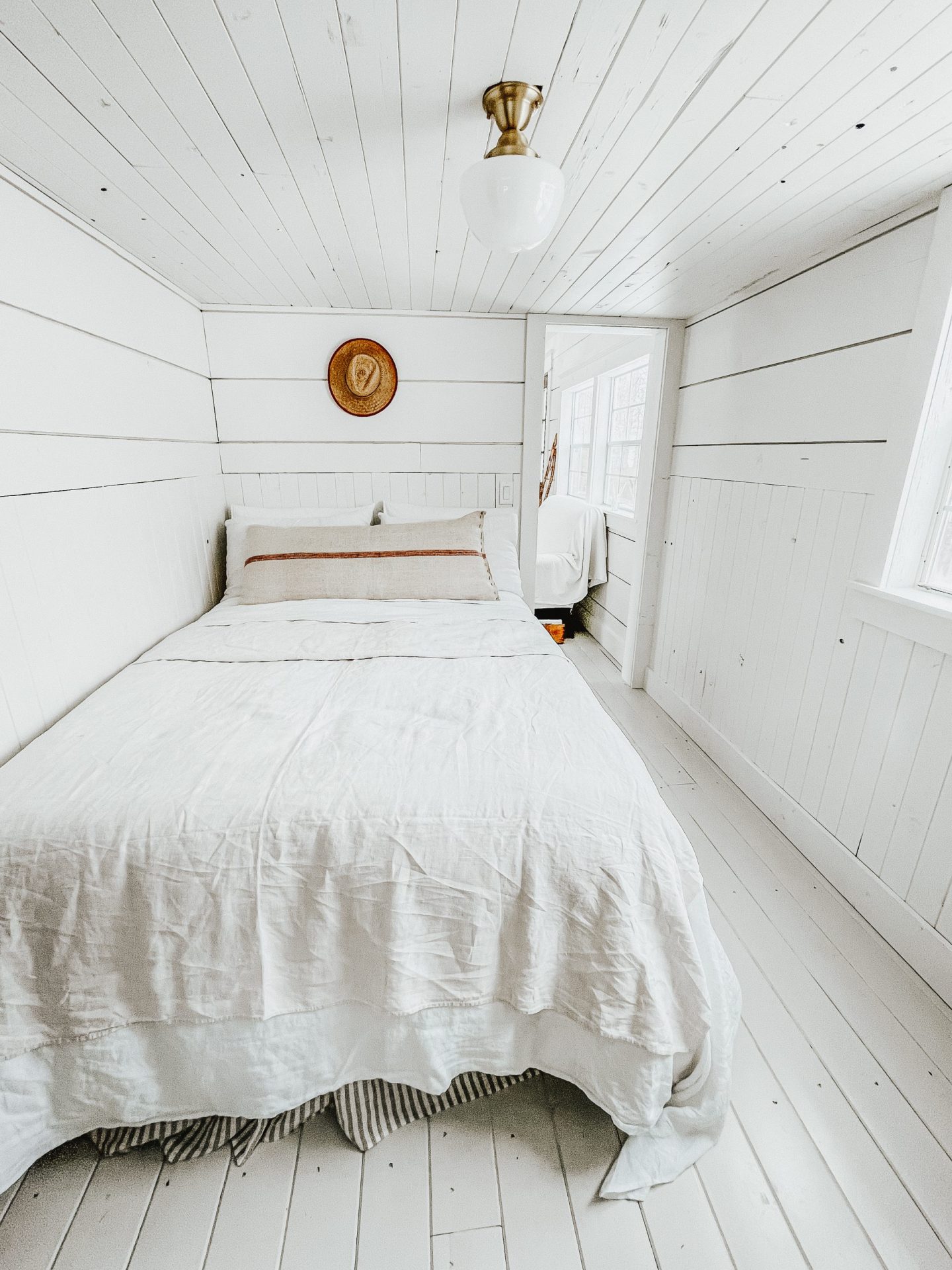 Scandinavian Minimalism Decor in a Cabin Shed
Scandinavian minimalism decor has become more popular lately and with good reason! It is all about simplicity, purity and calmness and most often it is only using items that have a purpose in your home as decor, which makes it the perfect type of decor for a small space like a cabin shed or tiny home.
Three key points were kept in mind when decorating the tiny house.
Only items that have a functional purpose and that are used regularly can be added to the space
Use decor elements and furniture pieces that will provide additional storage
Try to use as many antique, vintage or repurposed decor items as possible! This adds personality to a space while keeping the costs down.
It was really important that I only had items in this home that I used on a regular basis. I begin hunting for unique items and antiques and found the most beautiful front door that was from an antique shop just outside Cremona, AB. The shed company was wonderful about adding custom elements and built the cabin to fit the door.
Tiny House Storage Solutions
Another key point that was kept in mind when decorating this space was finding storage solutions with every large piece of decor that was added. The kitchen table is an antique bakers table that has a ton of storage in the base. It holds all the board games for our family to play! The large cabinet in the bedroom adds tons of storage to the room and there are bins under the beds for additional clothing storage. Take a look at my 9 storage saving solutions for additional storage ideas.
There wasn't enough room for stairs to the loft so I found the most amazing antique Hungarian ladder instead! As much as stairs are a safer and easier option, we just didn't have the space. So I went to my favourite shop, Uniquities, and Julia the owner had a Hungarian vintage ladder that fit perfectly!! It adds so much personality to this space and was very cost effective. A lot of the decor items that were used in the cabin I had been collecting over the years, so that really did help keep the cost down.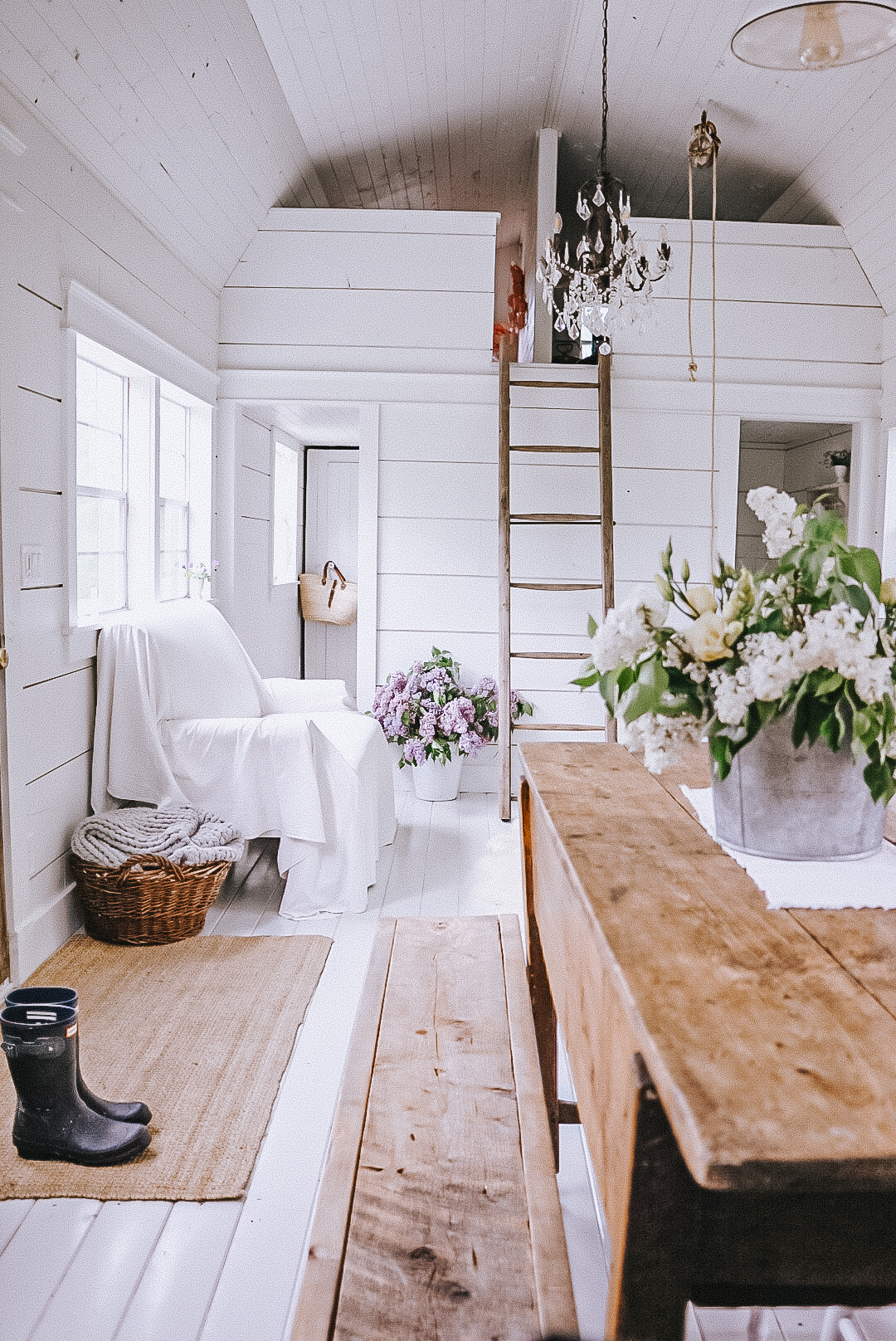 I was also able to find some beautiful lighting options on Etsy! She loves the ones that are hanging over the kitchen table and the school house light in the master bedroom.
Shop the Tiny Cabin Decor

Shed Cabin Video Tour
I hope this post on our cabin shed helps you if you're planning to build one in the future. If you have any questions, please make sure to leave them in the comments below and as always, you can find me over on Instagram, YouTube or Tik Tok too. Be sure you Pin this post to your Pinterest so you can go back to it over and over when you need to!
The memories our family has already made are irreplaceable and they truly can not WAIT to keep the good times coming. In fact, my husband would gladly live out there if he could. This summer, we plan to add two decks and a small garden to the space. Eventually, we would love to have a turnkey oasis in the woods and they are well on their way!! So tell us, would you ever build a tiny house in the woods and live off the grid?
Pin for Later