This post may contain affiliate links. Please read our full Disclosure Policy.
Béchamel Lasagna With Sweet Italian Sausage and Swiss Chard is a delicious, hearty pasta dish that is perfect for any occasion. Combining the sweet Italian sausage, the smoothness of Béchamel sauce, and the earthy Swiss chard creates a balance of satisfying and comforting flavors.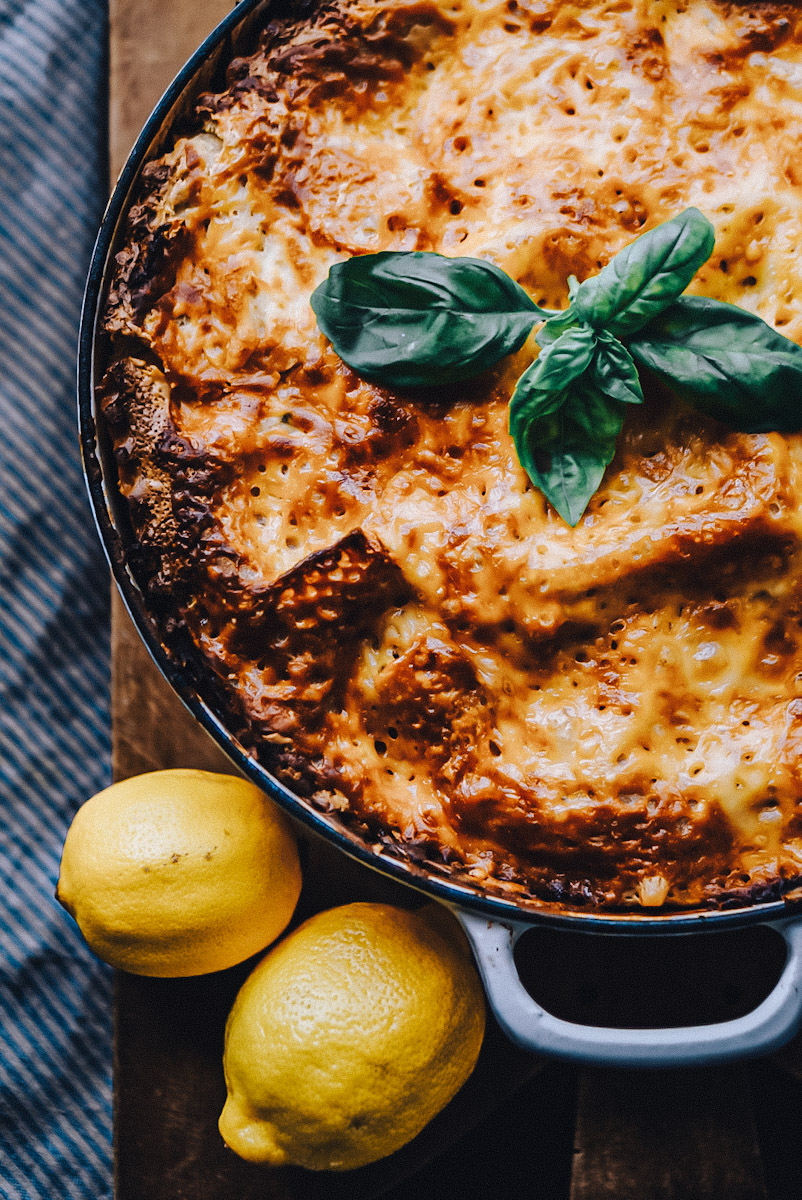 This homemade lasagna recipe has been one of our family's favorite dishes for many years! It has a much different flavor than a classic lasagna recipe, but whenever my teenage son gets to choose dinner, this is his 'go-to' meal! This recipe is a bit of an undertaking, but the finished dish is well worth it, I promise!
Why You'll Love This Béchamel Lasagna
First off, who doesn't love lasagna?! Our family loves lasagna in many different flavors and combinations; however, here are a few reasons you'll love this Sweet Italian Sausage Lasagna with Swiss chard and Béchamel.
Unique flavor – Combining sweet Italian sausage and earthy Swiss chard produces flavor combination that is both satisfying and comforting.
Rich and creamy texture – The bechamel sauce adds a luxurious texture and flavor to the lasagna.
Nutritious – this pasta dish is a great way to incorporate healthy greens like Swiss chard into your diet.
Make It Ahead – This lasagna is perfect for feeding a crowd and is easy to make ahead of time, making it a great option for busy weeknights or special occasions.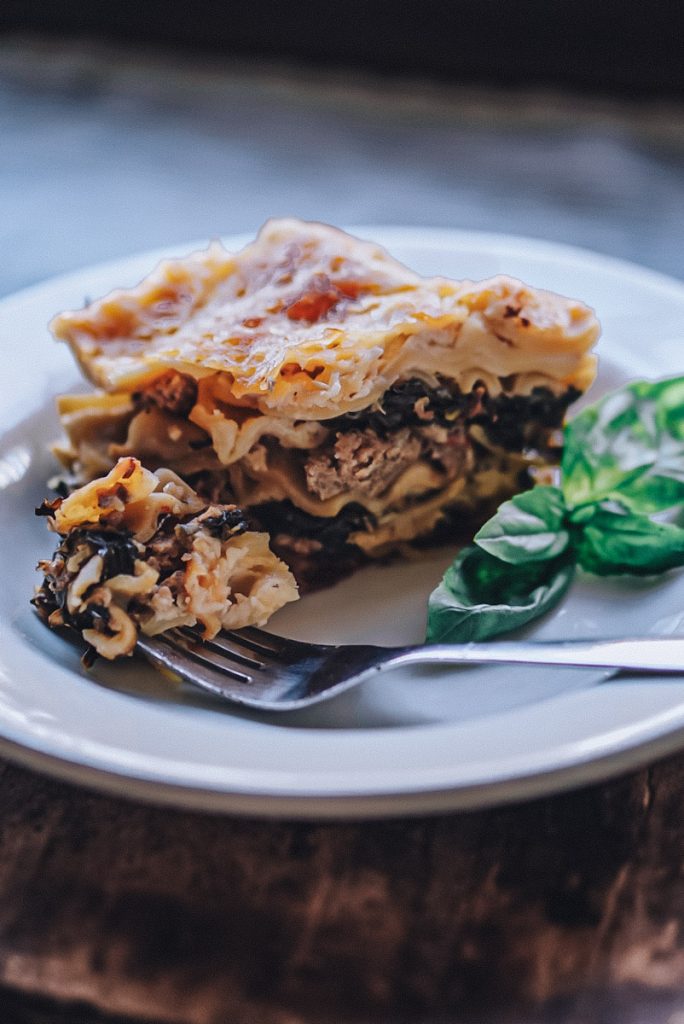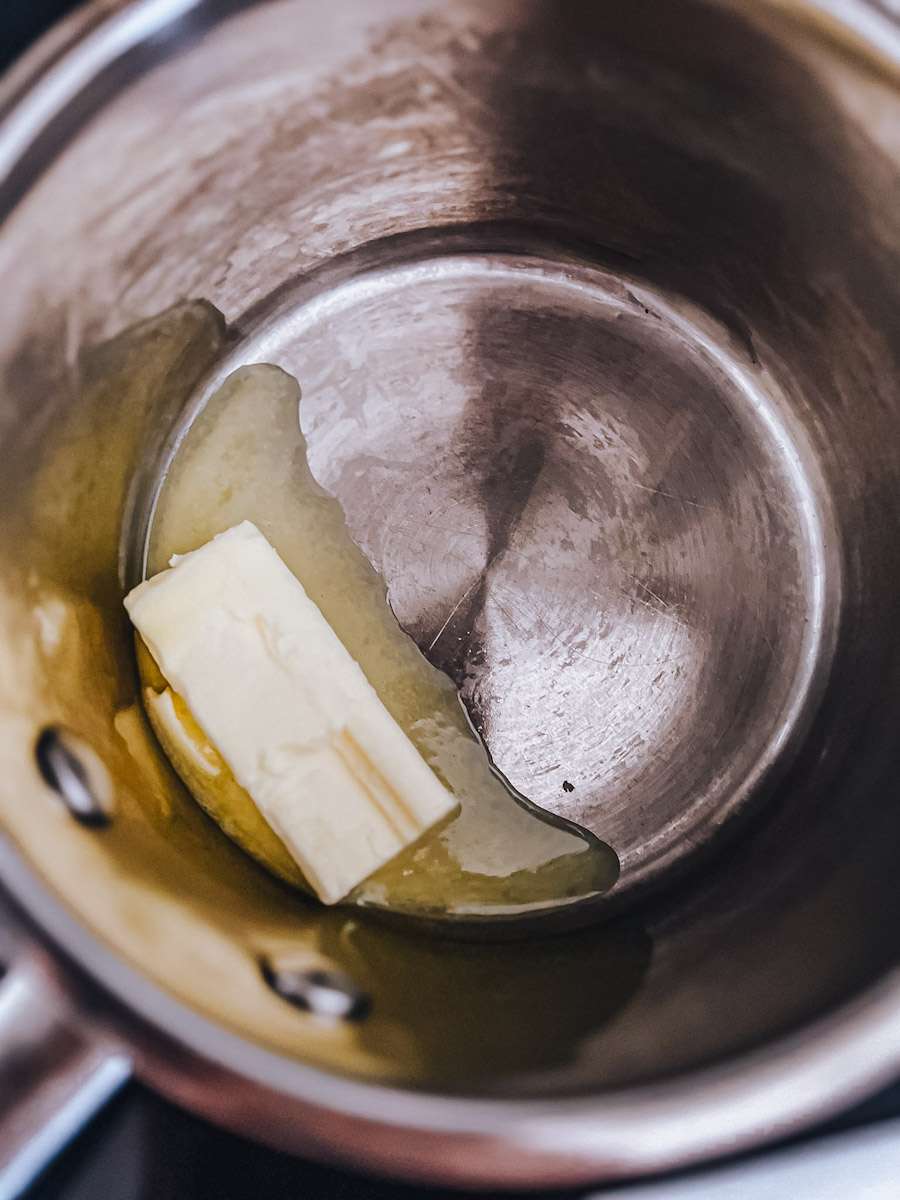 What Is Sweet Italian Sausage
Made with ground pork, Sweet Italian sausage is typically mixed with various seasonings such as fennel, garlic, and paprika. It is called "sweet" because it contains no hot peppers or spicy ingredients, unlike its counterpart, hot Italian sausage. Sweet Italian sausage is commonly used in Italian cuisine and can be cooked in various ways, such as grilled, sautéed, or baked.
Substitutes and Variations For Béchamel Lasagna
It is always recommended to try the recipe as written the first time and then change it up the next time round.
Sweet Italian Sausage: Any sausage flavor can be substituted for this recipe. Chicken or beef sausage would be a great option as well.
If you're vegetarian or vegan, you can substitute the sweet Italian sausage with plant-based sausage or crumbled tofu for a similar texture and flavor.
Swiss Chard: Substitute the Swiss chard with another leafy green like spinach or kale.
Cheese: You can use different types of cheese in this lasagna, such as mozzarella cheese, fontina, or Parmesan cheese. You can also use a combination of cheeses for a more complex flavor.
Béchamel sauce: If you don't have Béchamel sauce, you can use any white or alfredo sauce or switch to a marinara sauce or pesto instead. Or change things up completely and use ricotta cheese or cottage cheese instead.
No-boil Noodles: Instead of using no-boil lasagna noodles, you can substitute the traditional ones with zucchini noodles or eggplant slices for a lower-carb option.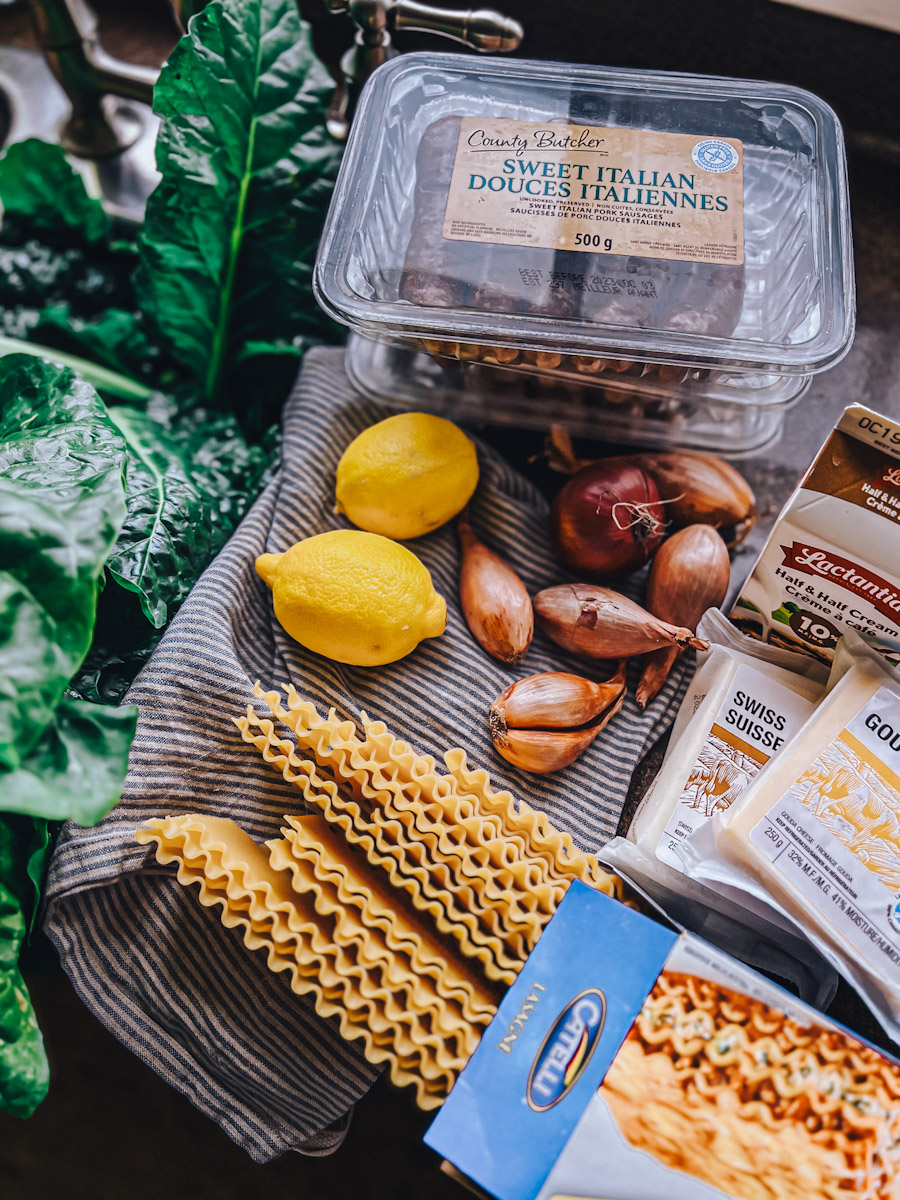 Ingredients
Sweet Italian Sausage Layer
2 tablespoons of extra-virgin olive oil
4 packages of sweet Italian sausage, casings removed
Swiss Chard Mixture
4 shallots, diced
3 pounds chopped Swiss chard
3 large garlic cloves, sliced thinly
1 tablespoon lemon zest
1 teaspoon coarse salt (Himalayan pink coarse salt can be substituted)
Freshly ground pepper
Juice from 1 freshly squeezed lemon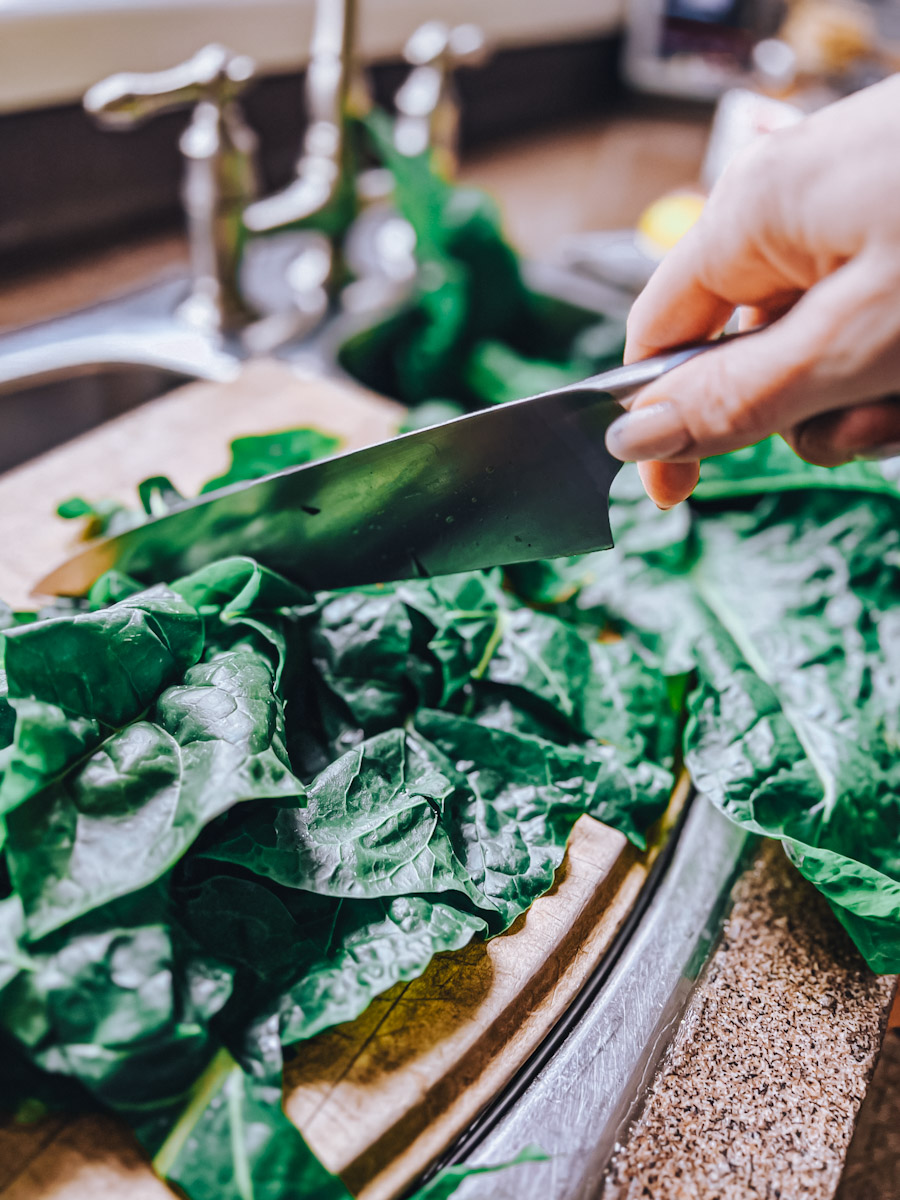 Béchamel Sauce Recipe
5 tablespoons unsalted butter
1/2 purple onion diced
1 1/2 teaspoon coarse salt (Himalayan pink coarse salt can be substituted)
1/2 teaspoon red pepper flakes
1/3 cup all-purpose flour
4 1/2 cups whole milk
1 package oven-ready lasagna noodles
1 1/2 cups grated Italian blend grated cheese
Tools To Use
How To Make Béchamel Lasagna
Sweet Italian Sausage Layer
Preheat oven to 375 degrees.
Begin by removing the casing on the sausage and heating the oil in a large saucepan on medium heat.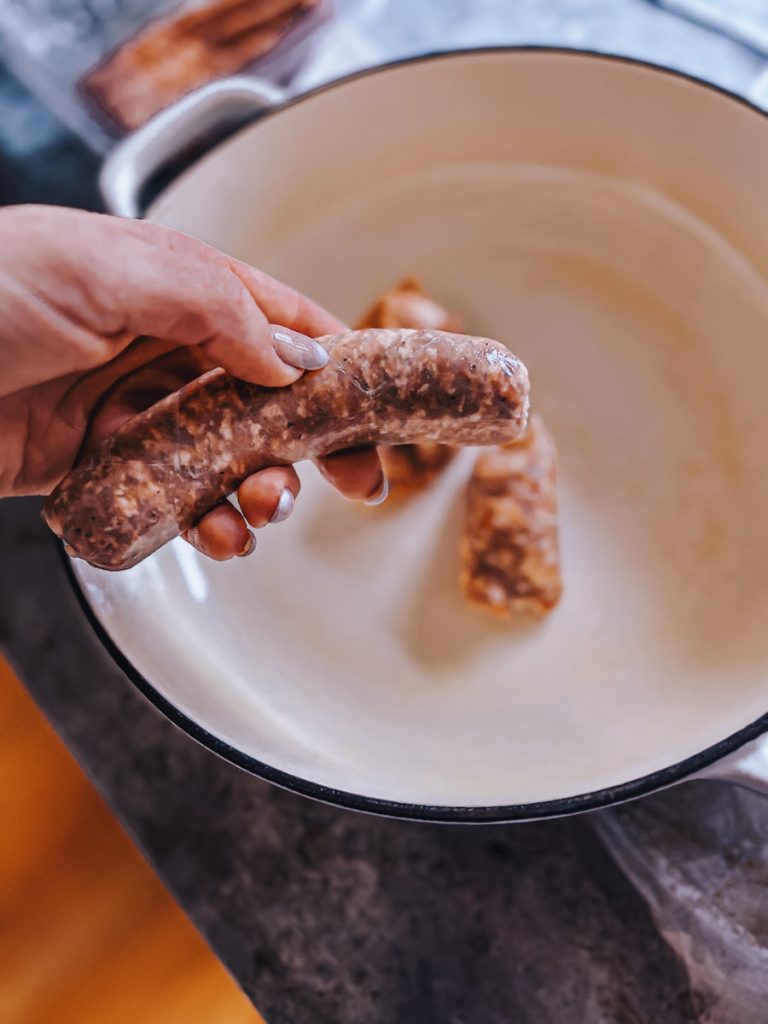 Add sweet sausage to the sauté pan and stir until fully cooked. Remove from the pan into a paper towel-lined bowl and set aside.
Swiss Chard Layer
Add the chopped shallots to the sausage drippings in the pan and cook until softened and translucent. When the shallots are ready, add the Swiss Chard and cook until it is beginning to wilt; make sure you are stirring it along the way.
Add sliced garlic, lemon zest, and salt, then season with pepper. Stir until the Swiss chard is completely wilted, and add in the freshly squeezed lemon juice.
Strain and set aside in a bowl.
Creamy Béchamel Sauce
Add the butter and stir with a deep saucepan on medium-high heat until melted.
Add the diced purple onion, coarse salt, and red pepper flakes, and stir until the onions are browned and translucent.
Slowly stir the flour and allow it to cook for about a minute.
Pour in the milk and bring it to a boil; remember to continually gently stir using a whisk.
Reduce to low heat and continue to simmer and stir until it is thick and creamy. Remove from heat.
Assemble The Lasagna
Spray your pan with cooking spray if desired, and then begin the layers of pasta. Layer a 13″ lasagna pan or a Dutch oven, as shown here, starting with a single layer of creamy white sauce. Then, add a layer of noodles and a layer of the Italian sweet sausage, and top with the Swiss chard mixture.
Continue the layering process again, starting with the creamy bechamel sauce, then a sheet of pasta noodles, the last layer of meat, and then the Swiss chard mixture.
Use the last of your noodles and white sauce as the top layers, and sprinkle the Italian blend cheese evenly.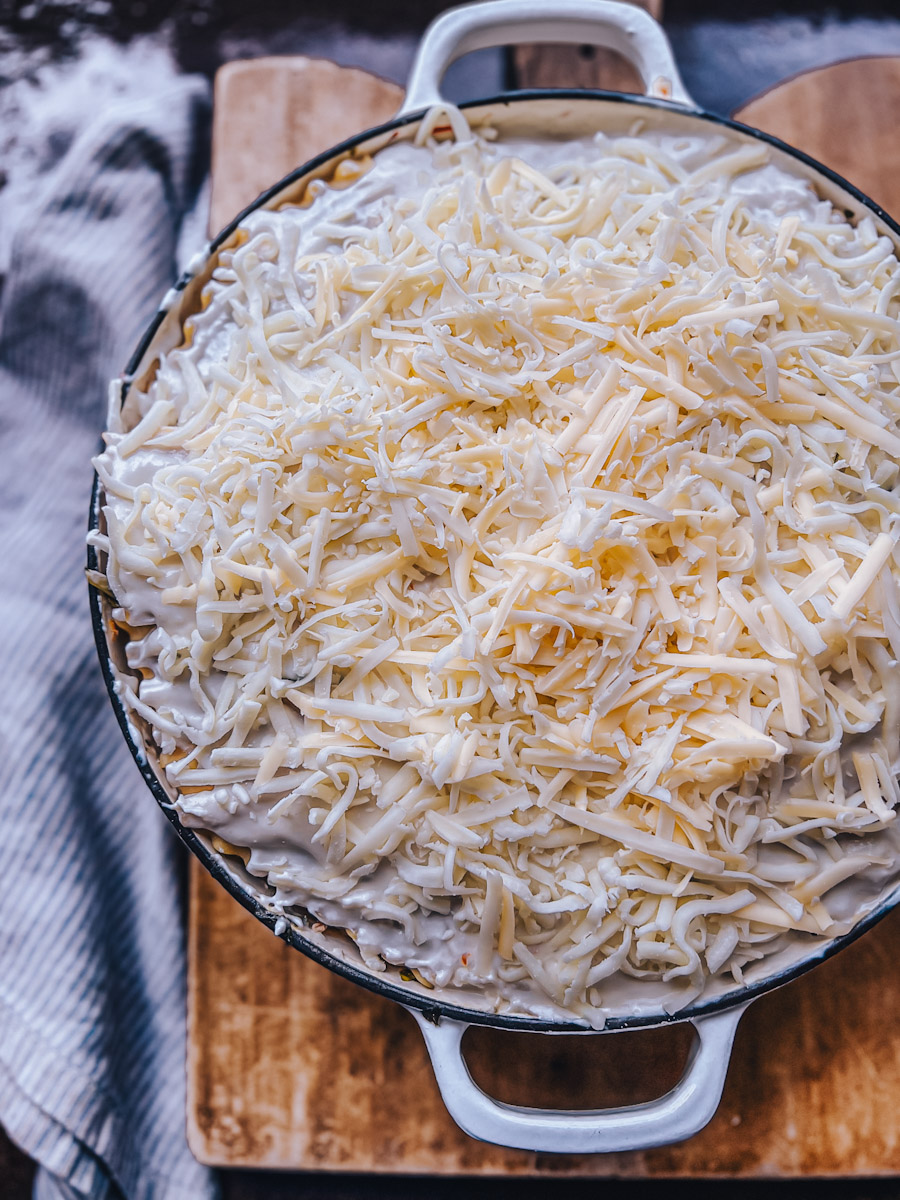 Bake until cheese is golden brown, about 45-50 minutes. Let cool slightly before serving, sprinkle with freshly cracked black pepper and Parmigiano cheese, and enjoy!
Tips
After washing and chopping the Swiss chard, drain it thoroughly to remove any excess moisture. This will prevent the lasagna from becoming too watery.
To help speed up the cooking time, make the Béchamel sauce in advance and store it in the refrigerator for up to three days. This will save time when assembling the lasagna. You could purchase a premade Béchamel or white sauce, too.
Use a deep baking dish to prevent the lasagna from overflowing while baking in the oven.
Let the lasagna rest for at least 10-15 minutes before serving. Doing so will allow the lasagna to set and make it easier to cut into slices.
How To Store
Let the bechamel lasagna cool to room temperature before storing, and then cover the lasagna tightly with plastic wrap or aluminum foil.
Refrigerator – Store the lasagna in the fridge for 3-4 days in an airtight container.
Freezer – Label the lasagna with the date and store it in the freezer for 2-3 months.
To reheat the frozen lasagna, thaw it in the refrigerator overnight, then bake it in the oven at 350°F (175°C) for 30-40 minutes or until heated through.
Frequently Asked
Do you put meat as bottom layer lasagna?
No, putting meat as the bottom layer of lasagna is unnecessary. The order of the layers in lasagna can vary depending on personal preference and the recipe being used. However, many traditional lasagna recipes start with a layer of tomato sauce or Béchamel sauce as the bottom layer, like this one, followed by a layer of pasta sheets, then a layer of meat, cheese, and vegetables.
Why is béchamel used in lasagna?
Béchamel sauce is used in lasagna to add a creamy and rich texture to the dish, just like we did with this recipe. The sauce is made with butter, flour, milk, and seasonings, and it is traditionally used in Italian cuisine as a base for many dishes, including lasagna. Béchamel sauce is added between the layers of lasagna to help bind the ingredients together and keep the dish from becoming too dry. It also adds a delicious flavor to the lasagna that complements the other ingredients.
More Delicious Dinner Recipes
Print Recipe
Béchamel Lasagna With Sweet Italian Sausage and Swiss Chard
Béchamel Lasagna is a delicous pasta dish featuring layers of sweet Italian sausage, Swiss chard, and velvety béchamel sauce that melt together to the perfect combination of flavors. This comforting dish combines the rich essence of sausage with the earthy notes of Swiss chard, creating lasanga that's sure to delight your taste buds.
Equipment
1 ​13" x 9" Lasagna Dish

1 4 Qt Enamel Coated Cast Iron Braiser
Ingredients
Sweet Italian Sausage Layer
2

tbsp

extra-virgin olive oil

4

500 g

sweet Italian sausage

casings removed
Swiss Chard Mixture
4

whole

shallots

diced

3

pounds

Swiss chard

chopped

3

cloves

garlic

large, sliced thinly

1

tbsp

lemon zest

1

tsp

coarse salt

Himalayan pink coarse salt can be substituted

1

pinch

pepper

freshly ground

1

whole

lemon juice

freshly squeezed
Béchamel Sauce Recipe
5

tbsp

unsalted butter

1/2

purple onion

diced

1 1/2

tsp

coarse salt

Himalayan pink coarse salt can be substituted

1/2

tsp

red pepper flakes

1/3

cup

all-purpose flour

4 1/2

cups

whole milk

1

pkg

lasagna noodles

oven-ready

1 1/2

cups

Italian blend cheese

grated
Nutrition
Serving:
1
piece
|
Calories:
202
kcal
|
Carbohydrates:
13
g
|
Protein:
9
g
|
Fat:
14
g
|
Saturated Fat:
6
g
|
Polyunsaturated Fat:
1
g
|
Monounsaturated Fat:
4
g
|
Trans Fat:
0.2
g
|
Cholesterol:
27
mg
|
Sodium:
792
mg
|
Potassium:
587
mg
|
Fiber:
2
g
|
Sugar:
6
g
|
Vitamin A:
7255
IU
|
Vitamin C:
35
mg
|
Calcium:
204
mg
|
Iron:
2
mg