This post may contain affiliate links. Please read our full Disclosure Policy.
Coffee Table Centrepiece Decor
Let's style some coffee tables! This piece of furniture is often a big focal point in your home so I wanted to round up some fun and easy ways to style your coffee table decor. However, before we go to far you may want to check out how to pick a coffee table or the best style and shape of a coffee table for your home.
Now, let's get into the fun part! Your home décor style! Now there are some shapes that are better suited for some styles, but often most shapes can be incorporated into multiple styles.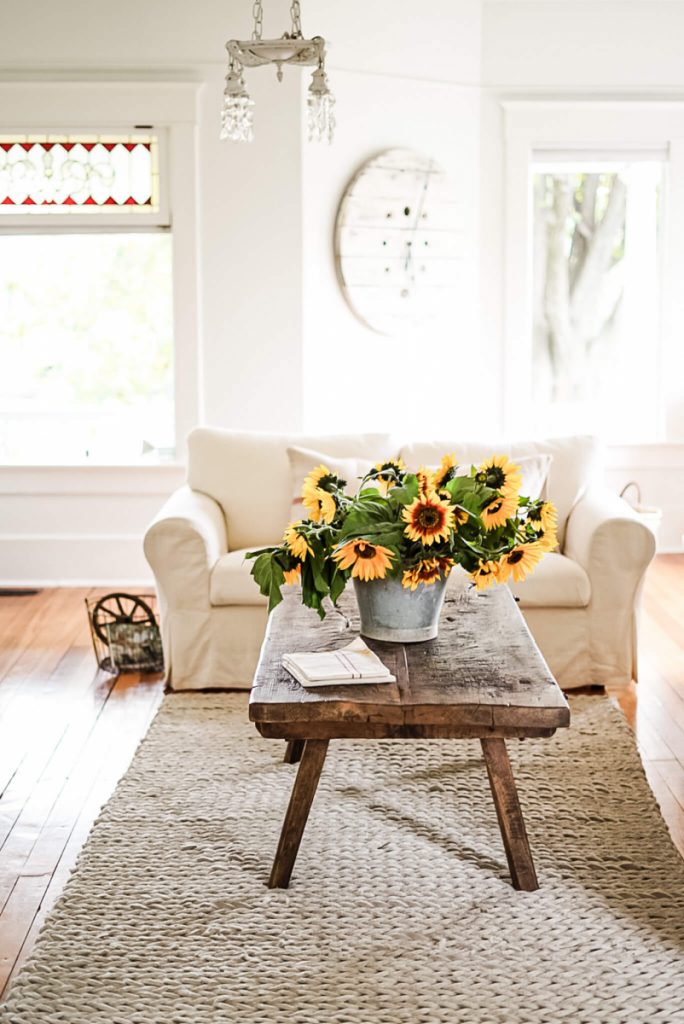 Decorating a Coffee Table
Coffee tables are a key piece of furniture that most of us have in our homes! The key is to make these tables be functional yet finding a way to keep them styled in an aesthetically appealing way. Often being able to incorporate a bit of storage as well can be essential as well!
Brittany Dawn and I did a fun challenge one Sunday to see how many ways they could style a coffee table in 1 minute! Take a look at the little challenge!
Center Table Decor
Many of the same items that you use in your coffee table can also be used for other tables in your home. Dining room and kitchen table decorating can all have similar concepts to decorating just on a slightly larger scale depending on the size of the table.
Buckets of Flowers on a Coffee Table
Simple, classic yet beautiful, this has to be a favourite coffee table centrepiece! Any container that fits with your style and filled with blooms is sure to look amazing!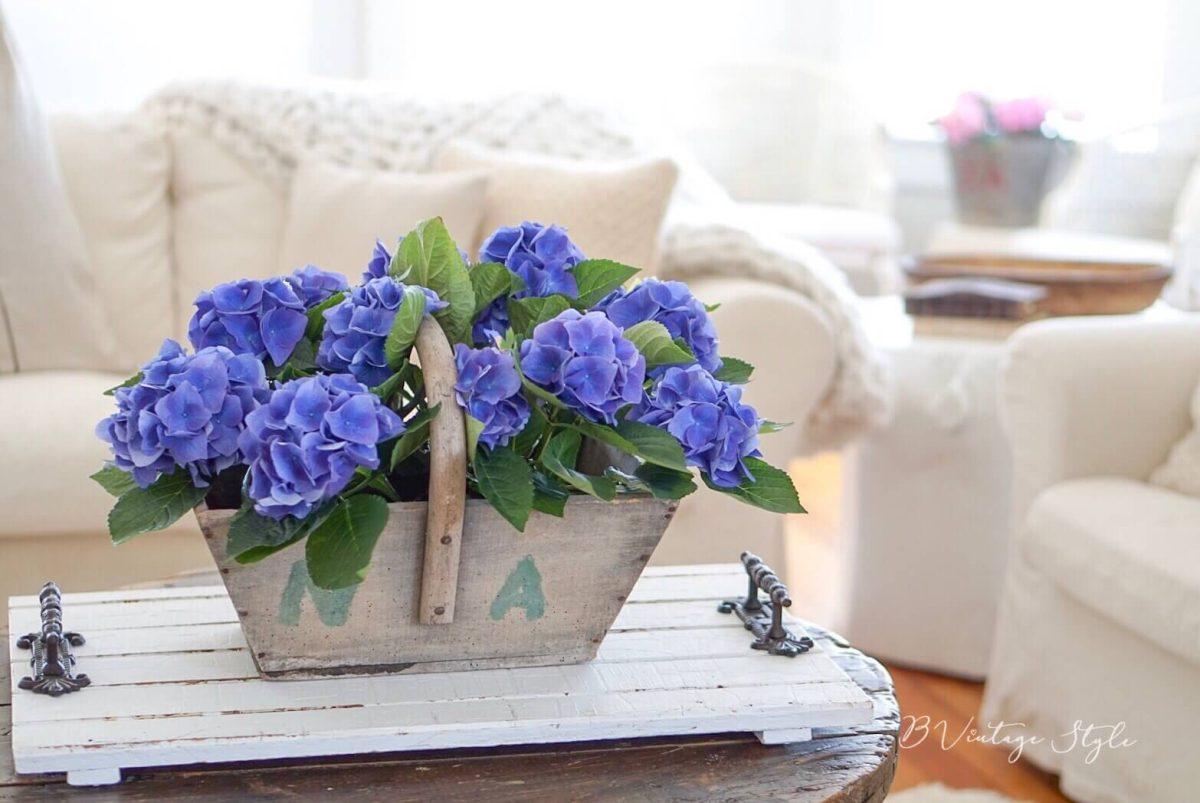 Another option involving flowers is to use multiple vases. Vases grouped in odd numbers or lined up down the table can look so pretty. Place single stems in the vases to get the biggest bang for your dollar.
Styling a Coffee Table Using Beautiful Antiques
It's no secret that so many of us love to fill our homes with antiques. One of the reasons is that we feel a lot of these pieces look beautiful even on their own! It's an easy way to decorate and often looks great year-round. For an extra touch, I often love to fill the antique containers with a few linens. Ticking linens or antique linens are the beautiful layered in a container.
Here's a little trick … you don't need to fill the entire container with the "pretty linens." Place a plastic container on the bottom of the antique container or use an old towel to occupy the space at the bottom and then place the nice decorative linens on the top!
Seasonal Coffee Table Decor
Sometimes it is a good idea to keep the coffee table décor more on the simple side and let the coffee table look amazing on it's own. Check out our unique coffee table ideas.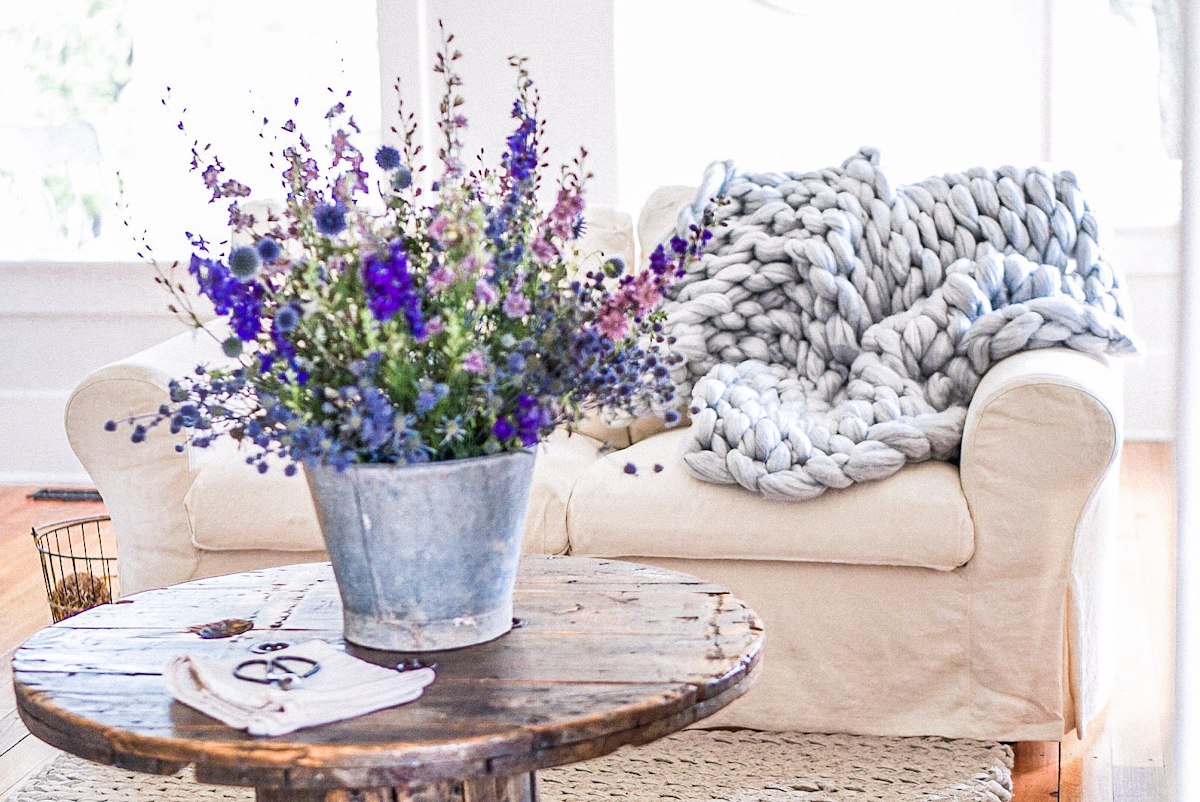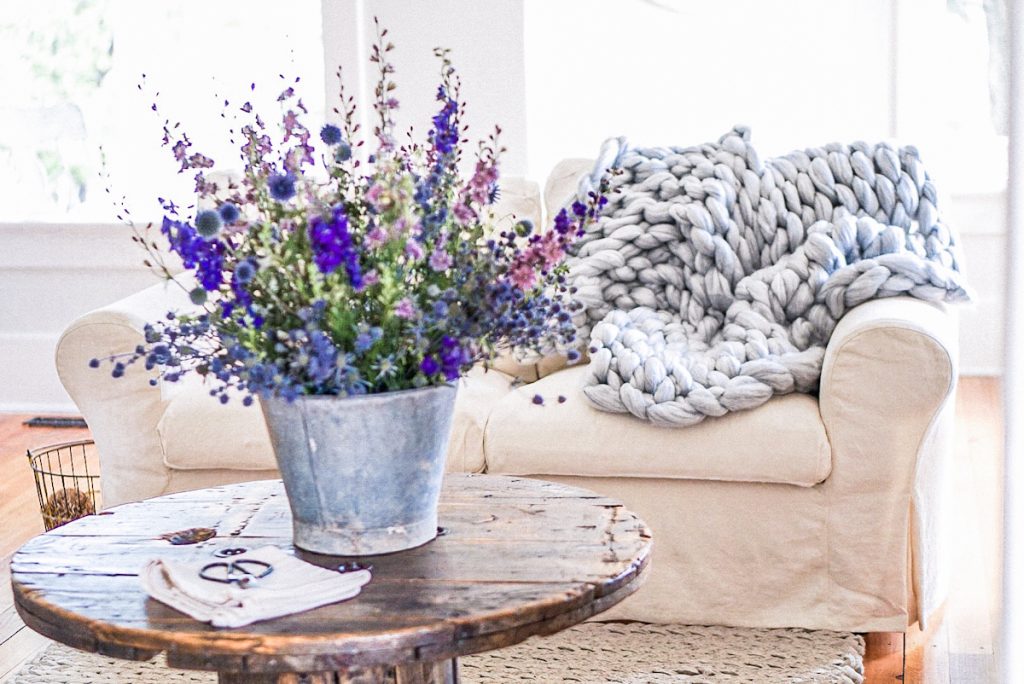 If you love to layer your décor a great guide for creating a beautiful coffee table centrepiece is:
1. Start with a tray.
2. Add vases or candles to the tray.
3. Fill the vases with flowers or layer in some beads or twinkle lights.
The easiest way to give you some more coffee table décor ideas is to break this down into the seasons! I love to live in a 4-season climate and love to base a large part of their décor around this idea.
Spring Décor Ideas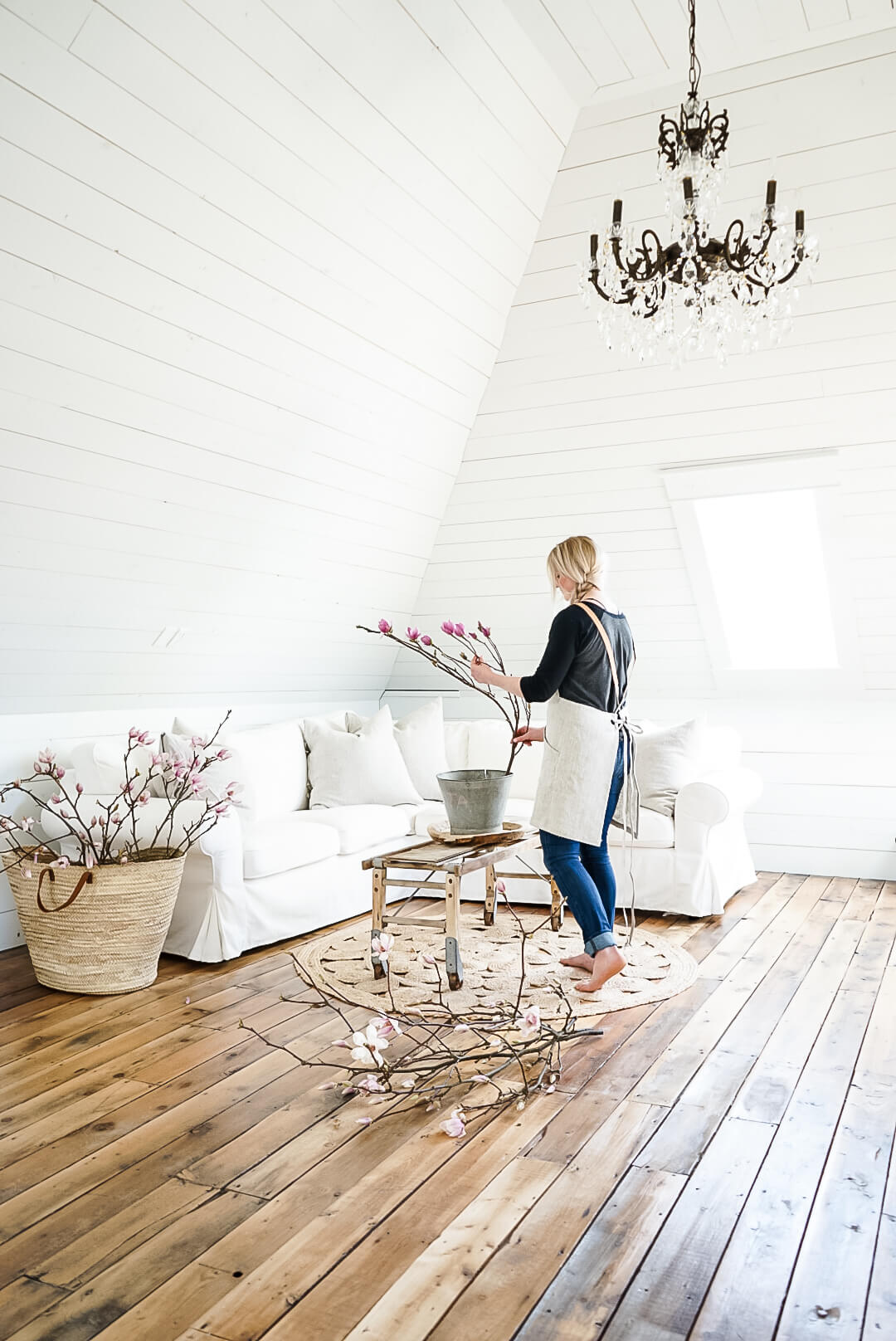 Bring in all the fresh! Fresh flowers or fresh fruit! Use this season to bring in the fresh elements of the outdoors indoors!
Whether it be single stems, large bouquets, or branches like pussy willows or magnolia is often what you will catch on their tables this time of year.
Potted plants like hydrangeas are often coming our in the spring and placing a big potted hydrangea on the table looks so pretty as coffee table decor.
Mandarin oranges begin to arrive in the grocery store so grab a bag to fill up a fun or basket! Plus they smell amazing!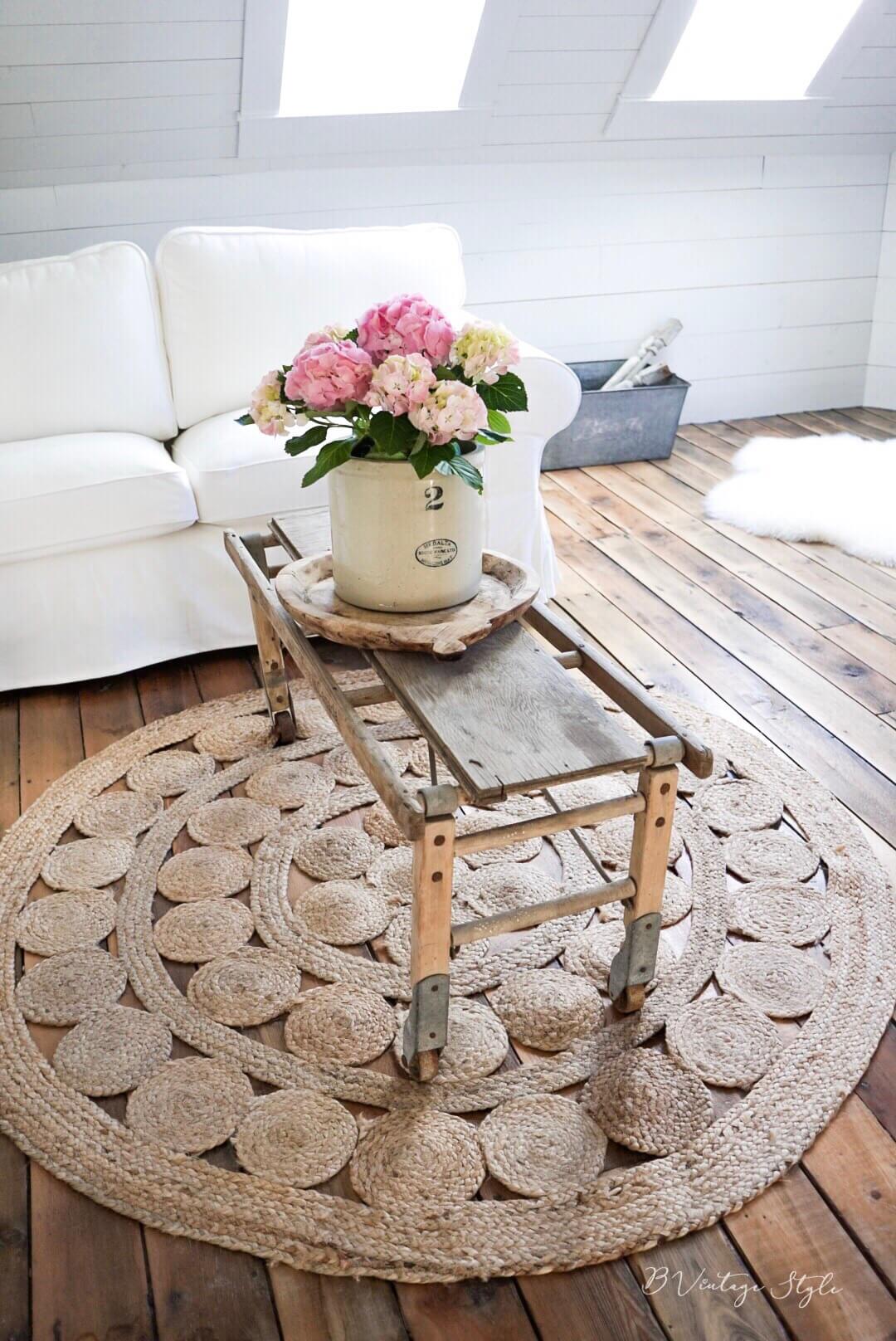 Summer Coffee Table Décor Ideas:
When we think of summer we often think of florals first but we are also usually busy and spending more time outdoors so keep the décor on the coffee table simple!
Even more flowers! Trim flowers from around the yard and get some at local flower farms. A simple but beautiful coffee table display is a massive bunches of flowers or groups of simple stems in a pretty container!
Flowers are all around us during the summer and great to use to style coffee tables this time of year! When we think of summer we often think of florals first but we are also usually busy and spending more time outdoors so keep the décor on the coffee table simple!
Fall Décor Ideas:
This season is when we switch to those warm, cozy vibes. It's always a good ideas to bring in more texture for these cooler seasons!
For the Autumn months fill a container with apples or pumpkins for your coffee table decor.
Or if you can find pretty pumpkins you can simply place a few on the centre of your table on their own.
Bring out the branches. If you saved some pussy willows from the Spring you can bring them back out.
Dried flowers. Flowers like larkspur and Globe Thistle dry so well and look great dried and placed in a container!
Switching between Fall and Winter. Simply fill containers with cranberries or pomegranates because the colours and the fruits transition between seasons so well.
Watch this easy step by step tutorial on how to decorate a fall coffee table with pumpkins.
Christmas Coffee Table Décor Ideas:
For this next part we are going to separate Christmas and Winter. Winter lasts for months after Christmas here in Canada and can be one of the hardest times to decorate your home for so here are a few ideas to make sure to give you some winter coffee table decor inspiration as well!
During the Christmas months fill a container with Christmas Balls or Ornaments! You can even layer in twinkle lights with the ornaments!
Mini Christmas Trees in a little bucket look so cute.
Candles are also perfect for this time of season! Either a large candle displayed with a few other items. Or filling a tray with multiple small candles can create that cozy atmosphere on those chilly evenings.
Grab a poinsettia and place it in a unique container.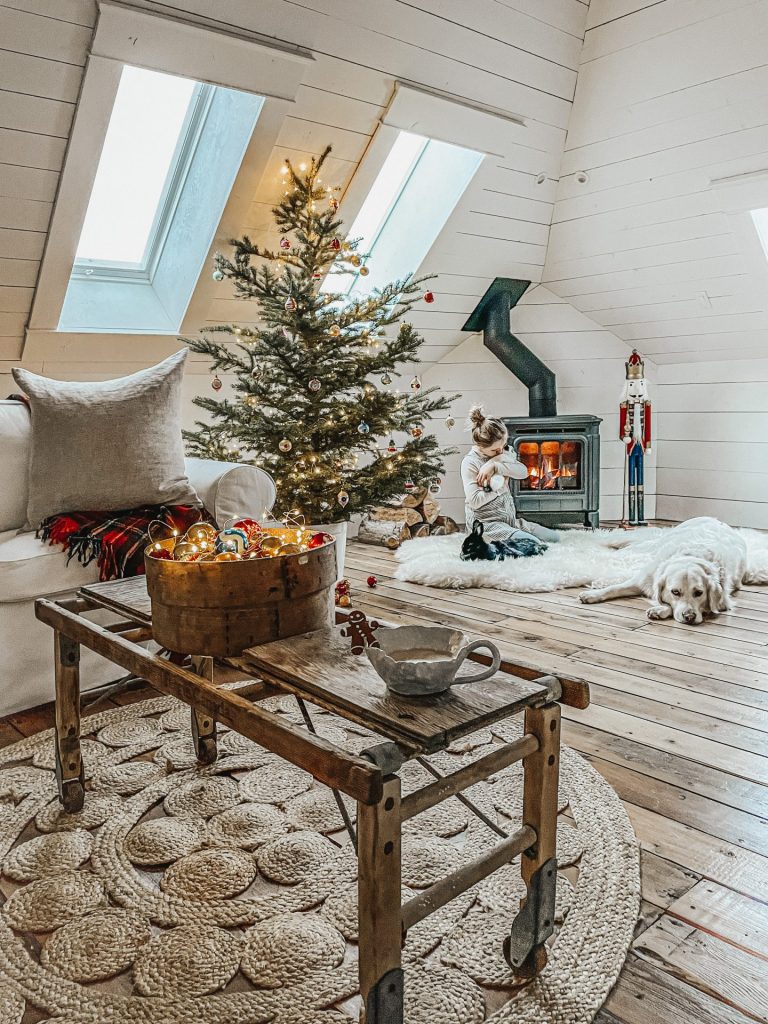 Winter Décor Ideas:
One of the hardest seasons to decorate for may be Winter. It is a time to embrace simplicity and enjoy the presence of your family within your home! Rather than thinking your décor looks simple or boring use this time to clean and purge your home and prepare for the abundance that Spring can bring. When it comes to styling a coffee table here are a few minimalist type ideas:
Shop My Favourite Christmas Decor
A bucket filled with skinny taper candles! These skinny candles are so unique and are so pretty simply piled in a bucket or vase.
Place a stack of books on the centre of your table. Grab some books that look pretty but are also a great read on those slow afternoons!
Grab a basket or trug and fill it with linen.
Twinkle Lights are also great to continue into your winter décor. Twinkle lights seem to cheer us up and especially during the longer winter months that soft glow can be very welcoming in the dark evenings.
I love to keep my décor simple while incorporating unique and salvaged décor. Let me know what season you love to decorate for the most? Leave me a comment below and remember to Pin this post so you can find it later!