This post may contain affiliate links. Please read our full Disclosure Policy.
Lilac Blossoms
There is possibly no greater bloom than the lilac! All those little flowers blooming together to create a beautiful ombre bundle that seems to almost overflow from the bush itself! I am so lucky to live in a zone where Lilac blossoms grow easily and hedges get bigger with more blooms every year!
Lilacs come in all sorts of pretty colours from muted pinks and whites to deep magentas and beautiful blues, but my favourite colour is the prestige purple lilac. I love to bring big bunches into my home to enjoy throughout the lilac season! Here is a detailed care guide to help you make those big beauties last as long as you can!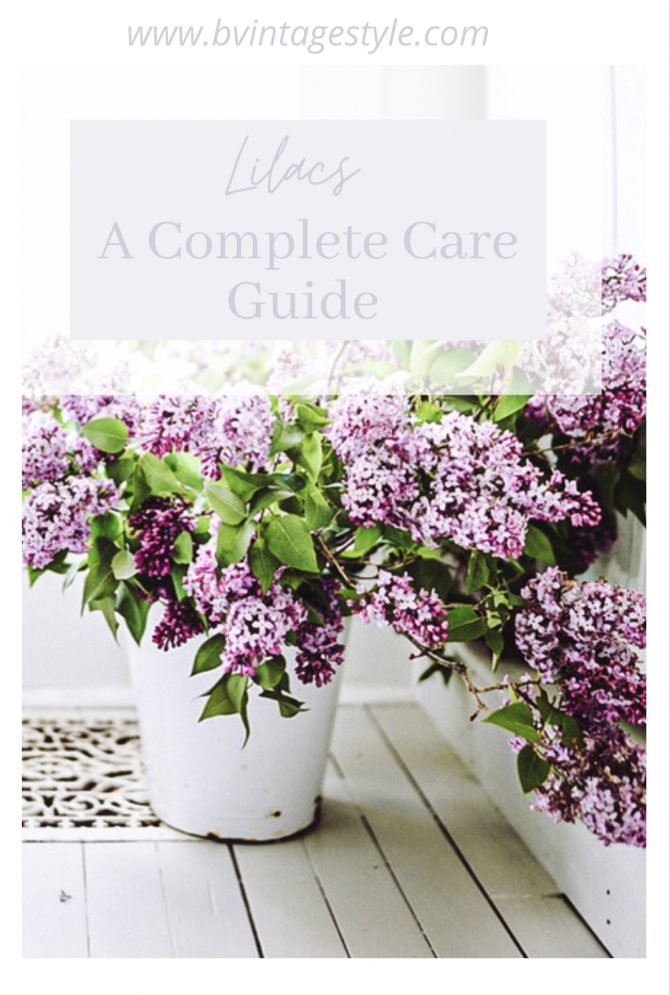 Blooming Time for Lilacs
Depending on what gardening zone you live in, lilacs will bloom reach their peak from May to late June and even into early July if the season is late. Here in central Alberta, Canada, we are a Zone 3 and can enjoy blooming lilacs into the beginning of July most years. The higher your gardening zone, the earlier your lilacs will bloom.
Can you eat lilac blossoms?
Yes! Lilac blossoms are in fact edible! They smell much better than they taste but it is still fun to use them as a lovely spring garnish for a salad or to infuse them in your lemon water.  You could also try making a recipe for lilac tea!
How Long Do Lilac Blooms Last?
Typically a lilac bush will bloom for around two weeks. The timing of the blooms are dependant on the variation of the lilac. Once a lilac stem is cut, it will last approximately 2 days to a week. Follow the tips below to prevent your lilacs from wilting once they are cut!
The Best Fertilizer For Lilacs
Lilacs don't require a lot of fertilizer or feeding to grow however if you are going to fertilize, use a 10-10-10 mixture applied annually in early spring. You can also use organic fertilizers such as Epsom salts, coffee grounds and bananas as natural alternatives. 
How long will cut lilacs last in a vase?
While lilacs look lovely outside, we all love to bring them indoors and have lilac arrangements in a vase or bucket! The scent of lilac fills our entire homes and they look amazing just as single stems or as a large lilac arrangement! The problem is that lilacs don't last long once brought indoors, so here are a few tips to help maximize the life of a cut lilac. To be completely honest, these tips are not guaranteed and you will be lucky to get cut lilac blossoms to last three days to a week, but give it a try anyways! The smell and beauty of lilacs are totally worth it!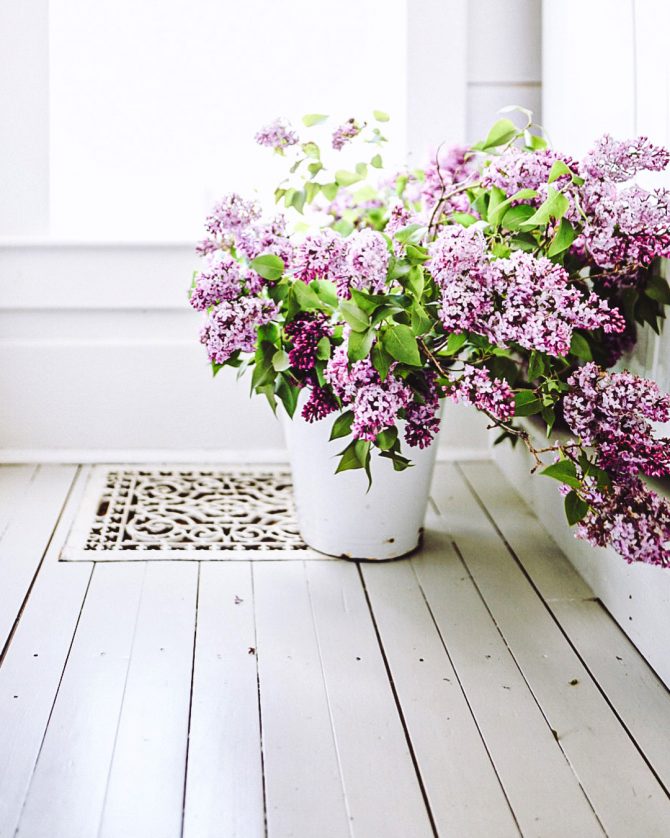 How To Keep Cut Lilacs From Wilting
Here are a few steps you can take to make your lilac blossoms last longer and prevent them from wilting. 
Harvest Lilac Blossoms In The Morning
The optimal time is in the morning after it has been cool all night.
Cut When 3/4 In Bloom
It is best to harvest lilac blossoms when the stem is about 3/4 blooming. This seems to be the time frame that the blooms will last the longest! 
Place In Water Immediately
Place the cut lilacs in water immediately. When you cut the lilacs have a bucket of cold water ready! Immediately cut and get the branch straight into the water! Some people even submerge them in water once they begin to wilt to try and rehydrate the bloom.
Cut Large Lilac Branches
If you are able to, we recommend cutting larger branches as opposed to just the small single stems of lilacs. Displaying larger buckets of lilac blossoms is beautiful and we have more success with them this way!
Keep The Blooms Cool
Keep lilac arrangements out of the direct sun and then set them outside or in a cold space at night!  The cool air will help revive the wilting blooms, then first thing in the morning, bring them back in and continue to enjoy the amazing aromas. You can also store them in a refrigerator. 
Don't Touch The Lilac Arrangement
Look but don't touch! Leave cut lilac arrangements alone once you have arranged them. After you cut the lilacs place them immediately into the water and if you are putting them in a different container transfer them without trimming them! Re-trimming seems to only stress the blooms out! So simply cut and enjoy!
Do you love peonies too? Make sure to take a look at this amazing tutorial on how to preserve peonies! This step-by-step tutorial will allow you to have fresh peonies right into the winter months!
 Shop Beautiful Containers for Lilac Arrangements 

Check out a step-by-step tutorial on how to make raised garden boxes! 
Did you know that 2022 is actually the Year of the Lilac according to the National Gardening Bureau.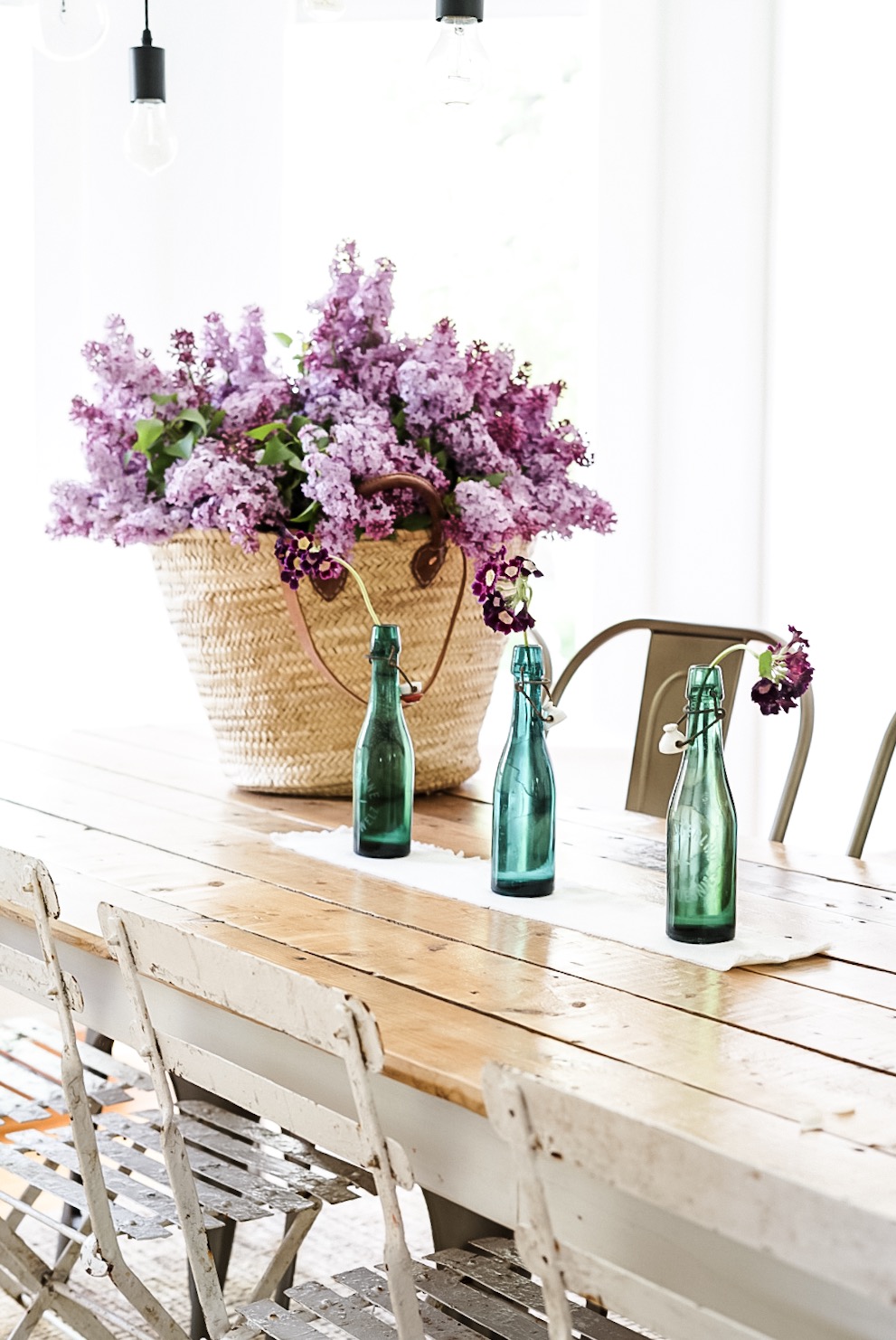 If you love the little things in life, like having fresh flowers around your home, you'll love our guide on how to enjoy the small things that make a happy home. 
Shop my Fav Gardening Tools

if you haven't noticed, we love flowers! but we also like to get our hands dirty and grow our own food. here are our tips on how to start your very own vegetable garden
A few myths about how to keep lilac blossoms alive longer.
Removing the leaves will help prolong the life of a lilac? WE have found this makes no difference.
Smashing the ends of the branch?? Again we have found that this really does not help much to the life expectancy of a lilac.
Give them flower food??? Although this works for many other types of cut flowers, it doesn't seem to make a 
Sorry if you were expecting some magical remedy to make  lilacs last for weeks, but it just can't be done! I think having them for a week is pretty good! So bring in lots and enjoy them while you can! Better yet, there are so many varieties of lilacs and they seem to bloom at various stages over a few weeks. Try and find a few places around you that you can trim from over the lilac season!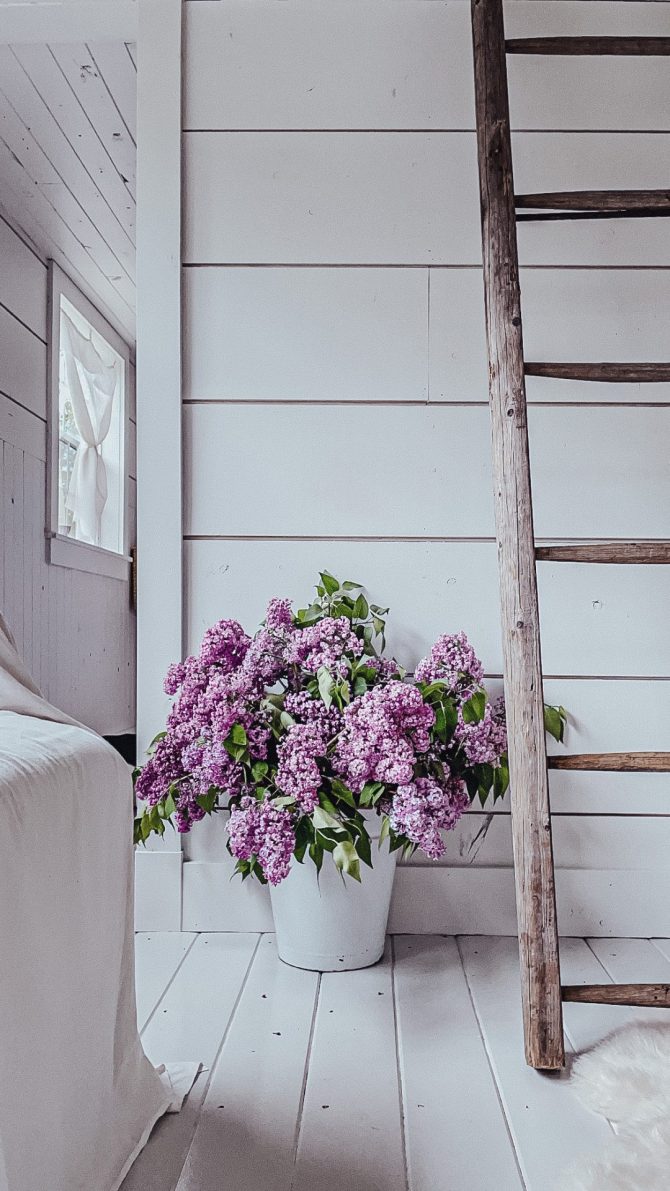 Looking for a fun way to use lilac blossoms? Check out this lilac tea by Planty Delights
I am fortunate enough to almost enjoy lilacs for an entire month, because we have neighbours and friends who have lilacs blooming over the various weeks. Now go fill those water buckets and start trimming!
 Let me know what you think of this guide on how to care for lilac blossoms and how you keep yours fresh in your home by leaving a comment down below. Happy trimming!
Want to learn more about what flowers to grow in your garden? You'll love this guide to easy flowers to grow in the garden!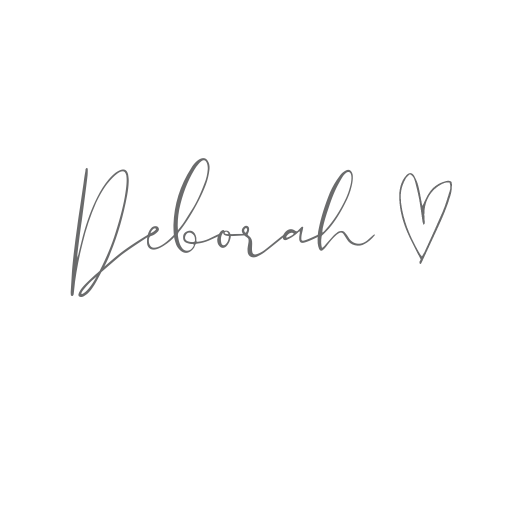 Pin for Later