This post may contain affiliate links. Please read our full Disclosure Policy.
If you've been around here for a while, then you know that we love a good garden inspiration and this home tour is exactly that! Karen, from Sanctuary Home Decor, is the definition of an elegant rustic farmhouse and her garden is to die for. I can't wait to share this gorgeous space with you, so without further a due, please give a warm vintage welcome to Karen!

Home tour Series:
Elegant Rustic Farmhouse & Garden with
Sanctuary Home decor
Can you give a brief introduction of yourself, your home and work?
I'm Karen and I love everything about home, family and entertaining!! From building and designing new homes to furnishing and decorating every room, for me it's all about creating a warm and beautiful space to live in and share with others. It's also about sharing our home with the people we love and gathering together often. My background in event design, where I created and styled high-end events from themes and tablescapes to decor and favors, was a natural transition to home styling, blogging and photography.
What year was your home built and do you have any details of the history or building process you would like to share?
We built our current home five years ago and it is the fourth home my husband and I have built together. The exterior elevation of our home was designed with a sensitivity to the surrounding area and property features. We wanted the house to feel as if it had always been nestled among the oak trees that surround the property.
How do you define your decor style? What are your favourite types of decor?
I define my decor style as elegant rustic farmhouse. This style represents our love of country living mixed with just a touch of elegance to better suit "city life". We chose a palette of soft whites with accents of gray and blue throughout. We imported beams and weathered barn wood from Montana to infuse a bit of rustic charm into our home and to remind us of the slow living we enjoy during our summers on our ranch.  I freely mix antique and vintage decor with modern or elegant pieces for an eclectic but refined feel.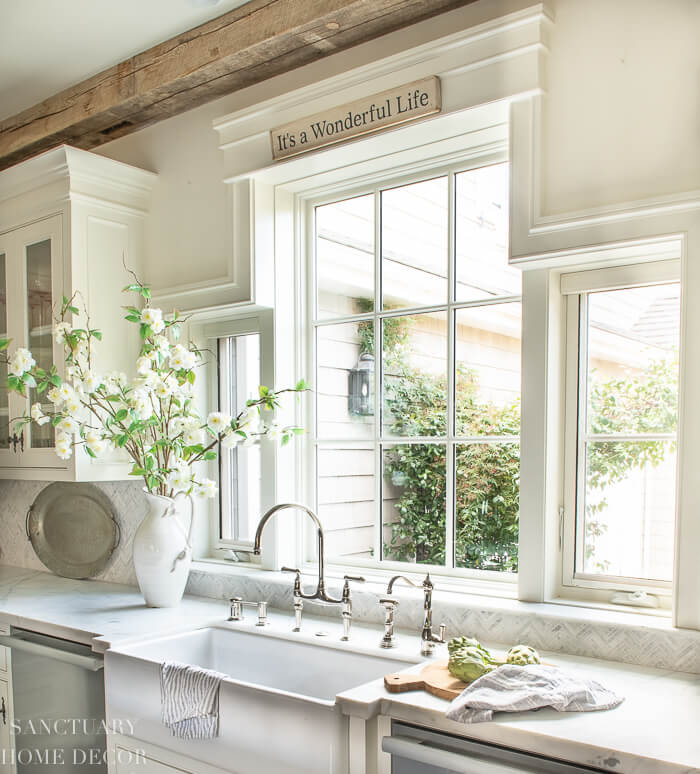 What is your favourite thing about your home? Do you have a favourite room or furniture piece?
My favorite thing about our home is the casual indoor/outdoor feeling that is evident throughout the house. Bringing elements from the garden indoors with creating a cozy outdoor patio is the perfect mix for me.
Do you have any big future plans for your home? What is next for you or your home?
We are completing the finishing decor touches and enjoying our time together as a family in our "sanctuary".
If you had one design or decor tip, what would it be?
My tip would be to decorate with what you love and choose pieces that you are truly drawn to. You will end up with a home that is a true reflection of your style and where you will always feel comfortable.
Do you have a business or social media tip you can give to all those who want to start a blog or home decor business?
The best advice I can give is to learn to take great photos!
If that didn't leave you inspired to plant, grow, renovate and decorate then we can't be friend! Thank you Karen, for taking us on this awe inspiring tour of your stunning elegant rustic farmhouse! I will defiantly be creeping your Instagram feed often for plenty of more home and garden inspiration. I hope you loved Karen as much as we did! As always, let's sends some love to Karen by following her at Sanctuary Home Decor. Tell her Deb sent you.