This post may contain affiliate links. Please read our full Disclosure Policy.
Peony flower arrangements have a timeless elegance and charm, making them a favorite among floral enthusiasts like me. These big romantic blooms are available in various vibrant colors, creating stunning and eye-catching flower arrangements for any occasion. We are covering everything from selecting your peonies, where to buy them, and how to care for them so they last.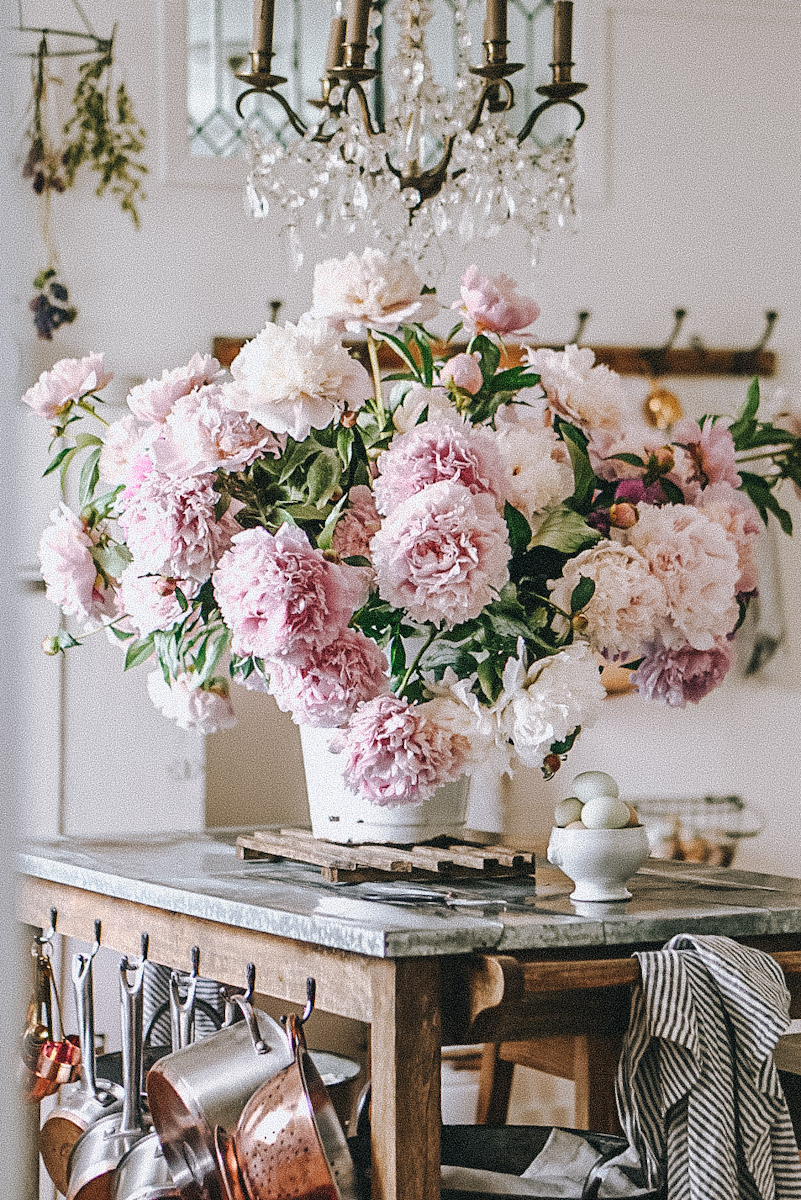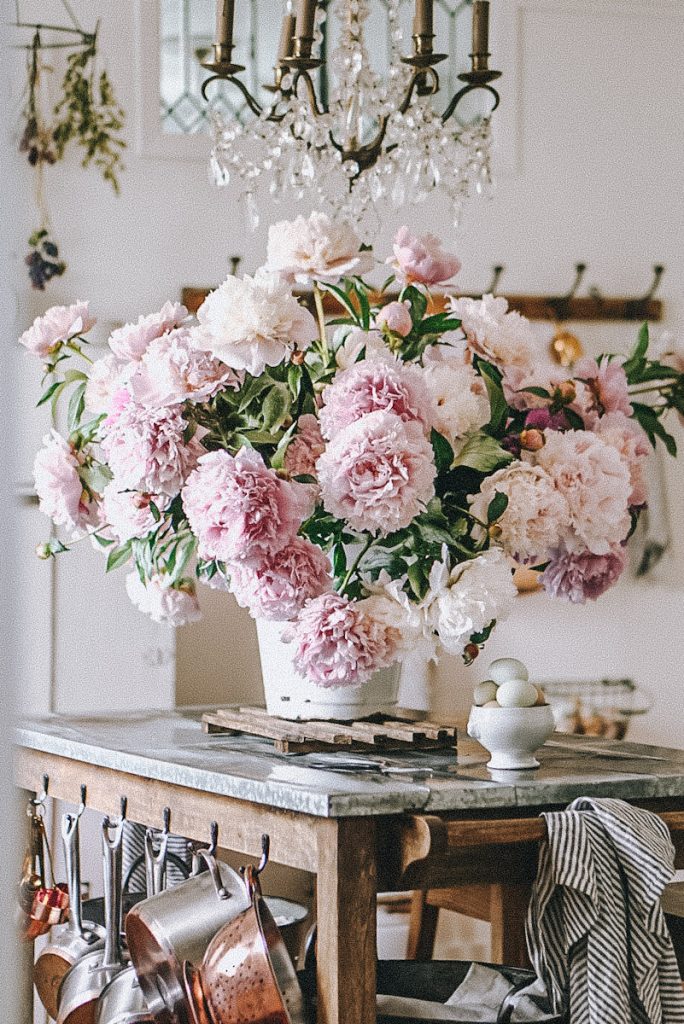 Peonies are one of my favorite flowers, and I am very fortunate to have an abundance of peonies on our family farm. I enjoy picking huge peony bouquets every peony season long! I have even mastered a technique to keep your peonies lasting for months so that you can enjoy them at different times of the year! For now, let's perfect the art of creating a beautiful arrangement using peony blooms.
Selecting the Perfect Peonies
Selecting the right peonies is an important part of the process when you are creating a peony flower arrangement. I prefer flowers with tight, closed buds as they will open gradually and last longer within the arrangement. Combining different sizes and even various colors of peonies is equally important to achieve a more dynamic and textured look.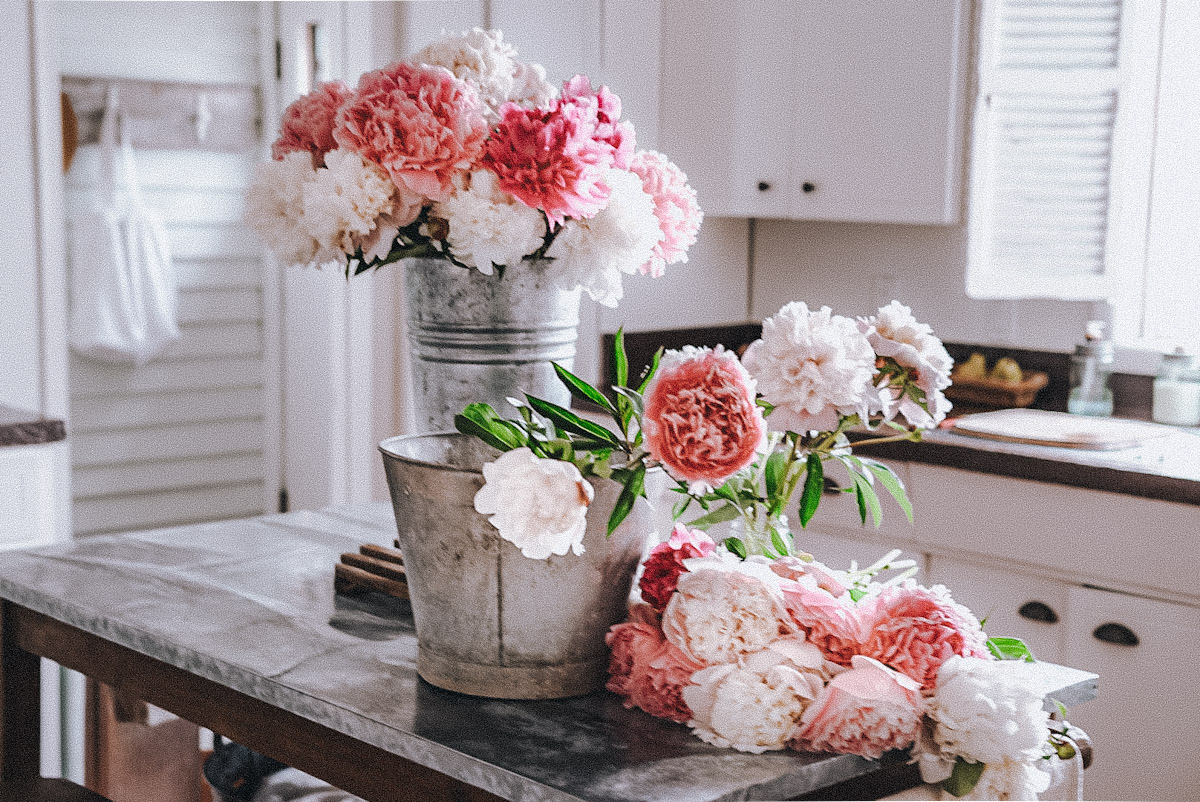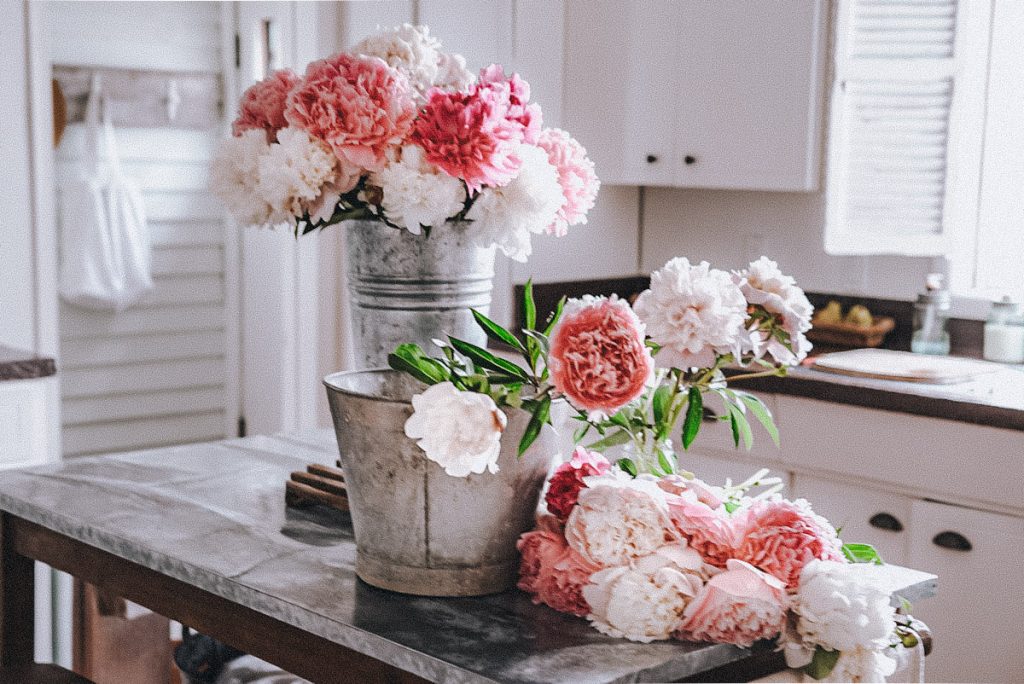 Peonies are the perfect flowers for almost any occasion, from wedding flowers to Mother's Day or even sympathy flowers. Here are a few tips to keep in mind when you are selecting the perfect peonies:
Choosing the Right Colors And Variety
Peonies come in beautiful colors like white, pale pink, and deep magenta. My favorites are pink peonies, which offer a soft, vintage feel.
For a classic and elegant look, I often opt for white peonies. Their pure and crisp appearance looks beautiful on its own or as an excellent base for any arrangement, especially when contrasted with bolder colored flowers.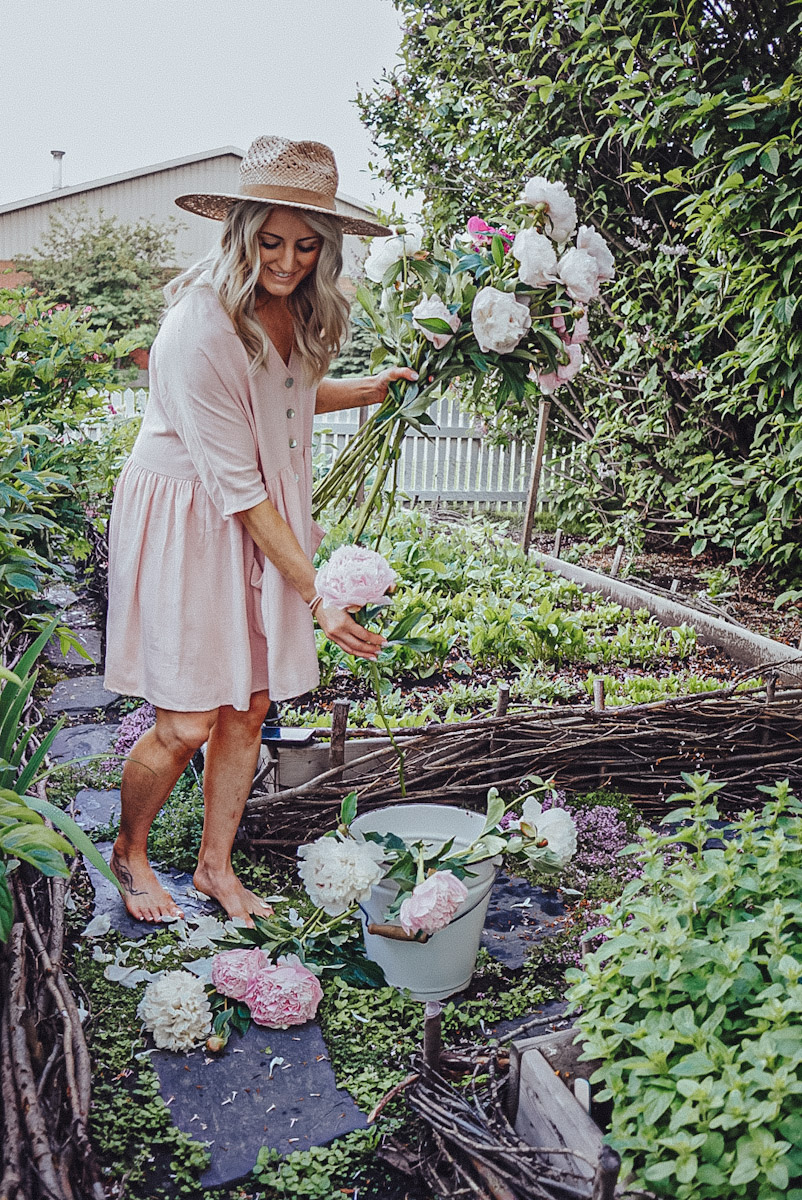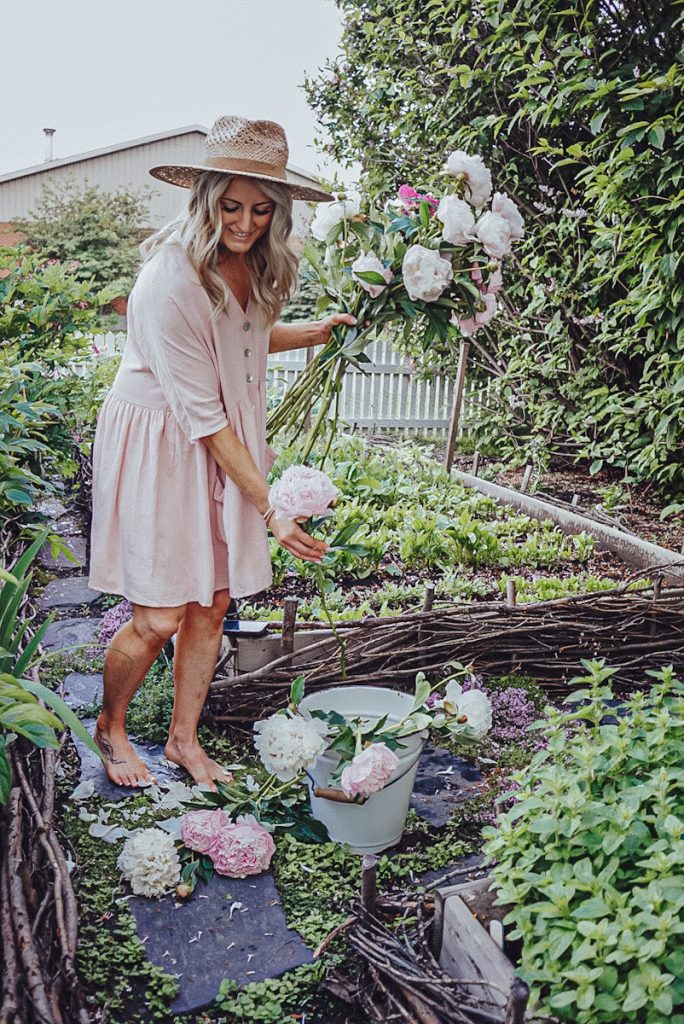 Darker red and magenta peonies are stunning hero flowers and excellent options to dry your peonies. A combination of all peonies colors is beautiful and impactful too.
Selecting the Ideal Bud Stage
Peonies have unique blooming stages, and the right stage can considerably impact the longevity and appearance of your arrangements. If you are lucky enough to have peonies at your disposal in a garden at home, then you will want to pay close attention to the bud stage when you are picking them. If you are purchasing your peonies, it is still a good idea to understand the different stages of the peony and buy a few in all the different stages to ensure your bouquet lasts longer. Here are the three stages I usually look for:
Tight: The buds are still closed and tight, providing a subtle and intricate touch to the arrangement. The tighter buds will gradually open within a few days, ensuring the arrangements last longer.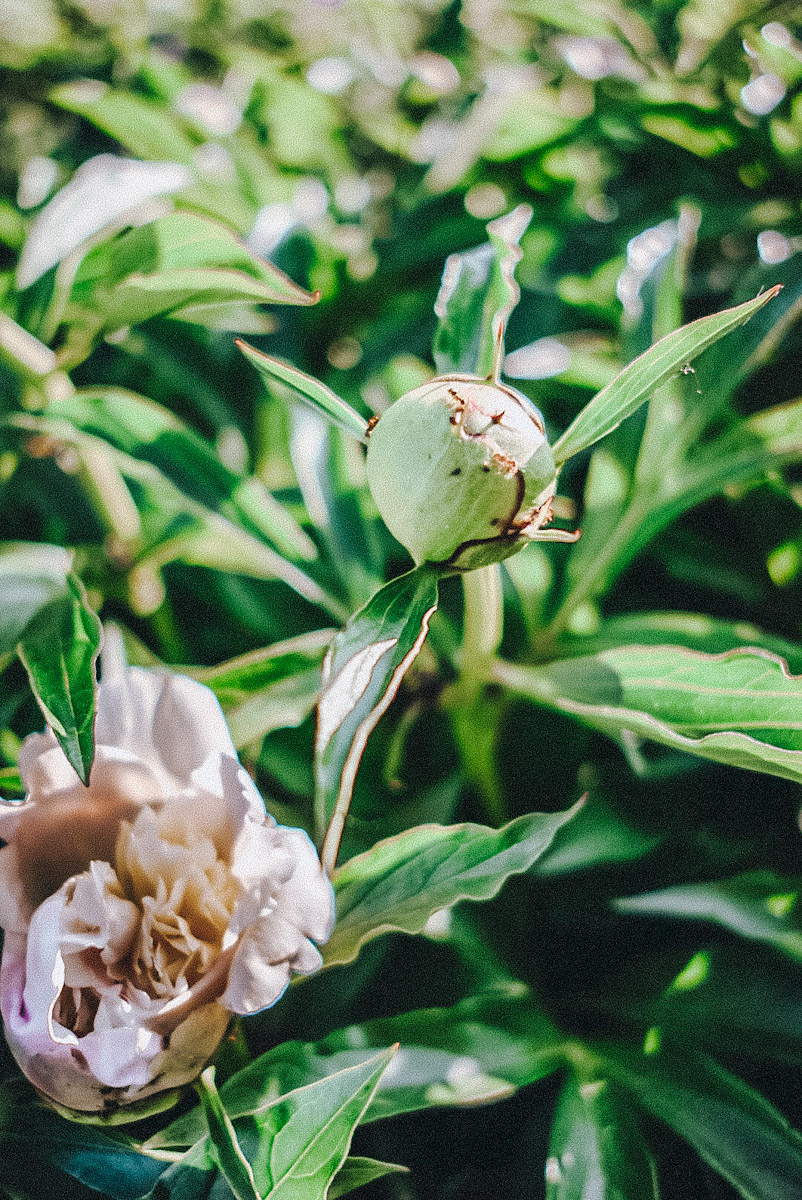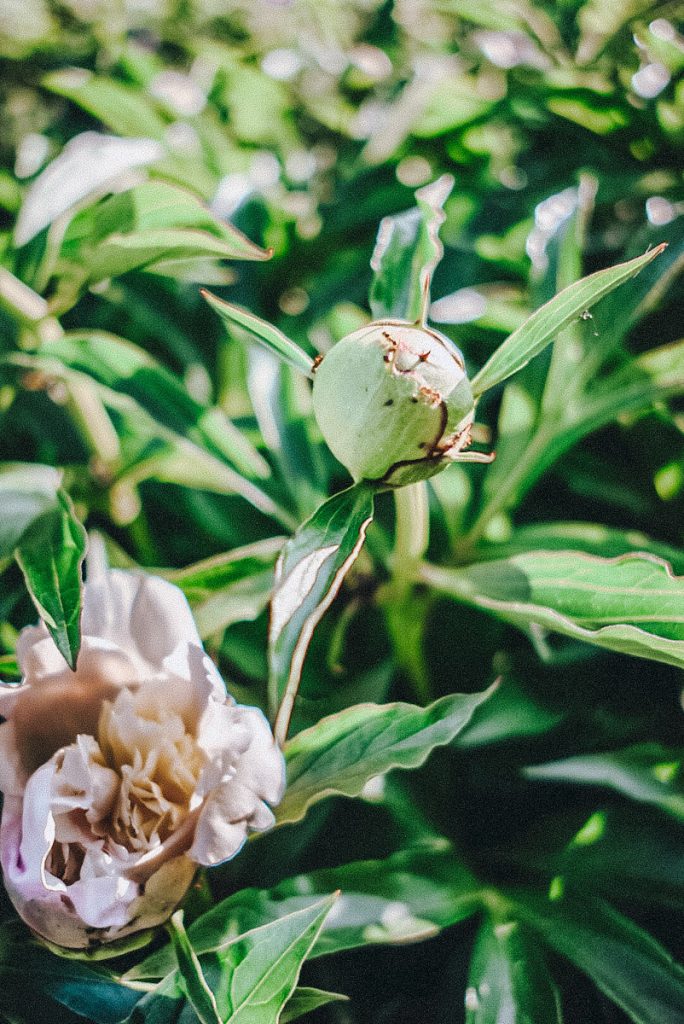 Soft: I call this stage the 'Marshmallow" stage. In this stage, the buds have started to open slightly, and the petals are softer to touch. If you squeeze the flower bud, it will almost feel like the texture of a marshmallow. Soft peonies provide a fuller appearance than tight buds but still have room to bloom further, helping to extend the life of the arrangement.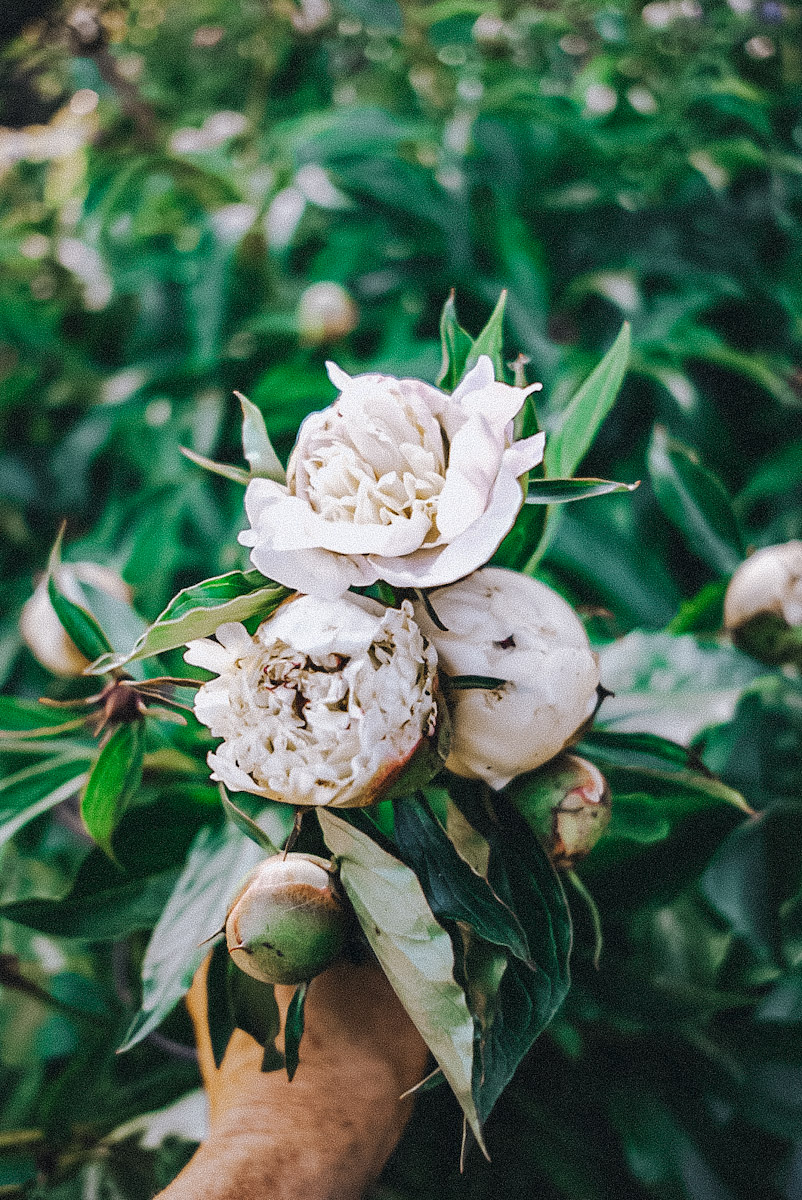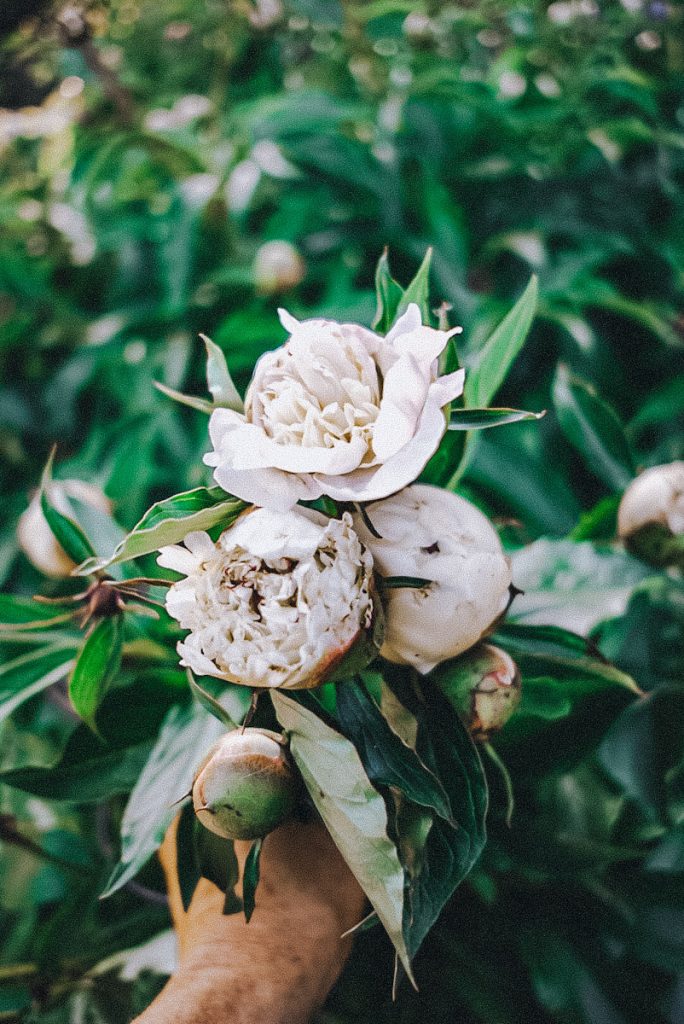 Fully Open: At this stage, peonies are in full glory, making bold and dramatic statements in any arrangement. However, they have a shorter lifespan as they are already in full bloom. Petals may begin to fall shortly after your arrangement is prepared.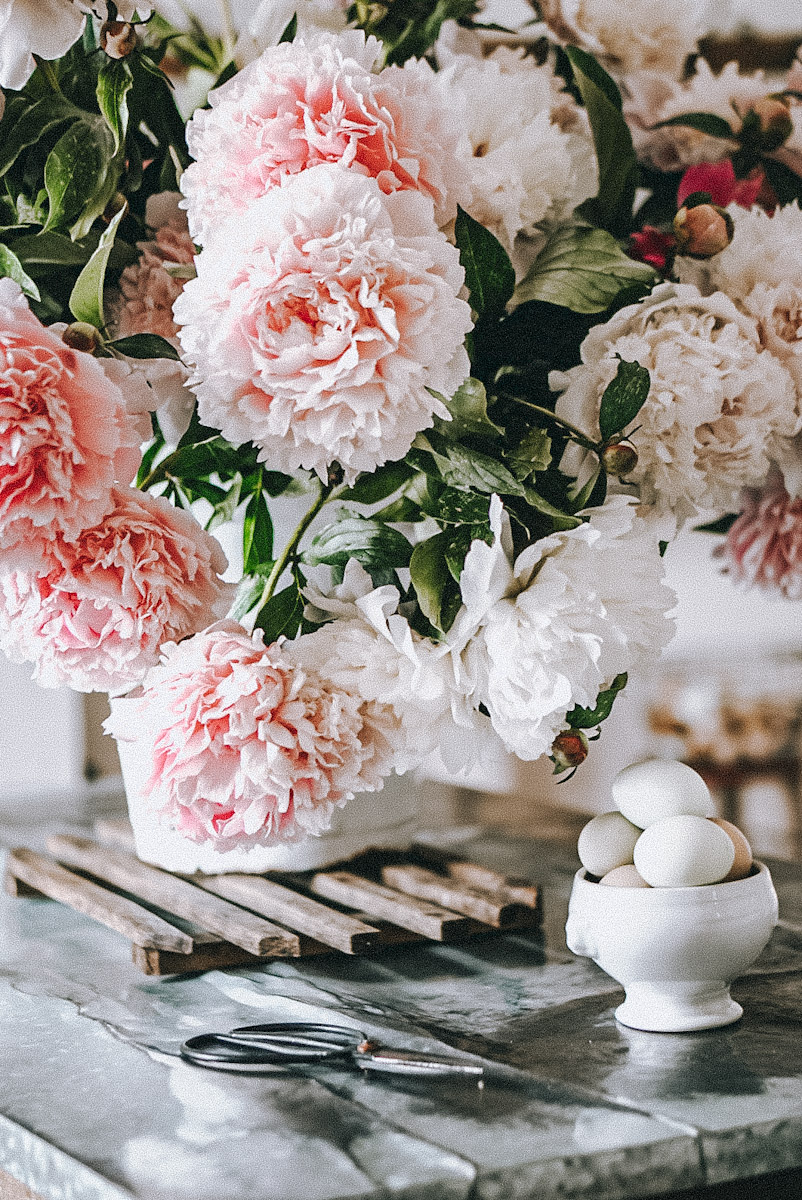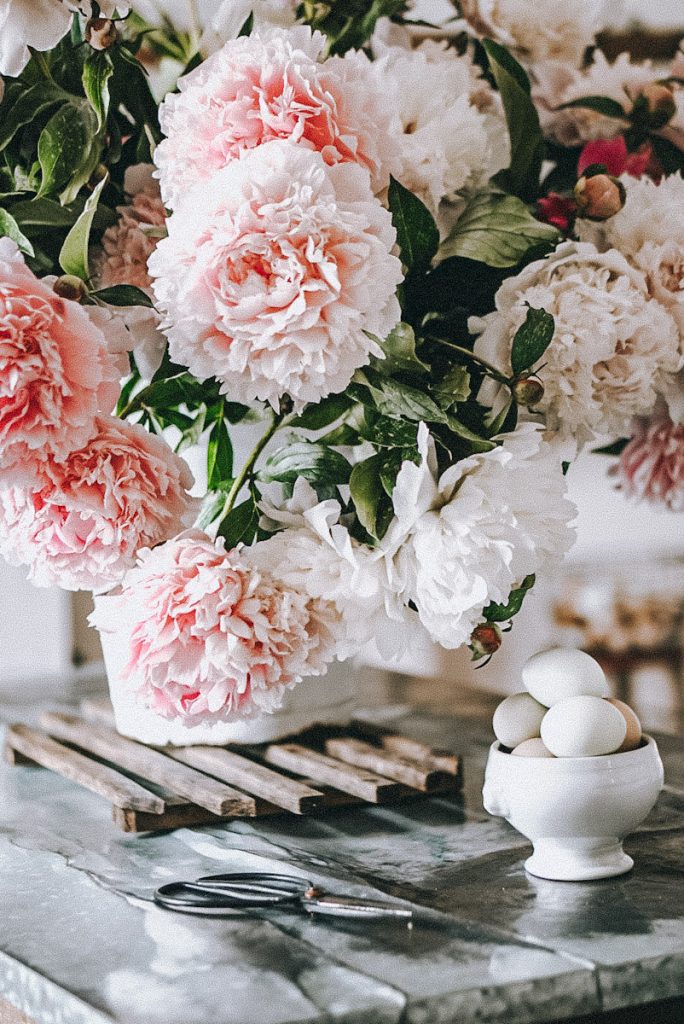 A mix of tight, soft, and fully open peonies creates a dynamic and captivating floral arrangement. It allows the flowers to bloom at different times, keeping the display fresh and visually engaging.
Where to Buy Peonies
There are multiple ways to find peonies when they are in season. You can usually find them all year through a local florist, but when peonies are in season, these are my favorite places to get them.
Home Garden
If you can grow peonies in your yard, it can be well worth it. These beautiful flowers are one of the easiest flowers to grow, and in just a few short years, your peony plant can produce an excellent harvest of blooms for making arrangements. In some places, they begin to bloom in late April or the month of May, but where I live, they are always in June. I bought a few different colors and variations of peony plants from a local nursery or garden center and now enjoy a stunning array of flowers every season. To save money, purchase bare-root peonies in the fall, which are less expensive than potted plants.
My sweet grandma and mother also split their peony plants with me. It is best to do this early in the spring or late in the fall.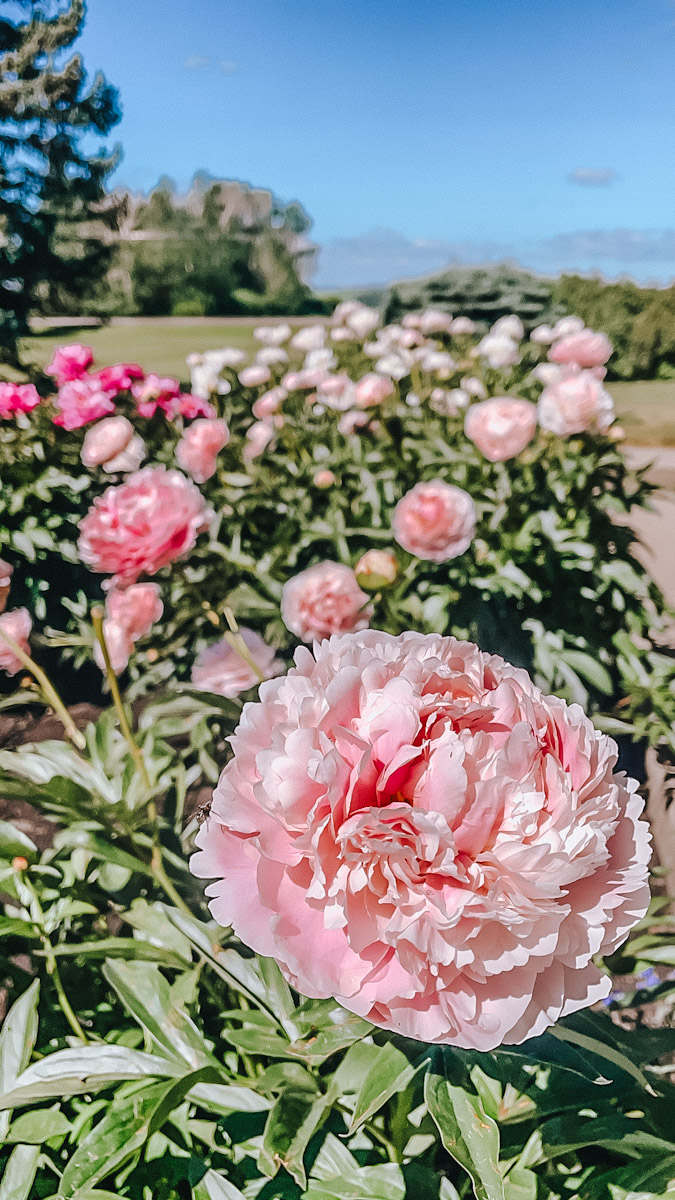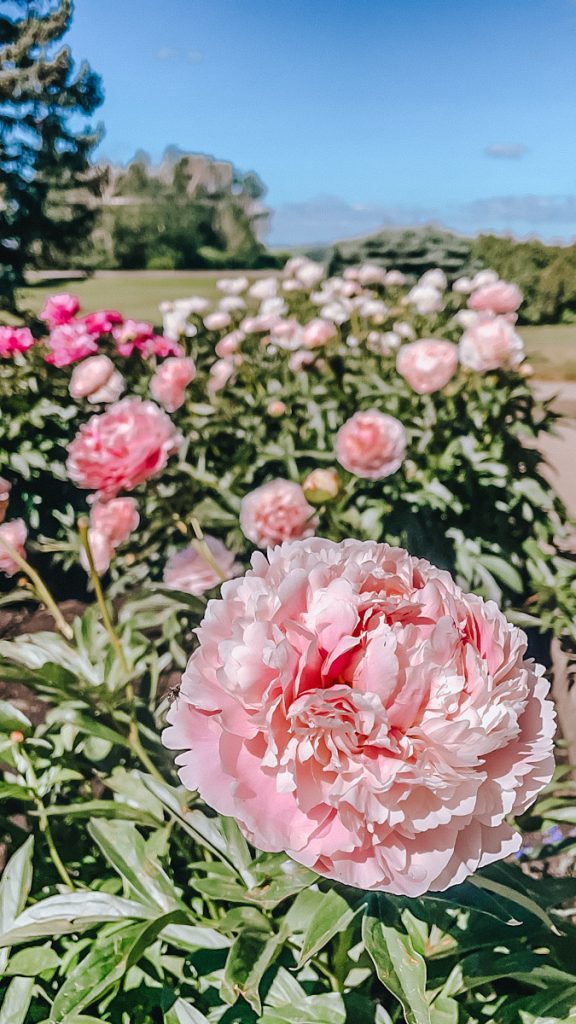 Farmers Markets
Another excellent source for peonies is Farmer's Markets. I visit my local market during the bloom season to find fresh-cut stems and even potted plants. The best part about buying peonies from farmer's markets is supporting local growers and often finding unique varieties not available at commercial retailers.
Grocery Store
Grocery stores will sometimes bring peonies in for sale too. They typically carry a limited selection of peonies, but it's convenient, and the flowers are still fresh. I always check the buds for a healthy appearance and avoid ones with browning petals to ensure I'm getting the best quality.
Creating A Peony Flower Arrangement
Selecting a Vase or Container
One of the first things I consider is the choice of vase or container. Be sure to consider the size of the peony arrangement you want, ensuring the vase or container is proportionate to the size of the peonies and other flowers, such as tulips or sweet peas, being used. There are numerous options and colors depending on the desired style and size of the arrangement.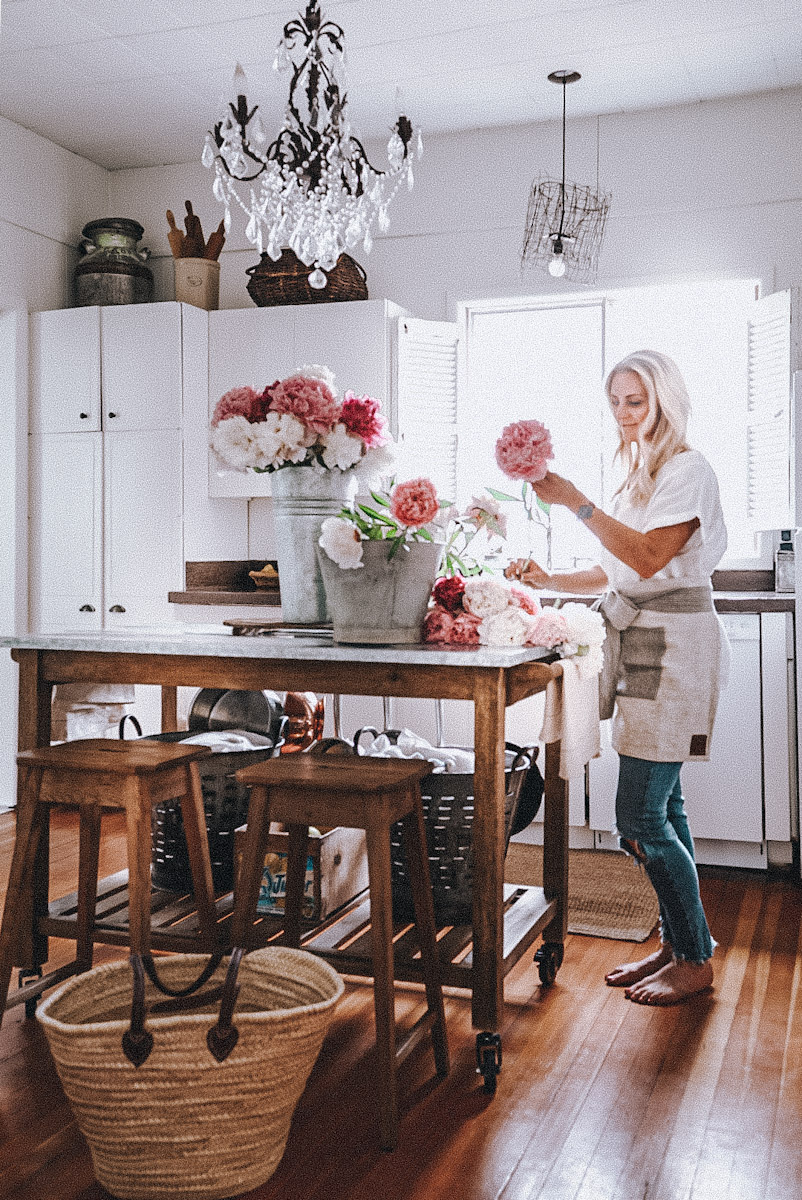 For a classic and elegant look, opt for a clear glass vase or a ceramic container. Mason jars offer a more rustic, farmhouse, and casual vibe, which is perfect for a laid-back setting; however, my favorite look and type of vase is a vintage bucket! The largemouth on the bucket allows room for many beautiful blooms that make a big statement!
Creating a Support Structure
Like lilac arrangements, peonies can be top-heavy and require a solid support structure. Adding a flower frog or chicken wire support can sometimes be a good idea. If you don't have access to either of these, then you can also make peony support using:
Floral tape: This translucent tape is excellent for holding together stems and support structures.
Scotch tape: A handy tool that can be used in a pinch if floral tape is unavailable. However, it's not as flexible or durable.
Although peonies have strong stems, they may require additional support if placed alongside other flowers with weaker stems, such as tulips. I begin by creating a grid or lattice design with the tape, ensuring that it's secured to the edges of the vase or container to provide ample support for the flowers.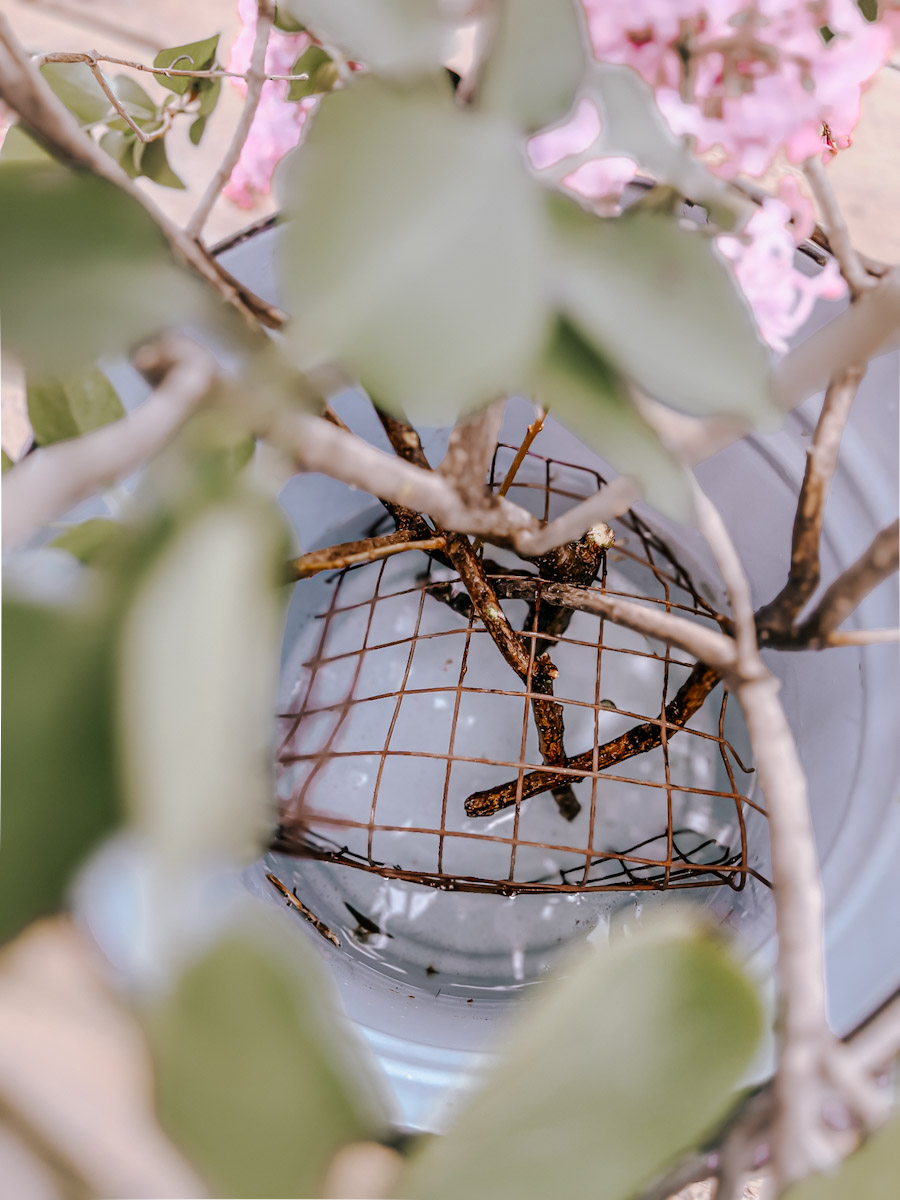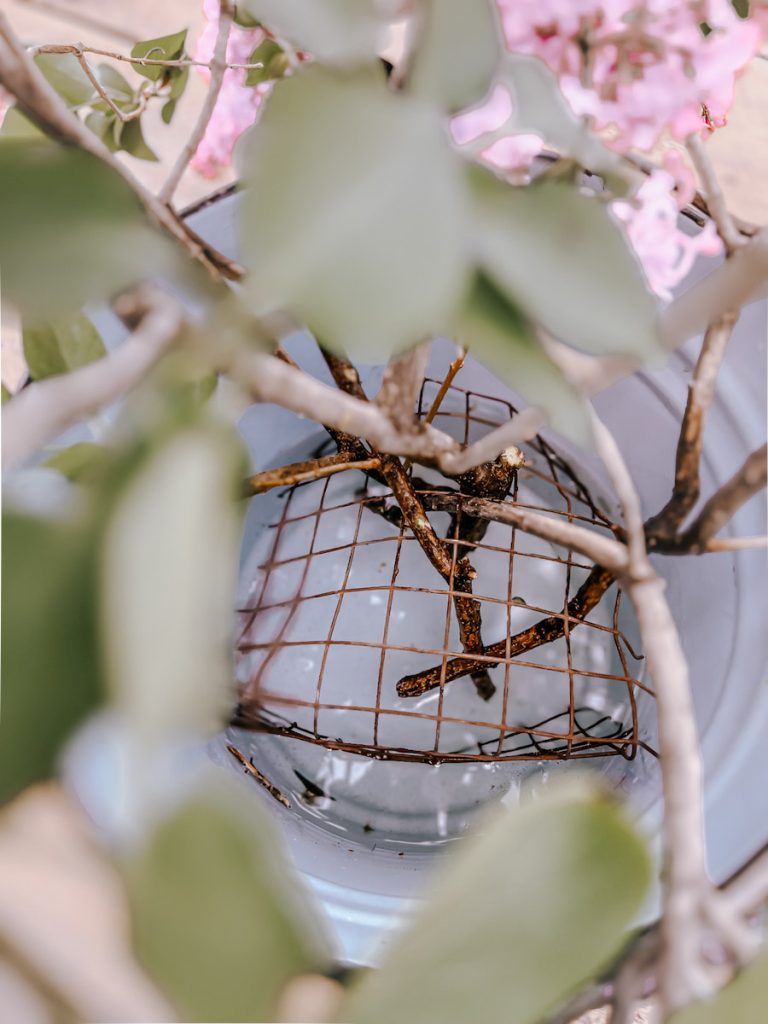 Arranging Your Peony Flowers
If your peonies are from your garden, it is a good idea to soak them underwater in a sink or tub for 15 minutes or so to ensure that no bugs or ants are left on them.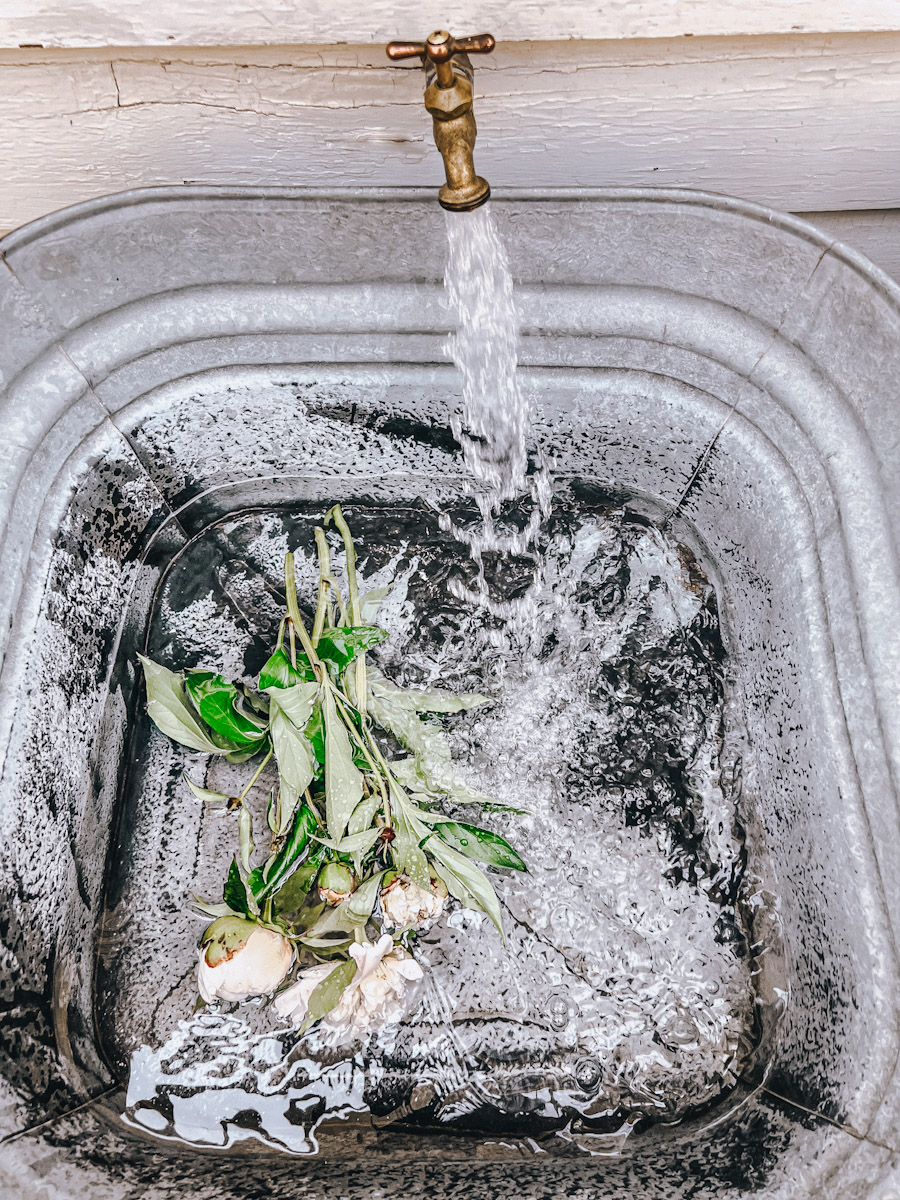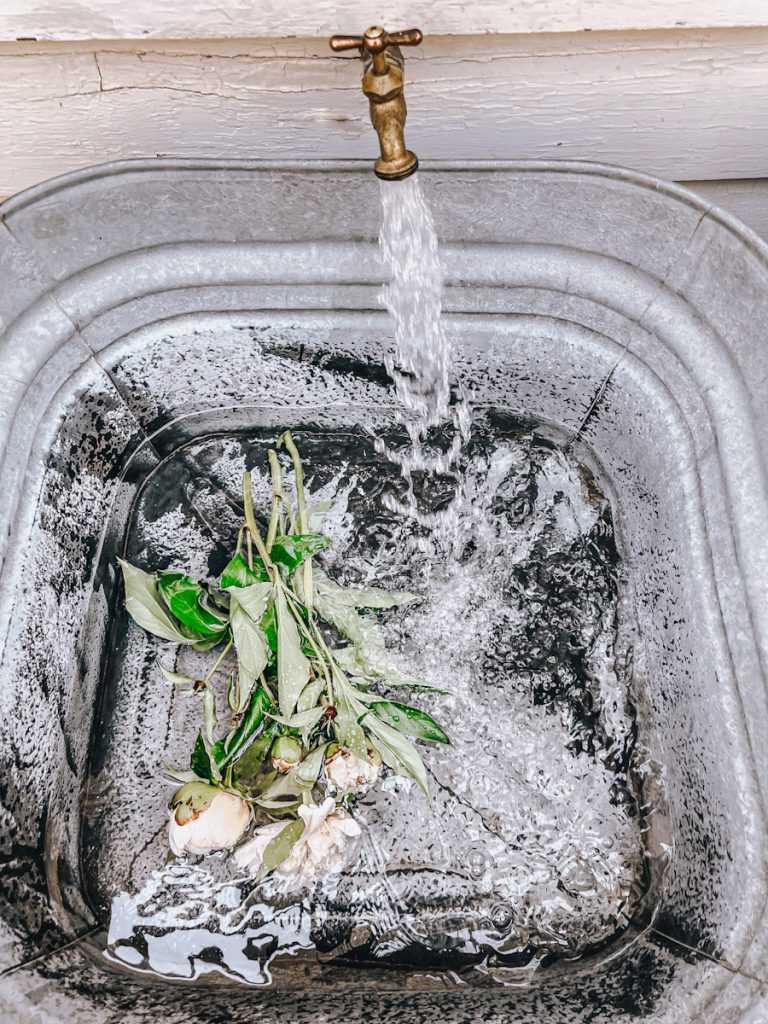 Begin by wiping your vase or bucket clean. You can even shock the container using a small amount of bleach. Bleach will kill any harmful bacteria that can cause blockages for your peonies.
Fill the vase with room temperature or slightly warm water, which helps the cut stems absorb water more easily. Distilled water is recommended to ensure no particles are floating in the water that can cause stem blockage.
Add a preservative or homemade flower food, such as a tablespoon of granulated sugar and apple cider vinegar, to your water. The sugar will help to feed and nourish your flowers, while the apple cider vinegar will keep the harmful bacteria at bay.
Build a flower frog or floral grid if necessary.
Before placing the peonies in the vase, use a sharp pair of shears or a floral knife and cut the stems at a 45-degree angle to help them absorb water more efficiently.
Remove any of the leaves that will be in the water and begin placing the tallest peony stems in the middle and the shorter ones on the vase's edges.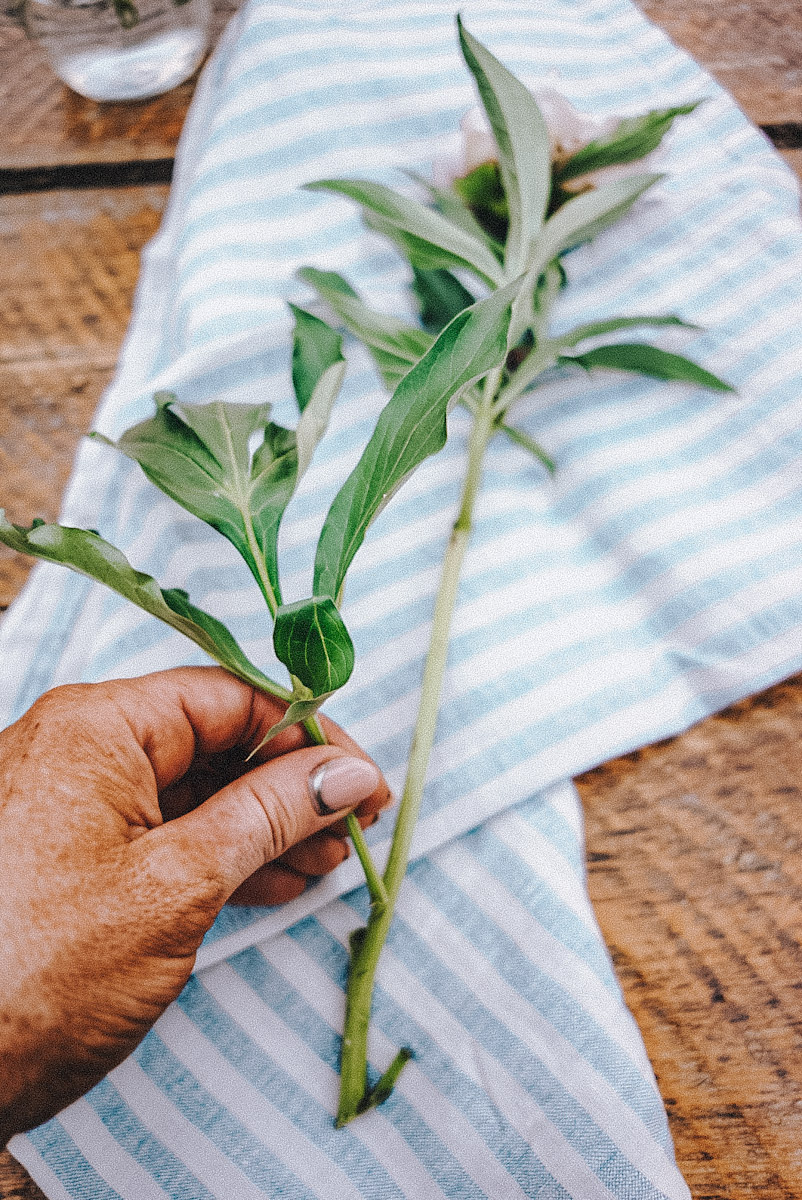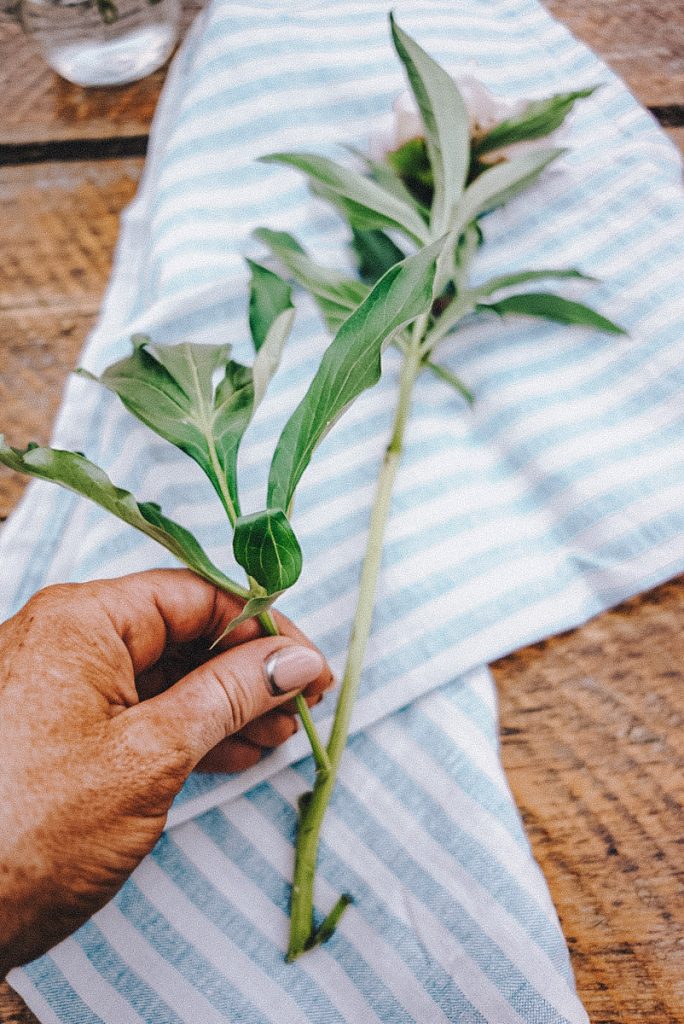 Enjoy your beautiful peony arrangement.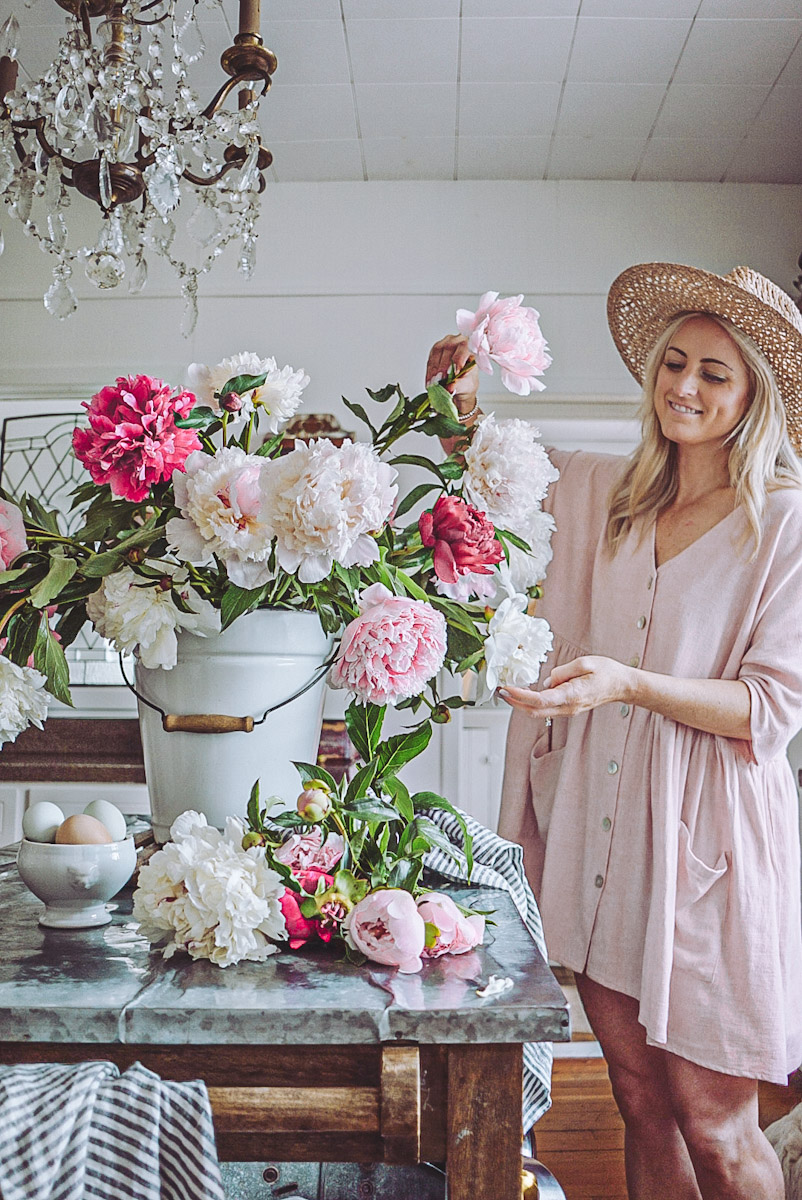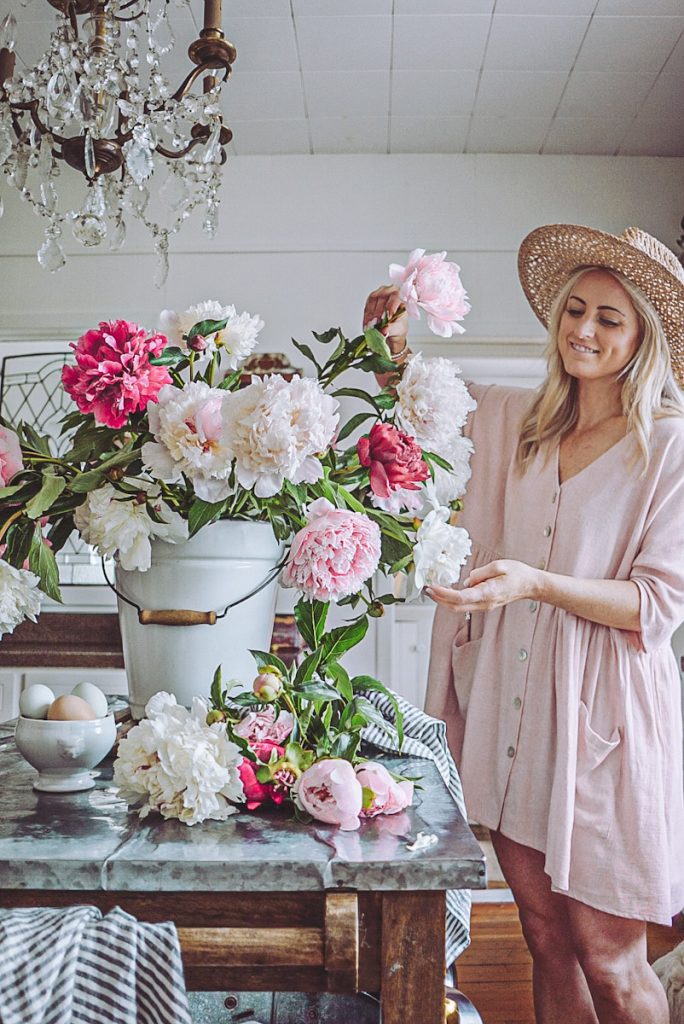 Shop my favorite Flower Scissors and Shears.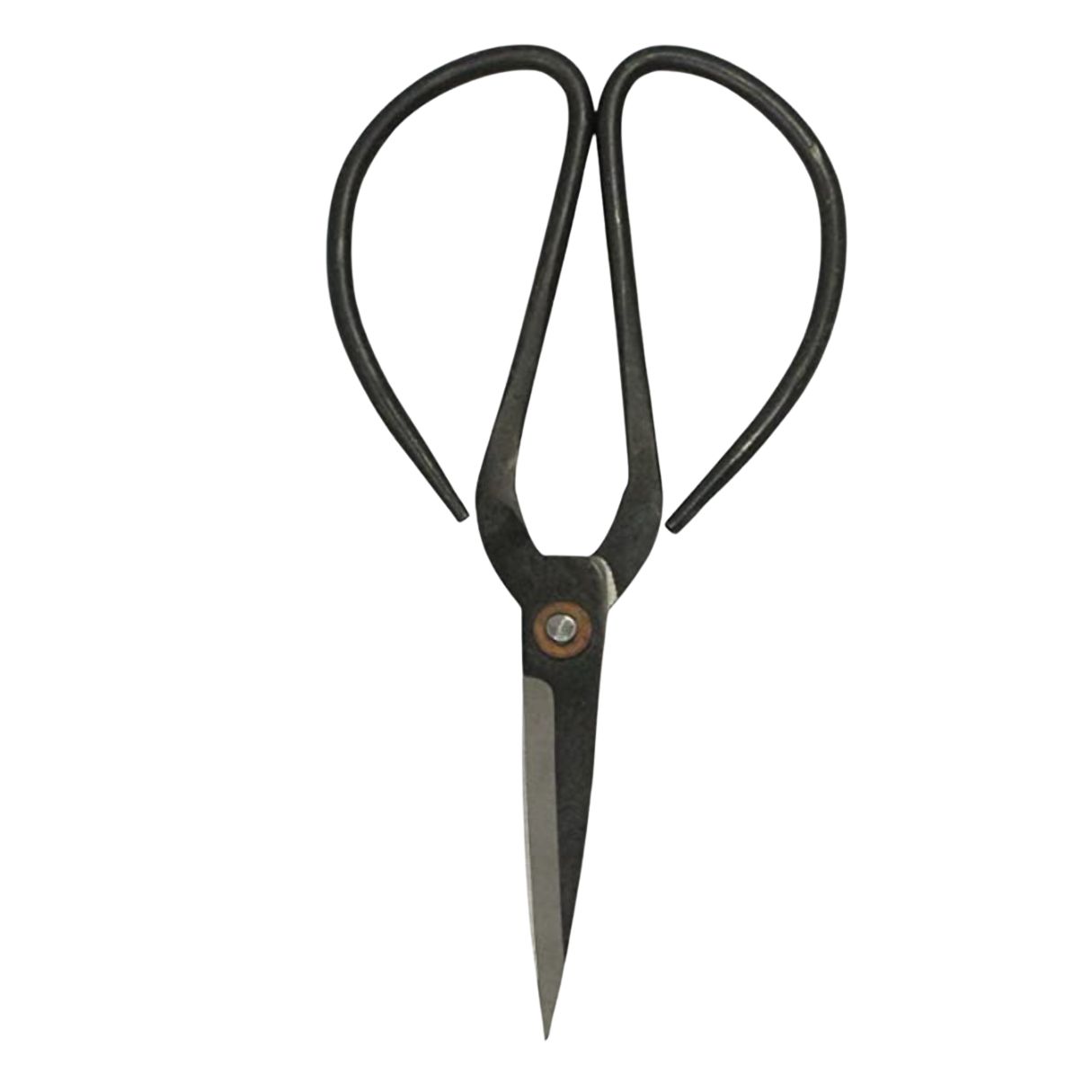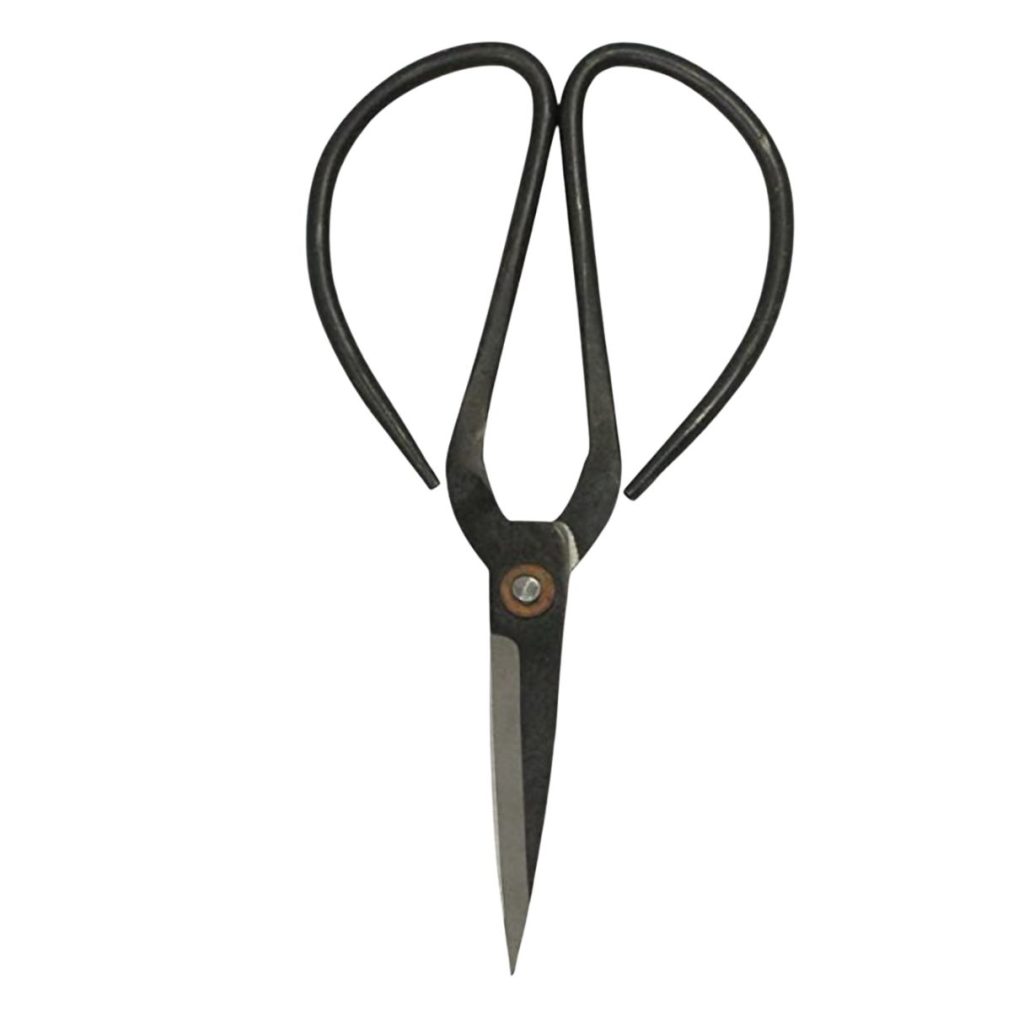 Adding Complementary Flowers, Foliage, and Greenery
You can add complementary flowers, foliage, and greenery to add depth and contrast to your arrangement. One of my favorite options is eucalyptus, as its subtle fragrance and silvery tone complement the peonies beautifully. Ferns add a whispy green foliage that adds texture and airiness too.
Although I prefer to keep my peony arrangements with only peonies, you can create a vibrant and diverse arrangement by including other flowers alongside the peonies. A few that look beautiful when placed with peonies are:
Hydrangea: have lush, round blossoms that come in various colors and work well as a filler. Their large blooms provide a lovely contrast to the peony's soft petals.
Ranunculus: are delicate, multi-petaled flowers that have a similar shape to peonies but with a smaller size that adds variation and depth to the arrangement.
Light pink roses also look incredible when paired with pink or white peonies.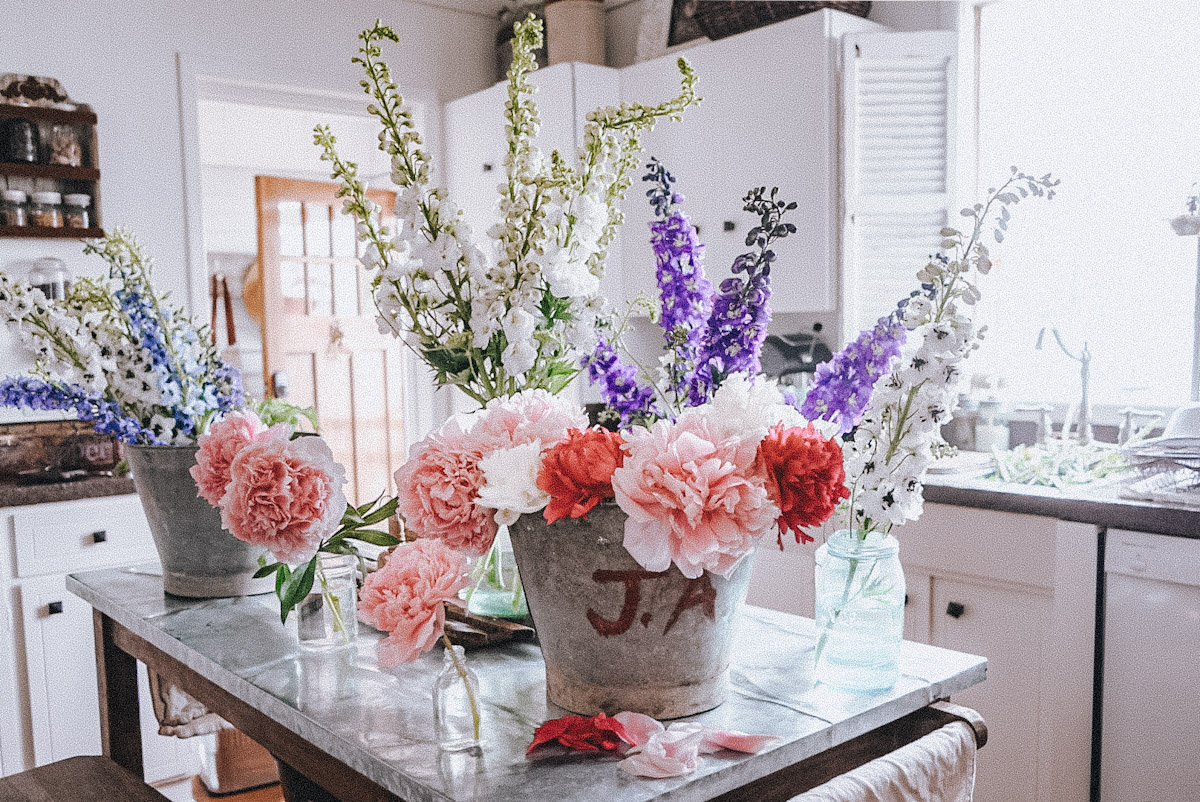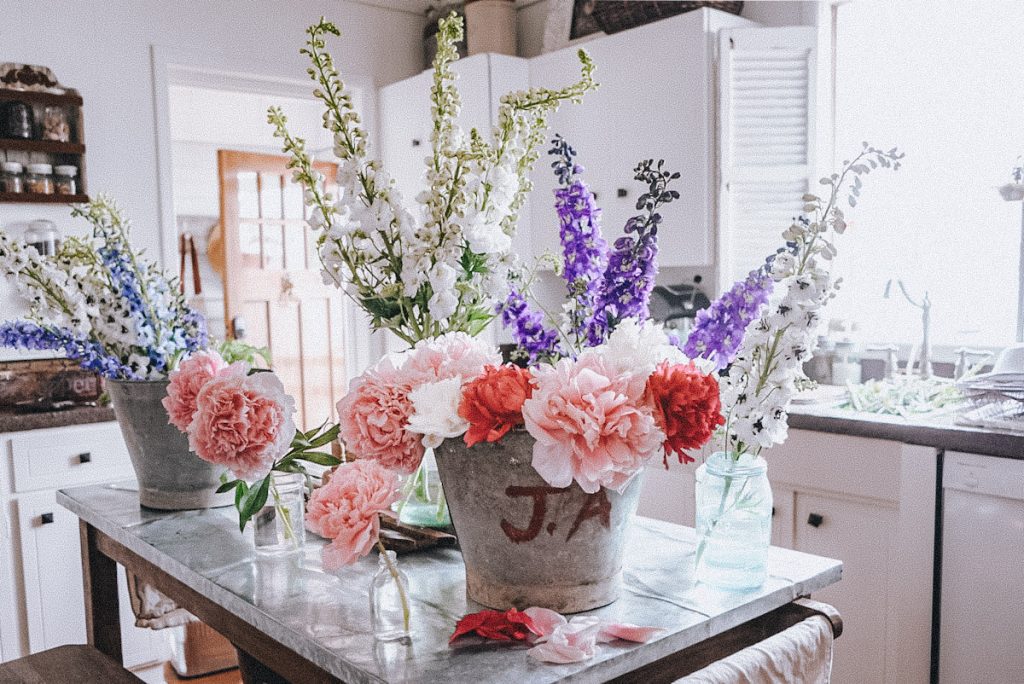 Pay attention to the size, color, and shape of the flowers, ensuring that they are arranged to highlight each blossom's unique beauty and maintain a harmonious color scheme.
Tips and Tricks For Long Lasting Arrangements
​Change The Water
Change the water in the vase daily if you can to help prolong the life of the peonies. If the peonies are beginning to fall, top up the water in the vase so that the blooms are never without water.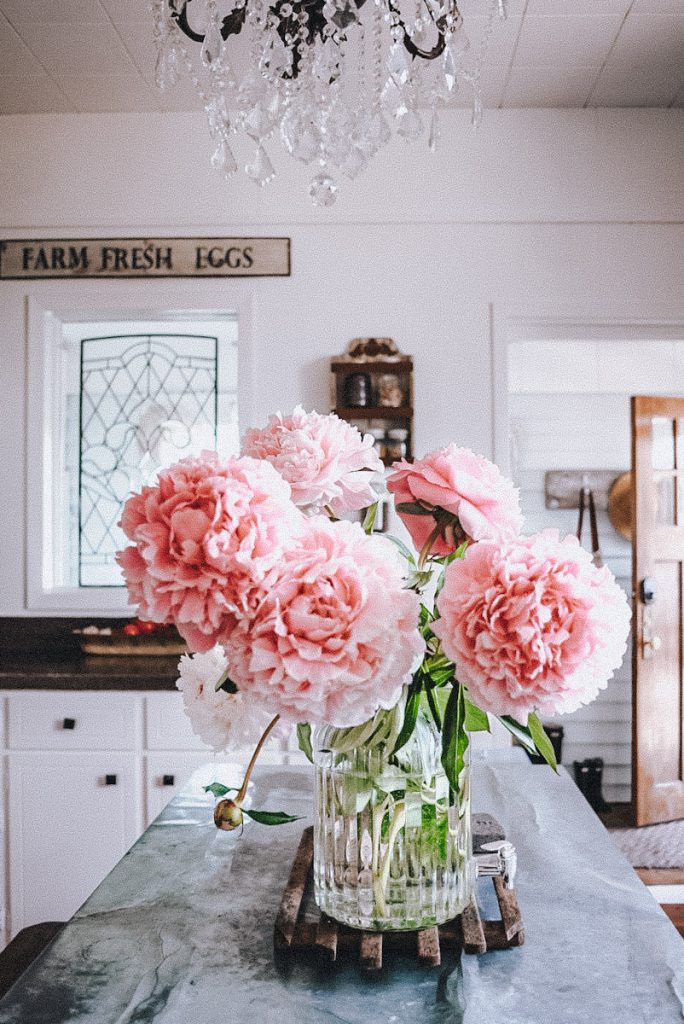 ​Stay Out Of The Sun
The temperature and placement of your peony flower arrangements are essential to their longevity. Placing the arrangement in a cool area, away from direct sunlight and heat sources, will help keep the flowers fresh. Avoiding areas with drafts or frequent temperature changes can help the peonies to last longer!
I also like to take my peonies outside overnight. Bringing the arrangement into cooler temperatures at night can help maintain the longevity of the peonies.
Best Vases For Peony Arrangements
The type of vase you use for your peony bouquet can sometimes be dependent on how many flowers you are choosing to display at one time. If you are wanting a large arrangement (like mine always are) then use a wide mouth container like an enamel bucket or ceramic crock.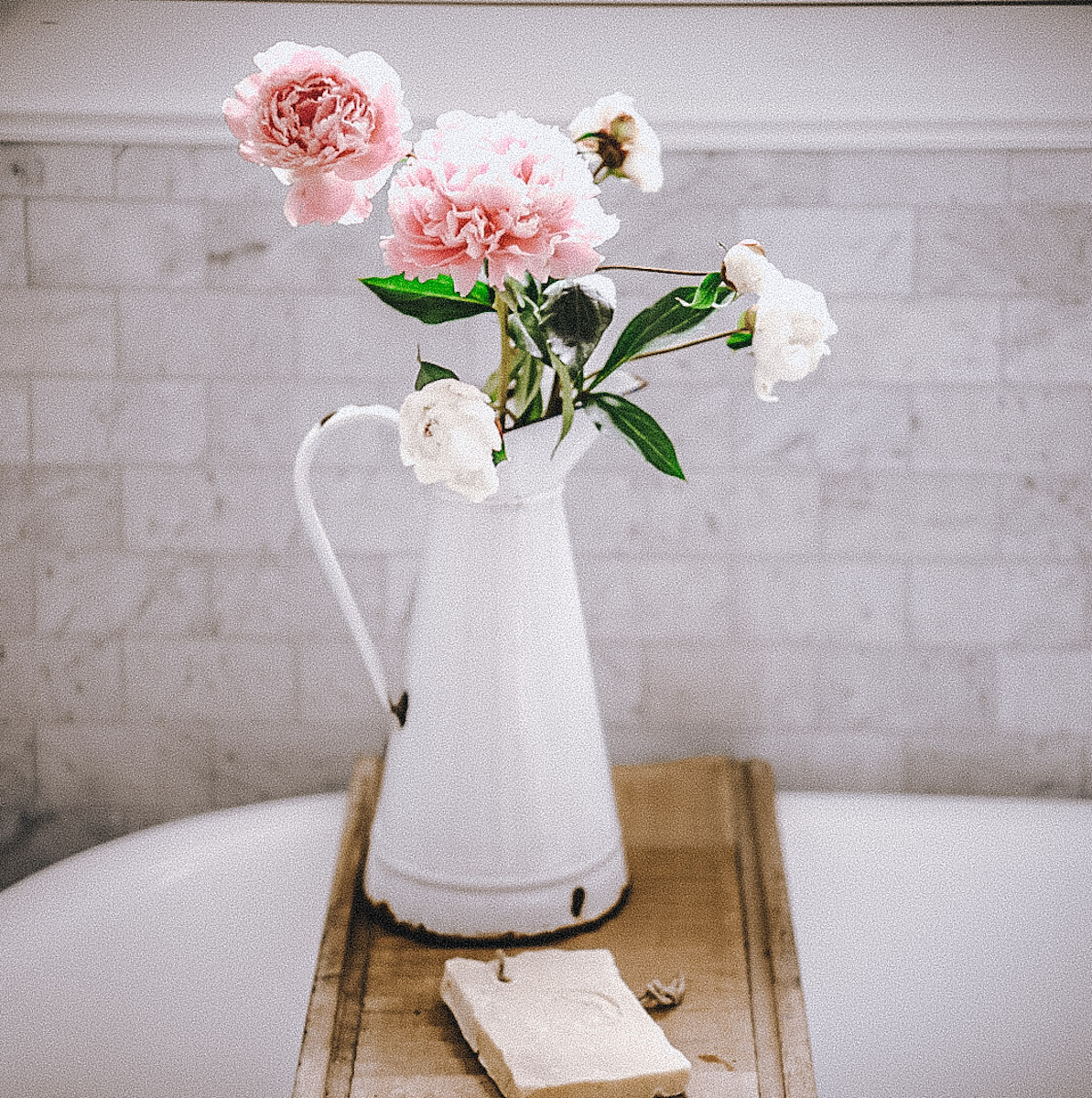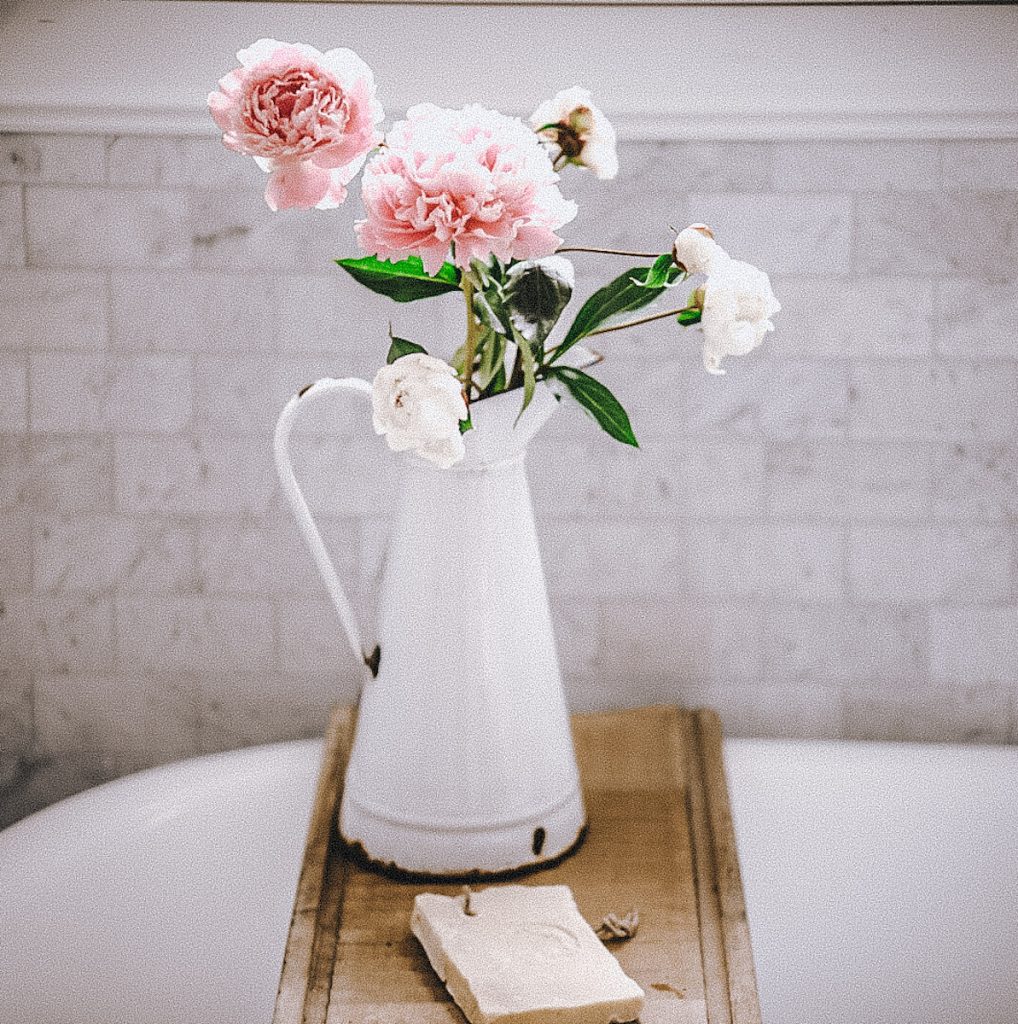 To display a single-stem peony, it is sometimes nice to use single containers like tiny apothecary bottles or small ceramic bottles. Just make sure the flowers aren't too top-heavy for the container as it will fall over.
More Fresh Flower Care
That's it, my friends! I hope you have found the tips and tricks in this post useful and that you feel a bit more confident about taking on a peony arrangement! If I have missed anything, leave me a comment below and let's chat. You can also check out these other tutorials that I have for a few other types of flowers.
Frequently Asked Questions
How do I get rid of ants in my cut peonies?
If you are cutting peonies from your garden, there is a high probability of ants on them! Submerge your cut peonies in a bathtub or sink full of water for about 15 minutes to ensure the ants are gone.
What flowers go well with peonies in an arrangement?

I like to choose blooms that add contrast and texture. Some of my favorite companion flowers include roses, hydrangea blooms, and ranunculus. Greenery like ferns, eucalyptus, and dusty miller can also enhance the look of a peony arrangement.
What is the best vase for peonies?
The best vase for peonies has a wide opening and a stable base. This allows the blooms to fan out and display their beauty while providing support. A glass or ceramic vase with a simple design won't compete with the flowers and allows the peonies to be the star of the show.
What is the best way to arrange peonies?
I recommend choosing flowers in varying stages of bloom. This adds dimension and visual interest to the floral bouquets. Use a mix of foliage and filler flowers, such as baby's breath or eucalyptus, to create a lush base that showcases the peonies. A low, wide container works well for a centerpiece, ensuring it doesn't obstruct the view of guests.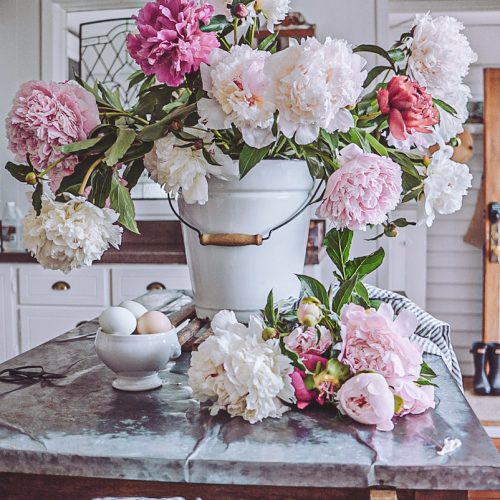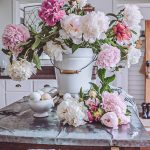 Print
How to Create Beautiful Peony Flower Arrangements
Peony flower arrangements have timeless elegance and charm, making them a favorite for so many. We are covering everything from selecting your peonies, where to buy them, and how to care for them so they last.
Materials
5

pieces

peonies

or more

2

litre

water

distilled
Instructions
Start by selecting a variety of peonies in different colors and sizes. You can also add other flowers like roses or hydrangeas to complement the peonies.

Fill the vase with water and add floral preservatives.

Cut the floral foam or flower frog to fit the vase and soak it in water until it is fully saturated.

Using the scissors, cut the stems at a 45-degree angle and remove any extra leaves that will be under water.

Start by placing the larger peonies in the center of the foam and work your way outwards, adding smaller peonies and other flowers as you go. Make sure to vary the heights and angles of the flowers to create visual interest.

Use smaller flowers or greenery to fill in any gaps between the larger flowers.

Enjoy! Remember to change the water every few days to keep the flowers fresh.
Notes
To keep your peonies blooming longer:
Choose blooms that are in the soft bud stage.
Change or top up the water daily.
Use a flower preservative or flower food.
Keep your peonies out of the sun.