It's no secret that good habits can truly change the outcome of your daily life,both business or personal! Adding a few daily tasks that keep you on track, efficient and motivated will only improve your quality of life and really allow you to start seeing the results that you are wanting to see. As entrepreneurs, we both have our own routines that we practice and wanted to share some of the good habits we do on a daily basis and that we feel have made big impacts on our lives! These are all things that with a little bit of effort and accountability, we promise will make a big difference in your life too!
Watch our YouTube Video on 7 Good Habits to Stay Motivated
In fact, we are so certain that these will help you that we want to challenge you to start practicing these 7 habits for 1 week to see if you find them helpful. One week is all we are asking and we are that confidant that you will see a positive impact on your day to day life!! SO keep on reading below to find out what these so called 'good habits' are!
Setting a daily routine of good habits is KEY to staying on track with your goals and achieving your dreams! – Deborah B Vintage Style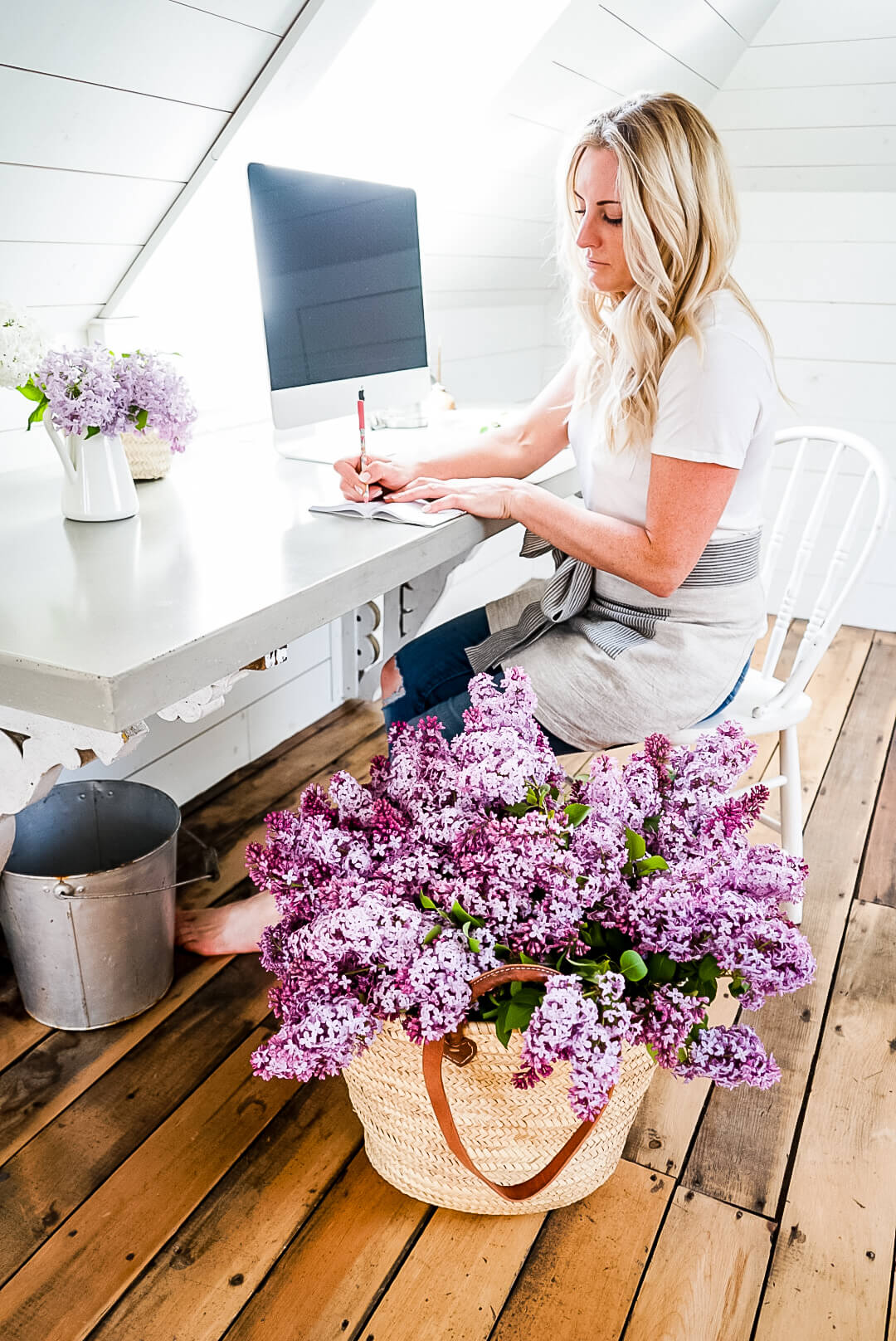 We love self improvement, let's be honest, who doesn't love to feel motivated, excited and inspired in their jobs, business's and day to day lives. There is no better feeling then when your feet hit the floor in the morning and you can't wait to see what lies ahead! This wasn't always the way Britt and Deb felt.
Before B Vintage and Vintage Society Co, Deb used to work for an oil and gas company. She had no window in her office and was in a very high stress, thankless job that made her miserable.
Before building her dream home Britt previously owned a Yoga studio and while it is a career she enjoyed there were so many of these key principals that she lacked at the time to make her business successful.
People do not decide their futures, they decide their habits and their HABITS decide their future. –
F.M. Alexander
Over the years, we have both found ways to have a better mindset and stay positive. Some of our best tips are found in our post 6 Essentials to a Happier Life and you can also see more of the annual goal setting we do here, in our Game Changer Goal Setting!
1. SET GOALS AND CHECK IN ON THEM REGULARLY!
We check in with each other every Sunday evening for the week to come. This sets us up for success and gets Monday off on the right foot. We assess where we are at and place priorities on our goals for the week.
Separate your goals into daily, weekly, monthly, quarterly and even yearly goals.
Be realistic! If you create a mountain high list of goals everyday, chances are that you won't accomplish a fraction of them! Trust us it feels so good to be able to say that you accomplished almost your entire list for the day instead of letting yourself dwell on the fact that you couldn't even accomplish 1 of your daily goals.
2. Keep it fun and don't be to hard on yourself.
We strongly feel like half the battle is finding something you enjoy! Then it stays fun and doesn't feel like work. If you do have an "off day", that's ok!!! Everyone does so cut yourself a break and start fresh the next morning.
If you have a task, like your bookkeeping has to get done, set a fun task to do after to get you back motivated!
Now unless you are are literally saving lives, it probably won't completely disrupt your business if you need to delay a task by a day. We love to tell each other to give yourself some grace and remind each other of how much we have accomplished!
Think about what you have accomplished as opposed to how much you havn't achieved!
3. Get an accountability partner or coach.
We know that the idea of a biz partner for a lot of people is blah!!! BUT there is strength in numbers friends…. that's the best part of our biz!!! We are better together and when one of us sets a goal the other one makes sure it gets achieved!!
You are more likely to be successful with a coach or partner in crime so look to a friend or family member to get some support!
Or even look to a friend in your social media niche! We love our home decor community, so many women are willing to help and encourage each other! Look to your own niche, reach out and connect! Chances are there are others who are struggling with the same issue or there is someone who would love to be an accountability buddy!
DID you know that we are going to be offering coaching & mentorship programs in the near future? Sign up for our photography tips and you will be the first to know about our workshops!
4. Start every morning by listing 5 things your looking forward to in the day to come!
Game changer right here folks! This sets you off in the right headspace and gets you going. Everyone can think of at least 5 things they are going to be happy about in one day! The smell of fresh coffee, the sound of the spring birds chirping….. Sunshine on your face!! These don't have to be big things, just taking the time to think of them is a good practice!

​

And if you can't think of even 1 good thing find a pattern interrupter! This may take some practice but find 1 thing that can always shift your perspective. It may be dropping everything and going for a run, making a latte and listening to music, putting aside your busy schedule to go visit a friend. We all have bad days but having access to know when you need to refocus your motivation is a major key to developing good day to day habits.
5. Add Exercise or Music to boost your mood!
This is a no brainer! Both of these activities have proven to increase your happy hormones so turn it up and get moving!!
While not all of us love to exercise like Deb, find some kind of movement that you can learn to love. Maybe it's a walk one day and going to a workout class the next day.
Interrupting your day with short intervals of exercise can actually increase your productivity rather than thinking you will get more accomplished by powering through until the task is done.
You know that moment when you have been head down buried in a task and you suddenly look up and think what was I just doing, that is the perfect time to get up and move around or turn up the music for a few minutes.
6. Reassess your to do items that you seem to be resisting!
If you have something that continues to not get done on your list, maybe think twice about why it is on there to begin with. Does it align with your goals? If not, maybe it's time to move on!
Or you can start thinking of a new way to approach the task! Sometimes we convince ourselves that there is only 1 way to get something done, when in reality people do the exact same things in thousands of different ways every single day!
For example when we write blog posts we usually pick the topic, write the content, create the imagery and finally a video. But instead what if you disrupted your pattern and went out and took some beautiful images first and let those inspire the content of the post! Or instead of paying bills online, you actually went to town to the bank and paid the bills and then treated yourself to a latte?
It's hard to continually keep yourself motivated, especially if you work from home by yourself, so think of ways you can change how you complete tasks that you may dread doing every week or month.
7. Reward Yourself!!!
Can we all have a clap right here… Sometimes when our list of 'to do's' is so BIG, it's easy to forget to look back and acknowledge the things that we have already accomplished!! Take a moment and reward yourself! We sure do, did we mention we are going on a dream trip to FRANCE!!!!
If you want to follow along with exclusive insider content as we travel to France at the end of June follow the link to get on our daily email list while we are in France!
Rewards don't always need to be major trips, although that would be amazing! It can be as simple as phoning your spouse or a friend to tell them how great a project turned out or to them about an exciting new project that is coming your way!
Let yourself share your victories with your social media peers! Post about it, share stories on it! I love when I see friends in the Home Decor community post that their homes are featured in magazines or on major websites. Not only are you rewarding yourself but you are also probably motivating others to keep working hard to achieve their goals!
We love to reward ourselves by giving rooms in our homes refreshes! Britt recently gave her home office a refresh and it has motivated her to stay focused and inspired on Vintage Society tasks.
I wish someone had told me these 7 habits back when I was working my office job because I know they would have made my experience for those years so much better. Truth be told, these are the kind of things that I teach my children at a very young age as they won't learn these kind of habits in a classroom so I feel it is my responsibility to teach them to them. You are never to young to start learning routines that will set you up for a successful life and career. Think of these 7 habits as tools that you can use to help build the life and career of your dreams.
​i love to set aside 1 hour in the day where i power thru a large task or Multiple small tasks! – Brittany – WHITE FARMHOUSE
What do you do on a daily basis to make your life a little better? We truly hope this post gives you some inspiration and motivation to keep going with your journey, business or personal endeavours. We would love to hear from you if these tips help improve your business or life, please feel free to comment below or send us a message and let us know.
Britt loves incorporating simple yoga poses throughout her day! Check out these 5 simple postures you can do before you even roll out of bed!