Enjoying the Small Things that Make a Happy Home
For both of us, ever since we were little girl's, our surroundings were always important to us. Deb always felt happier in a place of calm and was very aware of the atmosphere she chose to surround herself in. "I remember drying flowers from the garden so that I could have pretty things to look at all year round. When I got older and was able to have a home of my own, no matter if it was a rental or one I owned, I always took the time to make it 'mine'!" I started enjoying the little things when I was just a kid.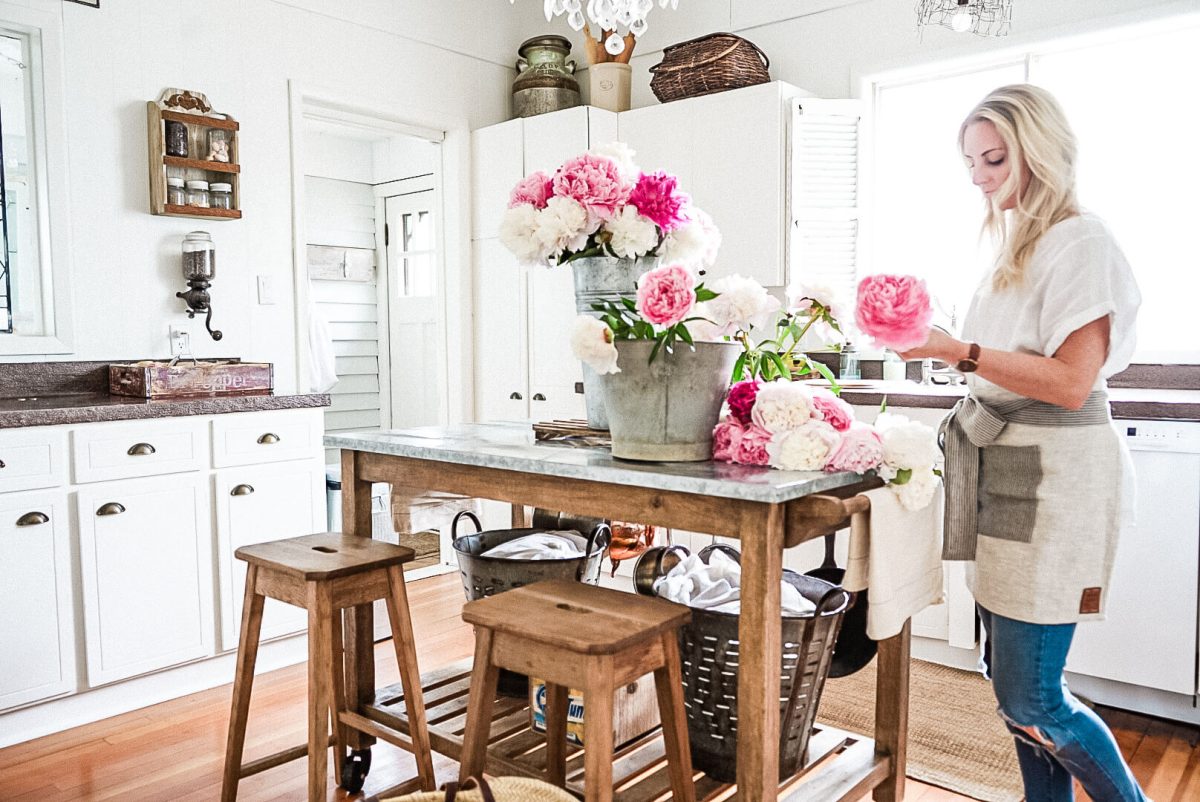 Vintage Society Co Ticking Apron Source
Britt had a bit of a different path. After meeting her now-husband they moved a lot over the course of 5 years. Britt always felt like she needed to wait for her dream home to create a beautiful space. So instead of actually doing renos or DIY projects she clipped images from magazines (this was pre Pinterest days!) and stashed them away in a dream home folder she kept.
our family changed for the better when we created a home we loved to spend every moment in! ~Britt. white farmhouse
Now that Britt is living in her dream forever home she looks back at those days a little disappointed. While it made her current home that much better there were so many years wasted living in homes that didn't make her happy. Hindsight is always 20/20 right! The feeling that is created when you truly make your home a space can really impact your life. If Britt could give you one piece of advice it would be that no matter what space you have to call home at this moment do you best to make it a happy home!
Over the years, we have both come to realize it doesn't take too much to make a space feel comfortable and below we have put together all our best tips for Enjoying the Small Things that Make a Happy Home
Enjoy!
Your home is a reflection of you…. A reflection of how you choose to live your life! Let it be one that you are happy with!- Deborah . B Vintage Style
​Staying organized, clutter and distraction free as well as mentally and physically healthy are all things we hold incredible value towards! We find when we are able to stay on top of these things, we become better mothers, wives, friends, business owners and partners! THAT is all that matters in the end, are we right?!!
SO if you feel that you are struggling with any of those things, begin with your home… it's a place where small changes can have a HUGE impact! Choosing to make little changes and taking pride in the place where you reside will only help you feel better about yourself in all of the other areas that are important to you! You can read our post on all the things we do to stay motivated and happy here.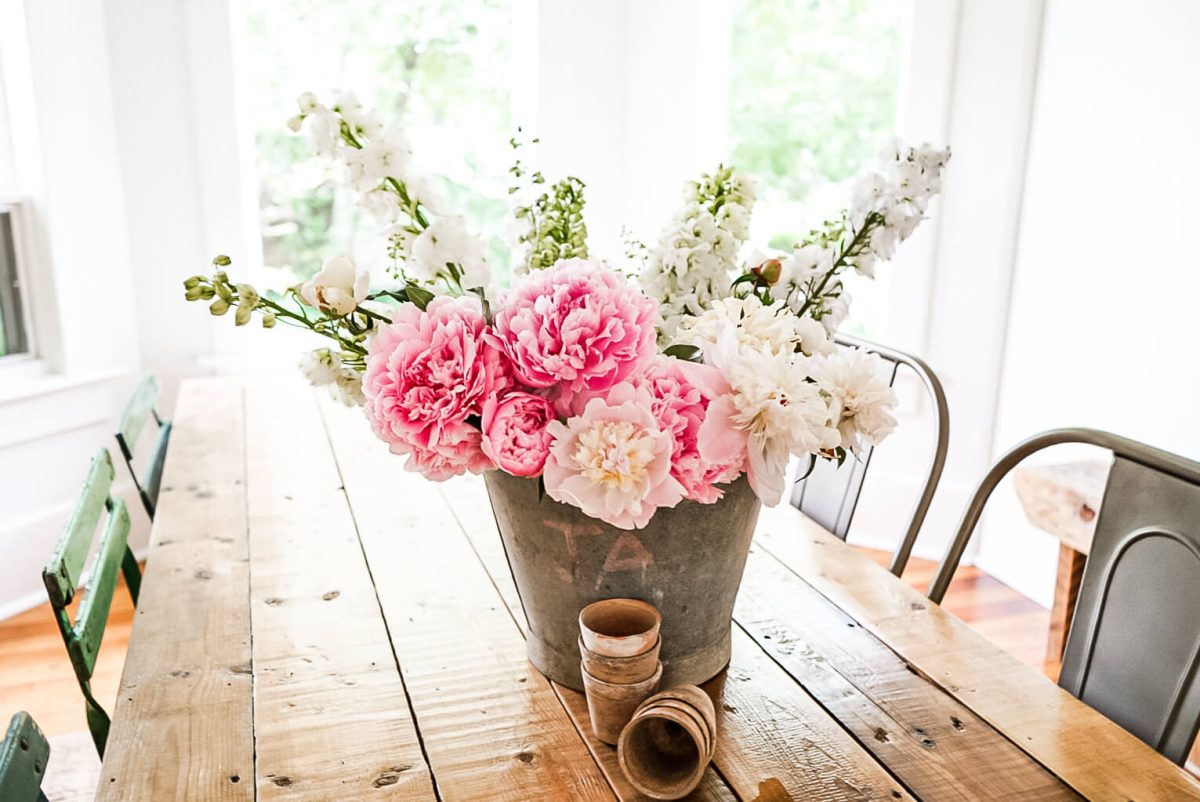 We can all come up with excuses that we are 'too busy' or that you are not there enough. BUT as much as it is important to hit the gym or meet a girlfriend for a long overdue visit, it is just as important to have a calm, relaxing home to be surrounded by. One thing Deb always tells her children when they come home from school after having a bad day with a friend or whatever it may be is that 'It is ok…. Your home now… This is your safe place.' Taking a few moments a day to make a haven for yourself and your family is SO important, my friends.
With that, we challenge you to PLEASE try a few of the tips we have listed below and see if you feel better at the end of the day about the space you surround yourself with. Even if you just start with just one room…. The key is to just START! It will pay off, we promise!
Fresh Flowers for your home
Deb's motto is that when you have fresh flowers in a room, no one will notice the mess! It ALWAYS give's a beautiful focal point in the space and can bring a small bit of happiness to any home. And fresh flowers don't need to be massive fancy bouquets…they can be simple single floral stems placed in small bottles.
Block Soap / Belgium Bottle Source
You can find extremely affordable flowers at most supermarkets and grocery stores now a days and Deb actually set's a budget every week for flowers. She look's at it like this, "I am not much of a drinker and I don't smoke but this is the one 'lil'fix' that brings me joy Every. Single. Time I walk into a room with flowers."
If you want some great tips on flower care you can check out our top tips for making flowers last longer here! Caring for a houseplant can also be extremely satisfying and doesn't require the cost or work of purchasing a new bunch every week.
All About the Seasons
Change your décor each season. Even if all you change is a simple throw pillow or wreath on the door. It really does make a space feel more enjoyable if it reflects the time of year. It will also get those creative juices flowing which is always a good thing! Everyone loves to feel inspired right?!
Light a warm cozy fire in the wintertime and open the windows to let the fresh air in in the summer! Britt did an amazing post about her transition from winter to spring here. Think of the changing of the seasons as a reason to do something for yourself that will make you happy!
let music create a happy mood
Other than exercise, music is the number one stimulant for a person's mood. Soooo set that mood! Deb read this somewhere years ago and it has always stuck with her! She has music going in the house almost all the time. "I love a soft quiet vibe during the day while I am working and then when the kids are home it's not uncommon for a rock'n dance party to break out! I am also known to bust out a bit of hard stuff when I am having a good lifting work out or going for a run!" Whatever your fav tunes are, have them set the tone for your home.
The scent of home
How your home smells can be almost as important as how it looks! Smells can help you unwind and can even bring you back to memories that are positive and happy. Invest in scents like candles and oils that sooth your soul and go well with the seasons. Deb is also big on essential oils diffused in her home as she feel these can simulate and heal you in different ways. Some of her favorites are below.
Lavender
Lime
Peppermint
Grapefruit
Orange
Rosemary
Let the Light Shine In
We are big believers that sunlight feeds the soul. One of the favorite things about both our home's is the flood of sunlight that come through all the big windows. Britt doesn't even own a blind or set of drapes! So, open those curtains, let the light shine in and take a moment to see just how healthy it makes you feel. This is also why we both keep our house's lighter, brighter colors!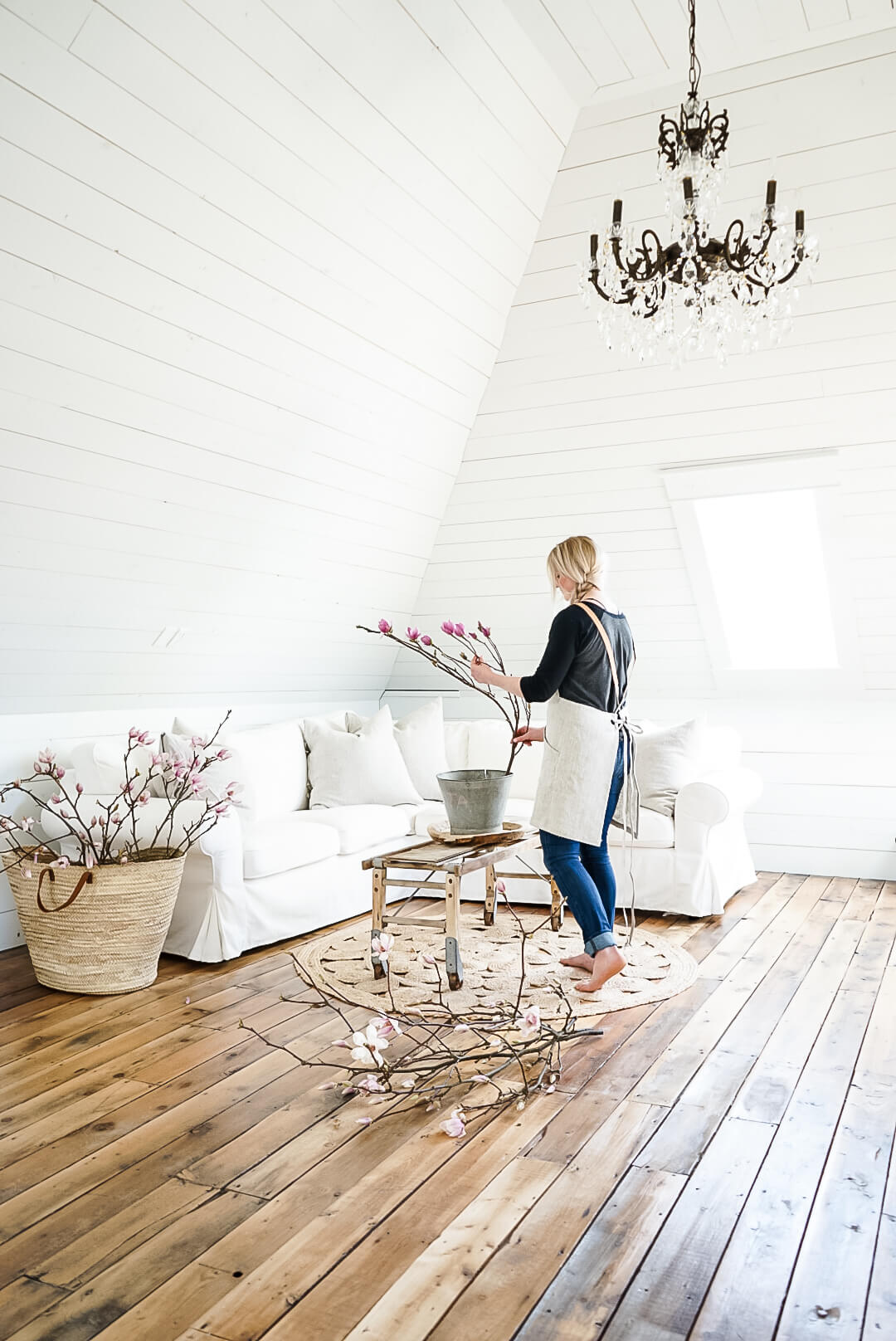 Vintage Society Co Garden Apron Source
creating a happy home starts with the small things
Ok, we know this is not for everyone, BUT we are telling you, coming home to a bed that is made will make you relax. A beautifully made bed is also a great way to start every morning! It gets a positive momentum going and if you accomplish nothing more throughout the day, you will have accomplished that! We also don't use a tone of throw pillows so that it makes the process a bit simpler. Creating a happy home really does start with the small things!
This short video by Navy Seal, Admiral William H. McRaven gives you all the reasons to make your bed! It's a bit of perspective on the little things in life!
I hope you have enjoyed all our favorite tips to Enjoying the Small Things that Make a Happy Home! Britt and I truly feel these simple home hacks can make all the difference in a home and that they are a starting point to live the life you love… a Vintage Society life.! What are your favorite tips to make your home yours, to make your home a happy home?! If you try any of our tips we would love to hear about it! Let us know in the comments below.