This post may contain affiliate links. Please read our full Disclosure Policy.
Patio Makeover Ideas | 5 Step Guide to an Outdoor Patio Area
Let me help you design your outdoor space to a beautiful oasis that you can enjoy with your friends and family this summer with these Patio Makeover Ideas and 5 Step Guide to an Outdoor Patio Area! You can also check out my Farmhouse Patio Ideas!
Ready to start create a beautiful outdoor living space for you and your family? Follow these patio makeover ideas and this 5 step guide to design and amazing backyard oasis!
Before we dive into the 5 Steps to a beautiful Patio Makeover, let's go over a few commonly asked questions that I get from all of you!
How can I make my patio look pretty?
Like any other space in your home, your patio should be designed to not only function for it's intended purpose of eating and relaxing but it should also look beautiful! Here are a few ideas that you can add to any patio space to make it look pretty!
String Lights
Unique but functional furniture
An outdoor area rug
A hanging chair or hammock to relax in.
Add a pergola!]
How do I redo my patio on a budget?
The most budget friend patio makeover is done by DIYing as many of the larger projects as you can and upcycling furniture pieces that you already have! You can teach yourself how to build a deck or add a pergola to an existing one, you would be surprised how easy these types of projects actually are! As for the decor, almost any furniture you would use indoors could be used outdoors too, with the proper protection and care! Many popular design styles already highlight this type of decor such as Boho or Farmhouse style.
How do you convert an old patio or do a patio makeover?
Paint or Stain – It's always amazing what a fresh coat of paint and some elbow grease will do to any space
Cover Old Concrete or Decking – Sometimes it's easier and more cost effective to completely cover up the old product with new!
Add Furniture and Decor to the Patio Space – Like any other space in your home, new furniture will give any old patio a fresh look. More on this below.
Include Potted Flowers and Greenery – Nothing gives a space a fresh look more then beautiful, healthy flowers and plants!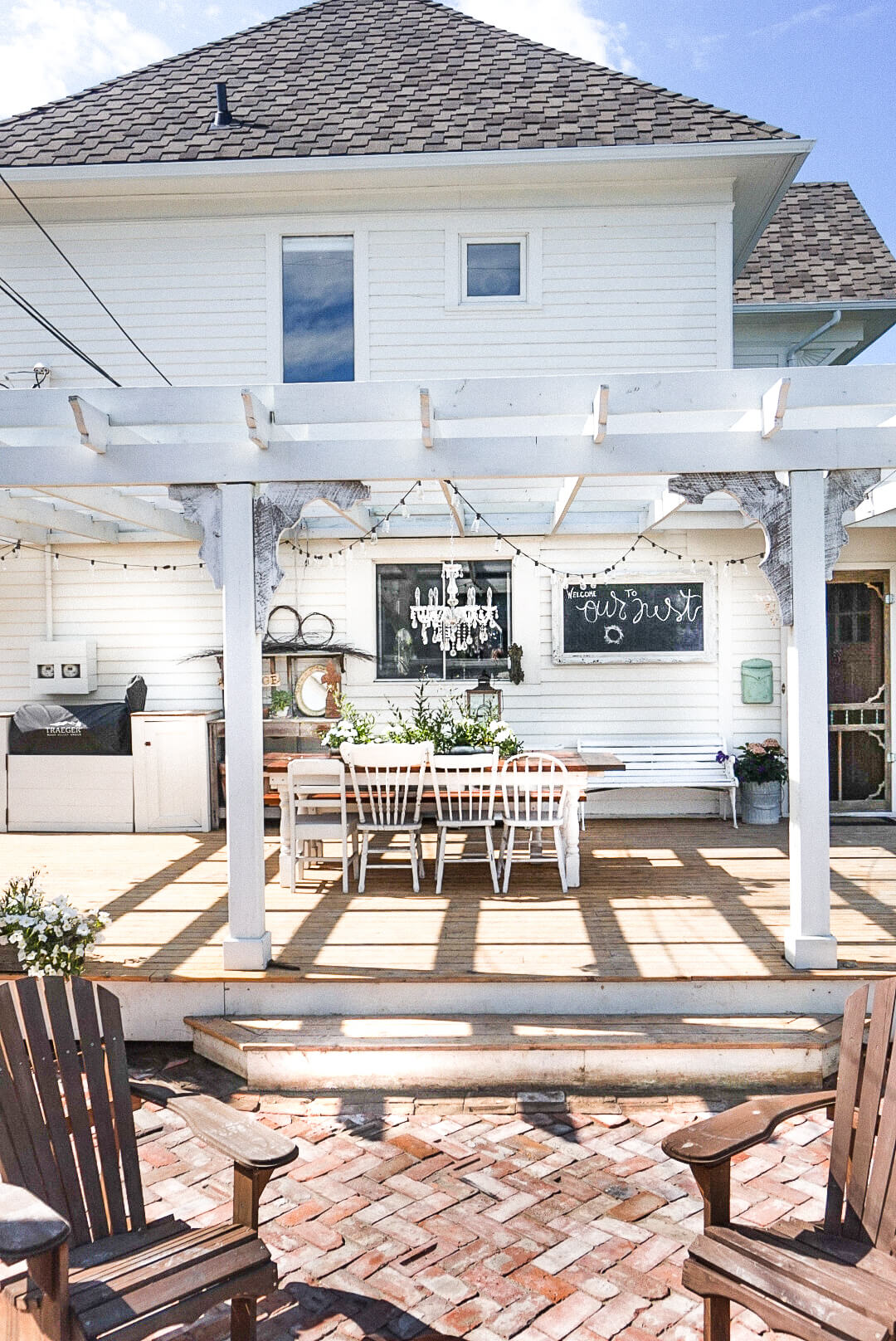 LETS GET TO IT….
Patio season is upon us and everyone is itching to get outdoors after a long winter indoors! It's important you take the time to really think of your outdoor living spaces as an addition to the rest of your home! Use these 5 tips as a guideline to make the most out of your outdoor living space and patio!
" I have always thought of my patio as an extension of my interior living spaces "
SHOP THE PATIO

5 Step Guide and Patio Makeover Ideas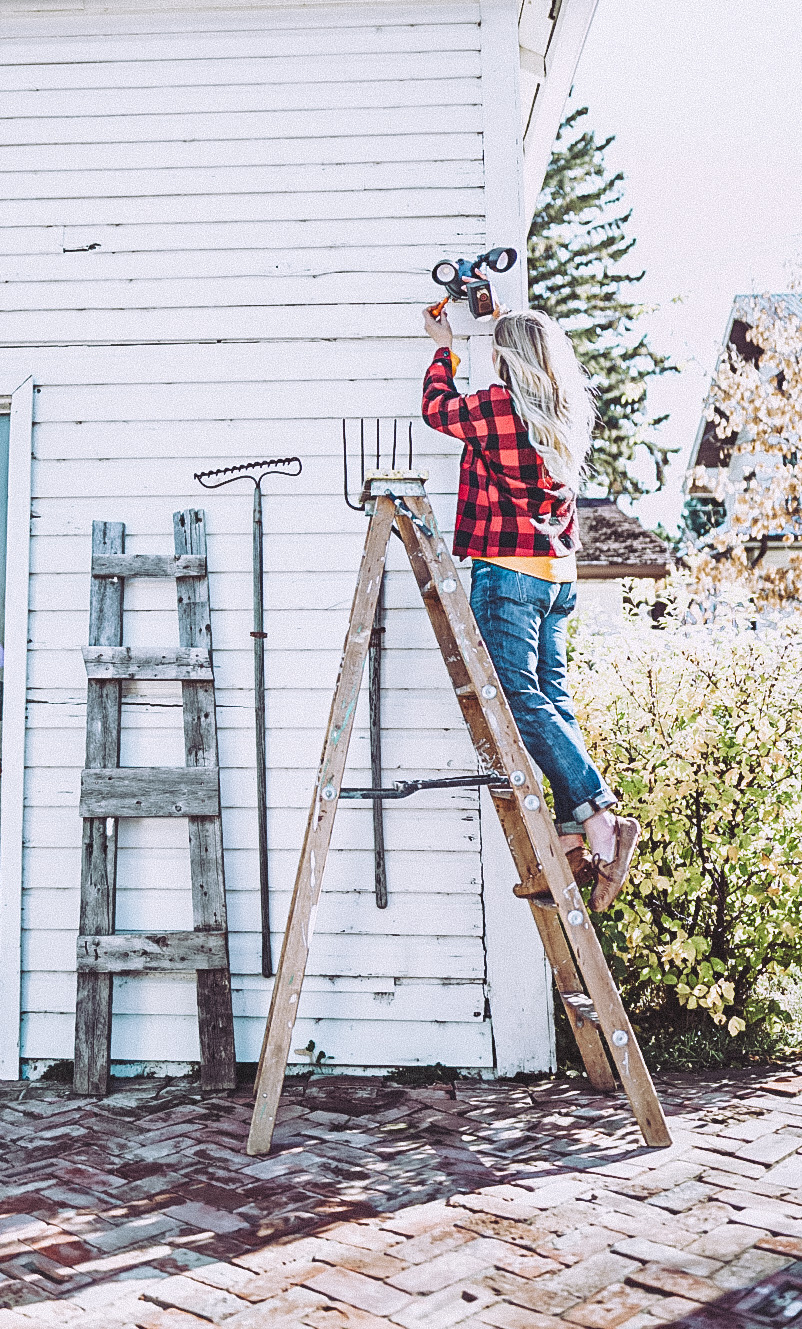 STEP #1 – Lighting Ideas for your Outdoor Patio Space
You will be spending both days and nights on your patio spaces, so you will want to make sure you have great lighting for these areas!
Lighting needs to be functional and practical but still give the space style! Think of how much a light fixture can change the look of an indoor room, it's exactly the same for an outdoor patio or dining area!
A few lighting options are:
Swagged outdoor patio lantern lights – these give a beautiful glow in the evening and add an element of charm to any of your living spaces.
Candle lite lantern's or battery operated candles – lanterns truly set an ambience and give you an immediate relaxed vibe!
Centralized chandelier or fixture – this helps to complete the look of outdoor living spaces and drives the eye up giving the patio height! This is a great option when you have a covered deck or pergola!
Twinkle lights – These little cuties aren't just good at Christmas time! The battery operated LED lights will give you a gorgeous glow at night! Perfect for sitting and having a glass of wine!
Lighting helps create gorgeous backyard Living Spaces!
Lighting Hack Trick – Although you can wire a chandelier in a fully covered patio, (not all chandeliers are outdoor rated, so consult an electrician before wiring in any fixture in your outdoor space) I didn't have the option to fully wire in mine so I put up mine "just for looks"! The chandelier is just hanging there and the light from the string lights reflects on the chandelier and makes the chandelier appear that is functional.

STEP #2 – Add Greenery & Flowers
Nothing feels more like summer then fresh flowers and plants everywhere! I have nailed down some favourite, easy to grow plants for the season! These patio flowers and greenery are beautiful all summer long and usually look just as good long into the fall.
Patio flowers help create a beautiful outdoor Oasis!
Our favorites are:
Potato Vine (Solanum jasminoides)

Eucalyptus

Petunias

Heliotropium

Lavender

Hydrangea
1. Potato Vine, also known as Solanum Jasminoides, this evergreen vine is an ornamental garden plant with white flowers or pale blue flowers that resemble jasmine. This vine is extremely fast growing and thrives in almost any condition. I have had success with it both in full sun and shady areas and the great thing about this vine is that you can direct it to climb and grow in any direction you choose. Potato vine lasts long into the fall!
2. Wave Petunia's are an easy to grow and care for flower that make a big impact on your patio space! Petunia's can easily be started from seed and begin flowering in early summer, right through until fall. They give any patio living spaces a pop of color and are a favourite because they continue to grow and bloom with very little work. Simply pull off any dead blooms and this plant will thrive well into the fall. Petunias are also extremely hardy and even if neglected and unwatered these beauties will perk back up after a good watering.
A great outdoor Living Space will Reflect your style as much as the rest of your home
3. Eucalyptus is another evergreen that is very easy to grow, the True Blue variation not only fills out and looks beautiful, it smells amazing too! This lovely greenery addition grows best in full sun and will help to attract birds to your patio. Eucalyptus is also lovely to cut and bring into the house for an indoor bouquet. The best part is that in the fall you can cut off the stems to make potpourri or make scented satchel's.
4. Heliotrope is a sweetly scented flower that has beautiful blooms that are a deep purple in colour. They are an annual in Canada but can be tropical perennials in other parts of the world. With that said, they do not do well with the slightest amount of cold weather or frost.
5. Lavender is by far one of the most fragrant and beautiful herbs in the garden. Both English lavender and Spanish lavender are great for on the patio. The plant loves blazing hot sunny spots and dry soil. If your lavender isn't thriving, it's probably due to overwatering! Although, please note that some variations are being created to be more hardy for Canadian climates and can handle more moisture and shade.
6. Hydrangeas are amazing and there are so many varieties. These big blooms can really add some personality to a patio space. Opposite to the lavender above, the hydrangea requires water daily and prefers morning sun as opposed to afternoon heat! If you would like to learn more about hydrangea care, you can check out a full post on it here.
Keep it simple using flowers like these will produce beautiful planters all summer long and create a beautiful living space for your friends and family to enjoy.
STEP #3 – Unique Outdoor Furniture
Sometimes it's good to step out of the traditional look and feel of the big box store furniture and the patio is just the place to do this!
I have always used pieces that could double as indoor or outdoor furniture to our living spaces on out patios! In fact, my patio table was previously my dinning room table! The key is in protecting them from the weather and other elements of the outdoors. Be sure to use the right types of products to protect your furniture like outdoor paints and stains as well as outdoor polyurethanes.
Other ways to keep your furniture protected is covering your table and chairs with a painters drop cloth (the ones that have the plastic liner) when you are not using the space. I also had a custom piece of plexi-glass cut to go on top of the pergola above the chandelier and table to prevent as much rain from landing of them as possible.
Adding unique items, like old electrical spools and farmhouse tables and antique benches make your space feel comfortable and casual. The best way to do this is to think about your favourite living spaces inside your home, what makes you love eating at your dinning room table or curling up on your couch? Now think, how can I carry these elements to my outdoor living spaces?
For example, my kids love to sit at a bench as opposed to dinning room chairs so I have added benches to our outdoor dinning tables so that the kids can run out to the table and sit down without struggling to pull out chairs on the bumpy patio pavers or uneven deck boards.
OUTDOOR LIVING DECOR

A key to having kids utilize the pretty spaces we create is that it has to be easy for them to use!
STEP #4 – Adding Cozy Elements to the Patio
There is nothing better than having a spot on your patio that you can go relax after a long day of working in the yard! Imagine working all day in the hot sun and then having a cozy living area that you can go plop down on in the shade with a cool beverage!
Hanging hammock chairs are a great option for a place to relax! Morning lattes or reading a book are also so much better enjoyed from a cozy spot like this!

A unique DIY porch swing that gets the perfect morning sun is another great option. Check out the details to make your own here.
Other options are couches or a traditional hammock. There are lots of tutorials for pallet couches that you can search on Pinterest. A traditional hammock on a frame can easily be moved around to find that perfect shady spot for an afternoon siesta.
No matter what your outdoor living spaces look like having a spot that calls your name to come and relax and enjoy the summer days is essential!
STEP #5 – Optimizing your Backyard Patio Area
If you have a large outdoor entertaining area, it's a good idea to give each space a distinct purpose, similar to what you would do with your indoor spaces. A set area that is for cooking, can be paired with an outdoor dining area and a lounging area can be on its own as well.
One great place to start determining how to organize your spaces is by letting the sun be your guide. In Canada, summer nights can be chilly so having more sunlight on the south and west sides may be more comfortable for staying out longer in the evening. However, having a cooking area on the north side of your home like my BBQ area may be more practical.
In hotter climates, finding reprieve from the scorching summer days will be important for enjoying your evenings. So start by thinking about how much sun your family will want during different points of the day and how you can optimize either getting more heat or shade to make your backyard creations more enjoyable!
I hope you have gotten some inspiration and ideas to start designing your own patio makeover and I would love to hear any thoughts you may have in the comments below! If you are looking to start a patio from scratch check out how I used reclaimed bricks to create my fire pit patio space!
More Patio Favorites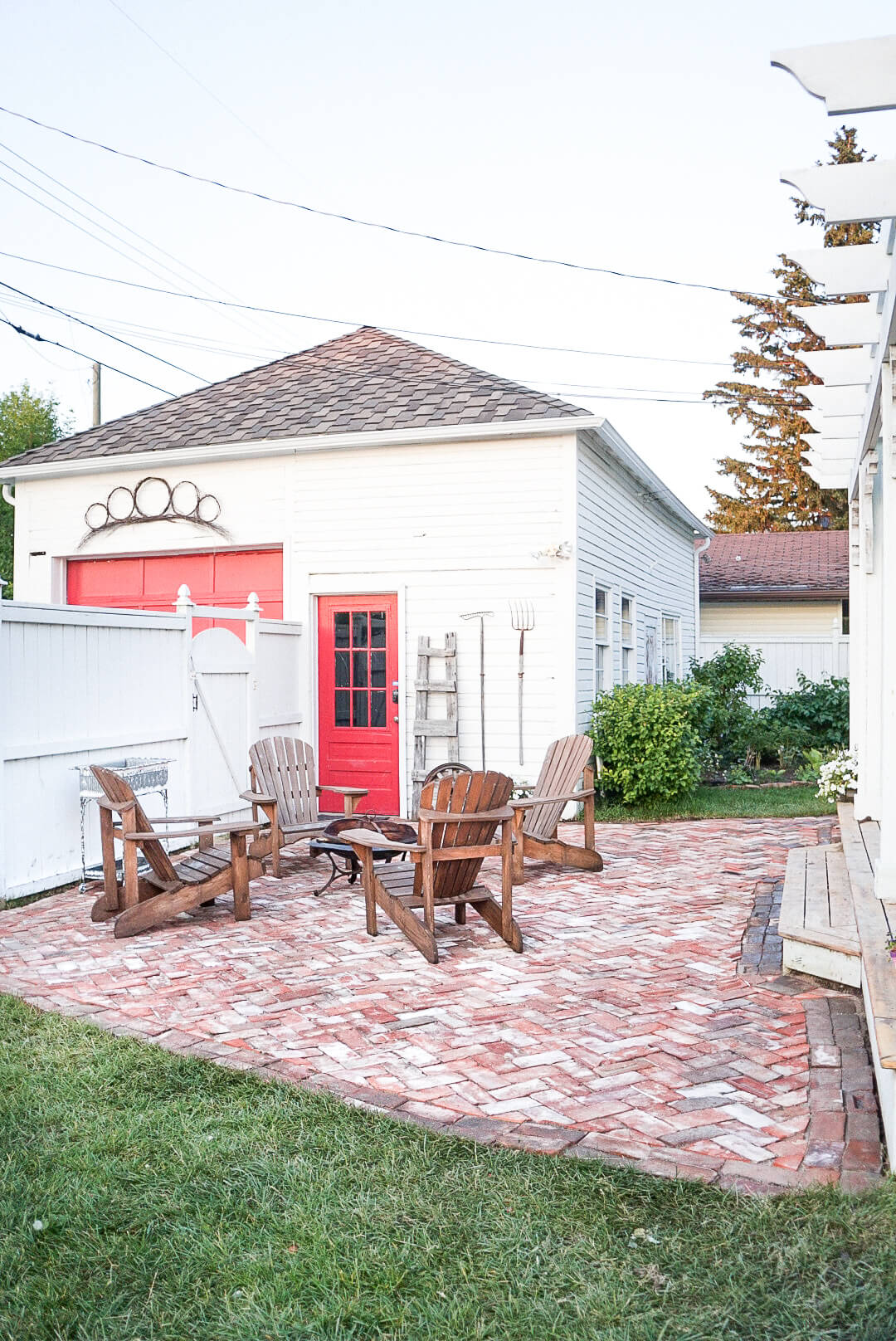 Pin for later
My friends have also written some amazing posts on how they have created outdoor living spaces and we would love for you to check them out as well:
Rhonda from the Hallstrom Home – HYGGE PORCH DESIGN WITH SWING