This post may contain affiliate links. Please read our full Disclosure Policy.
Ceiling Mounted Clothes Drying Rack
There are a few design features that can make a really big impact when designing any laundry space and having a designated space to hang your delicate clothes is a big one. Hanging a ceiling-mounted clothes drying rack is incredibly simple to do and looks so stylish in your home too! This step-by-step DIY laundry hanging rack tutorial will give you everything you need to add a drying rack to your laundry room! If your looking for even more laundry room decor ideas, take a look at this fun post on my laundry room renovation and 5 Farmhouse Laundry Room Decor Ideas!
Types of Air Driers & Clothes Drying Racks
There are so many different types of airers or drying racks out there. Some can be folded and put away when not in use, whereas some can be permanent decor items in the space! From an iron pipe attached to the wall to a collapsible vintage clothes drying rack, the possibilities are endless. Take a look at a few fun racks you can purchase below.

Tired of fighting to get stains out of your laundry? Are you wanting to have your laundry look new again? Try these natural methods to whiten and brighten your linens.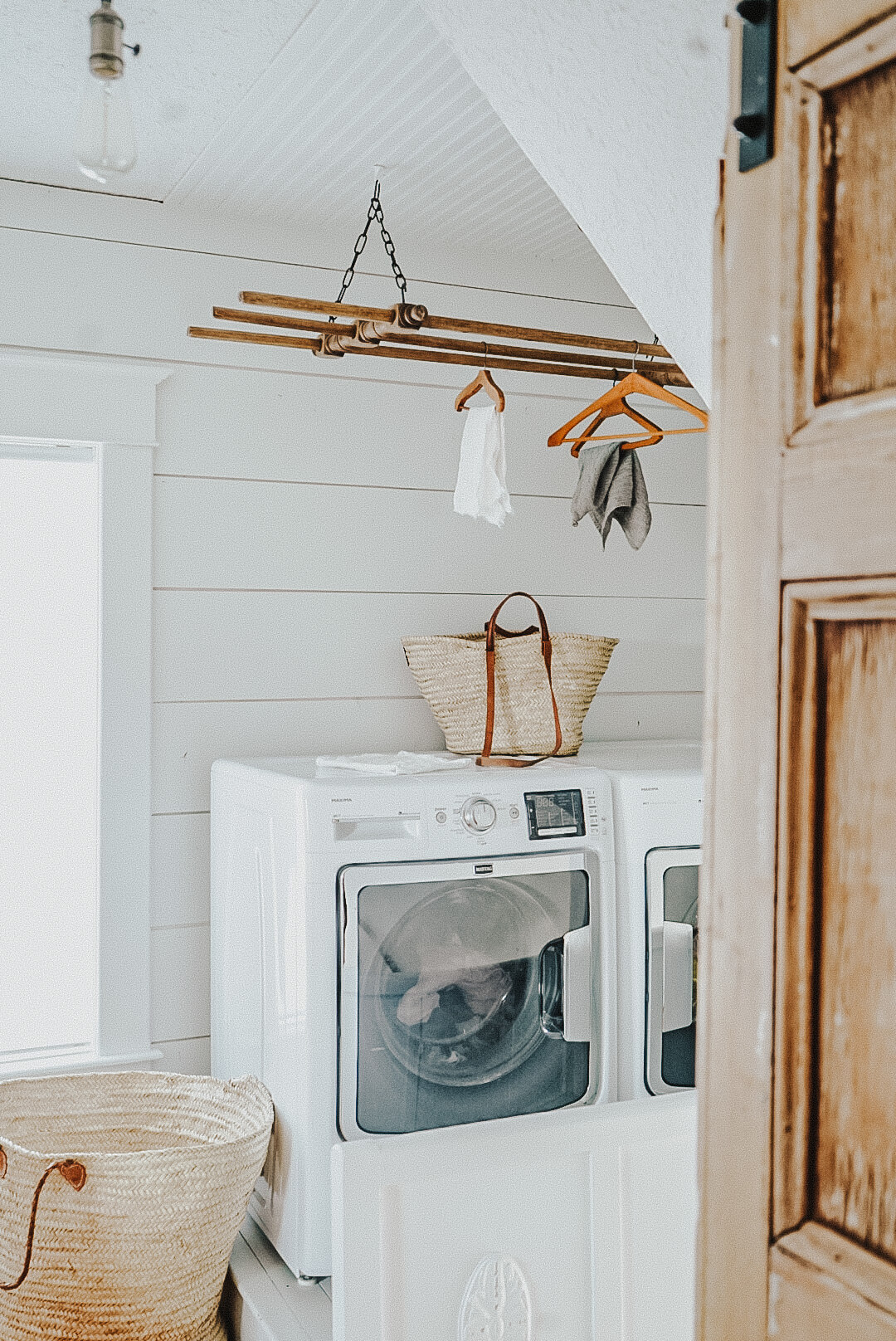 Benefits of Hanging your Clothes to Dry
There are so many reasons to hang dry your clothes! Nothing beats the smell of fresh laundry coming in off the line outside but hanging it up indoors still has so many benefits too! Here are a few listed below:
Hanging laundry to dry is more affordable – Eliminating the use of the dryer and dryer sheets can save you money in the long run! The dryer is the 3 most energy-consuming appliance.
It is better for the environment – Hanging your laundry will save energy so not only does it help out your pocket book, it also saves on the environment.
Gentler on your clothing – Tumbling and tossing your clothes around in the dryer can really cause wear and tear on your clothing over time. Hanging them to dry will completely element this!
Helps whiten your whites – If you can hang your linens outside, the sun will bleach naturally and kill bacteria.
Helps to eliminate wrinkles – You save so much time by not having to iron after you hang your clothes on the line!
Can remove yucky odours – Hanging your clothes on the line, especially outside will help to remove any unwanted odours and smells!
Clothes Drying Rack V.S Machine Dryer
There are some definite pros and cons to both air drying your laundry and using a machine dryer. Having your own drying rack in the laundry room will allow you to have the best of both worlds. Hanging your delicate clothing and laundry that is prone to wrinkling can really save you time and money in the long run whereas having a machine dryer can cut down on the time it takes for you to do laundry! Let's review a few more of the differences below.
Clothes Drying Rack
Machine Dryer

Increased freshness
Costs less and is better for the environment
Decreases the number of wrinkles and ironing of your laundry

Faster drying time
More convenient and not reliant on the weather.
Requires less space than a laundry line
How to Make a Ceiling Mounted Laundry Drying Rack
Print
How to Make a Ceiling Mounted Clothes Drying Rack
Are you wanting a practical but beautiful alternative to the traditional dryer in your house? Try this easy step-by-step DIY ceiling-mounted clothes drying rack. It truly makes doing laundry so much more enjoyable!
Equipment
Drill

Screws

Measuring Tape

Table Saw or Hand Saw

Stud Finder
Materials
Ladder or Antique Drying Rack

Chain

Set of Ceiling Hooks

Attractive Coat Hangers
Instructions
Measure the desired area using a measuring tape.

Using the table saw or handheld saw, cut your rack or ladder to fit the space as desired.

You may need to find the trusses for this if you plan to hang anything too heavy like jeans or bedding. Reinforce the hooks if you need to.

Attach the chain to the drying rack. If your rack doesn't have hooks on it already then you will need to attach some.

Decide on your desired hanging length from the ceiling then cut the chain

Attach the drying rack to the chains.

Add coat hangers and enjoy air-dried fresh laundry!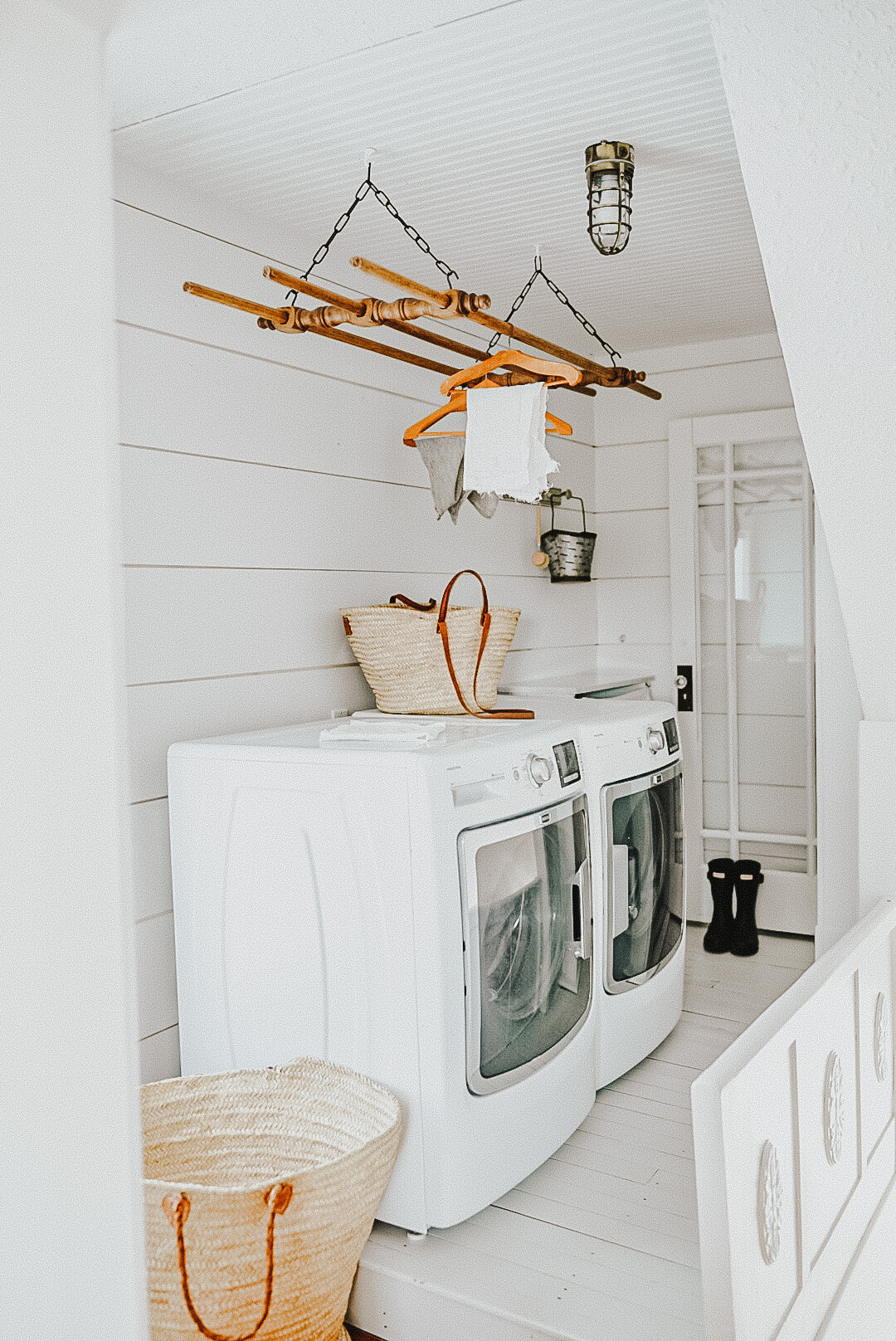 This isn't the only way to add a line to your laundry room though, even hanging a shelf with a line underneath or suspending a pipe from the wall works too! The options are actually endless. Even peg racks can be used for hanging some laundry and also be a useful tool to hold other objects like buckets of cloth pins!
I hope you enjoyed this easy but practical tutorial on how to make ceiling-mounted clothes Drying Rack and go away with a plan on how to make your laundry space one that you love to spend time in! For more laundry room inspiration, head over and take a look at my farmhouse laundry room ideas. As always, I would love to hear your thoughts and if you have any tips on beautiful laundry room décor! Leave me a comment below, find me over on Instagram or send me an email!
Pin for later