This post may contain affiliate links. Please read our full Disclosure Policy.
DIY Reclaimed Brick Patio
Purchasing an old house comes with many pros and cons. Some old homeowners choose to hire out the bulk of the home renovations, others choose to DIY the projects themselves. If keeping the aesthetic and appearance of an old home is important to you, using reclaimed or recycled materials may be a great option for your next home renovation. As an added bonus, it is usually more cost-effective! Enjoy this step-by-step tutorial on how to make a DIY reclaimed brick patio using recycled bricks!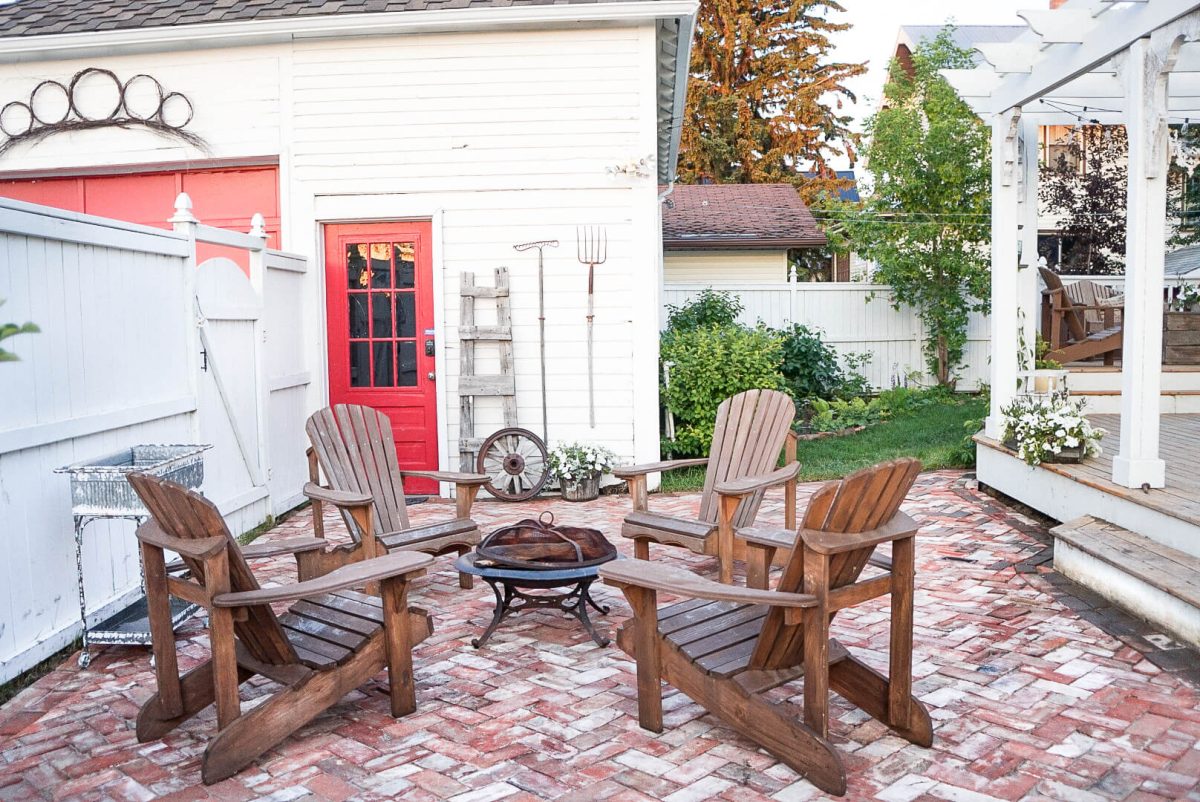 Why Choose Reclaimed Bricks For A Patio
 No matter what project we took on in this old house, it was important to us to make it look like it had been here for years! Using reclaimed products for DIY projects is not only cost effective, but it will also gave the aesthetic and appearance that is more true to the age of the home. In this easy recycled brick patio tutorial, we used reclaimed bricks that we can found on local buy and sell's
This old house is going to take us years to get to where we want it to be but it is slowly becoming the house of our dreams. It's amazing to think of where we've come from this being nothing more than a gravel back driveway to now having one of the best patios in town. This was Stage One for this space. Stage Two will be a large freestanding fireplace at some point. I'm not going to say the project was easy but it also wasn't the trickiest when we have taken on. It was just a lot of grunt work. We found our salvage bricks on Kijiji and lucked out to get about 1800 in one go.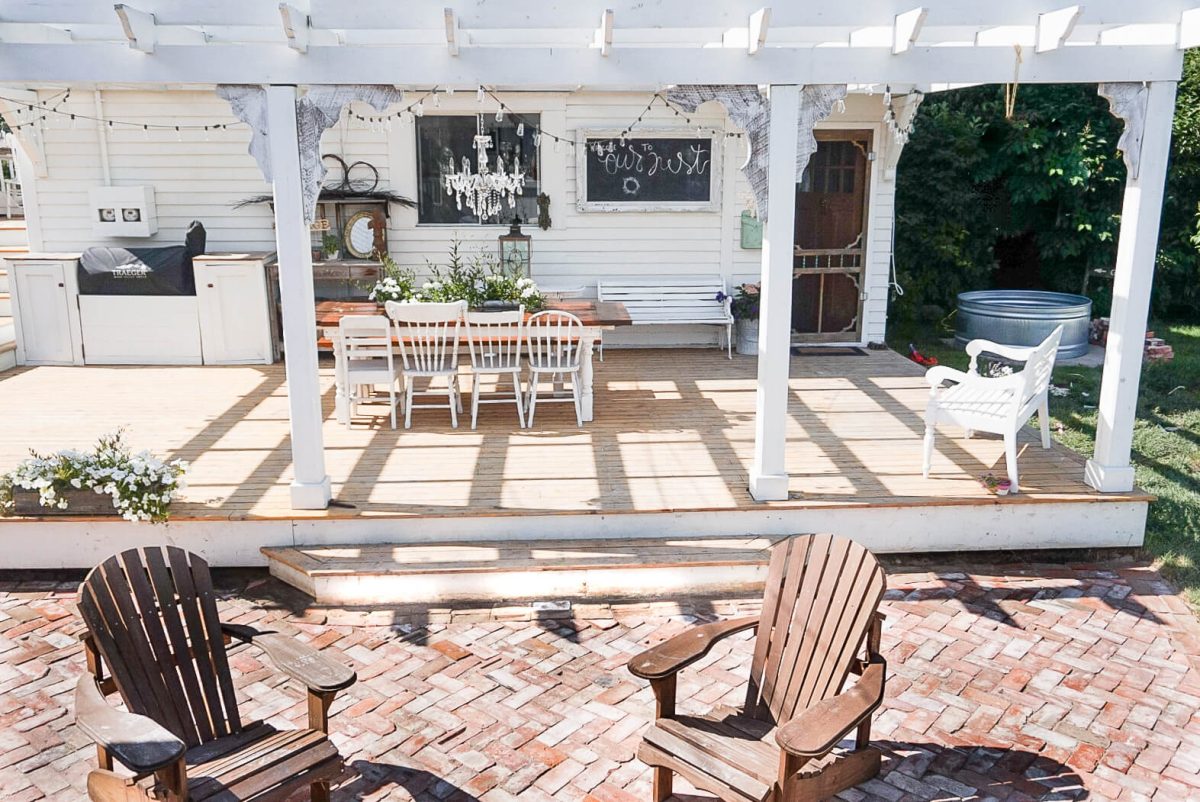 How to Make A DIY Reclaimed Brick Patio
Here are the steps we took to make our DIY Salvaged Brick Patio:
1. Choose the area where you want to lay your brick patio.
2. Measure the area you want for your patio.
4. Prep the area. Remove all grass, objects and enough dirt to a depth about 6-8 inches. Make sure your slope drains away from any buildings
5. Add gravel in the excavated bed. Maintain the integrity of the slope you have developed in the bed. Be sure to pat down the gravel and check to make sure everything is still sloping.
7. Fill your bed with 1.5 inches of sand
8. Level the sand.  We used a 2 x 4-inch piece of wood to do this.
9. Lay the bricks in place.
11. Spread a layer of polymer sand over the bricks. Carefully sweep the sand to fill in the cracks between the bricks and along the edge and make sure to sweep all the sand off the tops of the bricks so it doesn't adhere to them.
12. Spray the bricks with water, allowing the material to settle between the bricks.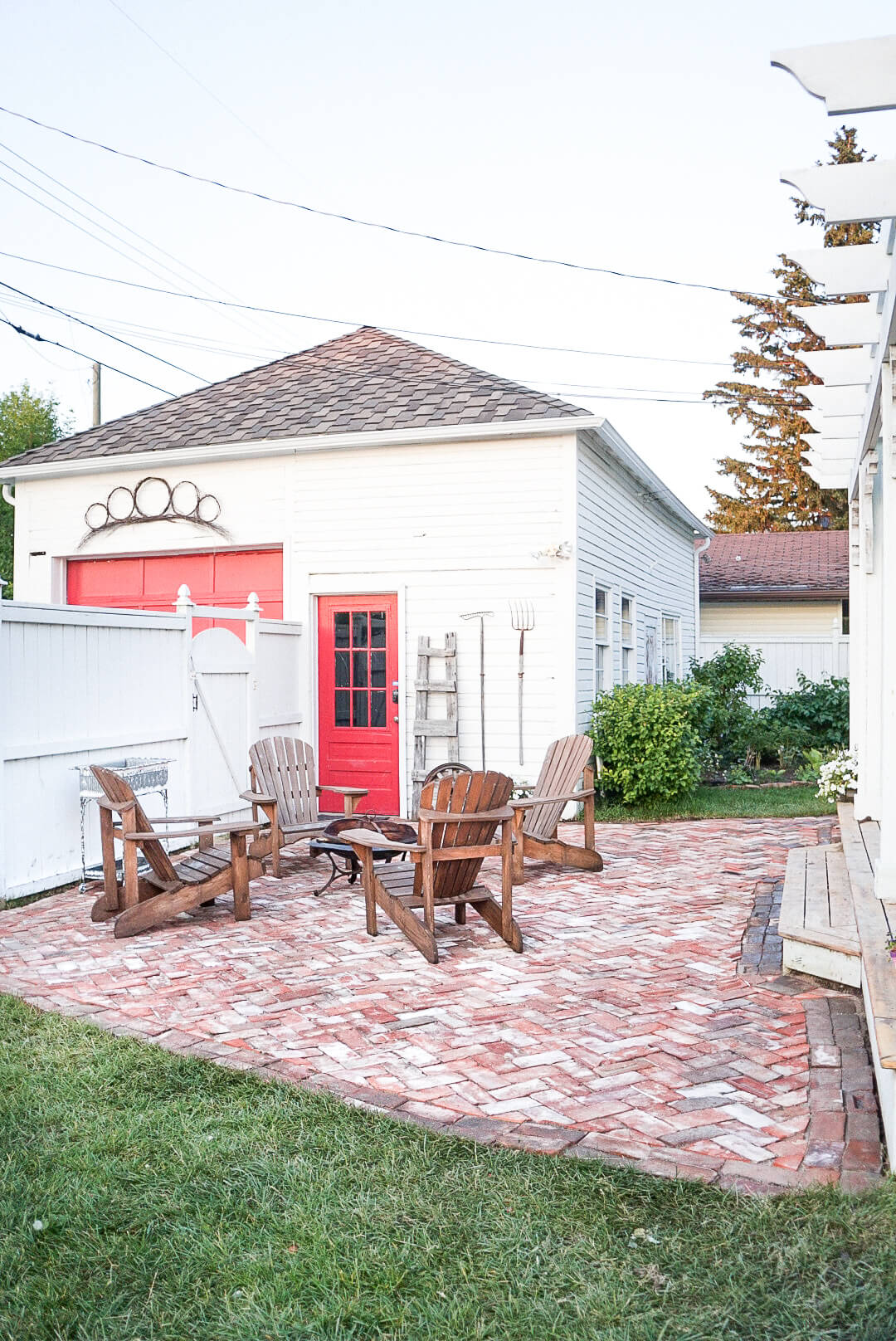 I hope you have enjoyed my DIY salvage brick patio post. Would you use salvaged bricks for a project? Please let me know your thoughts in the comments below!
Have a wonderful weekend.
Now find out how to style your patio like a pro with these unique patio decor ideas