This post may contain affiliate links. Please read our full Disclosure Policy.
Fall Decor
Summer has almost come and gone and as sad as that is…. It means fall decor is in full force! One of the reasons that Fall is arguably the best season to decorate for is that there are just SO many outdoor elements this time of year! Harvest season makes for some of the best food of the year but also for some of the best fall decor! I thought it would be fun to share a few of the items we love to use this time of year with all of you.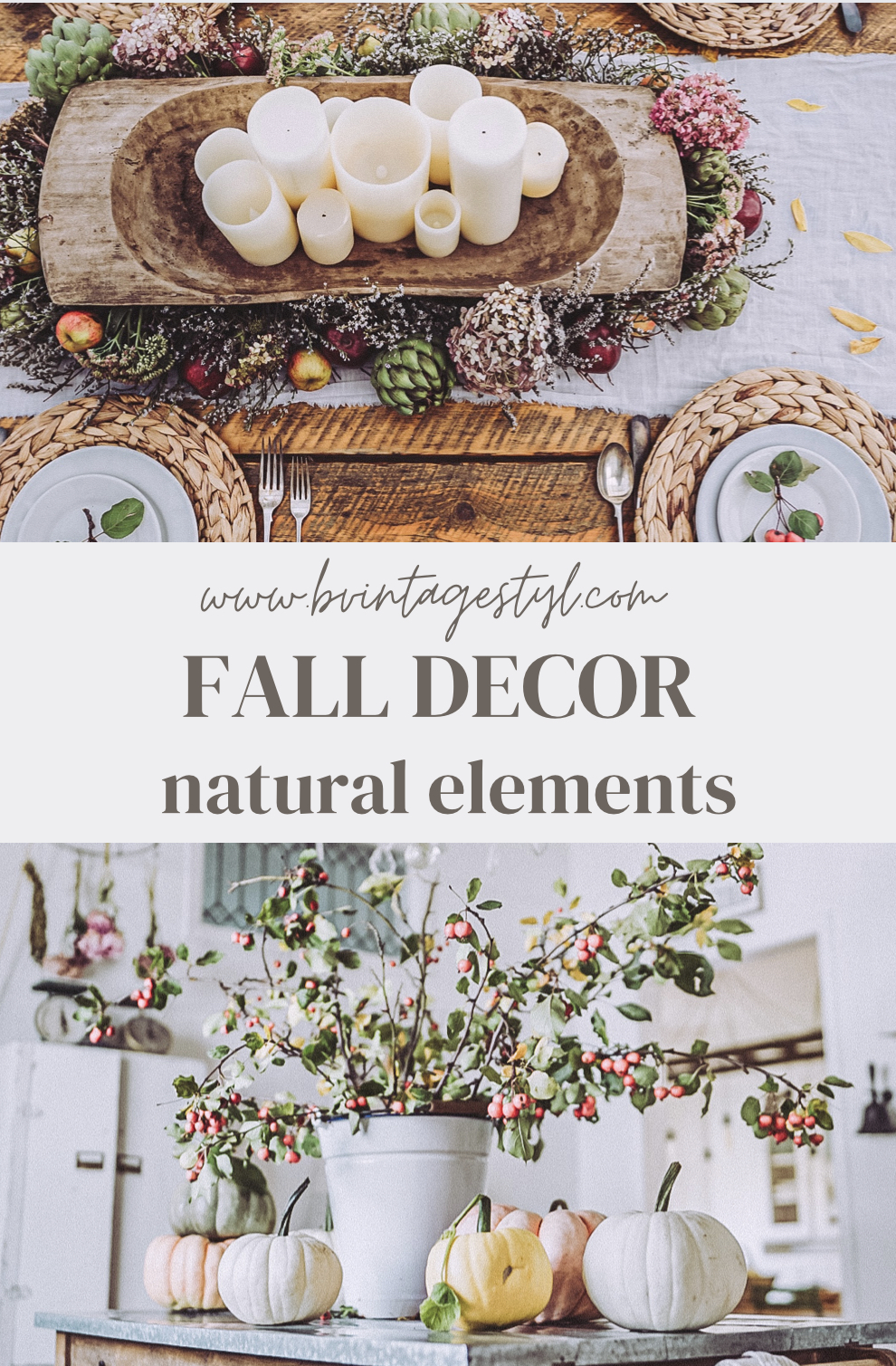 Where To Find Natural Fall Decor
Growing up in the country, I had access to a lot of home-grown items. Simply walk outside and gather some beautiful natural fall decor to bring inside. Nowadays, it is so easy to find all of these items at local farmer's markets and even grocery stores in larger cities and towns. Below are a few of my favorite outdoor Fall decor items, how to use them and any other details we can provide about them.
Examples of Natural Fall Decor
Pumpkins – Gone are the days of the simple orange pumpkin! As much as the classic pumpkin still has a place in Fall decorating, now a days you can find so many beautiful alternatives! Pumpkins are more commonly being found in whites, blues, greys and greens! A few of our favorites to look for are Jarrahdale, Indian Doll Hybrid and Casper pumpkins. You can use these for centrepieces, to decorate a mantle and even for simple décor on a front porch.
Wheat, Grain and Grasses – It's very easy this time of year to get your hands on some of the local crops. You can also find these here on Wayfair or at Home Goods and Homesense. Use these in a centrepiece, make an easy DIY wreath or just put them into a vase or jar for some texture! No matter how you choose to display them, grains and grasses will give a Fall feel to any space!
Corn husks – What is more impactful than a giant, dried corn husk?! These look gorgeous in an urn with some big pumpkins layered around them! Corn husks can also be very easily made into a DIY wreath for the season. You can find these at a local corn farm if you have one nearby or sometimes at your local hardware stores like Home Depot or Lowes. You can also ask a florist in your area if they know where to get their hands on them.
Shop Fall Decor

Grow Your Own Fall Decor
Fall Flowers – Fall flowers add the perfect touch to your Fall decor!
Hydrangeas – Although this flower isn't quite as common to find as some of the other fall flowers in our neck of the woods, they are starting to show up more and more in Alberta! The best part about the hydrangea is that you can enjoy this flower through the later part of the summer right into the later part of the fall. In fact, if you let the flowers change for fall, they will make the perfect dried arrangements! You can use these in all different fall displays such as centrepieces, arrangements, vases/baskets and even on a mantle. The best variations to grow in our part of the world are the Annabelle, Lime Light and Lava Lamp. For all our best tips to grow hydrangeas and more on the types we recommend. Check out our post here.
Larkspur – When it comes to a pretty fall flower, larkspur one is right up on the list. As part of the delphinium family, it blooms late in the season and dries so nicely for the fall! The seed for larkspur can be quite expensive but this gorgeous flower is worth the money! There are so many shades of purple, pink and blue! It even comes in a gorgeous white variation as well! Just make sure you don't ingest it as it is highly toxic for humans and animals.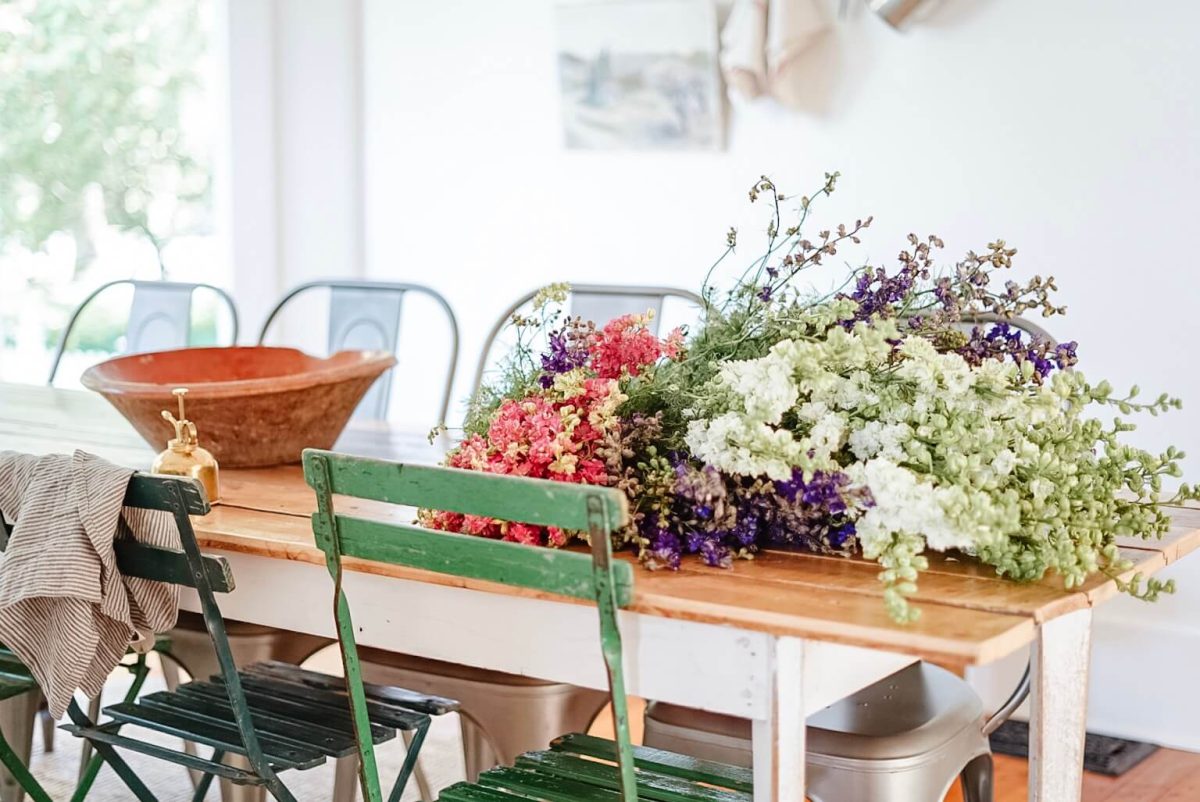 Globe Thistle and Sea Holly – Both of these plants are a variation of a thistle and dry well in the fall. They make very pretty additions to any arrangement and pair well with the above larkspur. The only warning is that the sea holly gives off a terrible smell and will leave you with your nose turned up. The best way to prevent the smell from entering your house is to spray the blooms with a bit of clear polyurethane or even hairspray to seal in the smell.
Potted Mums – A hardy potted plant, mums are a great addition to any fall décor! The daisy-type flowers come in a variety of colours like orange, yellow, burgundy and red. Mums seem to be able to withstand the colder temps of fall a bit better than other types of flowers making them great to use outdoors and on patios or porches. You can find these at most local hardware stores, grocery stores and flower shops in the fall season. They are usually at an affordable cost point as well.
Sunflowers –

Nothing says Fall more than the sunflower! This happy bloom is so easy to grow that most of the plants you find in Deb's yard, have been self seeded by the birds from the feeder! There are different variations of this type of flower, some with pollen and some without and many varying colours. You can also dye these big beauties using specific florist dye! Imagine the possibilities!
Shop Fall Flower Seeds To Use For Decor

Tree Branches and Berries – This is one that is a bit out of the box for most people but can make for great decor in any home. As the leaves change colour and the berries ripen, snipping a few stems from an apple tree or Mountain Ash tree can really go a long way! The bright orange and yellow leave give such an interesting texture to any home! Showcase them in a pretty pot or jar and they can last for a week or more! The best part about using tree branches is that it is usually free! I even use the berries from the mountain ash bush in both my fall and winter décor to add vibrant pops of color!
Use The Grocery Store To Find Autumn Decor
Fresh Fall Fruits and Veggies – Although where I live there are not many orchards nearby, it is always easier to get your hands on freshly harvested fruits this time of year like apples, artichokes, pears and plums!! A simple basket, lined with linen and full of apples, pears or plums is the perfect centrepiece for an island or table! It will give any space a pop of colour and a fresh look! You can even mix in some pumpkins with them to give a bit of added texture!! Having fruit displayed out in the open will also encourage your family to eat healthier options! My kids love to walk by and grab a snack right off the counter display!
Well that wraps up the majority of the natural elements we use for the fall season! When it comes to natural decor, you can really use your imagination and try whatever comes to mind! What other types of natural decor do you use in your home for autumn?!
As always, I love to hear from you so please let us know by leaving me a comment below or sending me an email! Of course, you can always find me over on Tik Tok, Instagram and YouTube too!
Pin For Later