Smoked Chicken Recipe
There is something so tasty about smoking your food! Smoking a whole chicken or turkey is actually a very simple process and the results are A-MAZ-ING. It's a simple process of prepping, seasoning, and smoking. Nothing fancy here, just a simple smoked chicken or turkey that will come out juicy and tasting great. Use this recipe for thanksgiving or just a yummy meal all year round!
ingredients
1 whole chicken or turkey
Salt
Vinegar
Sugar
Olive oil
Your favourite herbs and spices
Join the B Vintage StyleCommunity
directions
1. Brine your chicken or turkey– optional and only if you have time. Soak for 2-12 hours submersed in a large pot of salt water, vinegar and sugar.
2. Start your smoker! Preheat your smoker to 250 degrees F.
3. Season the whole chicken. Drizzle the bird with olive oil and season on all sides. Loosen the skin and add a dry rub in between the skin and meat as well.
4. Prep the chicken/turkey. Use butcher twine to tie the legs together. Tuck the wing tips behind the shoulder joint.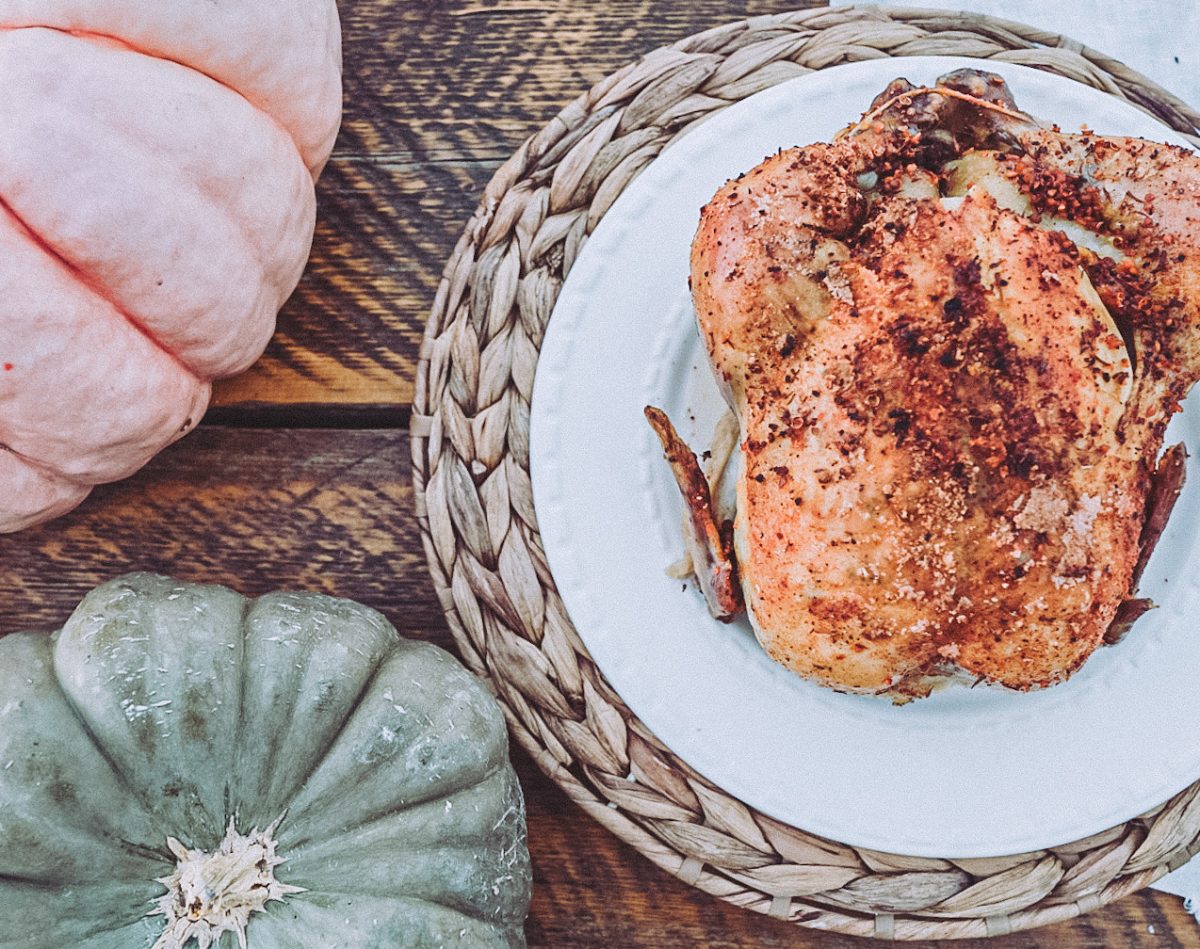 Don't forget to swing by the shop for our favourite kitchen essentials like our copper measuring spoons and cups!
5. Smoke that bird! Place the seasoned chicken directly on the grill grates. Close the smoker and smoke for 2.5-3 hours. You'll want the breasts to reach 160-165 degrees F, and the thighs at 170-175 degrees F internal temperature.
For a turkey, it's good to plan 30 minutes per pound when you smoke it between 225-250 degrees F. A 13 pounds and took about 7 hours in the smoker to reach 175 degrees F.
6. Remove, slice, serve and ENJOY
**Make sure you save the bones and carcass to make our tasty chicken and barley soup for the week after! Another easy and tasty recipe you are guaranteed to love!
We would love to hear if you use this recipe to smoke your turkey or chicken at home. Let us know your thoughts in the comments below!