This post may contain affiliate links. Please read our full Disclosure Policy.
Just here to shop?? No problem… Click the link below to shop linen aprons!
The Linen Apron
The linen apron is a classic, timeless piece to have in your home and kitchen collection. No matter if you are in the kitchen regularly or only on occasion, a comfortable apron will not only make you look the part in the kitchen but will also save your clothing from spills and splatters!
There are so many types of aprons and materials that you can make them out of, but linen is quite possibly the best fabric choice for a kitchen apron! You can read tips for washing linen and the reasons linen sheets are amazing too but for now, let's dive into all the details of the Linen Apron.
History of the Apron
Although we don't know exactly when the apron was first invented, it is safe to say it has withstood the test of time. The word 'Apron' comes from the French word 'naperon'. Which means small table cloth and was worn by girls to protect their clothing and to indicate a lady's status.
It was also easier to wash an apron than a dress and aprons were made from less material. Women began wearing them as a fashion statement as far back as the 1500s and would decorate the aprons with beautiful embroidery and lace.
In the 1940s, the apron became the iconic symbol of a housewife and a domestic lifestyle. It represented a wholesome family with a cozy kitchen and a fresh-baked pie or home-cooked meal.
By the 1960s however, aprons were seen as old-fashioned and out of style. A woman began to look outside of the home for work more and more, the apron lost its appeal to many!
In more recent years, the apron has made a bit of a comeback. As more people take up cooking as a hobby or enjoyable activity, the apron has begun to be used once again for practical reasons. As so many people are wanting to embrace a simple living lifestyle, with from-scratch cooking and a handmade home, the apron has increased once again in popularity!
Apron Uses
Whether you are cooking, cleaning or just spending time around the house, the apron serves so many purposes and has so many uses! A few uses for aprons are:
Hot Plate or Pot Holder. How many times have you had to search for a hot plate or pot holder when you're removing something from the oven?! I have many times. The convenience of having a hot plate tied to your body all the time is wonderful!
Dish Towel. Similar to the hot plate, having a dish towel conveniently tied around your waist or body makes life in the kitchen so much easier!
Clothing Protection. Not only does an apron look professional in the kitchen, but it also helps to prevent your clothing from getting splashed or splattered with food or dishwater too!
Carrier or Basket. An apron works so well as a basket or to carry items in the kitchen or vegetables in the garden. I love to gather eggs from our hens with only an apron!
Decoration – Very few decor items can hang in a kitchen and look as authentic as an apron! Practical and decorative, an apron hanging in your kitchen will bring a beautiful cozy element to the space!
Linen Aprons Styles
Click any to Shop

Materials for Aprons
Aprons are one of the easiest items to sew and can be made from many different materials, here are a few of the more popular types
Polyester is a synthetic fabric that's usually derived from petroleum. This fabric is one of the world's most popular textiles.
Cotton is a natural fabric made out of cotton plant fibres. Cotton comes in a wide range of weaves, it is the most versatile and popular fabric in the world.
Bamboo is a natural fabric made from bamboo-tree. It will not pill and is amazingly strong and resilient for such a soft fabric.
Cotton Linen is made by combining both cotton and linen materials. Although this fabric is environmentally friendly and has a bit more stretch than pure linen, it won't be as durable!
Linen is an extremely strong but breathable fabric that is made from the flax plant. Linen fabric does tend to be more expensive but has so many amazing qualities that make it worth the steep price tag.
Advantages of Using Linen for Aprons
Linen is by far a superior fabric and for that reason, it makes the most amazing linen aprons! Derived from the flax seed, this natural fabric is known for being environmentally friendly, breathable, lightweight and extremely durable!
Linen can also wick up moisture which allows it to absorb spills quickly and dry faster than any other fabric. It is also able to temperature regulate, which is a very nice feature to have in an apron on those hot summer days in a warm kitchen or cool winter evening cooking dinner!
Washed linen is a beautiful choice for any linen apron and will not only be practical in the kitchen, but it will also look amazing as a decor element when it's not being used and is hung up in the kitchen!
Linen Aprons Styles
There are so many different types of aprons out there. Depending on what you are using your apron for, some styles will be better than others! Although the options and fabric choices for aprons are endless, there are a few styles that are more popular than others. Let's review those now.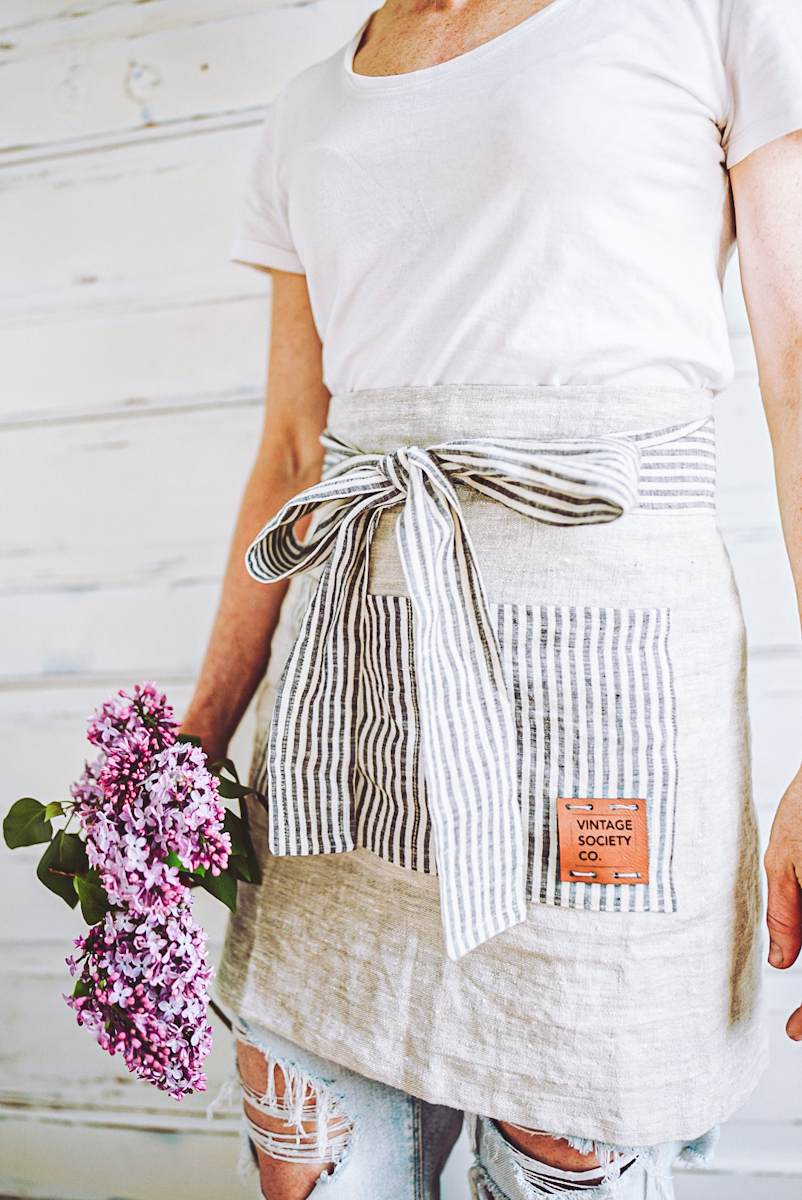 The Bib Apron is a full-body apron with straps that go over the shoulder. Some bib aprons will tie off in the back like the one shown here, however some don't require a waist strap at all. Bib aprons can come with or without pockets and are widely used by chefs and in the kitchen.
The Waitress Apron is a three-quarter length apron that ties off around the waist. The waitress apron is widely used by gardeners, crafters and in the kitchen. This amazing style of the apron can come with or without pockets and is very comfortable to wear.
The Bistro Apron is extremely similar to the waitress apron, however, it is usually much longer in length. Used by wait staff and servers worldwide, the bistro apron has a more formal appearance. It can come both with or without pockets.
The Cross back or Pinafore Apron is an extremely comfortable style of apron. Easy to put on and take off, the pinafore apron or cross-back apron does not have waist straps or ties. This style of the apron can come with or without pockets on the top and bottom of the apron.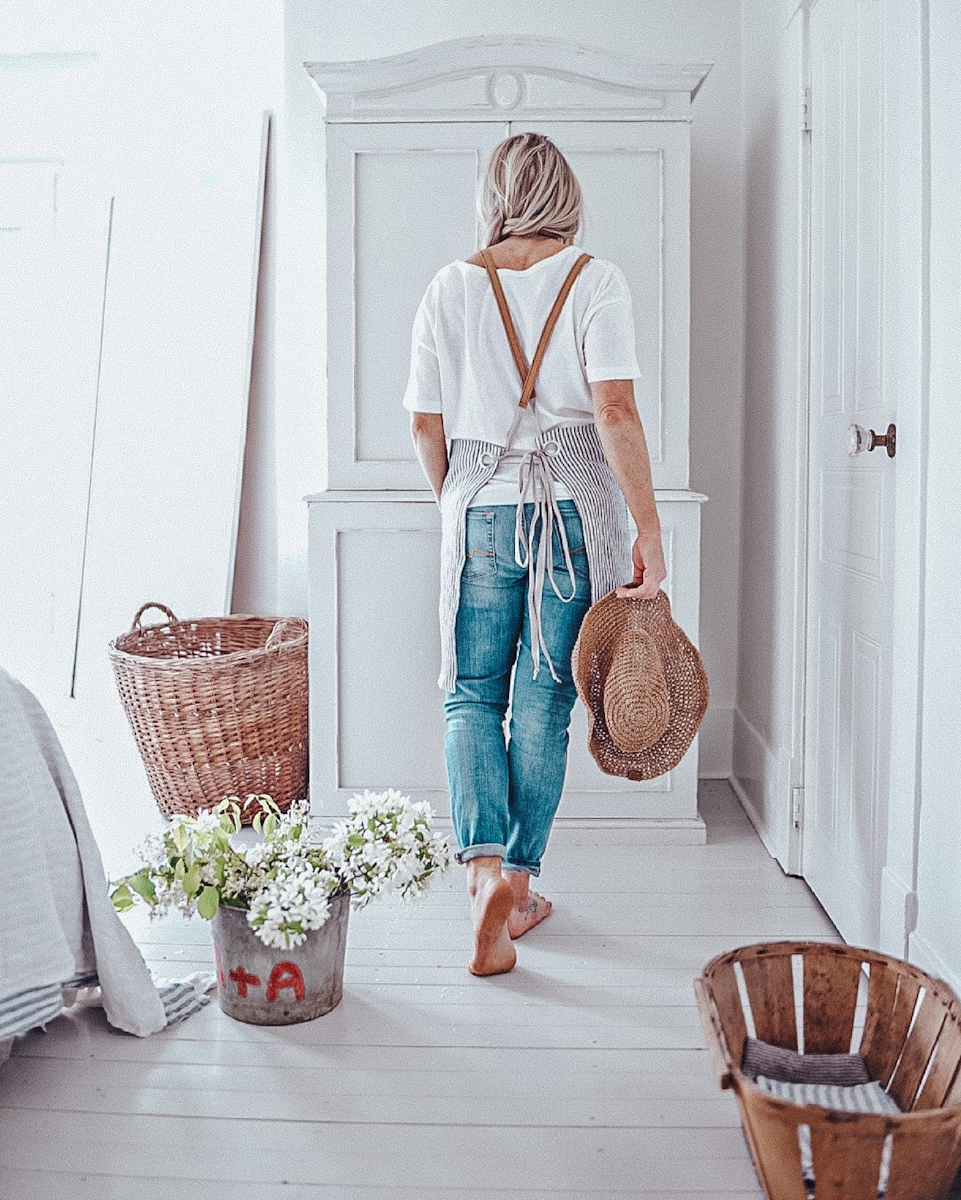 How to Tie a Linen Apron
No matter the style of apron, there are a few basic steps to tying one on properly to ensure it stays in place.
Place the large part of the apron on the front of the body and inspect if it is laying correctly. If there are pockets, make sure you have them placed correctly on the body.
Take the waist ties and wrap them around the back of the body. If the straps are short enough, you can tie them off here. If the straps are long, however, you can continue to wrap a second time. Either finish off at the front of the body or continue for a full loop around and tie the straps off at the back.
Once you have decided the best spot to tie your waist straps, go ahead and make a snug bow. You can even tie a double knot if desired. Inspect that the apron is on correctly and fits appropriately.
Shop Linen Aprons
A few of my favourite linen aprons…

I hope you have found this post on the linen apron helpful and interesting. There are a few kitchen items more useful and lovely to have! I would love to hear which apron type is your favourite for the kitchen. Leave me a message in the comments below or head over and say hello to me on Instagram.
Frequently Asked
Is linen good for aprons?


Yes, linen is a popular choice for aprons because it is durable, breathable, and easy to care for. Linen aprons are also known for their natural, rustic look and feel. This can be appealing for chefs, bakers, and other kitchen professionals. Additionally, linen is a sustainable and eco-friendly fabric! Which makes linen a great choice for those who want to minimize their environmental impact. Overall, linen is a great material for aprons and is favored by many people in the culinary industry.
What is a crossback apron vs apron?


A crossback apron, also known as a criss-cross apron, is a type of apron that features straps that cross over the wearer's back, rather than tying behind the neck or around the waist. The straps of a crossback apron are designed to distribute the weight of the apron evenly across the shoulders and back. This can make it more comfortable to wear for extended periods of time.
In contrast, a regular apron typically ties behind the neck and around the waist, with the weight of the apron resting on the wearer's neck and shoulders. While regular aprons can be comfortable for short periods of time, they can become uncomfortable or even painful if worn for long periods or if the wearer has neck or shoulder problems.
Overall, a crossback apron may be a better choice for those who need to wear an apron for extended periods, or for those who want to minimize strain on their neck and shoulders.
Pin for later