This post may contain affiliate links. Please read our full Disclosure Policy.
Linen Sheets
What is all the fuss about linen sheets? What makes linen bedding more expensive? Is linen soft to sleep in? These are just a few of the questions that people ask when contemplating the purchase of linen sheets. Well look no further, this post will answer all your questions on linen sheets and even give you some beautiful linen bedding options to shop from.  
Over the years, I have both collected vintage linen sheets, linen kitchen towels, linen aprons, and linen tablecloths and have converted most of the bedding in my homes to linen years ago! Linen is just a superior fabric and is so wonderful to have in your home. Plus, linen only gets softer the more it is washed and the fabric is extremely durable as well!! If you have never had pure linen bedding before and you wonder what all the hype is about it, here is the low down! Take a peek below at the 5 top reasons to use linen sheets and then head over to read all about the linen apron too.
Reasons to Love Linen Sheets
Linen is Comfortable
Linen is both breathable and absorbent. The fabric is so lightweight and the comfort level is off the charts! It only gets better every time you wash it!  Linen is also highly absorbent so all of you who sweat in your sleep, linen won't aid in that process. It will just help to absorb it!!
Linen Sheets Have Easy Care
Contrary to popular belief, there are no special rules when it comes to caring for linen bedding and sheets. Linen can be washed in the washing machine, best done in cold water, and tumble dry or hung out on the line. Although most fabrics look worse when they wrinkle, high-quality linen shows well with wrinkles. If you don't love this look, linen will smooth simply by spritzing the fabric with water or bedding spray.  
Shop The Best Linen Laundry Products

Durability & Strength of Linen
You will always get your money's worth out of linen as it is known as the world's strongest natural fiber which makes it very long-lasting. Linen doesn't lose its shape, in fact, it only gets softer over time. If cared for properly, you should be able to have your linen products last for years to come. These tips about caring for and washing linen will help your linens last a lifetime. 
Linen is Eco Friendly & Sustainable
Linen is made out of Flax plant. The entirety of the plant is used in the process of making linen fabric so it doesn't leave a footprint. Flax cultivation is also more sustainable than that cotton which makes it a smart choice of fabric from the get-go. It is also completely biodegradable, meaning you won't be adding textile waste to the environment when you are finished with your bedding products! If you do decide to discard old linen bedding, hang on to the salvageable material and use it for other things around the home. Cut the leftover linen into table runners, hand towels, Christmas stockings, etc.  Even just hang a chunk of raw edge linen on a hook to add some texture to any space.  
Tip* Instead of opting for an expensive linen duvet cover, why not try using a linen top sheet as a coverlet instead. This way, you can change up your linen bedding easily for every season!
Linen is Hypoallergenic 
For all of you with skin sensitivity, linen sheets will be your new best friend!! Linen comes from the flax plant, in which cellulose-based fibers are considered hypoallergenic. High-quality linen also features tight-weave structures, which help eliminate dust mite access.  This makes it the perfect choice for individuals with sensitive skin as well.  
Linen Sheets are Temperature Regulating 
No matter the time of year or climate you live in, linen fabric will do its job to keep you comfortable!! One of the amazing qualities of linen is the ability to wick moisture, thus keeping you dry and odor free. It also has the ability to regulate body temperature. Depending on the weight of linen, it is both breathable but also has a high insulating value which makes it amazing to sleep in year round.  In the summer, you stay cool and in the winter you stay warm.
Check out these amazing flax, linen pillow cases and sheet sets
Caring for Linen Sheets and Bedding
Linen is a very old and simple fabric, which means caring for it is also very simple to do! That said, there are still some techniques for washing linen that will help your linen sheets and your favorite linen apron last a lifetime! Linen items can be hand washed or machine washed, either of these methods works fine and won't stretch or shrink your linens. If you do experience damage during wash, it may be related to the quality of the linen fabric or the chemicals in your detergents. Be sure to read the manufacturer's instructions on washing your linen and follow these steps on how to wash linen for the best results.
Storing Linen 
Linen should be stored in a cotton or muslin fabric when not used. For linen sheets and bedding, try putting your sets in a cotton pillowcase before placing them in the linen closet. This practice will ensure that your linen fabric stays fresh and doesn't take on any unwanted smells or stains while being kept in storage.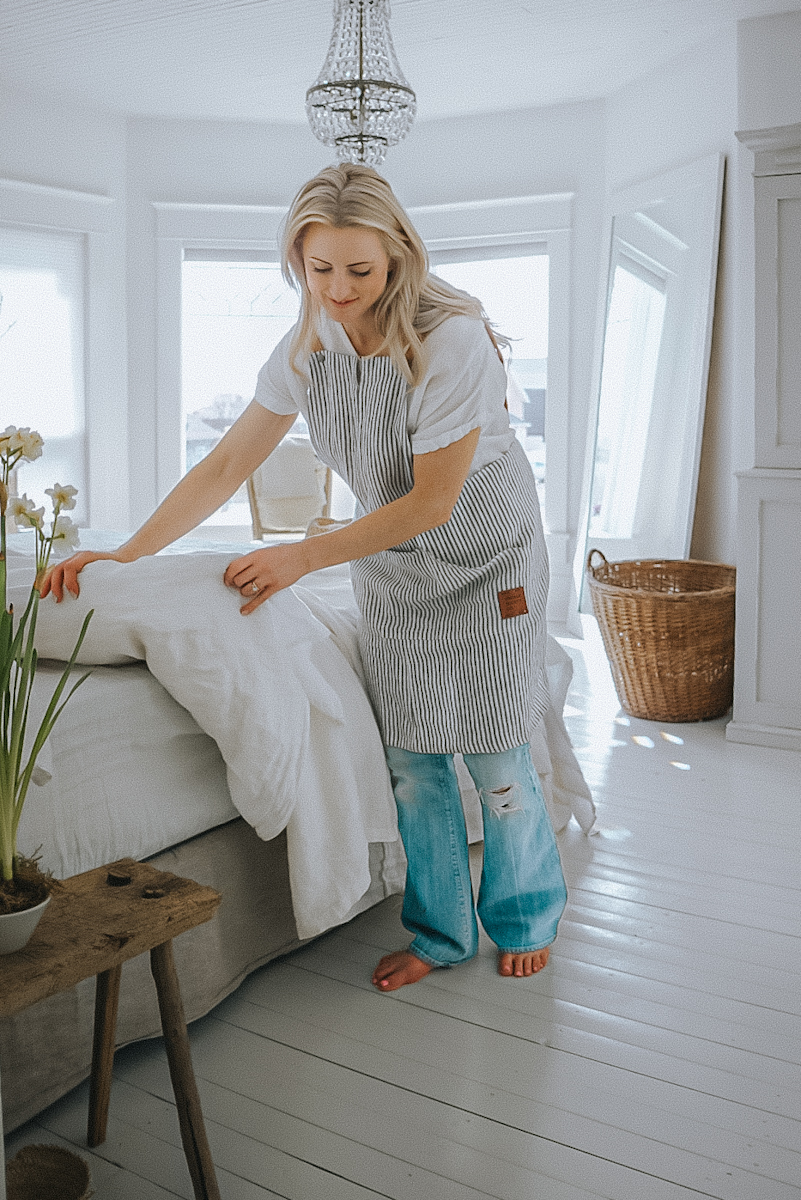 How to Choose Linen Sheets
Choosing linen sheets can sometimes be a bit overwhelming. It is important to do the proper research when purchasing linen and not just grab the first set you come across. Cheaper linen will not be handmade and will never showcase the quality of higher-end linen. You may find that cheaper linen will have a looser weave, and be prone to tearing or inconsistent dying.  Do your research and consider all factors including :
Weight – The optimal GSM (grams per square meter) for linen sheets is 170 to 190, indicating a medium weight of about 0.3 to 0.4 pounds. At this weight, the sheets and pillowcases will drape comfortably without feeling too heavy or hot. If you don't see the weight listed on the website of a linen sheet set you'd like to buy, reach out to customer service. Many manufacturers of linen bedding do not list a thread count at all. 
Price – A set of linen bedding sheets will include 2 pillows, a top sheet, and a fitted sheet. The average price of a high-quality set will be anywhere between $250 to $400 USD.  
Feel & Fit –  Some linens will feel crisp when first purchased however remember that linen does get softer as it is washed. Linen can also shrink during the first wash by up to 10%. You will also want to be sure to measure the "pocket depth" of your mattress prior to purchasing the fitted linen sheet. This refers to how far the elasticated corners will stretch and should accommodate the thickness of your mattress. 
Colour & Pattern – Linen comes in so many patterns and colors today that the choices are endless. You can even change things up from season to season depending on your style. For example, during the holidays, perhaps you go with darker-tone linen or a holiday color.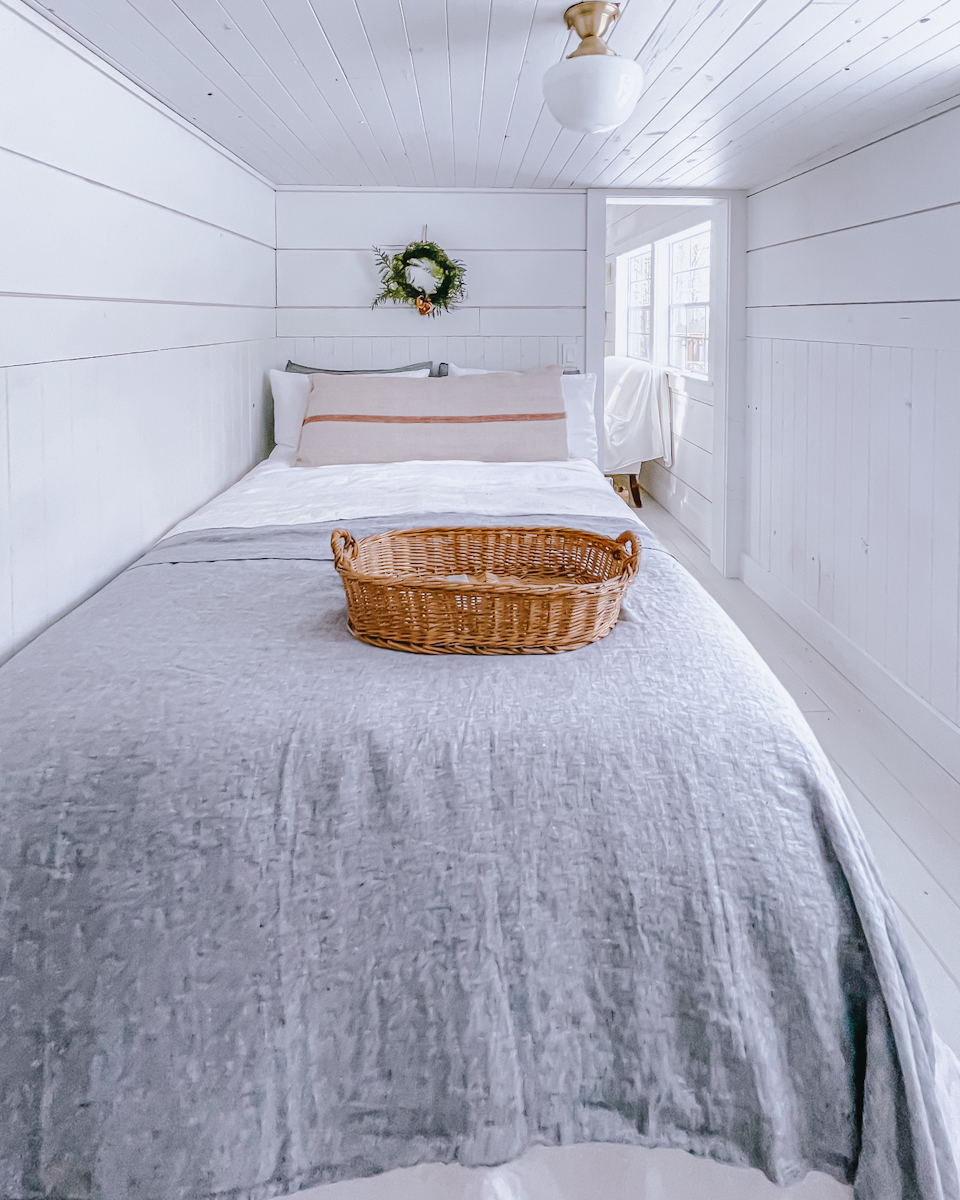 Shop Linen Bedding and Sheet Sets

Hopefully you have found some helpful information on linen sheets and bedding. If you still have questions, please leave them in the comments below and I will do my best to answer them for you. As always, you can also find me over on Instagram. Now that you have done your research on linen sheets, head over and shop/learn about the linen apron! 
Pin for Later