This post may contain affiliate links. Please read our full Disclosure Policy.
A Scandinavian Christmas is all about embracing nature and simplicity. Christmas time is a time to bring beauty into the world and into your home! Decorating for the holidays with Scandinavian style will make you feel happy, cozy, and warm in those cold winter months.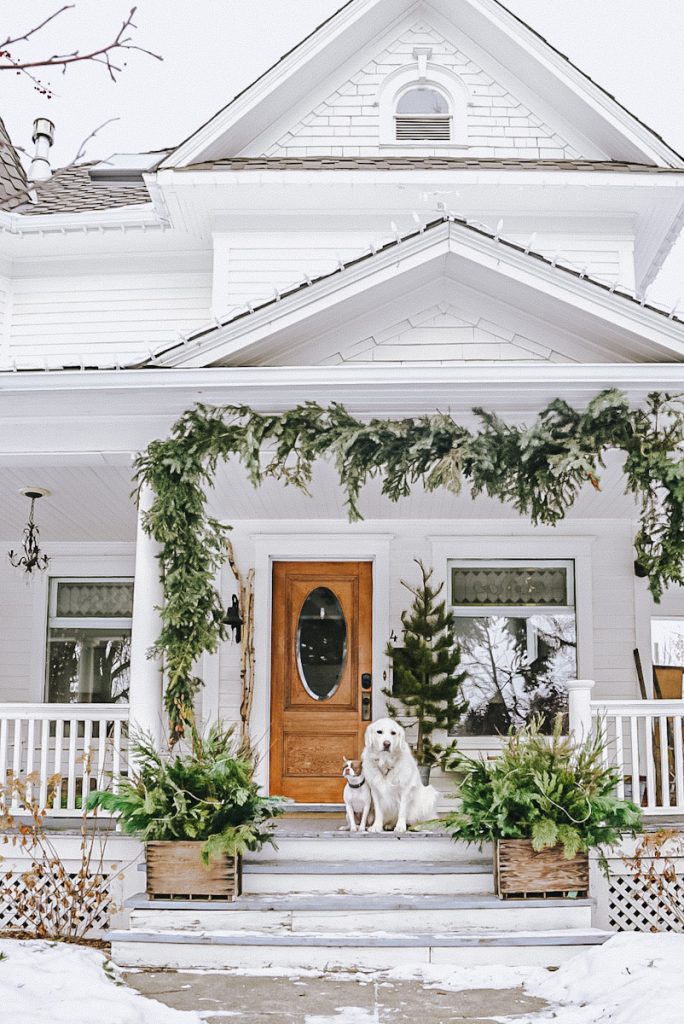 Scandinavian Christmas decor is rustic, clutter-free and most of all, simplistic (Yay! simple living and minimalism!) Decorations tend to be made of natural outdoor elements, raw woods, and materials and can also have a touch of whimsy too. These beautiful decorations are placed into an airy space (usually a lot of bright, white. TOTALLY my style!) with a neutral color palette, leaving the room to feel both elegant and cozy all at the same time.
If this style of interior design were a vision, it would be white winter evenings, spent out of the cold, all cozied up fireside. But how do you create such a scene? Let me share the best tips and ideas so that you can have a Scandinavian Christmas for yourself and your family.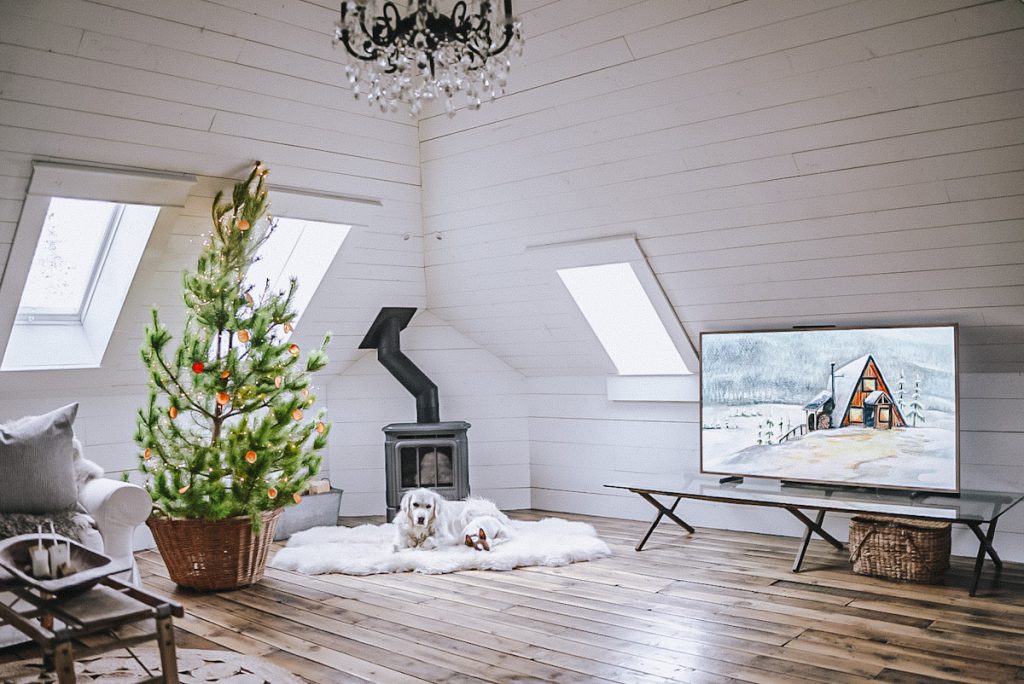 It's All About Textures
Adding layers and texture is one of the most important parts of decorating in the Scandinavian style for the holidays. Nordic countries are very cold during the winter and use practical but beautiful items to decorate their homes.
Area rugs, cozy blankets, touches of fresh greenery, and simple holiday decorations are the biggest elements of a Scandinavian Christmas.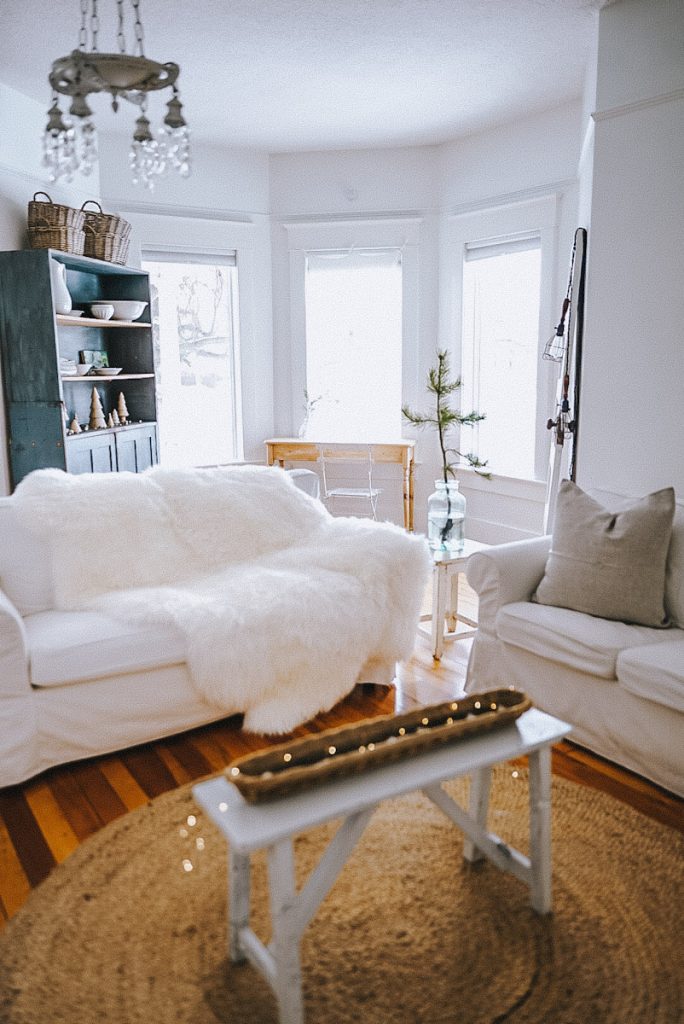 Use Natural Elements
Growing up in the country, I have always been drawn to the simple elegance of minimal, natural Christmas. As a child, I would decorate the trees outside on the farm with simple natural materials. This way of decorating is my absolute favorite this time of year.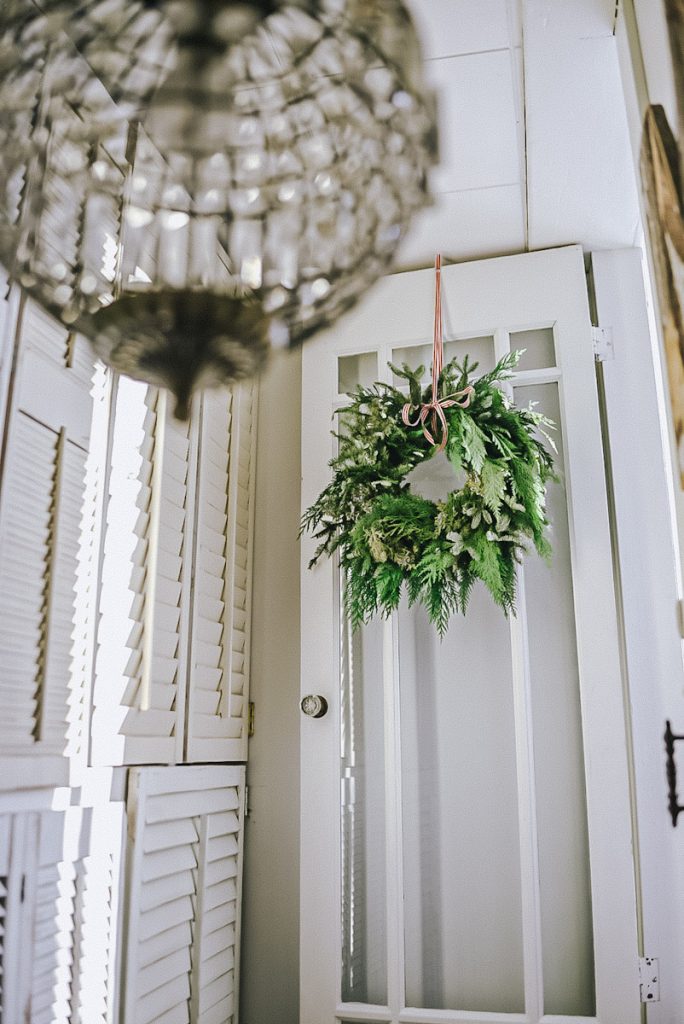 Natural Christmas decorations are a large part of decorating for a Scandinavian Christmas. Most Scandinavian-style homes are known for their bright white and airy spaces so adding texture to the room during the holidays makes a big impact.
Natural elements such as evergreen branches, pinecones, cranberries, birch poles, fresh wreaths, garlands, and dried orange slices all add texture to the space. Try making this easy fresh greenery garland or these easy-to-make dried orange slices.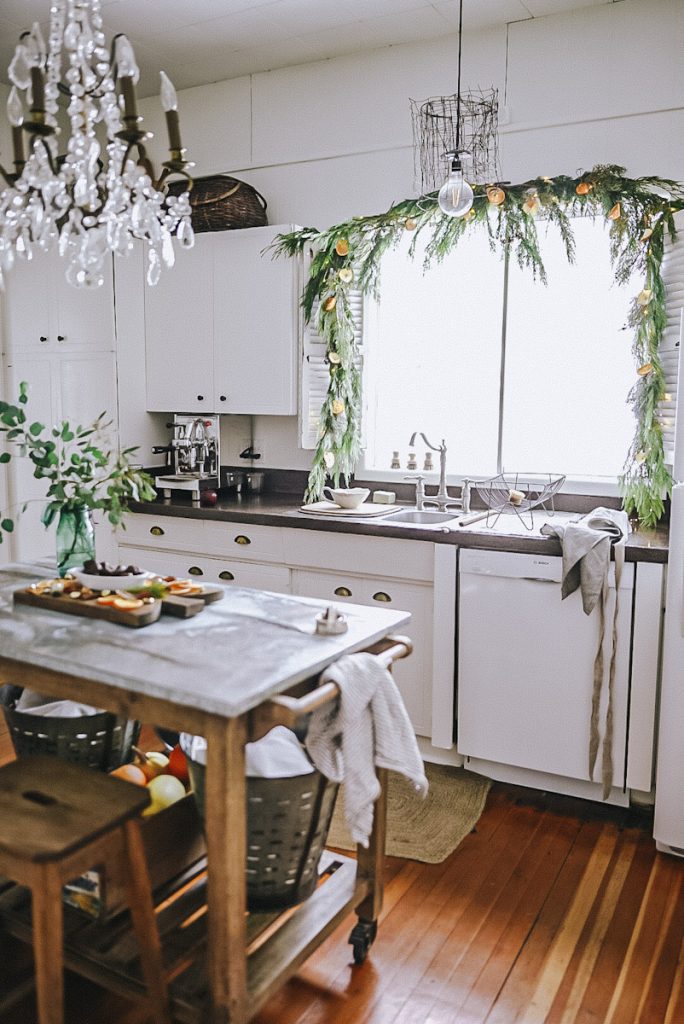 The options for adding touches of the outdoors inside are truly endless, but the key to this Nordic style is to not overdo it. Keep it minimalistic but impactful! Here are a few more Christmas decor ideas:
Adding a tiny fresh evergreen tree like pine or spruce with the roots exposed into a transparent glass jar.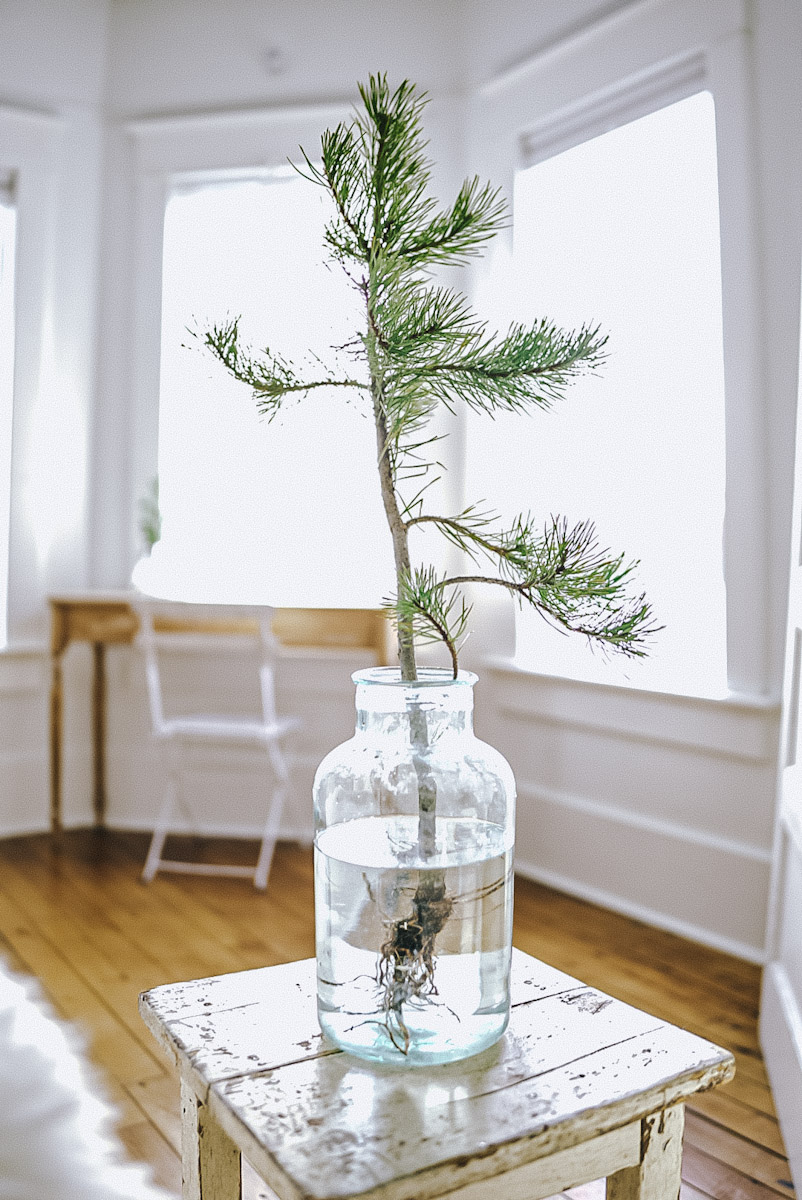 Hang a birch pole above a mantle with evergreen and stockings or add some beautiful winter bulbs in a vintage container with candles.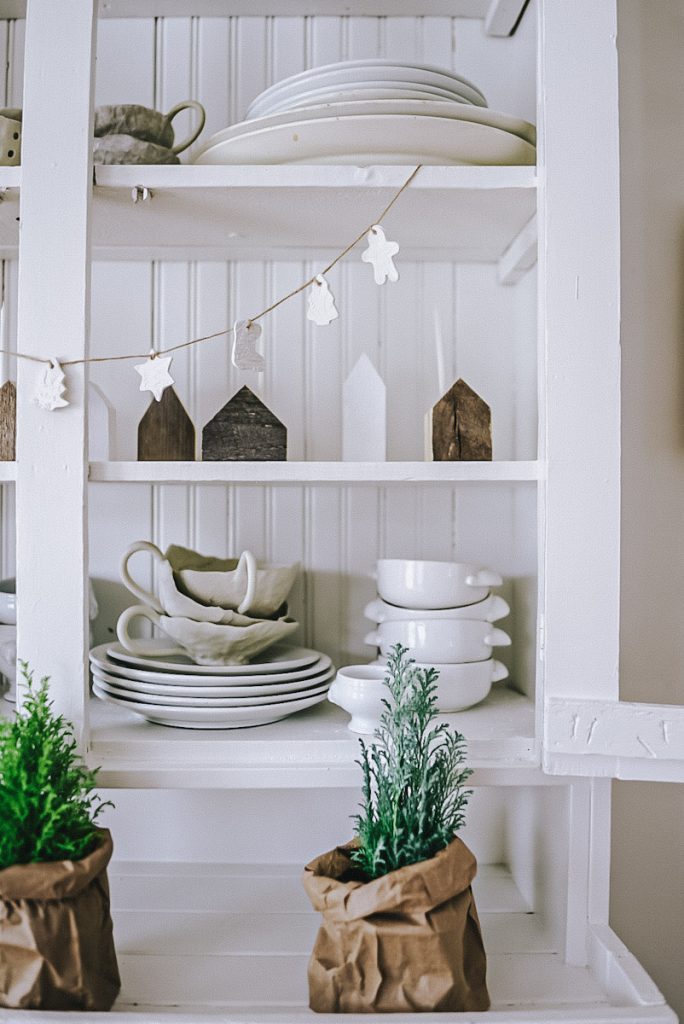 Simply placing a poinsettia or tiny cypress tree in a brown paper bag can be a simple but beautiful natural Scandinavian decoration.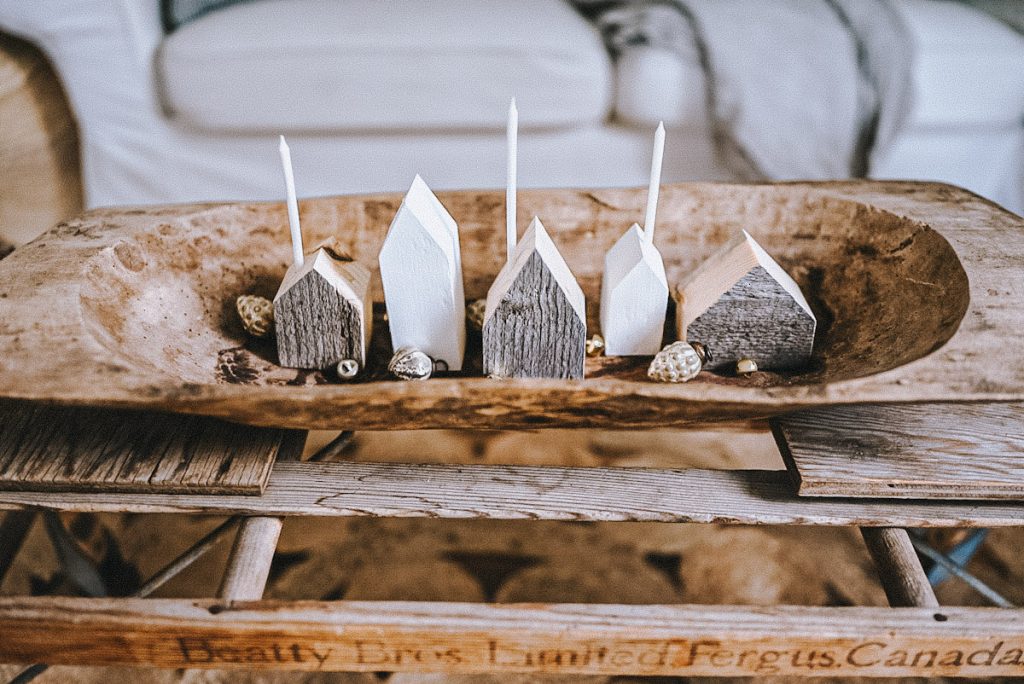 Place a blanket or fur into a basket and layer some pine cones on top for a beautiful natural touch.
Keep It Cozy and Warm
Scandinavian Christmas is known for being a calm, minimalistic style. Mixing rustic elements with clean lines of modern design and cozy decor like candlelight and touches from the outdoors. Keep your home feeling festive for the holiday season, but not overwhelming or over-decorated.
So how do you mimic the cozy, snowy winter evenings spent fireside? The best way to create this style is to mix cozy fur rugs, chunky wool throws, and linen throw pillows.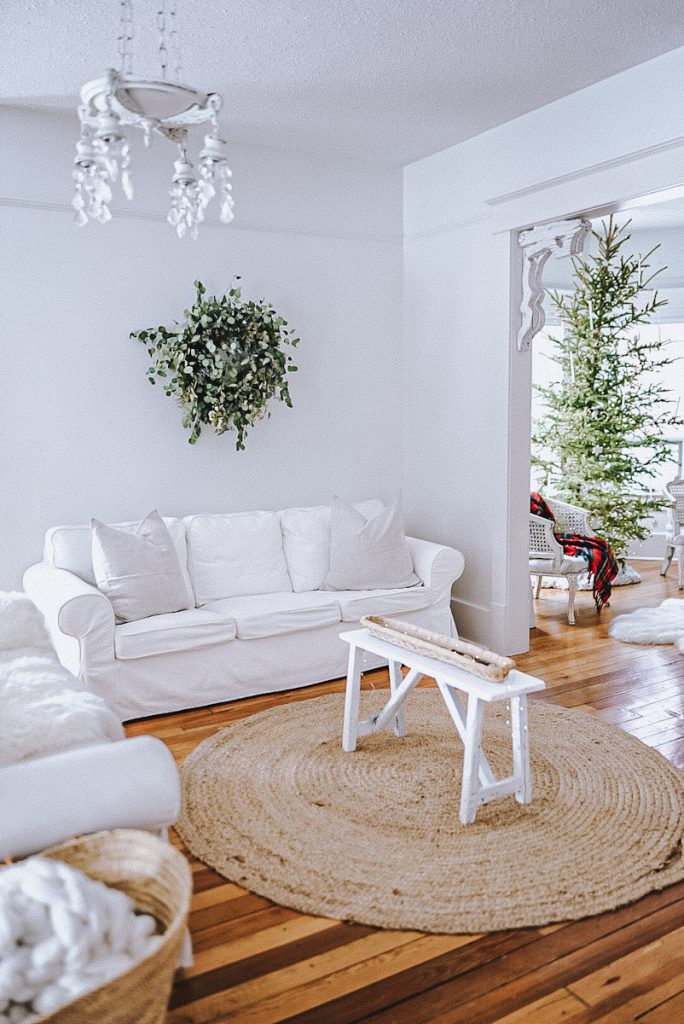 Fur Rugs
Layering different textures is a great way to help cozy up a space. Try using different faux or real rugs, like sheepskins.
Place the furs on chairs or sofas, even on a bench for a different look than just on the floor. Pro tip* Use a dog brush to brush out your natural fur rugs and keep them looking good for years!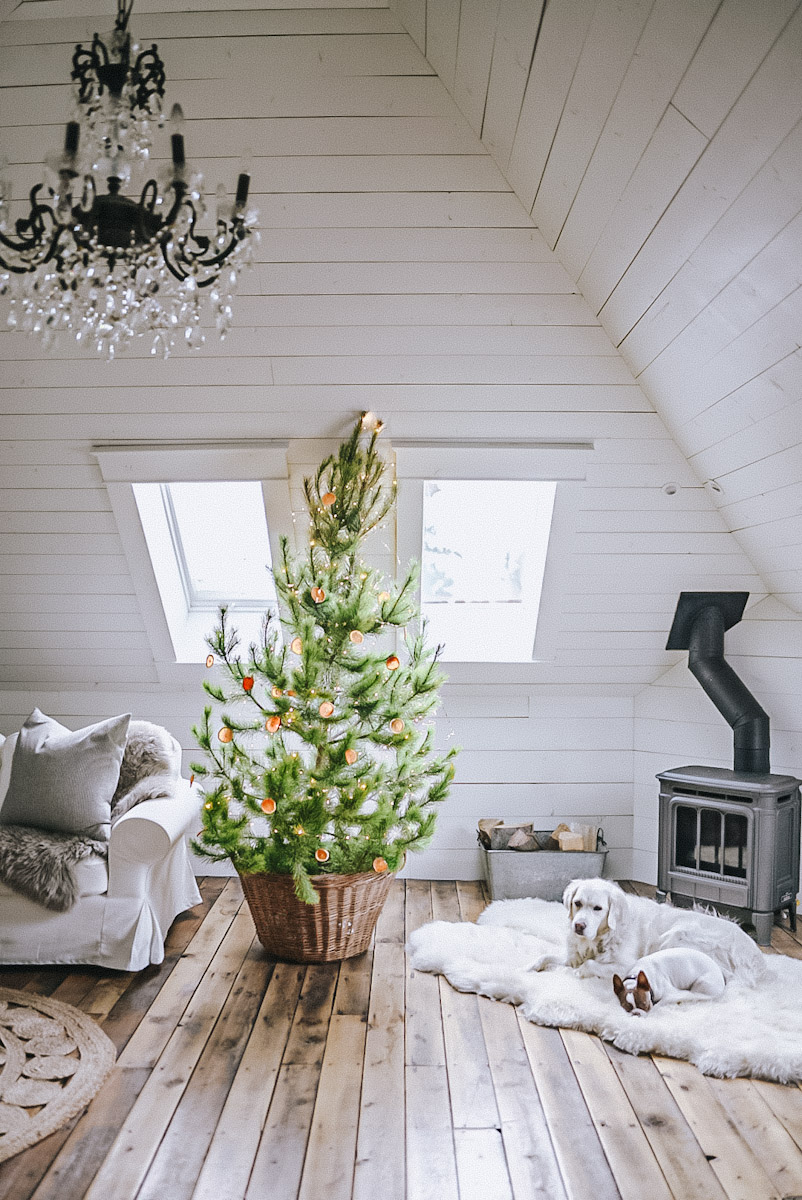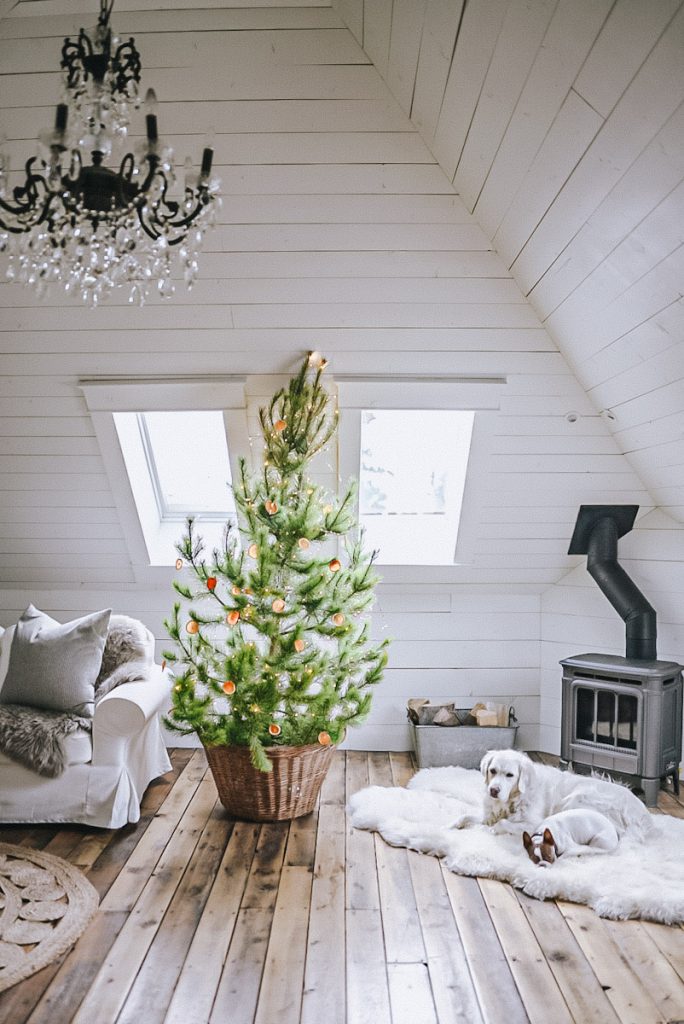 Chunky Throw Blankets
Thick merino wool blankets are the perfect texture to add to any space. Place soft blankets on a sofa or chair or even add one to the base of a tree as a Christmas tree skirt.
Not only are cozy blankets practical for the winter season, but they also are cozy to curl up with a book beside the fire!
Add Linen
Linen adds the perfect texture to any space. A natural material that is derived from the flax seed, linen gives a touch of warmth when used in any space. Ways to add linen to a space are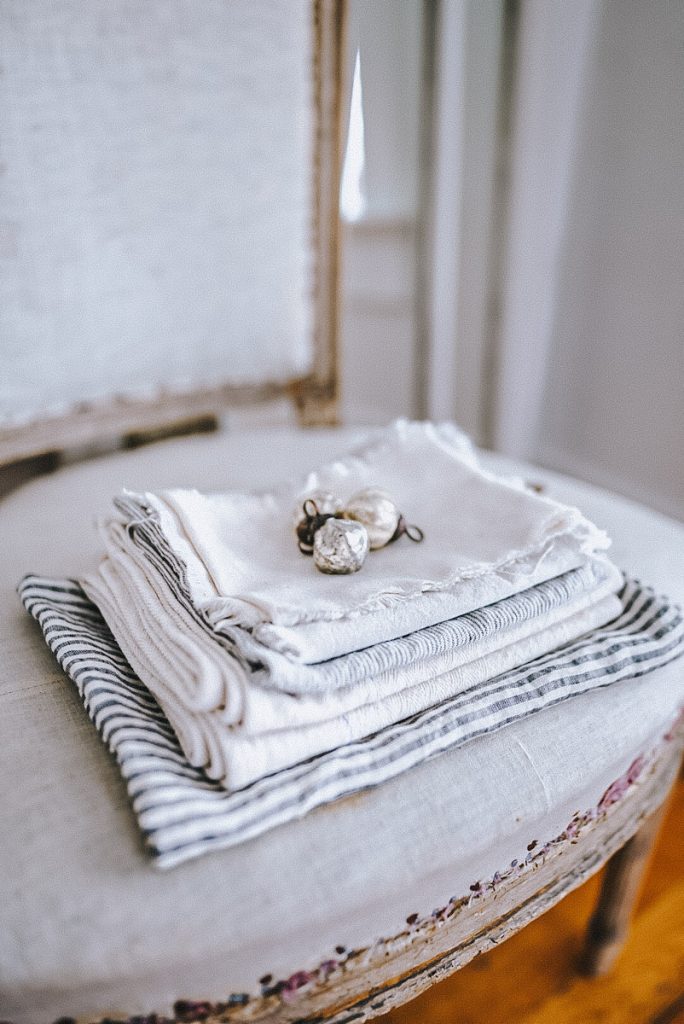 Simple linen kitchen towels
Linen apron on a coat rack or hook
Blankets or soft linen pillows on sofas or chairs
Linen tablecloths, napkins, or runners
Garlands or ornament ribbon
The options for adding linen are endless and make the perfect touch to any space. Learn more about how to properly care for your linen and why it is worth the money.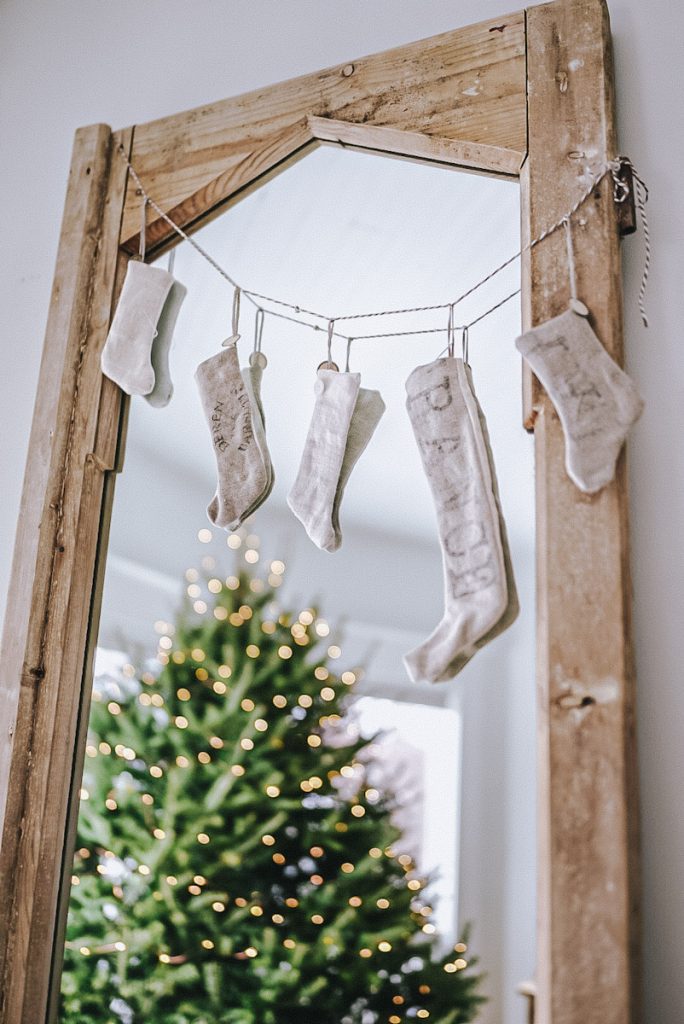 Put Up a Scandinavian Christmas Tree
The tree is one of the most important elements of a Scandinavian Christmas. In nordic countries, the most popular trees are variations of the spruce and pine trees. These types of trees make beautiful, minimal Christmas trees. Although a natural tree is best, there are some amazing faux trees available nowadays too.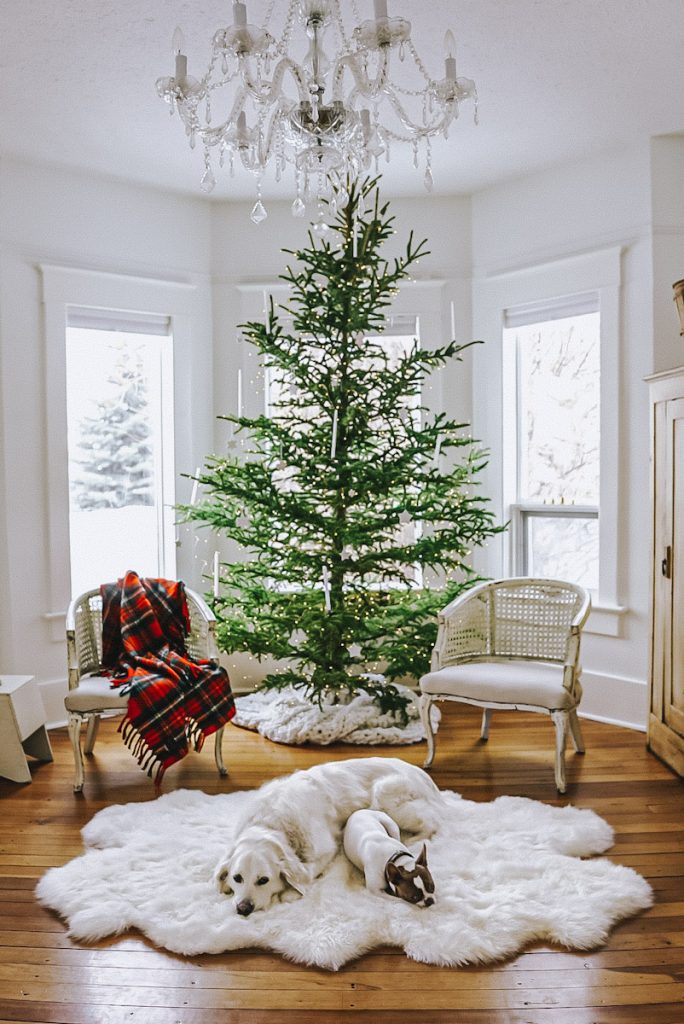 Keep the decorations to a minimum and add unique tree skirts. Try adding only one theme or type of decoration to your tree at a time. Perhaps one year you only use dried orange garland, and the next year you stick to handmade clay ornaments. Antique candle clips are stunning on a Scandinavian tree all on their own too.
No matter what you choose to add to your tree, keep it simple and neutral in color.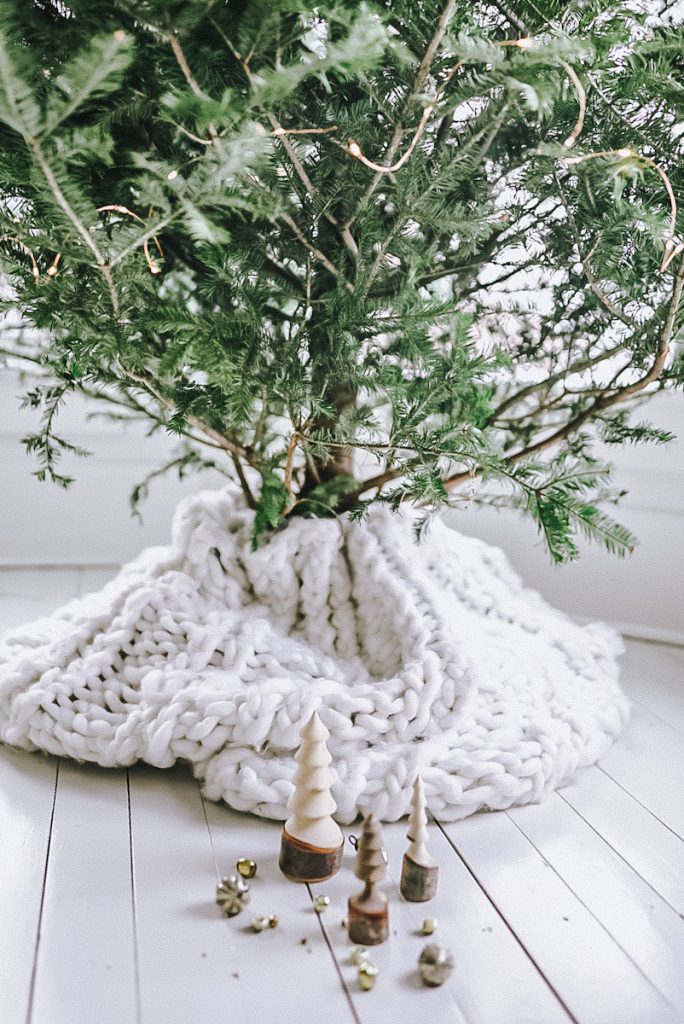 Add Candlelight and Twinkle Lights
Winter solstice is a big part of the celebrations of a Scandinavian Christmas. However, it also means that a large part of the day was spent in the dark. Candlelight was therefore a HUGE part of decorating this time of the year.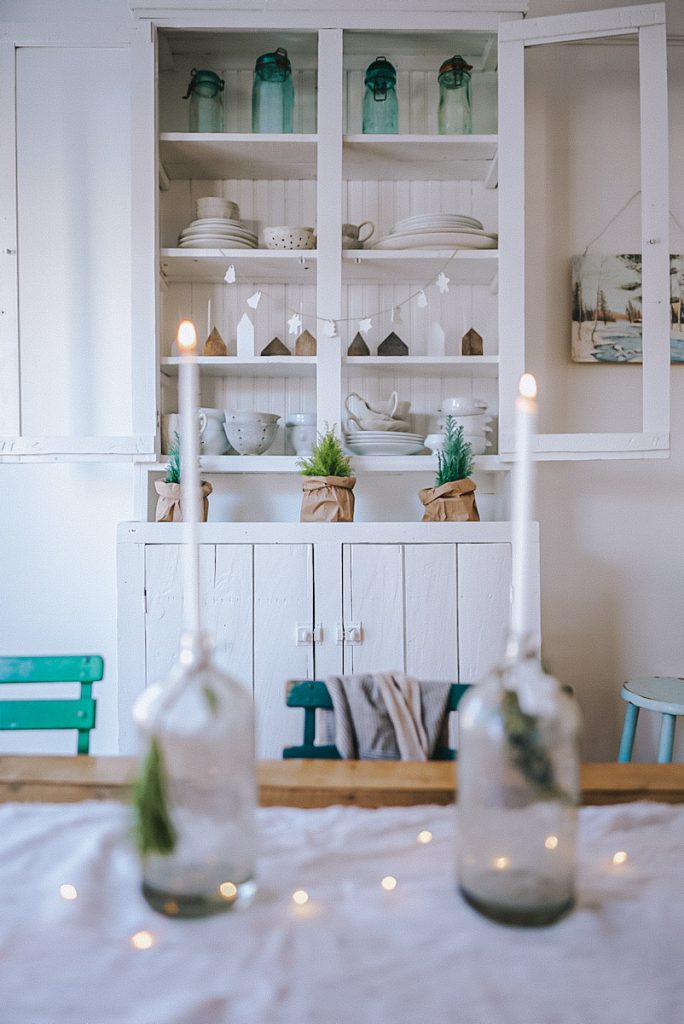 Candles can be beautiful on their own or in a stunning centerpiece too. I made these simple candle holders out of a vintage jar full of water with a piece of juniper and one of my DIY clay ornaments.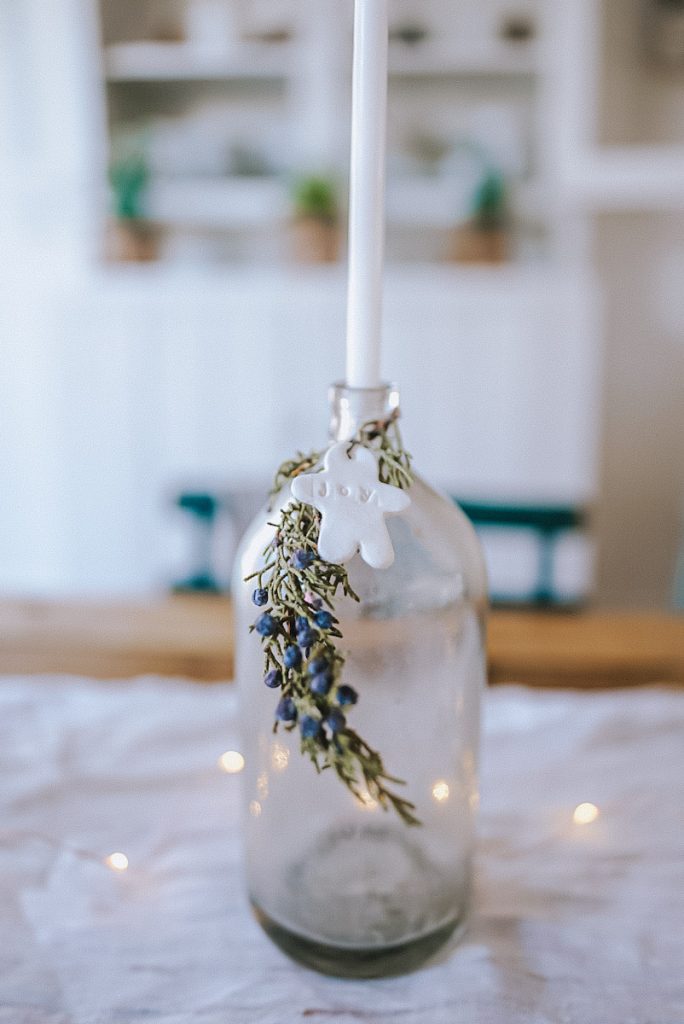 Twinkle lights are a much more convenient method of decorating nowadays. They add the same gorgeous glow as candles do but without the concern of fire. Plus you can set a timer for them to come on every day at the same time which is also nice.
Neutral Color Pallet
When we built our shed cabin, I couldn't wait to decorate it for the Christmas season. I knew the neutral color pallet I had chosen in the space would be the perfect minimalist look for a Scandinavian Christmas.
The few pieces of minimalist decor that are brought into the space should pop against the neutral color pallet. I like to think of paint being applied to a blank art canvas. The white background allows the decor to really be the star of the space.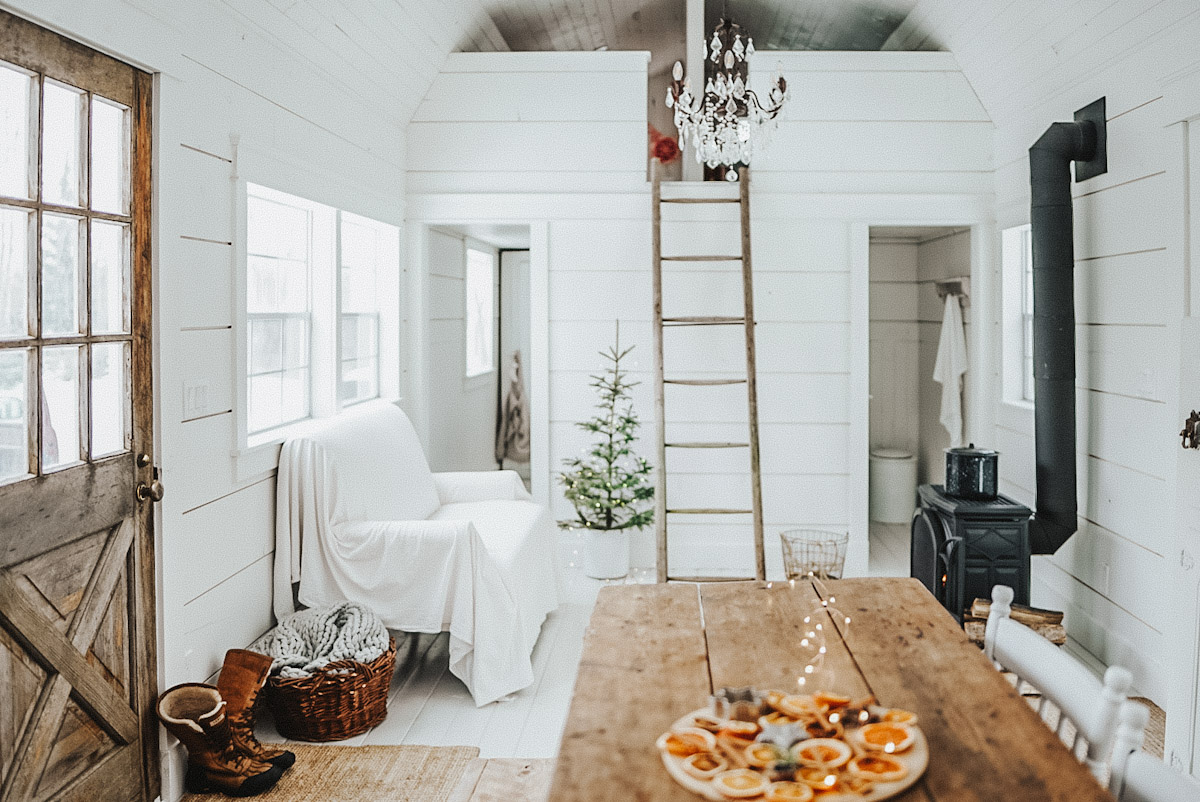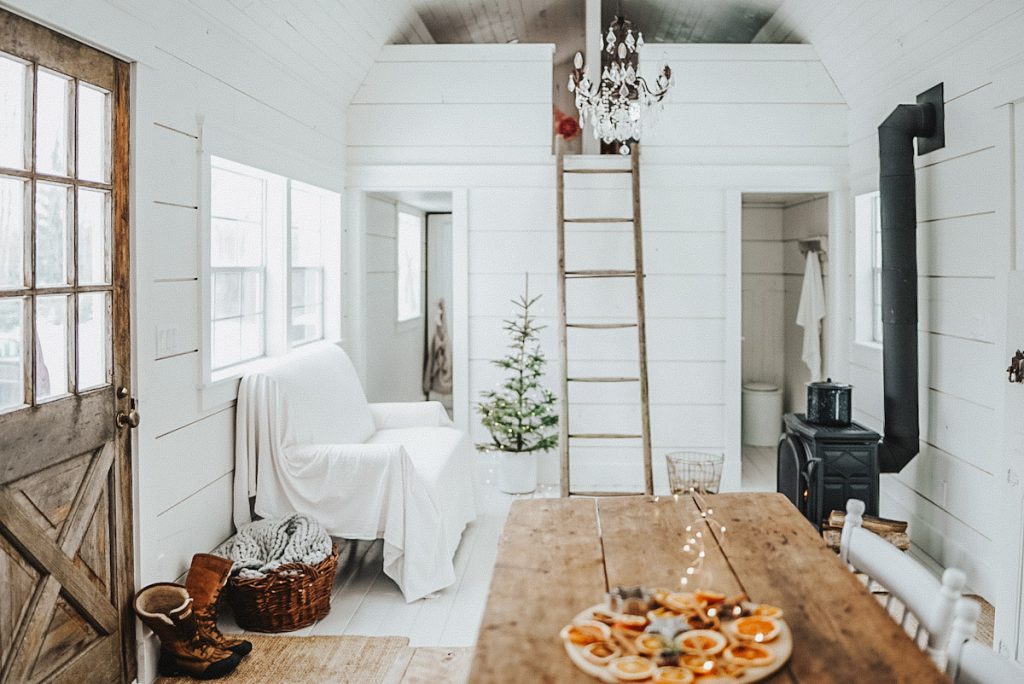 Although the traditional colors of a Scandinavian Christmas are gold, silver, white and red, I love to use a more nature-inspired color palette. Green from the evergreen, ivory or creams from the fur tones, soft earthy browns from the raw woods, and pops of color from the dried citrus garland. It all comes down to natural elements dictating the palette.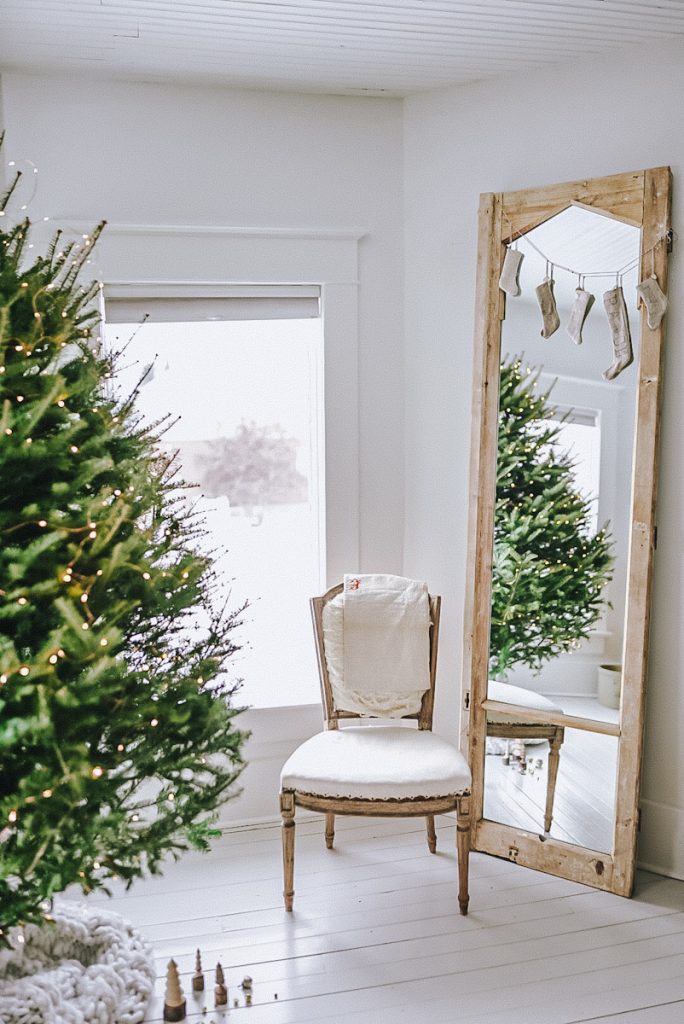 Think Minimal Style
Less truly is more when decorating any Scandinavian design and the same is true at Christmas. Think about featuring a single style of decoration and only displaying that one type of decor in the space.
Simple, practical holiday decor pieces are best. When you keep the decorations minimal and neutral, the few decorations you have in the space will be in the spotlight and the space will truly speak for itself.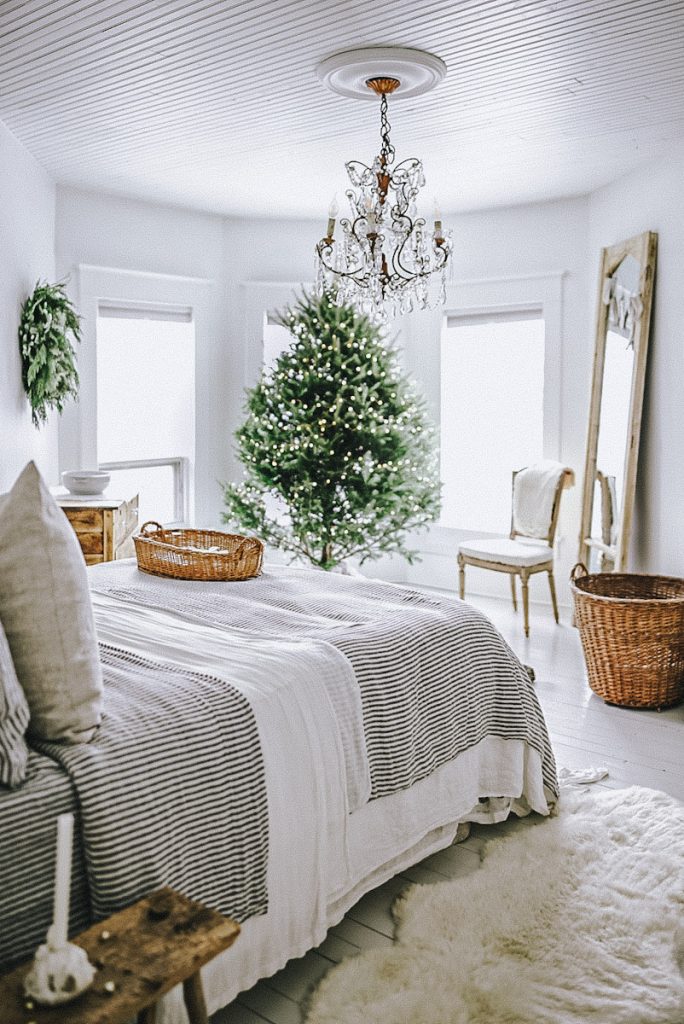 Scandinavian Christmas Decorations
A lot of the Nordic decorations found in authentic Scandinavian, Danish Christmas, or Swedish Christmas are handmade or handcrafted. Easy DIY projects like simple handmade paper stars and evergreen Grinch trees or DIY clay ornaments are all examples of beautiful minimalistic Scandinavian decorations.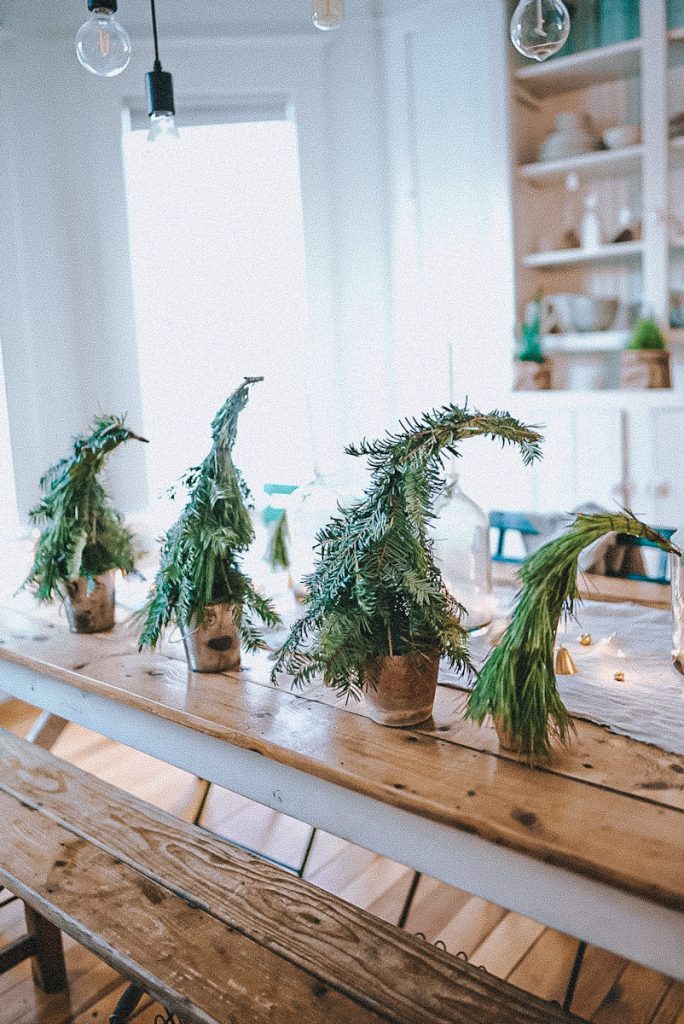 Some classic Scandinavian Christmas decorations are made from straw, paper, and clay or pottery. Adding a touch of whimsy is also popular festive touch in nordic decor. A Christmas gnome, or fairy lights are a good idea if you are trying to stick to traditional decor.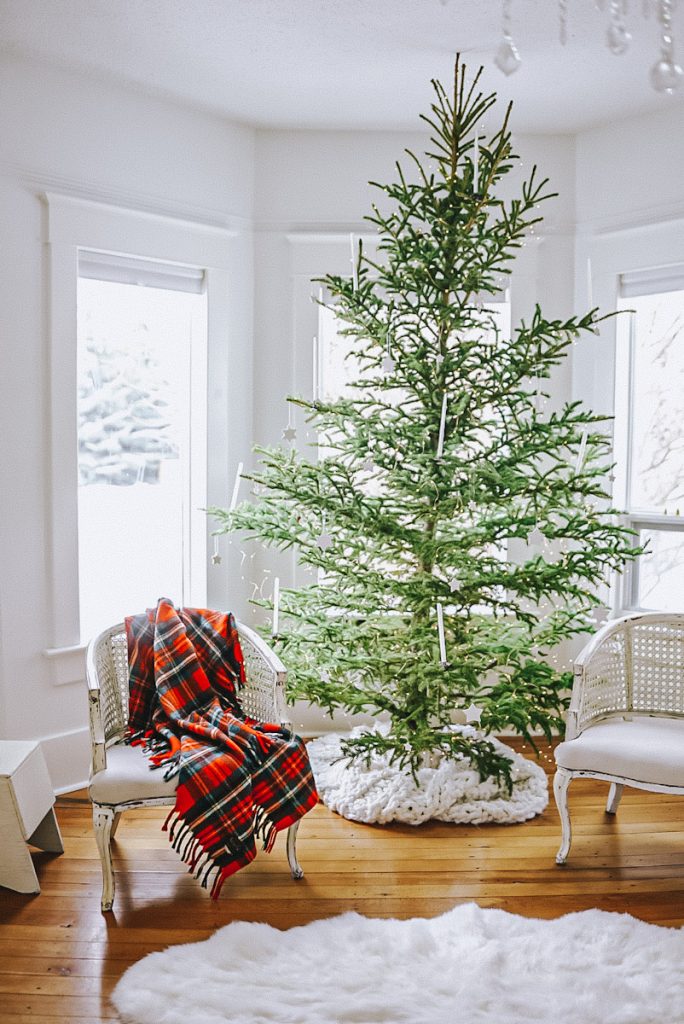 Here are a few examples of easy but beautiful Scandinavian Christmas decorations or you can shop all of my favorites in the B Vintage Style Shop.
I hope you have found some inspiration in this Scandinavian Christmas. Decorating in this minimalistic way is not only beautiful but it will also keep the focus on what is truly important this time of the year, spending time with loved ones.
Would you love to decorate this way for the season? Let me know your thoughts in the comments below.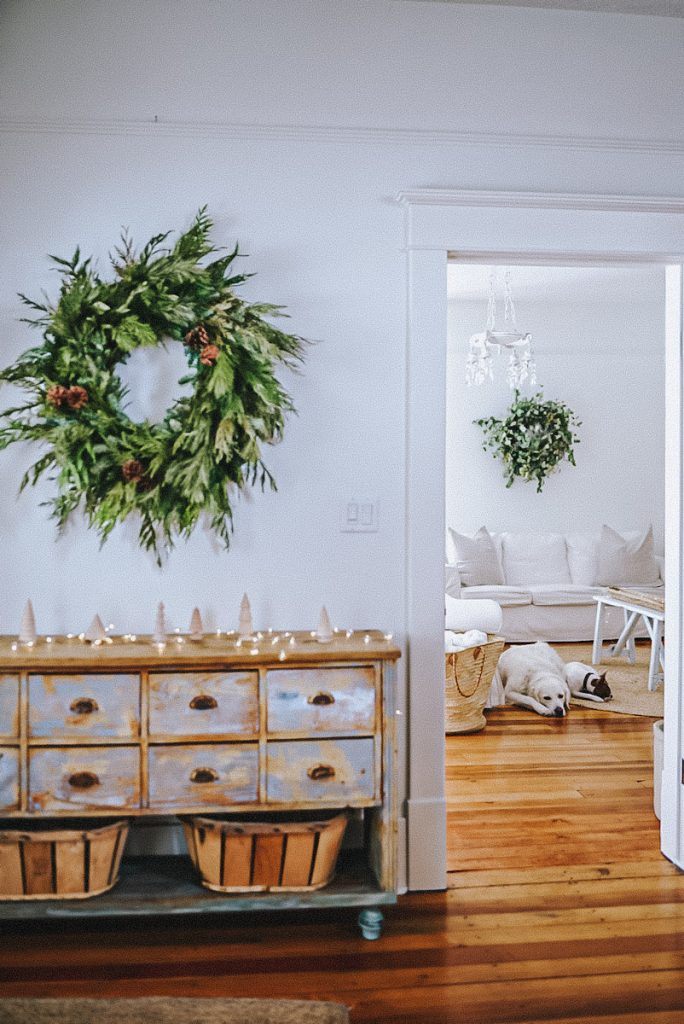 Nordic Christmas Inspiration