This post may contain affiliate links. Please read our full Disclosure Policy.
Garden Harvest Tips for a Productive Garden
If you are lucky enough to have a plot of land large enough to grow your food, then a garden can be very rewarding. Without question, fresh garden harvest vegetables taste far better than those bought at the store and you can also control what pesticides and other GMO's that are added to your food during the growing process. And let's be honest… it is just plain old' satisfying to grown your food! Sometimes garden harvesting can be a bit confusing, but there are a few tips and tricks that will help your garden and harvest grow better and go smoother. Use this post like as a guide on how and when to harvest your garden. You can also take a look at this post on gardening for beginners and be sure to grab your downloadable gardening guide!
When to Harvest Garden Vegetables
Harvesting your garden is one of the most enjoyable times of the year. Knowing the timing on when to harvest certain vegetables is important as sometimes there is a very short window of opportunity for the veggies to taste the best. This detailed garden harvesting list will help you know when you should be harvesting garden vegetables.
Garden Harvesting Guide
Asparagus – Asparagus will be one of the first of the season. They will start to yield a good crop after approx. 3 years of planting. Once the spears are approx. 6-10" tall, snap them at the soil line
Beans or Snap Pea – Harvest beans or snap peas before the pod is fully grown! Approx 2-3 weeks after first bloom. This is when they will be the most tender.
Beets – Pull beets when roots are 1 ¼ to 2" in diameter.
Broccoli – Harvest broccoli when flower head is fully developed but before flower begins to open. Cut 6-7 inches below the flower head.
Brussel Sprouts – Pick Brussel sprouts when the sprouts are approx. 1-1 ½" by twisting the off.
Cabbage – Harvest cabbage when the heads are solid but before they split.
Carrots – Best to harvest carrots when ¾ to 1" in diameter or smaller if you need to thin them. You can leave carrots in the ground for the first LIGHT frost as this will improve the taste!
Cauliflower – Harvest when the heads are roughly 4-5 inches in diameter
Corn – Harvest when kernels are completely full and in the milk stage. The silks will be brown and dry.
Cucumbers – Cucumber harvest is determined by product use. Dills are 3 – 4" long and fresh slicing cucumbers should be 7 – 9". Leave a short piece of stem on each one. Don't allow them to mature as they become bitter.
Artichoke – Harvest artichoke after the first HARD frost.
Kohlrabi – Kohlrabi is ready when the thickened stem is 2-3 inches in diameter.
Lettuce – Harvest the outer lettuce leaves when they are approx. 4-6 inches long. Head lettuce will need to be moderately firm prior to pulling.
Okra – Okra are ready to harvest when fruit is 3 to 5 inches long.
Onion – Dependant on the type of onion. Harvest sets when they are 6 to 9 inches tall for ready to each. Bulbs are ready when they are ¼ to 1 inch in diameter. Ready when the tops weaken and fall over and be sure to harvest before a hard frost.
Parsnip – Harvest parsnip after a hard frost or in the spring if you mulch for the winter
Peas – Harvest peas when the pods are fully developed and the seeds are more than on half of the full size.
Peppers – Peppers are ready when the fruit is full size and firm. Red pepper should have fully changed colour. Before a hard frost.
Potatoes –
Pumpkins – Harvest pumpkins when mature. The rind should be firm and the colour of the squash should be changing from green to a cream or orange colour. Leave a portion of the stem on each and they will continue too mature after harvest.
Radishes – Radish are one of the first to harvest in the garden. The root should be ½ to 1 ½ inches in diameter. The shoulders should be showing out of the soil.
Rhubarb – Only harvest rhubarb after the first or second year after planting. Pull the stalk directly out from the base. Do NOT pull all of the plant at once. You can damage the plant this way.
Spinach – Begin harvesting spinach by cutting the leaves off a the base of the plant when they are 4 to 6 inches tall. Additional leaves should replace them up to 4 times in a season.
Squash – Squash harvest can be as early as 4 inch's or as late as 8". Don't let fruit to grow much bigger than this or they will not be as tender or taste as good.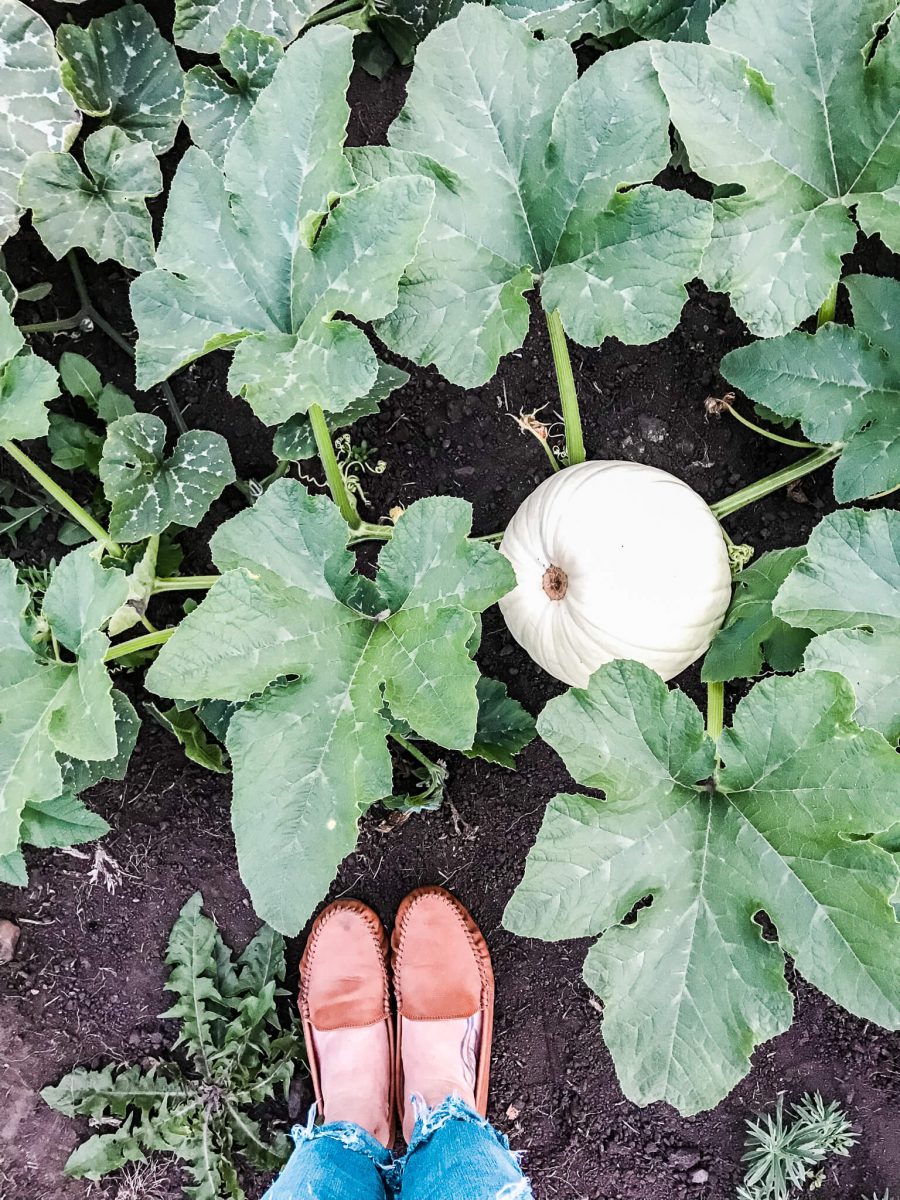 Sweet Potato – Harvest sweet potato before the frost.
Tomato – For the best tasting tomato results, harvest approx. 5 to 8 days after the fruits are fully coloured. Don't let them mature too long as they will loose their firmness.
Turnip – Turnip can be harvested when roost are 1 ½ to 3 inches in diameter.
Watermelon – Harvest watermelon when full sized. The portion in contact with the soil will turn from Cream to yellow when mature.
Tips for an Abundant Garden Harvest!
So your garden is planted, but the harvest is fast approaching. There are a few general tips to keep in mind leading up to this time of the year.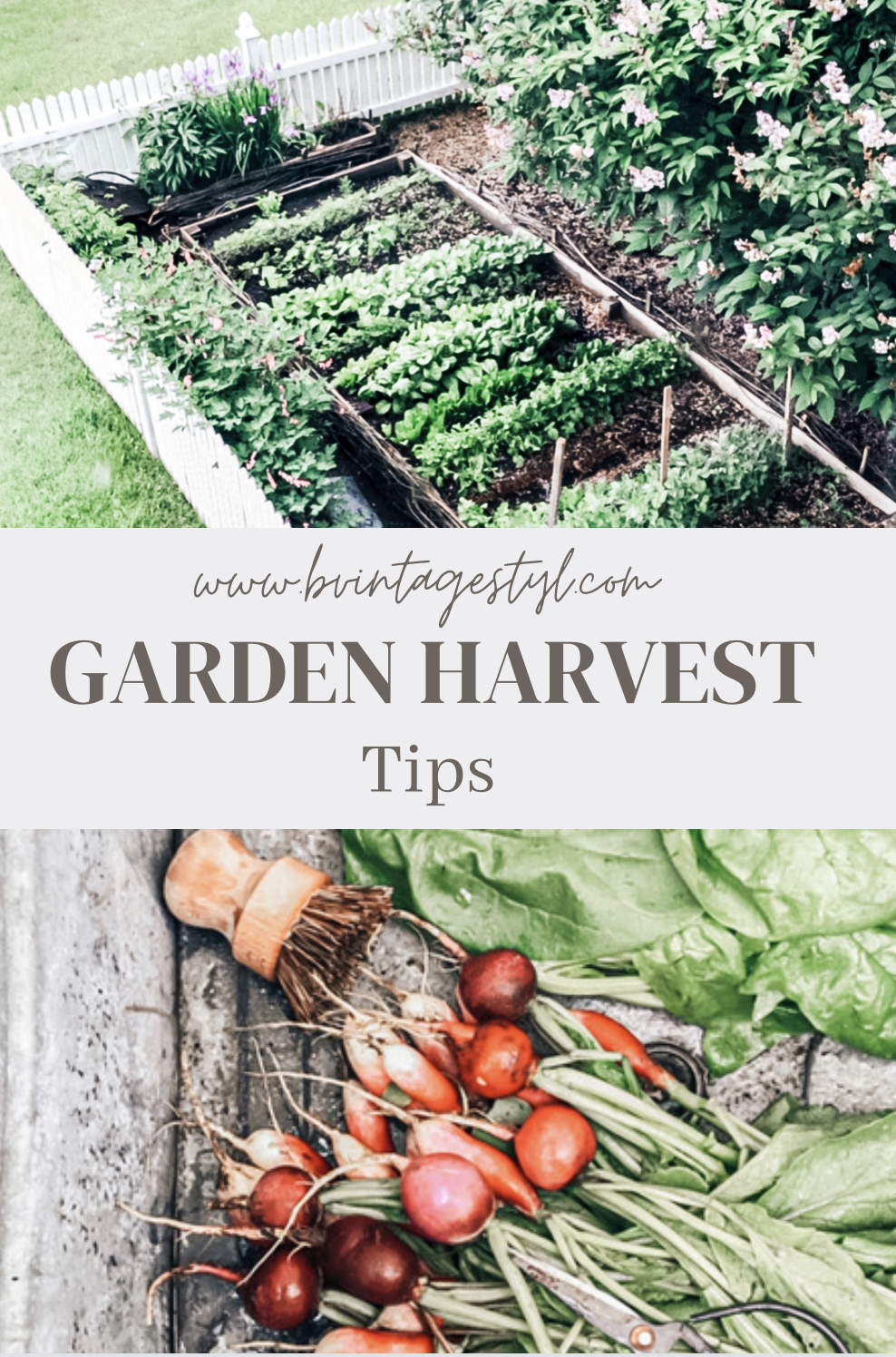 Some veggies will mature far quicker than others. Some of your vegetables can ripen or even pass the point of peak tasting within a matter of days! Radishes can quickly go spicy or woody and zucchini/squashes can grow rapidly in a short period, which will drastically affect the flavour! Plus, when harvested at the correct time, you may even yield a larger amount of vegetables that season.
Use the Proper Harvesting Tools for the Job
Harvest time will not only be much easier with the proper tools but it will also ensure less damage to your vegetables! Some veggies won't require tools, such as lettuces, peas or herbs but others like carrots, potatoes, squashes or pumpkins may require a shovel, pitchfork, sharp knife or scissors! Do your research and find the tools that work best for you! The last thing you want to do it damaged your plant in the harvesting process as that will make it not produce as well and it will be more susceptible to disease!
Harvest in Dry Conditions
Not only will this save you washing your feet and tools but it will also ensure that you don't spread disease through your plants.
Keep an Eye on the Garden
You will want to make sure you are checking your vegetables throughout the growing season. If you see a rotting or damaged part of the plant or veggie, be sure to remove it. The plant will send all its nutrients to a damaged or sick area, leaving nothing for the healthy part of the plant! There's no use letting the plant put energy into fruit or vegetables that you won't be able to consume plus you will yield more if you keep on top of anything that shouldn't be there!
Handle Vegetables with Care
Try not to bump or bruise your veggies or the plants as they grow because this may cause rot or diseases! Like I discussed above, there is nothing good if you have bad fruit on the vine! In cases of bad hail or storms, make sure to remove any dead or damaged parts of the plants so they can continue to send nutrients to the produce, rather than the damaged area.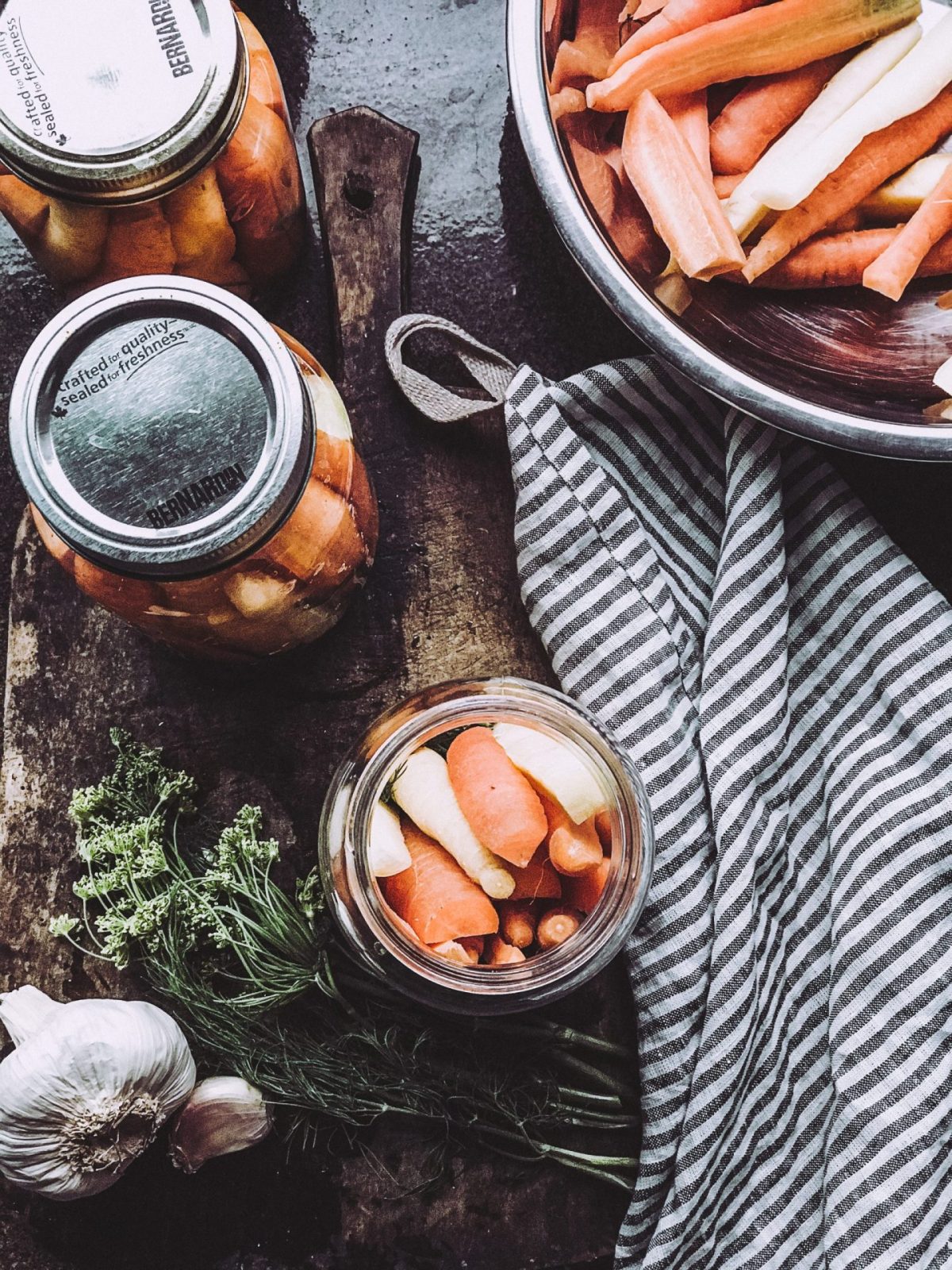 Pickled carrots are a family favourite! Try my secret crunchy dill pickle carrot recipe.
Garden Harvesting Chart & Guide
Now that you have some ideas on how and what to do for harvest, let's summarize WHEN you should harvest certain plants. Grab my free printable garden harvesting chart and use it as your guide for the season!
I hope you find these tips useful and if you have the opportunity to grow a garden, I strongly encourage it! I would love to hear any tips from you as I know some of you are even more in the know than I am! As always, feel free to leave a comment below or you can always find me over on Instagram, Tik Tok or YouTube.
Pin for Later