This post may contain affiliate links. Please read our full Disclosure Policy.
One of our favorite pieces of furniture has to be the DINNING TABLE! A great farmhouse dining table can completely change the vibes of your home. Britt and Deb have both had multiple styles of dining tables in their homes, so we thought it would be fun to round up some of our favorites to share with you all.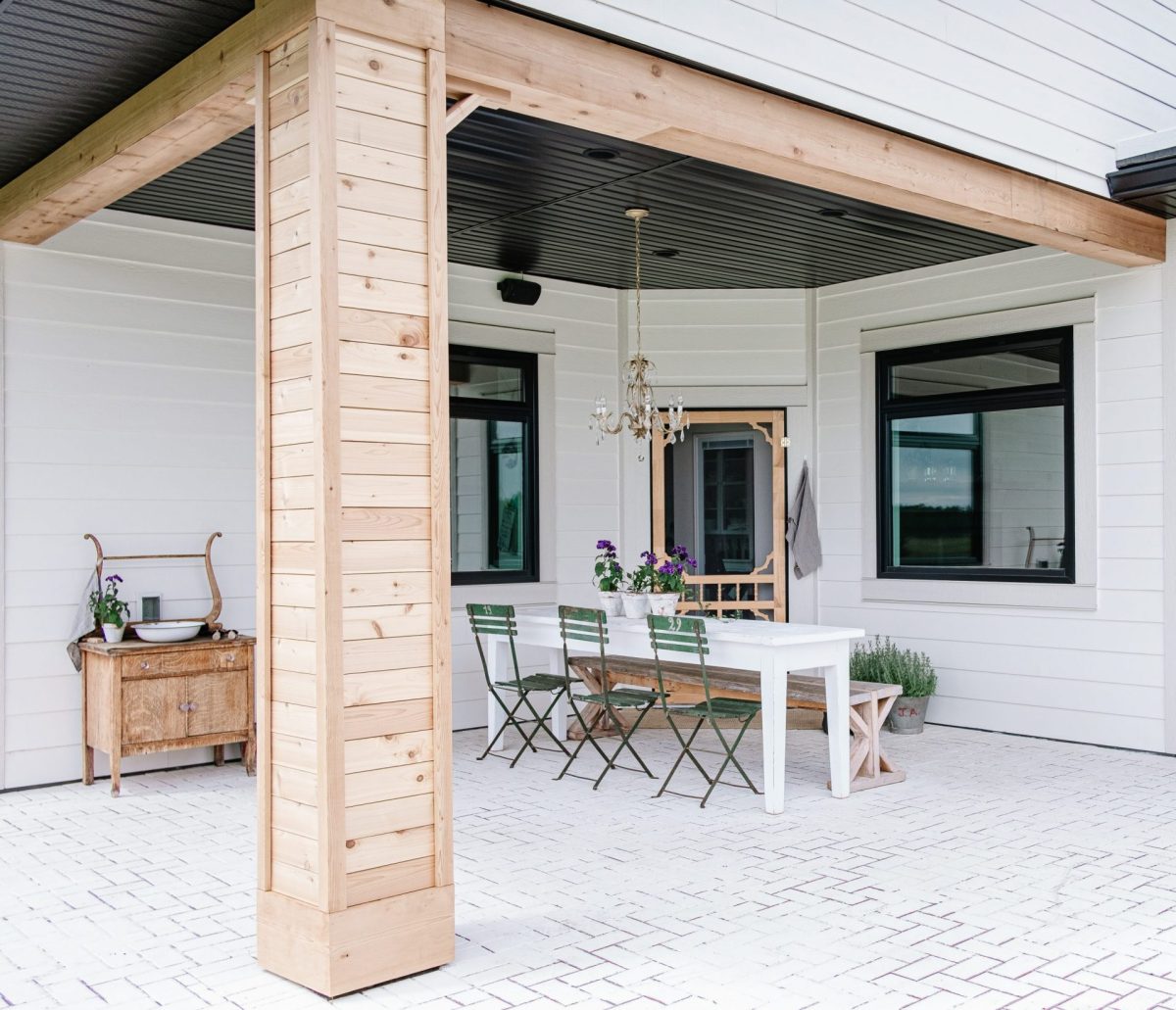 20 Famhouse Dining Tables
The Farmhouse Style has become so diverse that it allows you to incorporate many different shapes and styles into your home. It's fun to see how all of these designs can still fit within the Farmhouse style.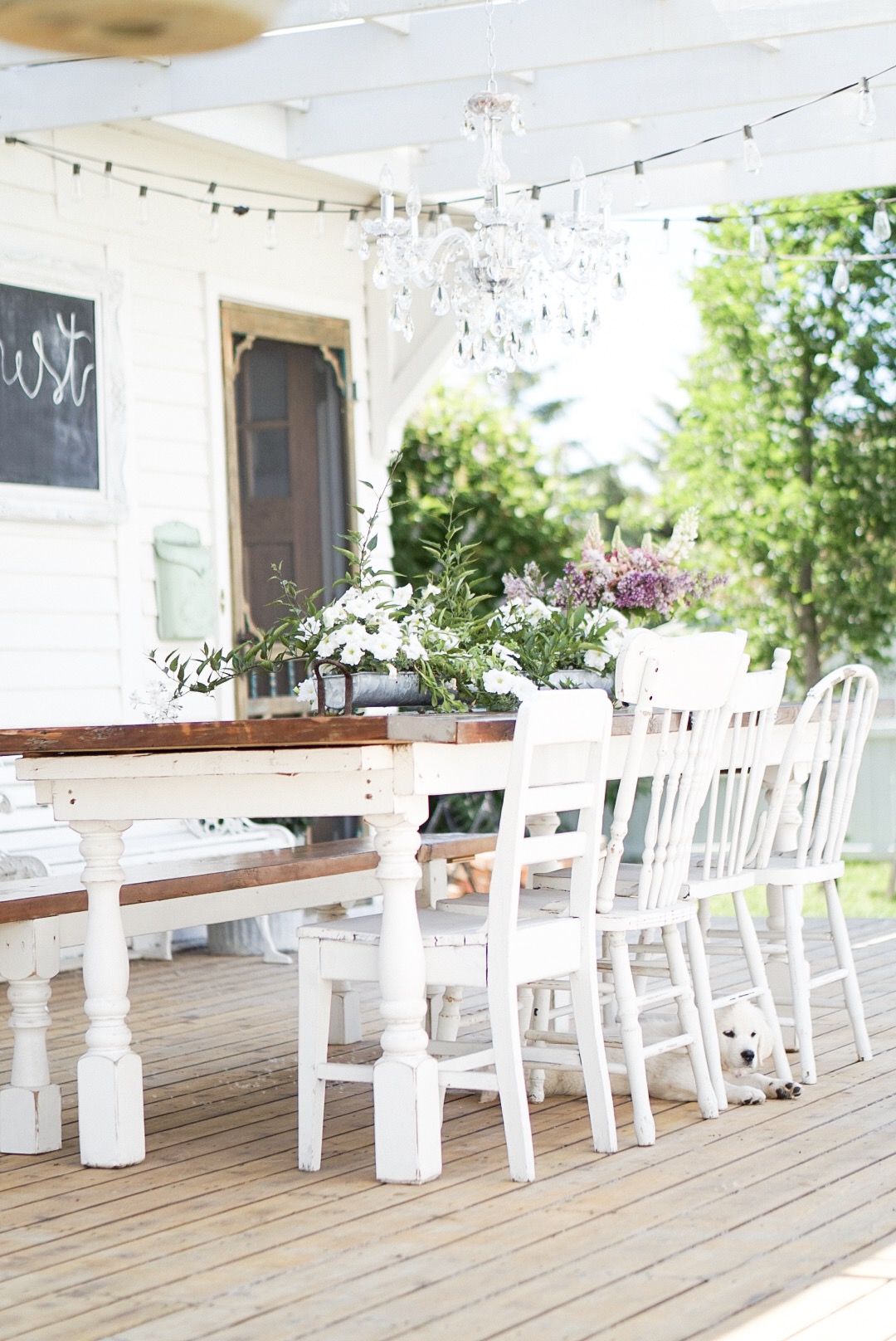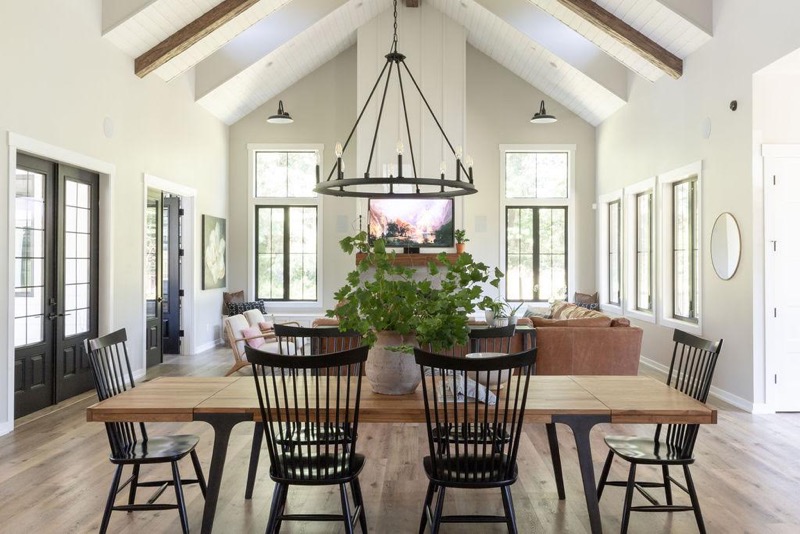 Kristin Glandon @kristin_kgdesigns
Before you choose a style of table, it is essential to consider the size of the space you have for your table. Maintaining walking space and general flow within the room is necessary. On the other hand, when you have ample dining space with perhaps high ceilings having a larger table is important. Having a larger dining table will be essential so that the table can "hold its own" and not look small and unproportioned.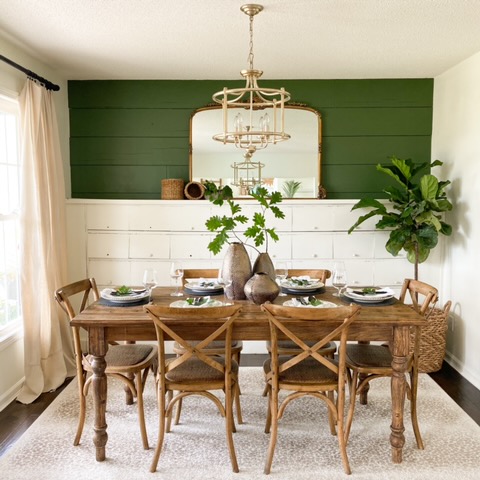 Caroline – @c.b._designs
Within the Farmhouse Style, you can find tables with both cleaner lines, and tables with ornate leg designs can still look good with this style as well!
Vintage Farmhouse Dining Tables
When you lean more towards a more minimalist style home, having a simpler design can better suit your space. Britt found her Early American Potting Table at an antique store. She actually passed by the table multiple times over two years and always told herself, "next time, if it's still there, I'll get it." Finally, one day she committed to getting the table. The table is quite narrow and was lower than a traditional dining table.
However, when you look at Britt's dining space, there is not a tone of room width-wise, and previous tables always seemed to compete with her large kitchen island. Did you know Britt's dinning table is only 27.5″ wide!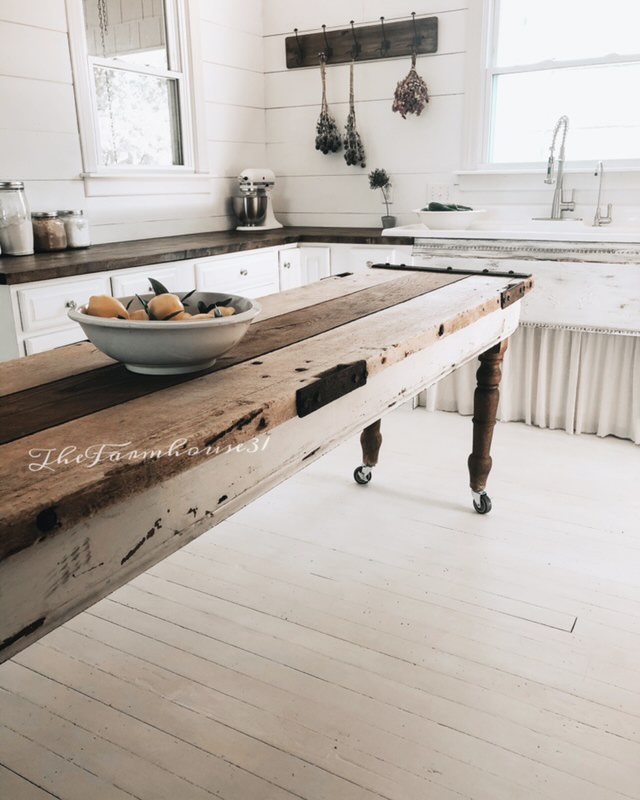 Resa – @thefarmhouse31
There can always be that hesitation about using a vintage piece for surfaces where you will be eating. Britt cleaned up the top of the table and applied multiple coats of matte polyurethane. She loves that it doesn't matter if people ding or dent the table because it just adds to the table's character. To combat the table's height issue, Britt added some castors on the table legs to increase the height by 2," and the table was now perfect!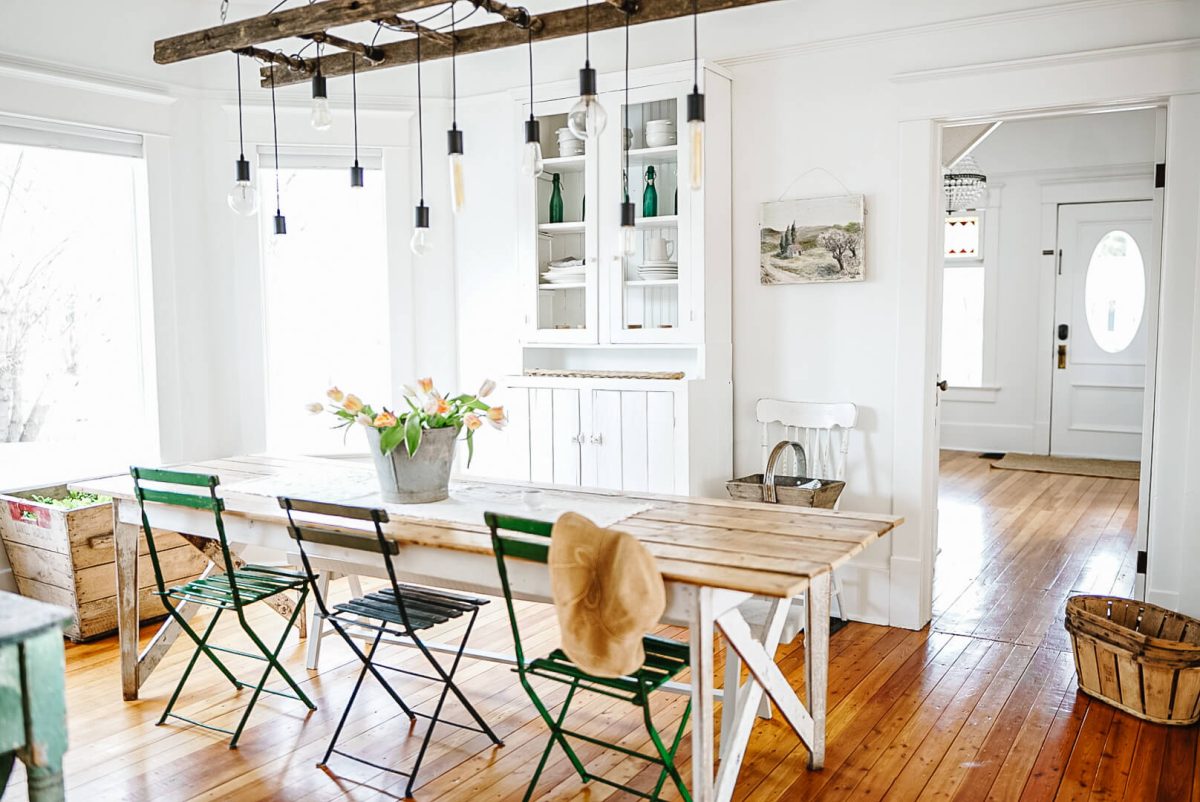 Rustic Farmhouse Dining Table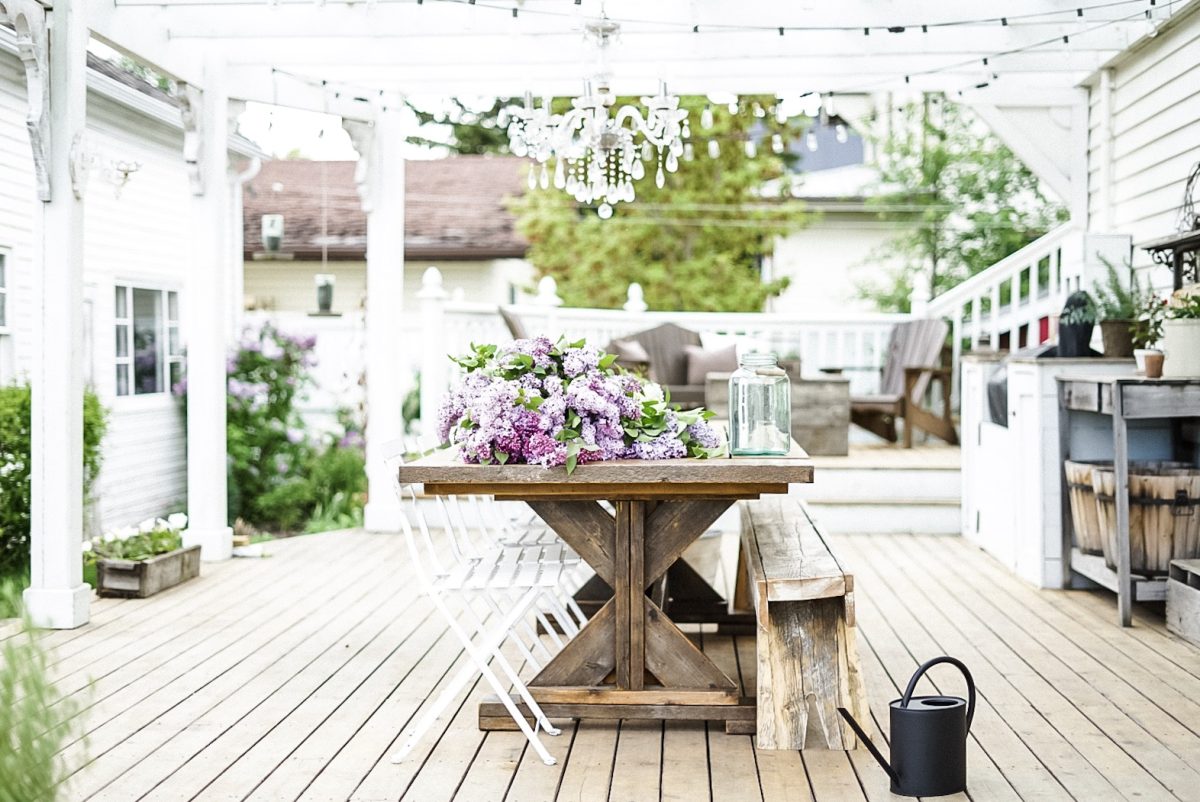 When you have a larger dining space having a table with a more significant base is a great option! The classic farmhouse cross is always a great choice. Or table legs with a bigger girth are also an option we look at when choosing a table.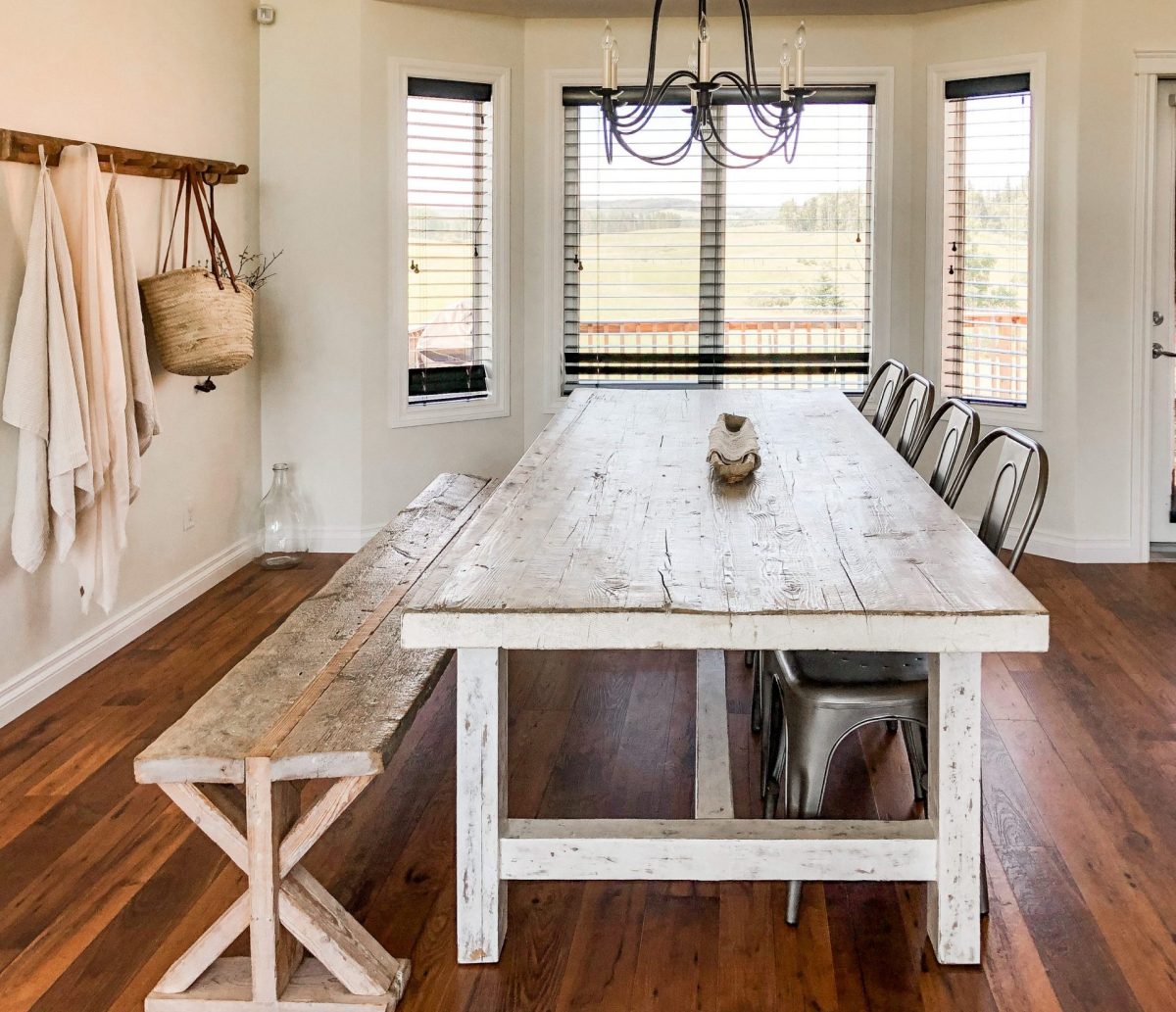 Check out some examples of Farmhouse Dining Tables we love with a broader base.
Emily – @handmade.farmhouse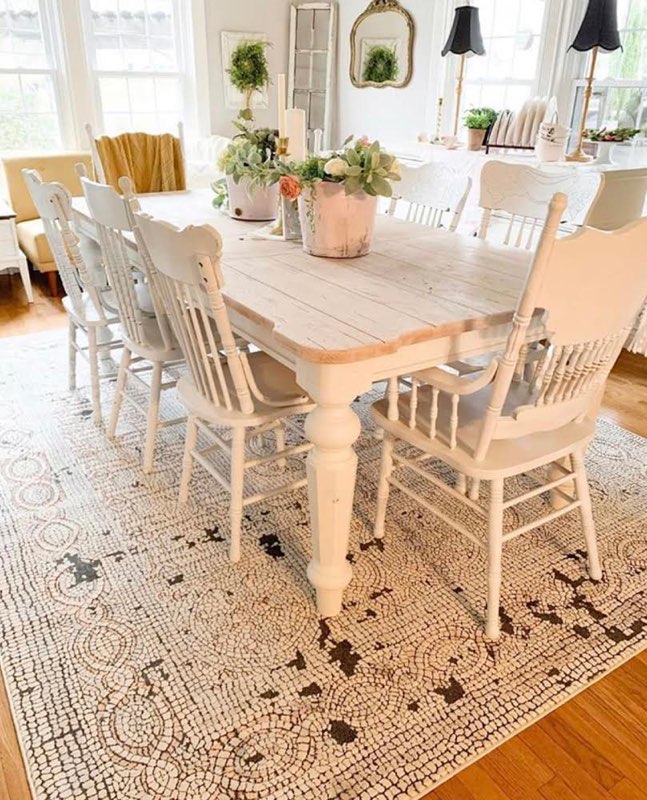 Cindi – @cindimc.ivoryhomedesign
Round Farmhouse Dining Table
Round Tables?? While round farmhouse dining tables are not the first choice we turn to when designing a space, they can be a great option in limited space areas. Round Farmhouse Tables prevent chopping up spaces or restricting walking paths by creating a more continuous flow.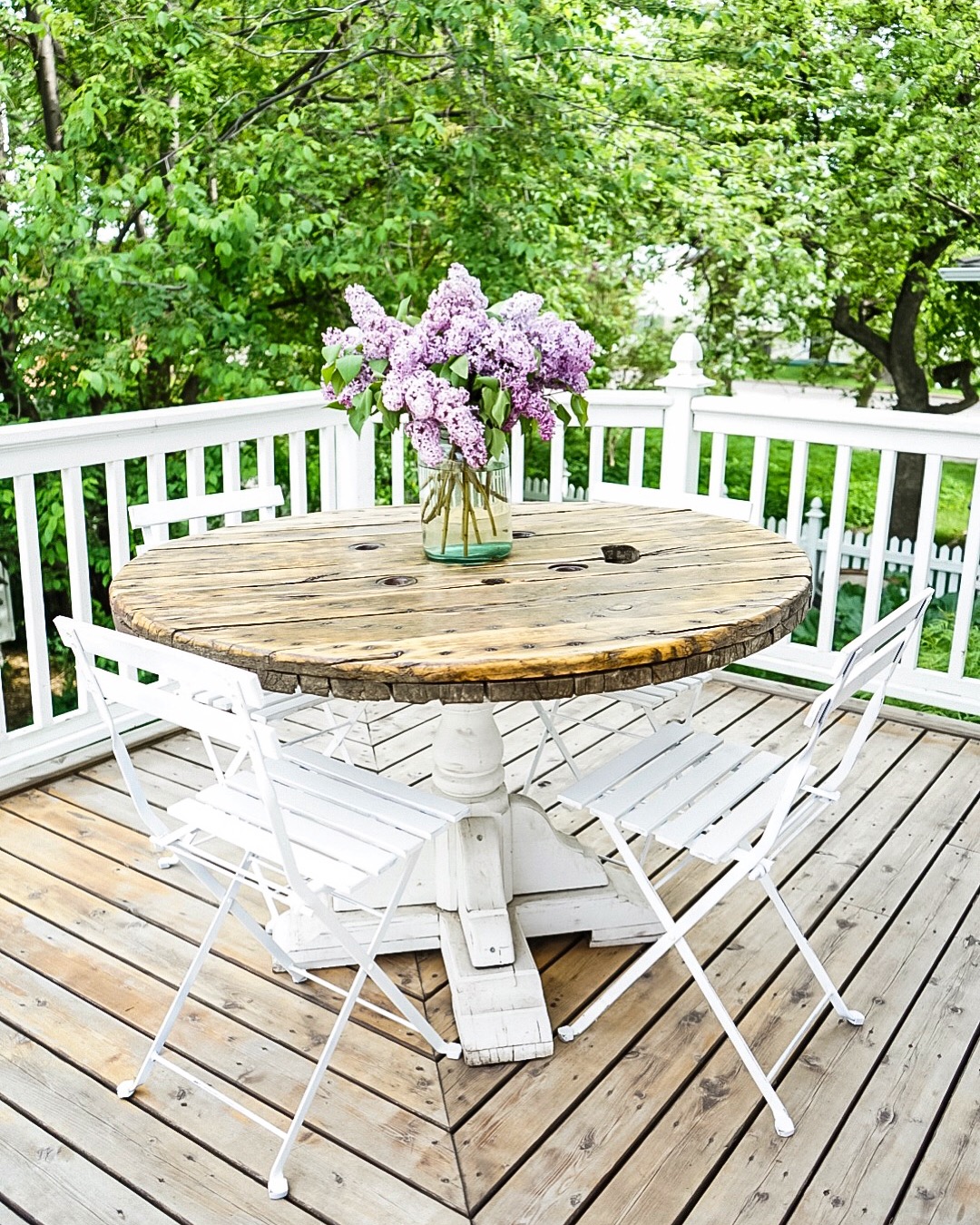 A fun Farmhouse option for a round table is to place a salvaged spool on a table base! Or mix a lighter tabletop colour on a darker base to add some visual interest.
Ali – @alimarie.ssh
Never be afraid to throw a coat of paint on a table! If you are on a tight budget picking up a garage sale table and painting it white can be a quick yet beautiful option!
DIY Table Ideas
The Perfect Farmhouse Dining Table is the combination of a great base and a beautiful tabletop! Often we find a table that we either love the top or the base but not both. You have two options … keep searching or look into having a table custom made. We have both have had multiple tables made either by DIYing them or having local carpenters help us bring our vision to life. Don't settle on a table because you love the legs but not the top!
Sawhorse tables look so unique. However, the one thing to watch with this style of table is that it makes dining with your guests more informal. The chairs have to be separated by the table bases creating distance between your guests.
Britt has even taken a set of metal table legs and placed a salvaged vintage door on top to make a patio table! The options are endless when it comes to creating tables to enjoy with your family!
This classic farmhouse cross dining table is one that Deb designed and built with a local carpenter. Britt bought the table from Deb before the two were business partners, and then Britt sold the table to a friend! When you stick with a classic style table, they never go out of style!
Loving a dining table can set the mood for that entire space. When you love the dining table, you are more likely to dine at it as a family more frequently. Britt and Deb truly believe the dining table is meant to be shared with your family and to bring the people you love together at the end of the day!
Looking to decorate your table for Fall? Check out these Fall Tablescape ideas!