This post may contain affiliate links. Please read our full Disclosure Policy.
Hello dream home! This stunning modern cottage belongs to the beautiful and talented Tracey of Remarkable Modern Cottage. Her home is dreamy and to top it off, she's a fellow Canadian girl eh! But enough about us, please give a warm vintage welcome to Tracey!

Home Tour Series:
Remarkable Modern Home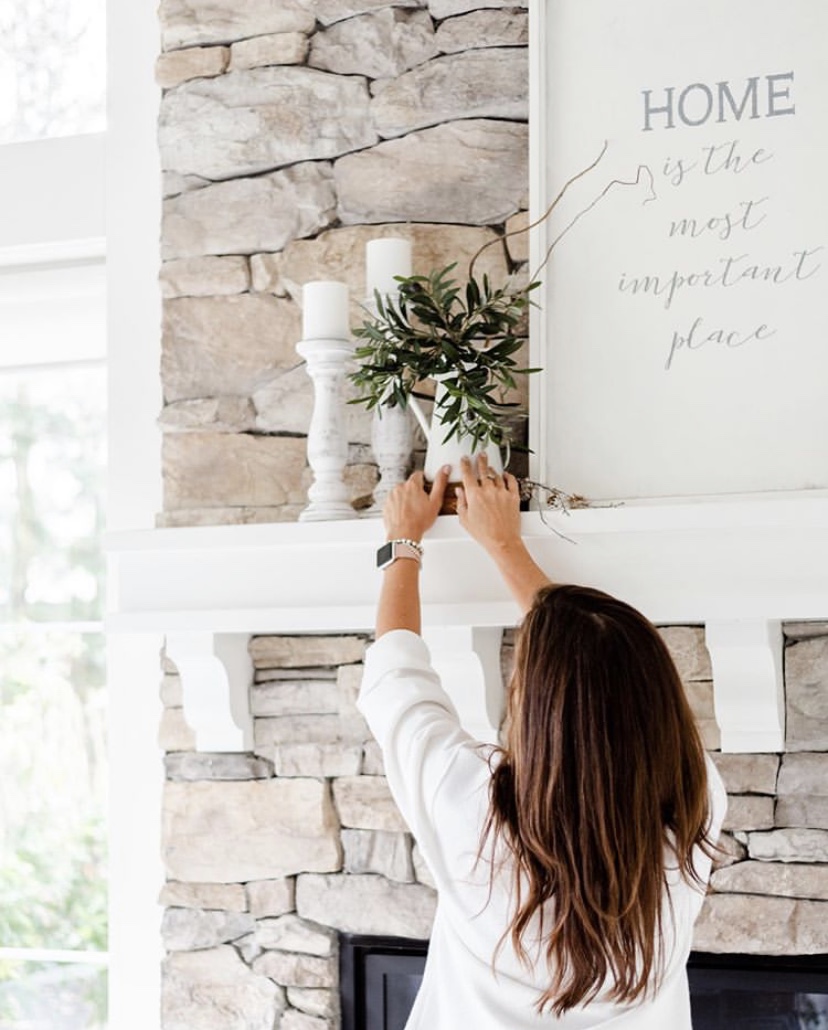 Can you give a brief introduction of yourself, your home
and

work?

I'm Tracey . I live in Beautiful Victoria BC with my husband and our little fluffy pup Bean . We are recent empty nesters with two daughters 23 and 25 . I have had my own interior design and styling business ~ Remarkable Interiors~ for the past 13 years and work full time with that. I have also flipped a couple of houses and that is really fun! I am a total design geek – lover of all styles but my true love is white modern cottage style decor. I would love to venture into more french country with that as well. So many ideas including some more business ventures! I dabble on a blog ( very inconsistently !) Remarkable Modern Cottage …which is also my Instagram.
What year was your home built and do you have any details of the history or building process you would like to share?
Our home was built in 2008 by a local builder I know well (built for himself) . 3200 sq ft Craftsman style build with a suite over the garage He mentioned casually he was selling at some point and hubby and I jumped all over it! However some personal issues stalled that sale and we had to wait a year to close the sale….I knew the first time I walked into the house it was the one for me ! Sightlines and really good design! We moved in in 2012. The wood floors have a fun story….they are milled from the beams of a really old and since demolished bowling alley in Victoria ( the original one in the city ) They are beautiful wide plank fir and have a ton of character ( especially with dogs nails over the years) . We have since added a few design elements…mostly cosmetic ( paint, shiplap, wallpaper as well as a patio shop and garage addition . Lots I would like to tackle before we downsize again!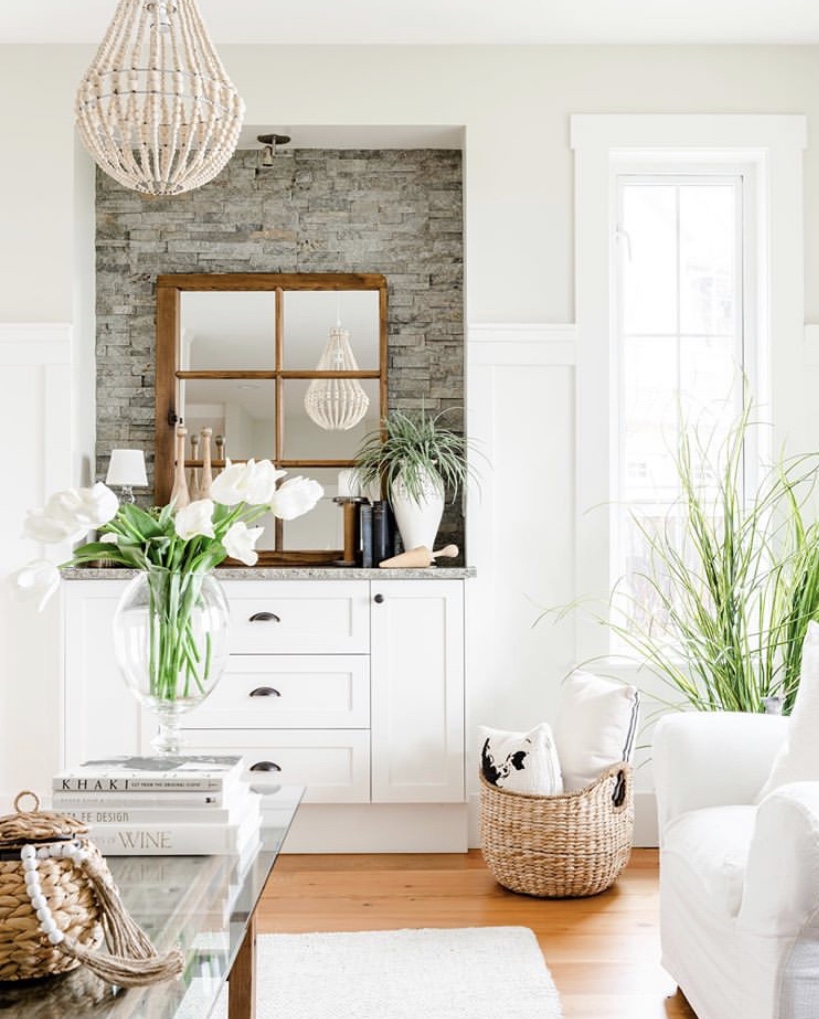 How do you define your decor style? What are your favourite types of decor?
While I work with all design and client styles but I love modern cottage style design. Modern function but touches of character everywhere. Shingle siding , white painted everything, yards covered in flowering blooms! Texture is king for me so layering neutrals and textures makes me smile. Styling vignettes is so much fun!
What is your favourite thing about your home? Do you have a favourite room or furniture piece?
I love our main living room off our kitchen. It's the space that drew me to the house in the first place. You can see the fireplace from the front door. Love that and the vaulted shiplap white ceiling . I use slipcovers for everything! Wash / bleach and all good again!
Do you have any big future plans for your home? What is next for you or your home?
We will downsize eventually. The perfect scenario? Water view little cottage renovation on a great lot! In the meantime I'm redoing some bedrooms with trim work updates. I want to build a porch swing.
If you had one design or decor tip, what would it be?
Create a space that tells your story. Things YOU love and make you smile. That translates into HOME and always works.
Do you have a business or social media tip you can give to all those who want to start a blog or home decor business?
It's not something to do on a whim. You need a plan – which may change 100 times but a framework to follow is so important. It takes a lot of hard work and long hours . The best thing I did was take a small business course. You can be the best designer/stylist/blogger but if you can't run the business side of things it really will never work! Hone your craft, learn from others and do not be afraid to share with colleagues. ( including asking for advice!) We can all help each other !!
You had us at white. Thank you Tracey for taking us on this dreamy home tour of your beautiful modern cottage. This one is actually close enough to visit, so we might even pop by and say hi one day! If you guys loved Tracey as much as we do, send some love her way @remarkablemoderncottage and don't forget to tell her who sent you.