This post may contain affiliate links. Please read our full Disclosure Policy.
Happy Friday everyone! What a week this one has been. I've been in so much reno mode as of late I haven't shared any of the updates for the attic that we've done. I still have a lot of decorating to do up here but I wanted to share with you how our white shiplap attic family room is coming along so far. Below is a mood board I created for the space along with how it's currently looking. Let me know your thoughts for the space so far in the comments below, I love getting all of your input and feel like you've been along for the project attic journey with me.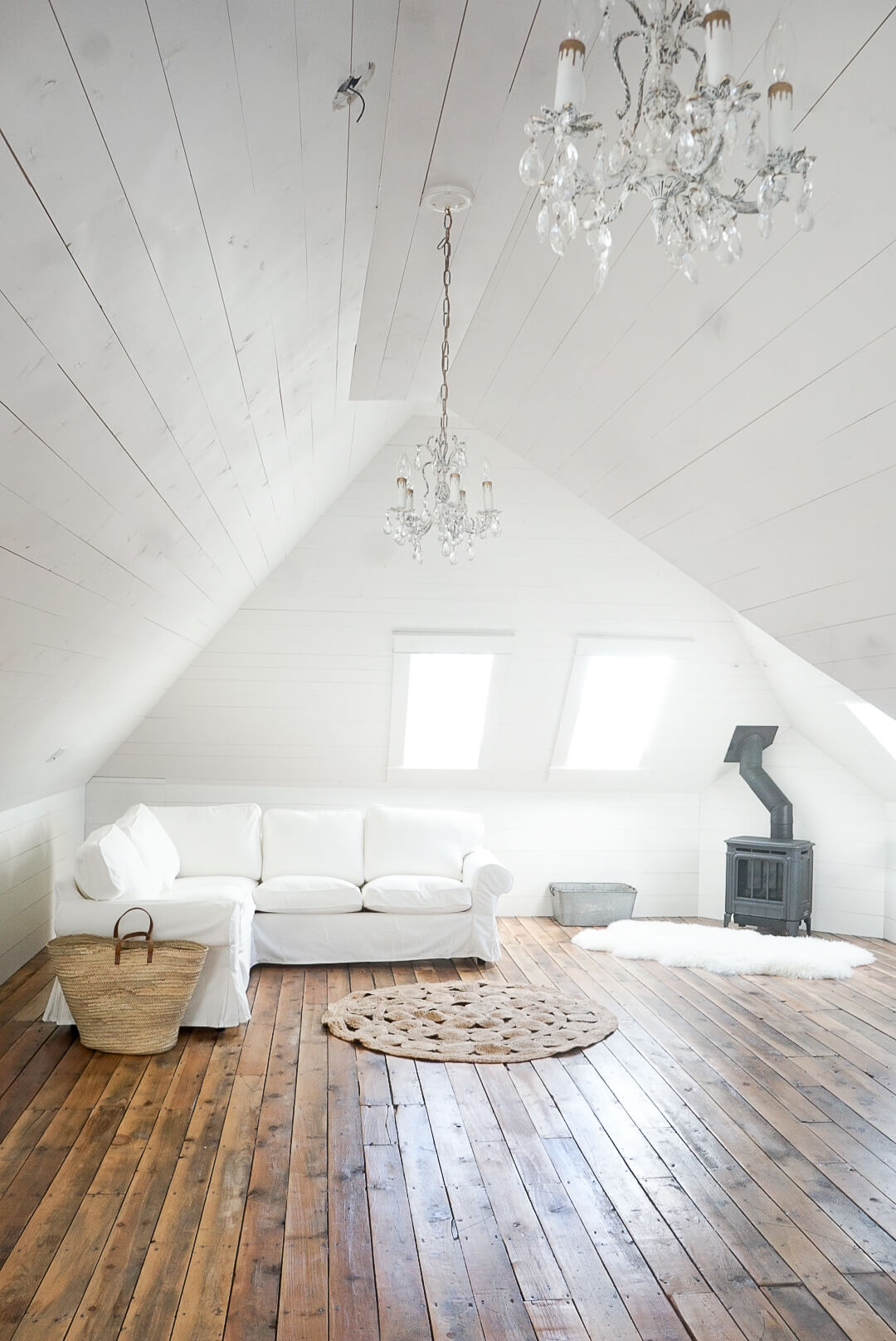 The focus on the space is family so all the choices that I am making on the decorating are largely based on the functionality of this being a family space. My search for a couch is over, largely due to the fact that no other furniture would fit into the space.
IKEA Ektorp sectional in Vittayrd White.
My husband trust's me when it comes to the decorating but his one request for the space was a sectional sofa. He wanted us all to be able to fit on the sofa together. We looked all over different options but our challenge was getting anything up the tight fitting staircase. In the end, we opted to go with the IKEA Ektorp sectional in Vittayrd White.
I really wanted a linen coloured sofa up here but unfortunately the colours that this sofa comes in weren't exactly what I was wanting, so we are taking our chances with white. I have scotch guarded it with hopes that that will protect the sofa for a bit longer and of course worst case scenario, a new sofa cover is only $199.
The fireplace is my favourite part of the whole space other than roof line itself. I would've preferred a wood-burning stove however the convenience and ease of a gas stove was a better choice for the space! This is the Regency Hampton H27. I know my husband was not interested in hauling wood up three flights of stairs to the attic and now, with just a simple click of a button, we have a beautiful fire.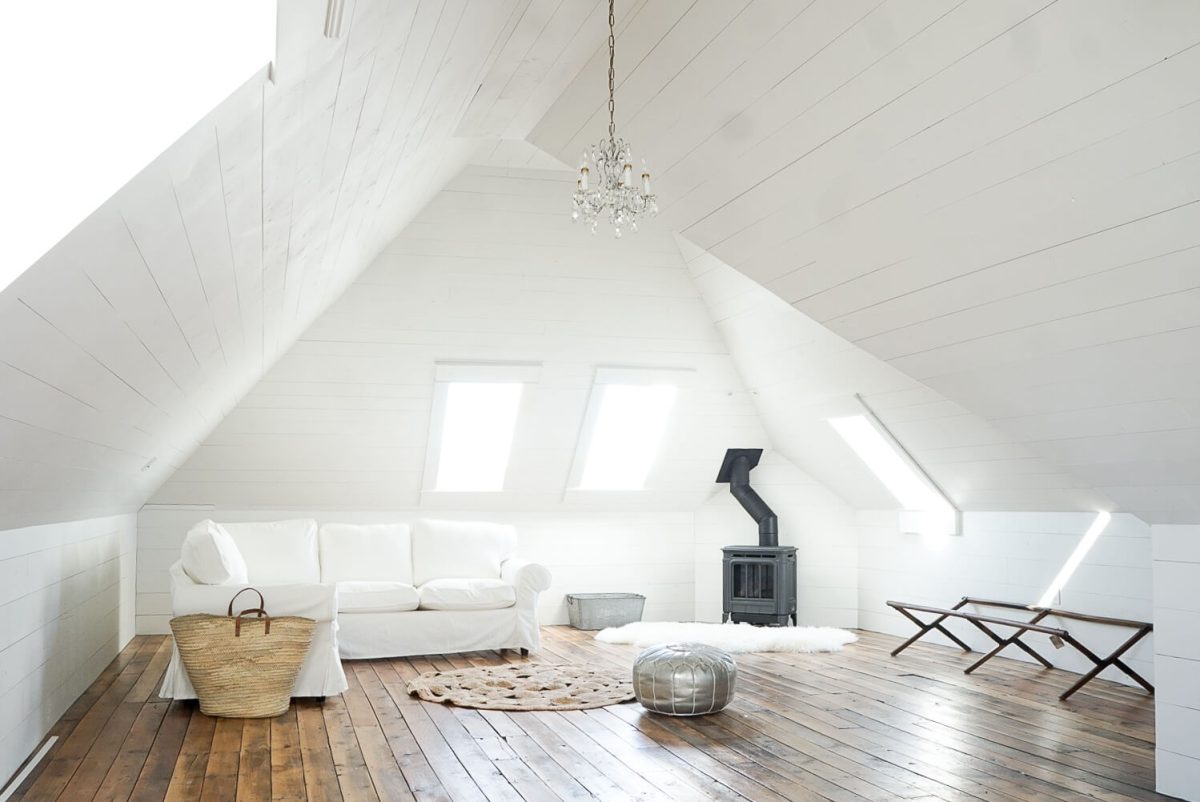 I picked up a sheepskin at Costco and had found this round natural jute rug at Serena & Lily a while ago.
Natural Jute Rug
Quad Natural Hide
The stunning antique light fixtures came from my sweet friend Barb, Honey B's at Home.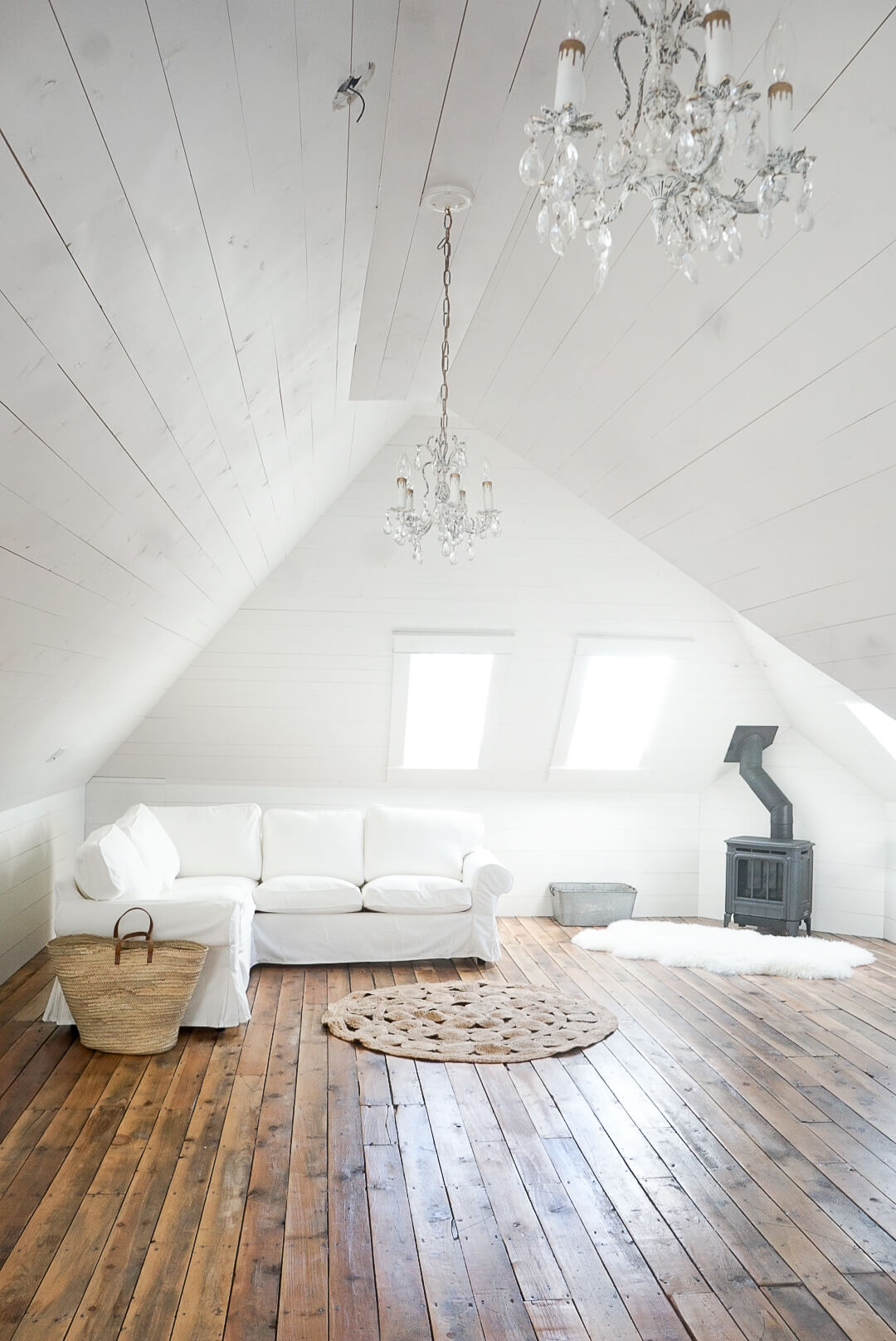 The Moroccan silver metallic pouf was in our main floor family room for a very long time and my kids caught the spaceship, I moved it up here for now. I'm going to be getting some giant beanbag chairs for the kiddos just to soon as I find some that I like. The HUGE blanket market basket is from by shop Lilac & Linen Interiors.
French Market Basket
Moroccan Silver Metallic Pouf
The long table looking piece is actually an army cot that a soldier would have carried in his backpack! I thought it would make the perfect coffee table but now I'm thinking it will make a better table for the TV. I just need to give it some thought on how I want to finish the to.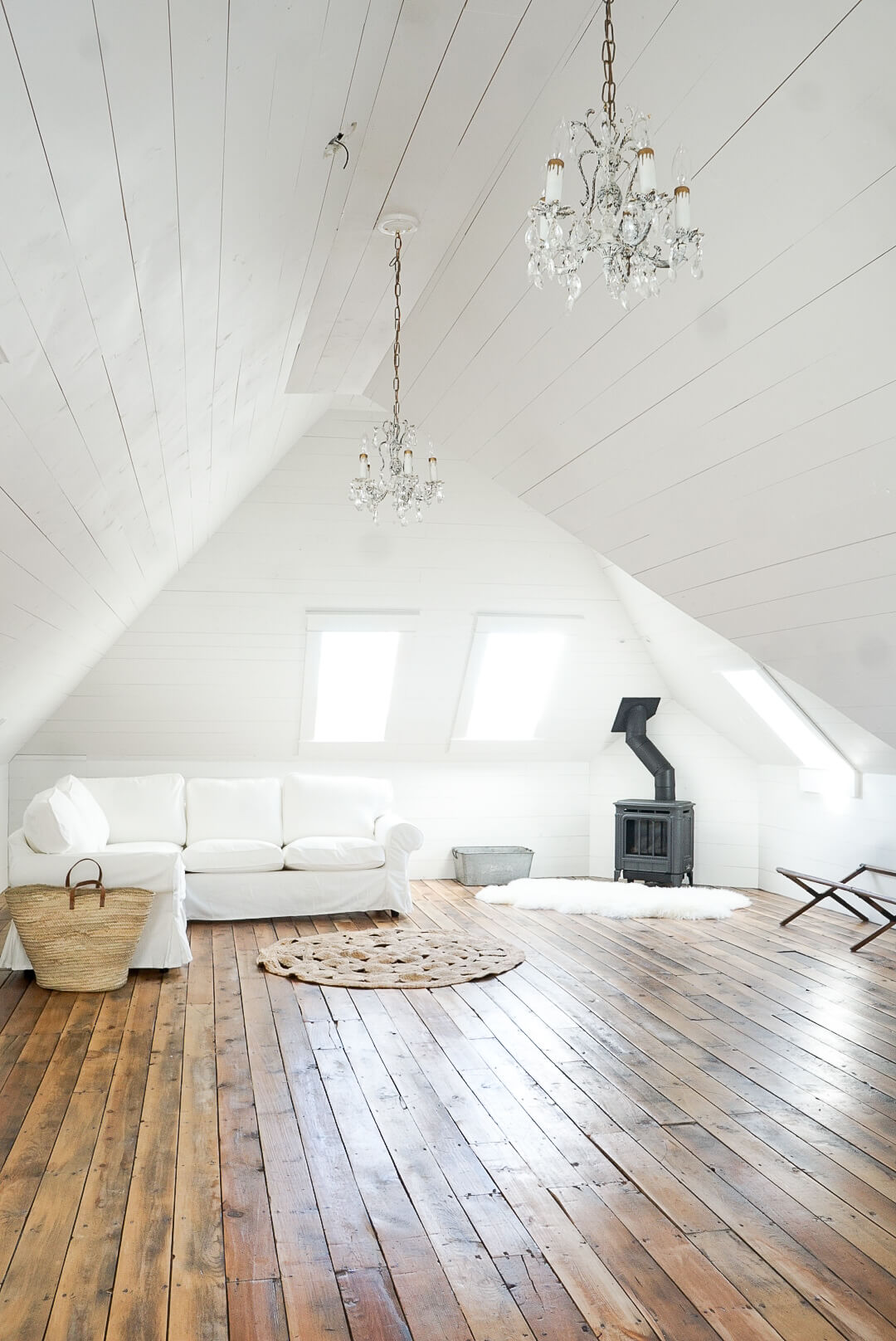 I still haven't found the exact light I want for the main room however I do have my eyes on a few, this large one from Anthropologie is one of my faves but it might just be a bit big for the space.
Draped Bijoux Chandelier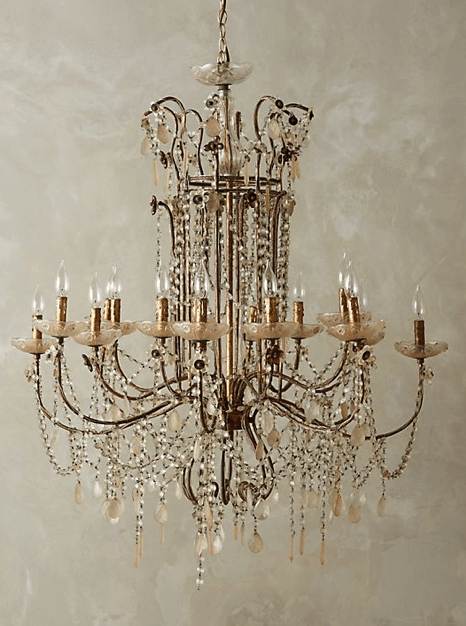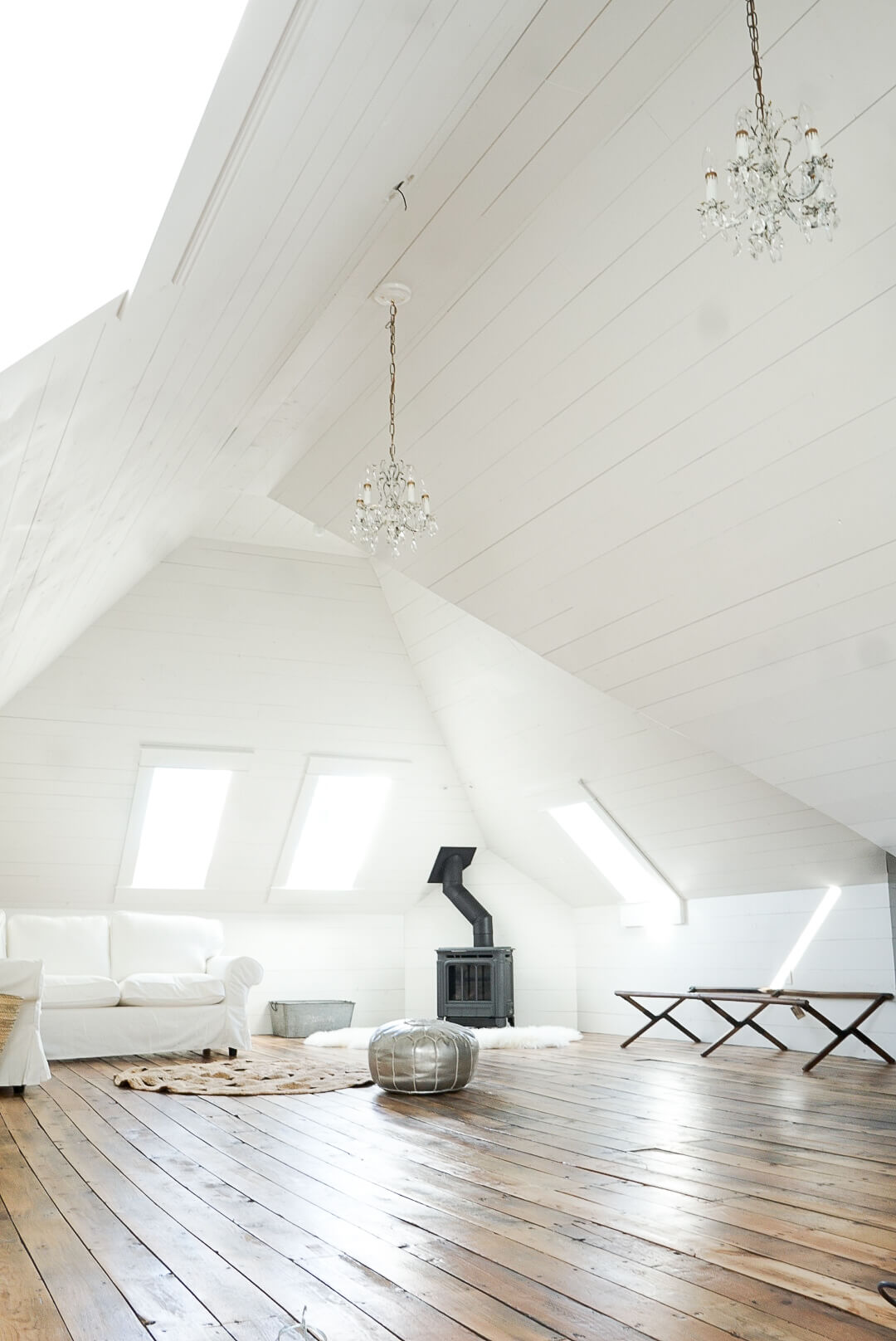 We will see what time brings as I find the right pieces to fit the room for now we are enjoying cuddles on our cozy couch in front of the fire. I hope you enjoyed my tour of our white shiplap attic family room. What do you think of the space so far? Do you think I should add beams on the ceiling? Leave me a comment below.
You may also like: