This post may contain affiliate links. Please read our full Disclosure Policy.
A farmhouse kitchen hutch is a versatile and functional piece of furniture that can add both storage and decorative value to your kitchen. With its rustic charm and character, a farmhouse kitchen hutch can create a warm and inviting atmosphere in your home.
Whether you're looking for additional storage space, a place to display your favorite dishes and glassware, or simply a stylish addition to your kitchen, a farmhouse kitchen hutch is an excellent choice.
It's always difficult finding the exact fit and piece of furniture you want for a space. Over the years, I've hunted long and hard to find the perfect antique hutch to fit in my dining room. I was on the hunt for something that wasn't too modern, too ornate or nothing that was too art deco. Like a scavenger hunt, I was looking for the perfect farmhouse kitchen hutch. When I couldn't find what I was looking for, I decided I'd build it myself. Take a look below and how I came to build the perfect farmhouse kitchen hutch.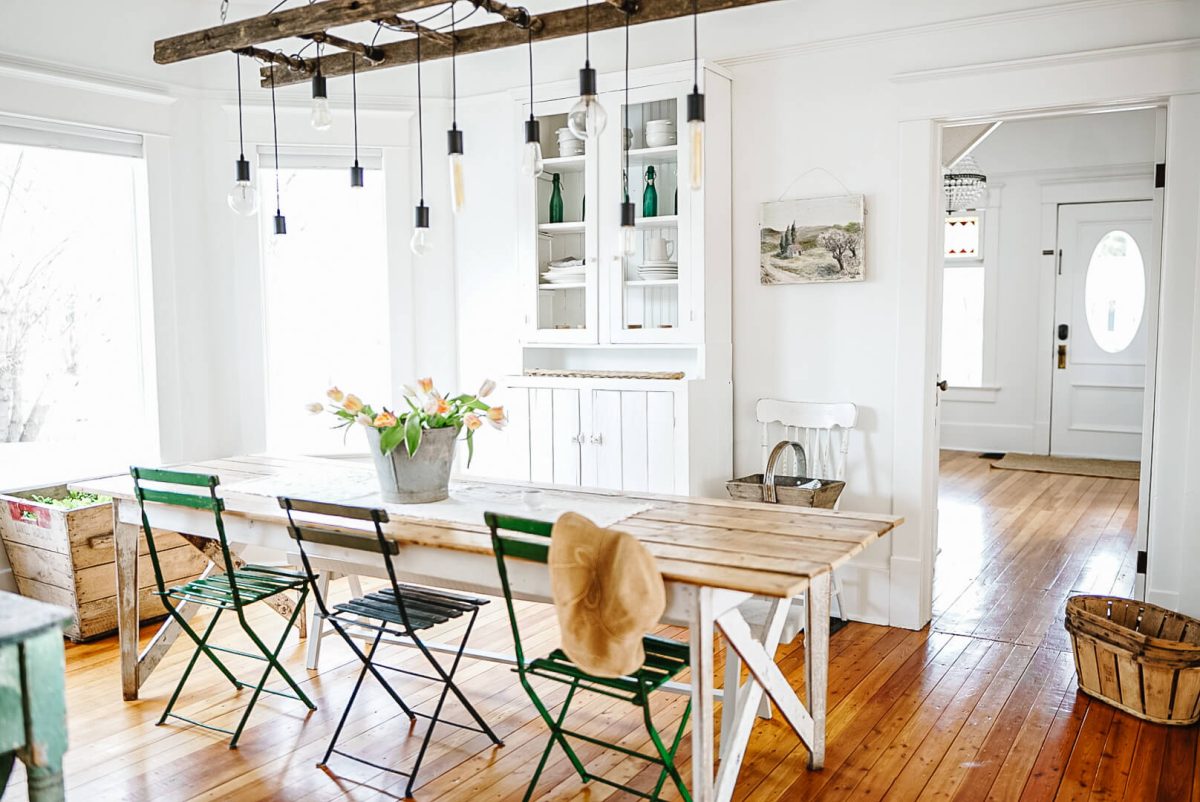 When we moved into our 1903 home seven years ago, there was a beautiful hutch in our dining room and I loved it. It actually belong to my grandmother so it was quite the heirloom piece. Over time, as my design style changed and developed. I began to not enjoy it as much as I did, to begin with. It had too many details and decorative elements for what I was looking for. All I wanted, was something very simple and open that I could display some of my favourite finds.
Why Use A Kitchen Hutch
Let's begin by going over what makes a good hutch and why you would want to have one in your home! For me, I have always lived in houses with very little storage! A farmhouse kitchen hutch is a practical and stylish piece of furniture that can add both storage and decorative value to any kitchen.
Here are some reasons why you might want to use a farmhouse kitchen hutch in your home:
Additional storage: A farmhouse kitchen hutch can provide additional storage space for your kitchen essentials, such as dishes, glasses, and silverware. The shelves and cabinets in the hutch can be used to store items that might otherwise clutter your countertops or cabinets.
Display space: A farmhouse kitchen hutch can also be used to display your favorite dishes, glassware, and other decorative items. This can add a personal touch to your kitchen and make it feel more inviting.
Aesthetic appeal: Farmhouse-style furniture is known for its rustic charm and character. A farmhouse kitchen hutch can add to the overall aesthetic appeal of your kitchen, creating a warm and inviting atmosphere.
Convenience: Having a farmhouse kitchen hutch in your kitchen can make it more convenient to access your kitchen essentials. You can easily grab a dish or glass from the hutch without having to search through your cabinets.
Updating A Old Hutch
This project was so much fun to take on! Updating an old hutch can be a rewarding and creative project that can breathe new life into an old piece of furniture. If you have a piece to update, here are some ideas on how you can update an old hutch:
Paint it: Like I did here, adding a fresh coat of paint can do wonders for an old hutch. Choose a color that complements the style of your kitchen, and don't be afraid to get creative with stencils or other decorative elements.
Replace the hardware: Similar again to what I did to this antique kitchen hutch, updating the hardware on an old hutch can give it a whole new look. Choose hardware that matches the style of your kitchen and complements the new paint color.
Add wallpaper or fabric: Adding wallpaper or fabric to the back of the hutch can add a pop of color and pattern. Choose a design that complements the new paint color and the overall style of your kitchen.
Remove the doors: Removing the doors from an old hutch, as I have shown above, can give it a more open and airy feel. This is a great option if you want to display your favorite dishes and glassware.
Add lighting: Installing lighting inside the hutch can highlight your favorite dishes and glassware, and create a warm and inviting atmosphere in your kitchen.
Read all my tips on how to decorate your home with vintage and antique decor.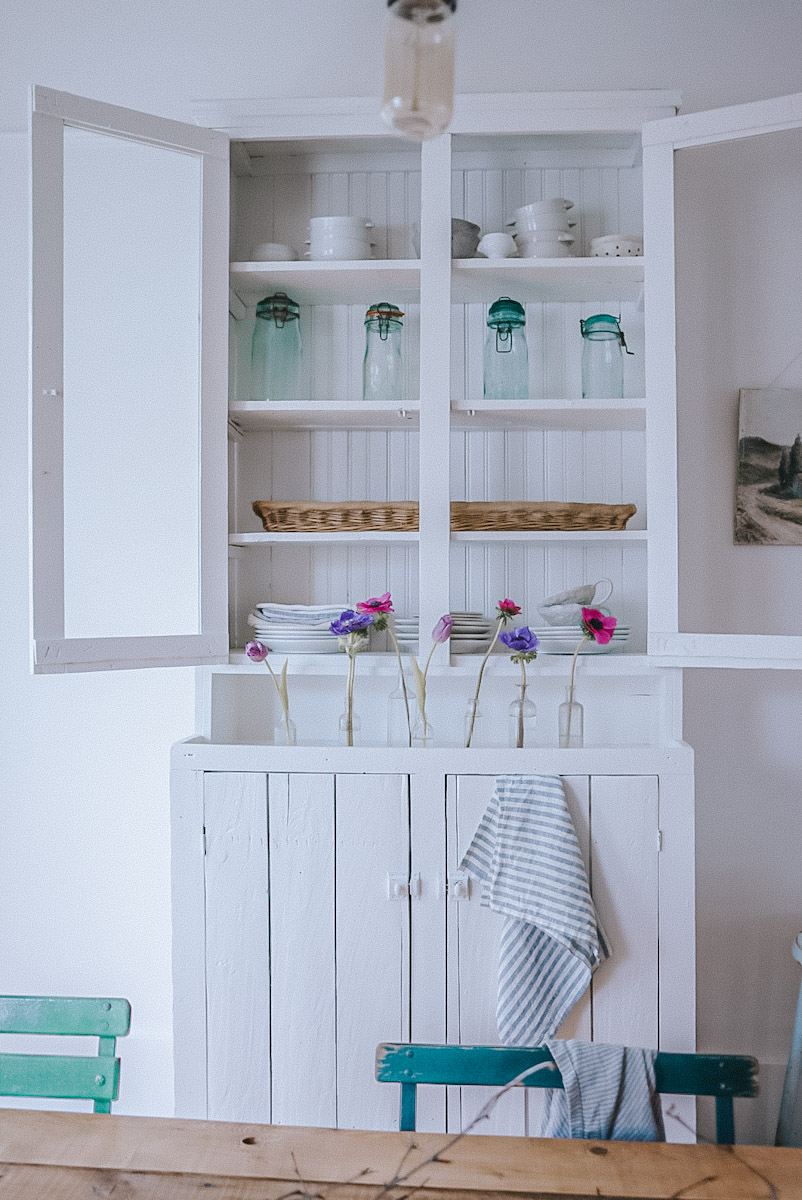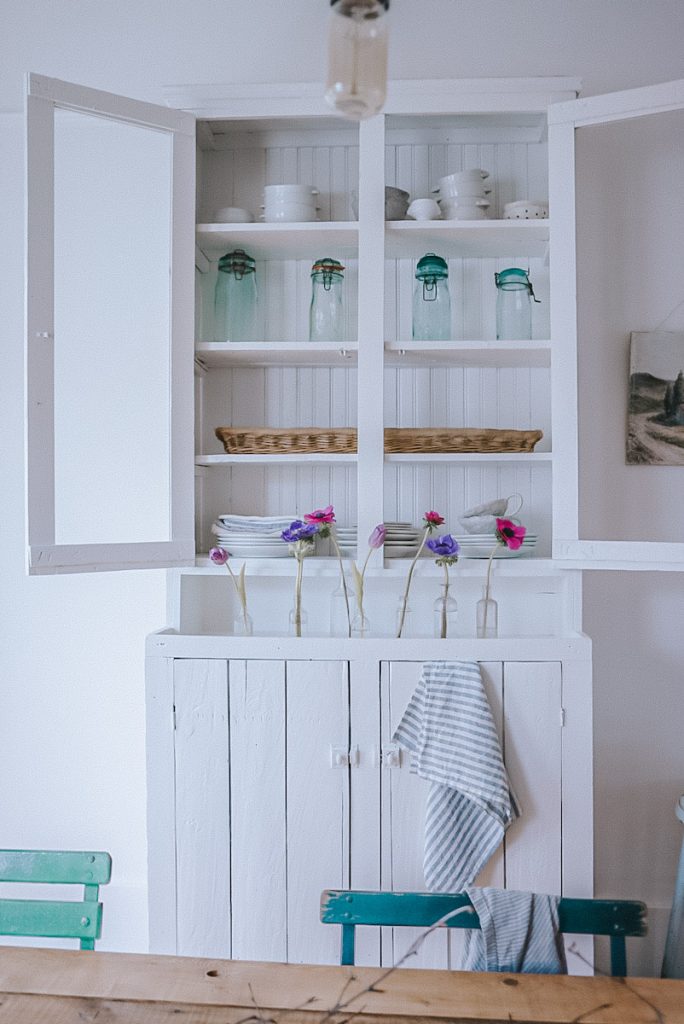 The Farmhouse Style Antique Kitchen Hutch
I scoured antique shops, garage sales and flea markets for a couple of years, holding out for the perfect piece. I first came upon the base of my hutch. It was in a small town antique shop and I fell in love with it as soon as I saw it! The best part was, it was only $99 and in great shape! The colour was mint green but I had to change it when I found the top half. The base was stored in my garage for about 5 months while hunting for a top!
Vintage Kitchen Hutch Before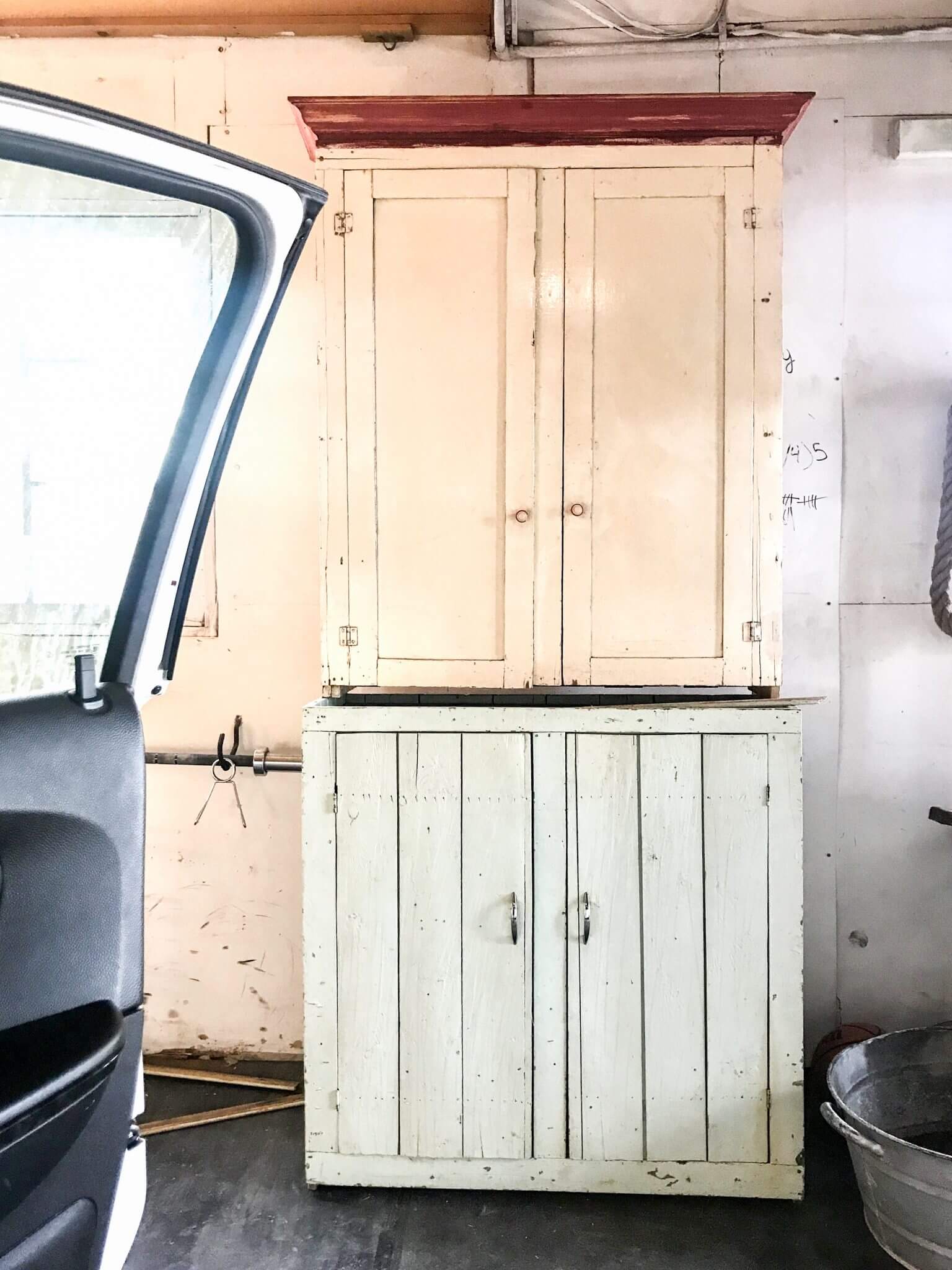 The upper half of my cabinet was finally found through a friend who is an antique picker for $120. I had sent out feelers to many dealers I have met over the years to keep their eyes peeled for a top that would fit the height and width I would need. The top came out of an old farmhouse as it had been the cabinets in the kitchen! I loved how authentic it felt and it was the perfect fit!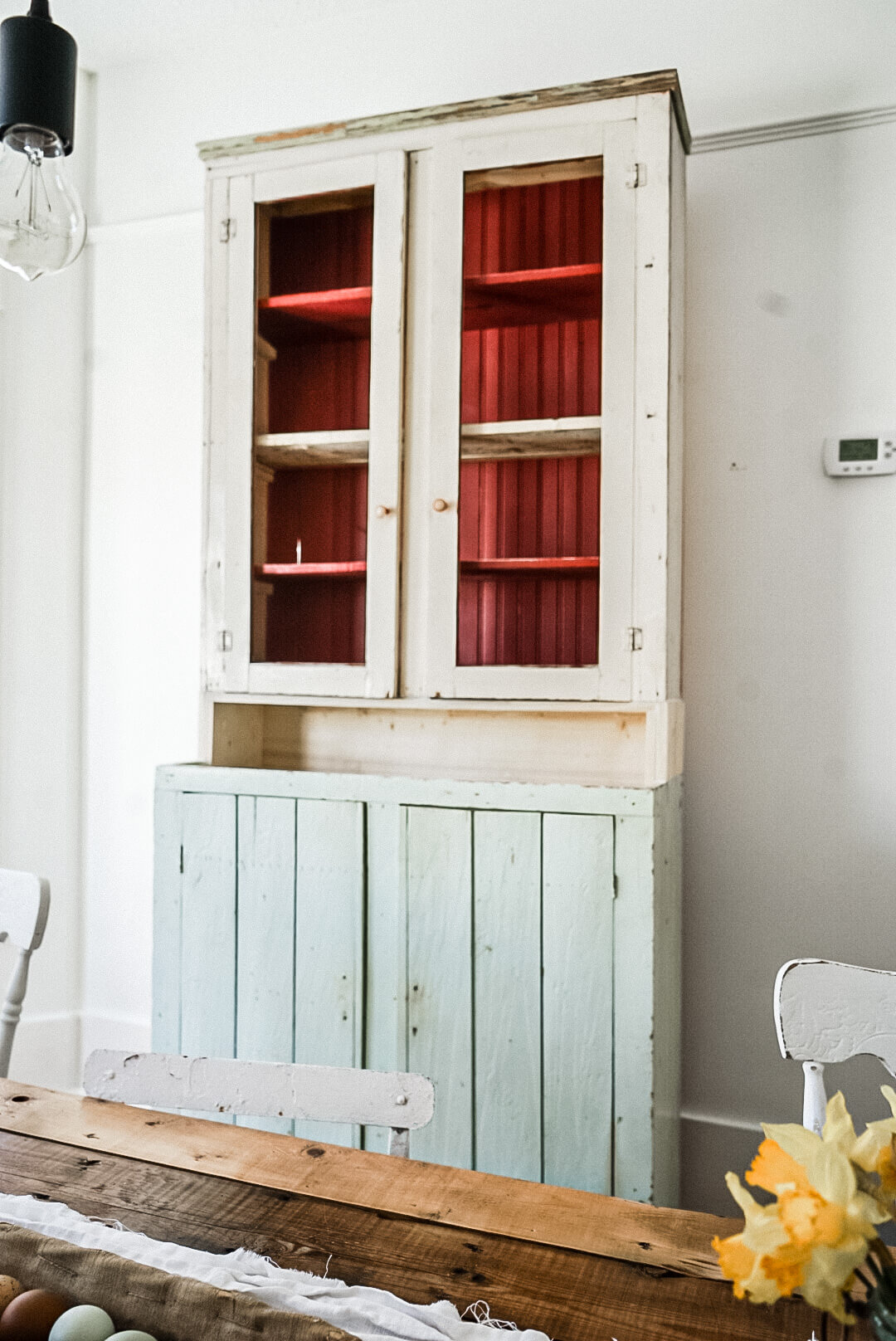 Now I just needed to make some minor changes! Between the base and the upper, I added a section to make it feel like they were meant to be a solid piece! I removed the ornate molding on the top of the upper because it just wasn't my style anymore. Using some salvaged trim from a friend who deals European antiques, I added a new molding to the top where the old trim used to be.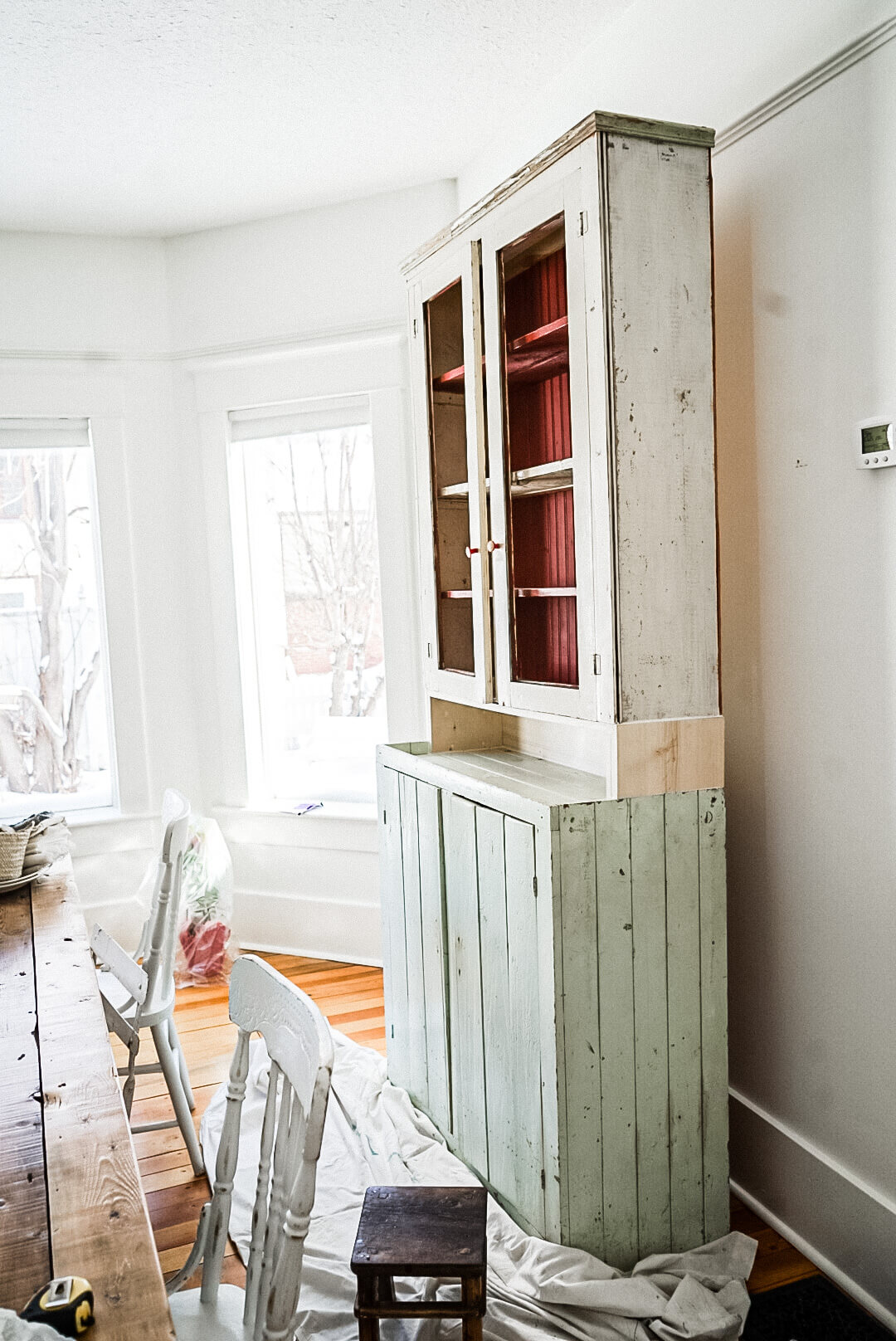 The inserts of the cabinet doors were taken out. I did this so I could show off my beautiful collections inside the cabinet, somewhat like an open shelving concept. Next, I simply painted it my favourite Oxford white colour and changed out the hardware!
The hutch turned out so beautiful! I love how simple and how TALL it is in my dining room! The best part it, it only cost me $220, a little paint and some elbow grease!
Shop Painted Furniture Materials
Find all the supplies for taking on a painted project like this one below. You can also use my full tutorial on painting furniture to make sure you do it right the first time.
Building A Farmhouse Kitchen Hutch Cabinet
Now, there were a few things to consider when looking for or building the perfect kitchen hutch. Let's take a look at what those are.
The Height​​​​
Measure your room and eyeball where you think the top of the piece should be that is the most aesthetically pleasing. Also consider all the other pieces of furniture you have in the space. Your kitchen or dining room table, the chair height, any other hutches or armours you may have in the room. If you are building a piece from scratch, you will then be able to customize it to the height you would prefer.
If you're sourcing or hunting for a piece as I did, now you have a starting point to look for your pieces of furniture. Now, if you will be adding any additional height when you customize your piece together, you must also consider that in these measurements.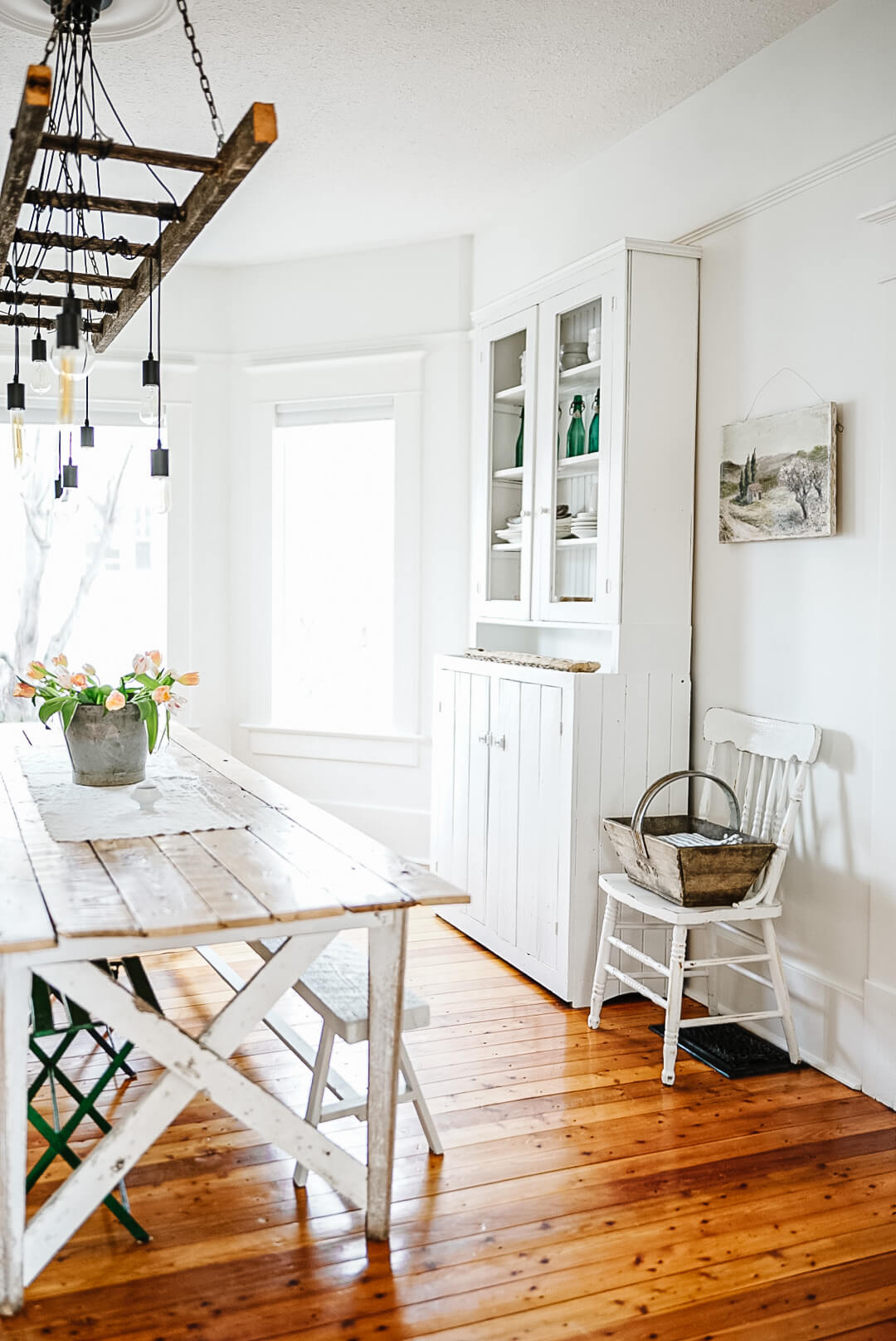 This is a component that I didn't take into consideration and had to make adjustments for when we put the pieces together. Originally, I wanted an 18 inches section added to my hutch. However, after adding the two sections together it would've made the piece just too tall. So we had to adjust it to 12"
It was important to find something that fits my space well and had enough height for my 10-foot ceilings. There is a picture rail in my home and I need to keep the cabinet below that but I wanted an extra tall base so that it could be seen over the top of the dining room table.
The Width
​Similar to measuring the height of the space, we also want to measure the width of the wall that you will have the piece on. Consider if you want to hutch centred in the wall or offset. Will you have artwork beside it perhaps, or even additional seating?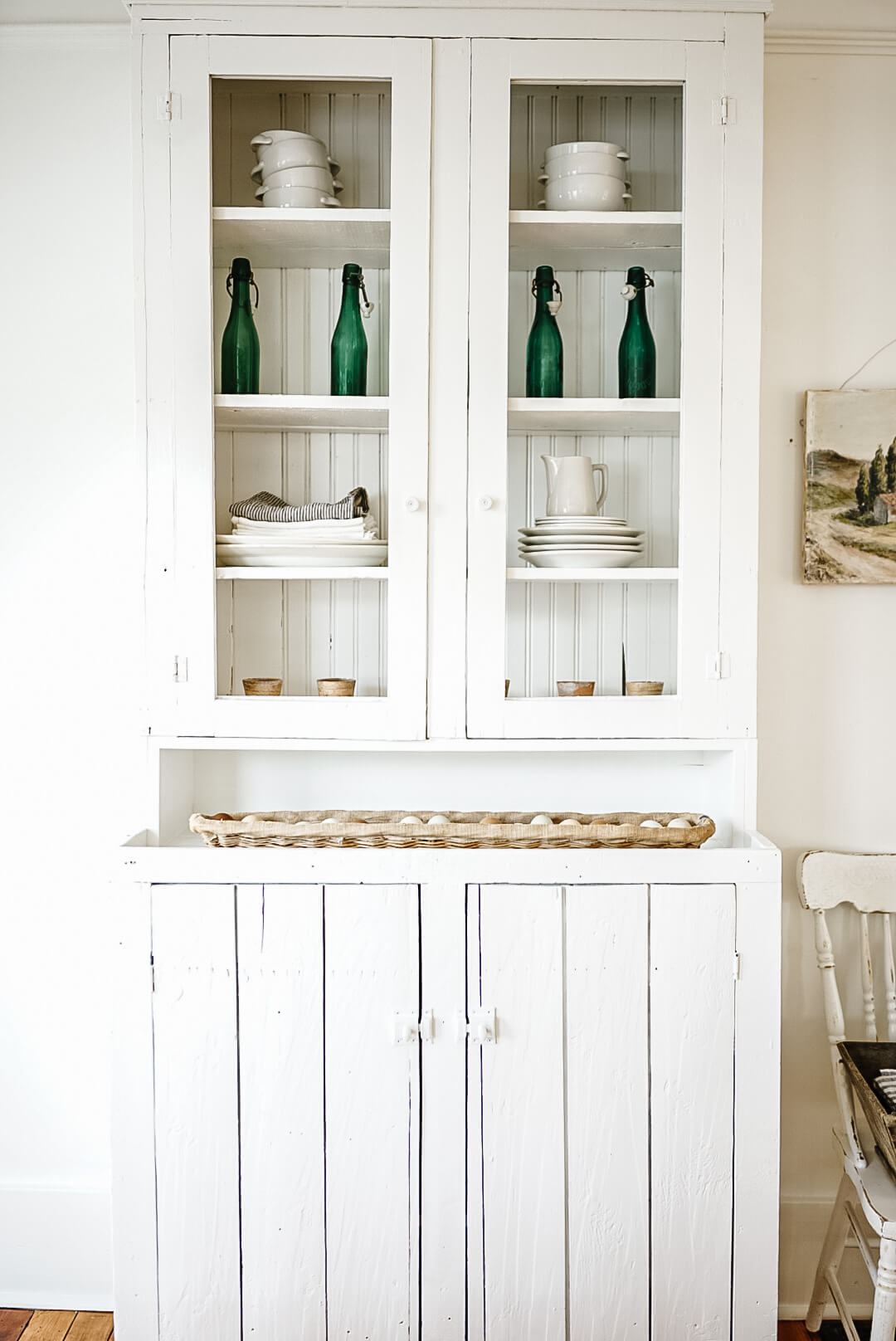 I didn't want the kitchen hutch to take up too much of the wall. This space also needed something not too large, as I wanted to be able to put additional seating beside the hutch or a featured piece of artwork.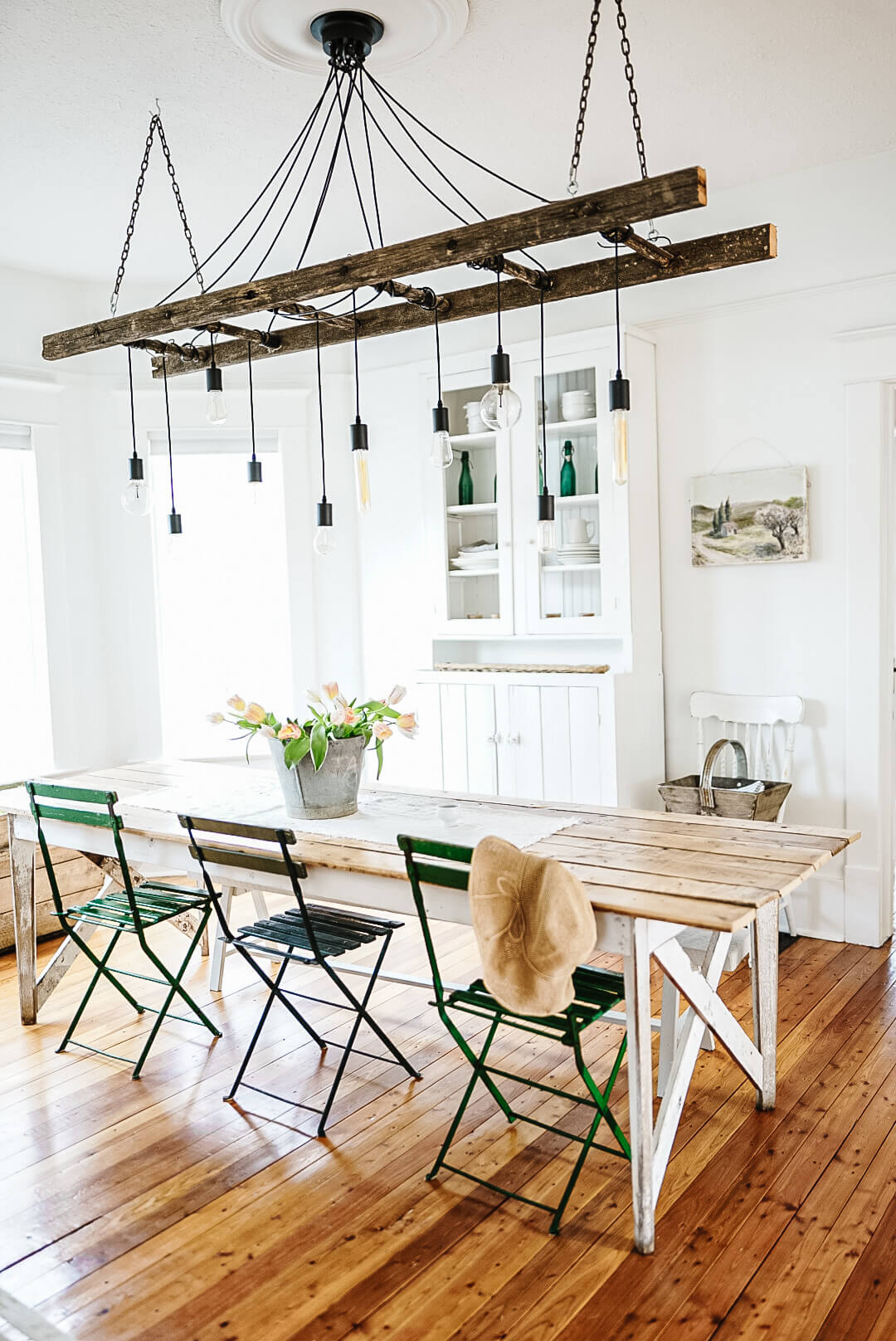 The Depth
Just like the height and width of your piece, the depth is something to consider. Do you want something that's wide enough that you can use to lay out a morning brunch or dinner for family? Or perhaps you want something narrow that doesn't take up much space in the room.
For me, depth was something very important, I didn't want something that was too wide or that would protrude into the space at all. The bay window in this room is not centred so the narrowness of the piece makes it feel more proportioned in the room now.
The Style
Another thing to consider is the look and style of the piece. Are you wanting something that looks very simple and minimal? Perhaps you're looking for something a bit more ornate? Maybe even something that has an art deco feel to it. If you are building this piece from scratch, adding any details can sometimes be tricky.
However nowadays, you can buy woodwork premade at most hardware stores. Much simpler than having to hand-chisel ornate moldings yourself. You can also find some vintage corbels or salvage architectural pieces as I did.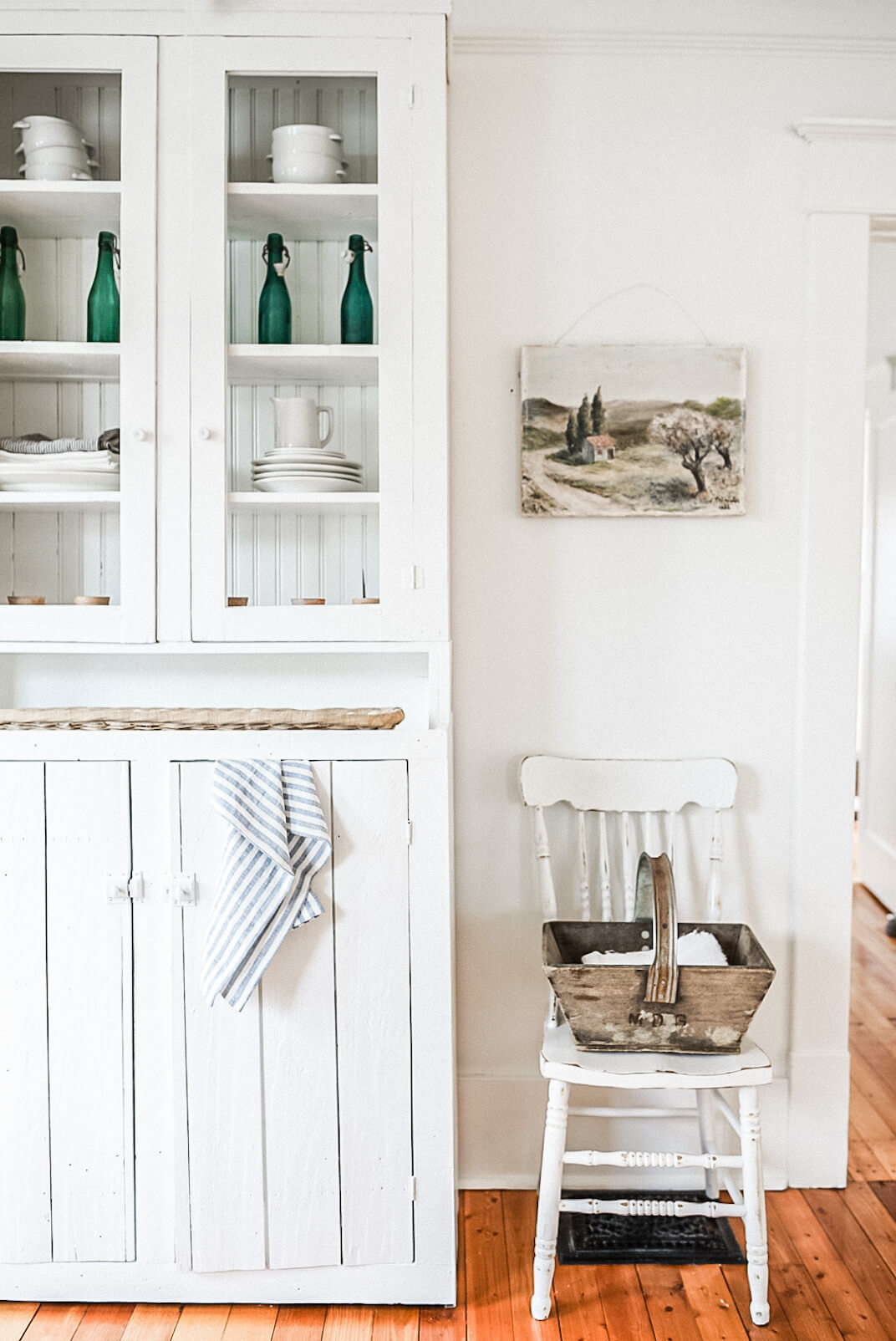 I wanted my peace to be quite simple and minimalistic. The idea behind it was that it would more than anything showcase the pieces on the shelves as a post to the kitchen hutch being the showcase. I looked for two pieces that would fit together in the depth and height but also in the style.
My hutch is extremely minimal and I took the cabinet inserts out of the doors so that it's now got an open shelving concept feel. Changing the hardware also made a difference! I custom ordered from a supplier off Etsy. ​
The Color
Whether you're building a piece from scratch or you're purchasing one from Wayfair or HomeSense, it's important to make sure that the color will fit the space. Consider if you will be using your hutch as a buffet? It's a good idea to have a dark surface on the top or at least a coat of polyurethane to protect the surface and paint color. A darker painted colour or wood surface will dictate more attention in the room than one that is painted white or a lighter neutral colour.
If you do choose to go with bright paint or colour, it will also stand out more in the space than a lighter-coloured hutch would. Colour and style really do have a huge impact on the entire space your hutch will be in.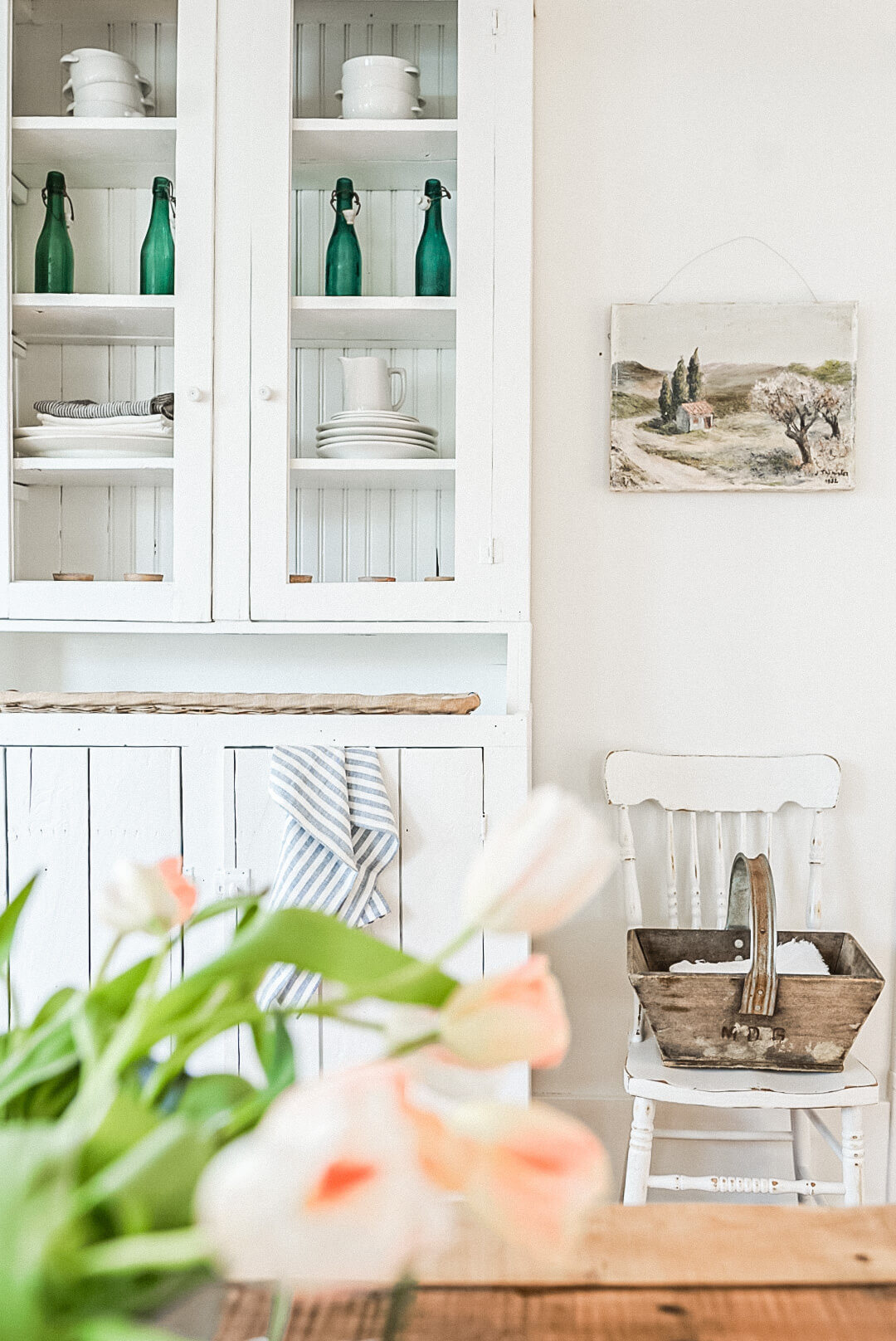 My vision behind this hutch was to have it showcase my antique collections rather than to be the showpiece itself. I chose to paint it a very neutral colour, in fact it's the same colour as my walls. This way everything inside stand's out more than the piece itself. Almost like a paint canvas would.
Patience Makes Perfect
It may have taken me a few months, in fact over a year to find the perfect vintage pieces to fit together for this hutch, but I finally checked off all the boxes in all the above categories. The height and simplicity of the piece were the most important elements for me. Another aspect that weighed heavily for me, was that it needed to in fact be vintage and have some history to it. In the end, I'm so happy with how this piece turned out.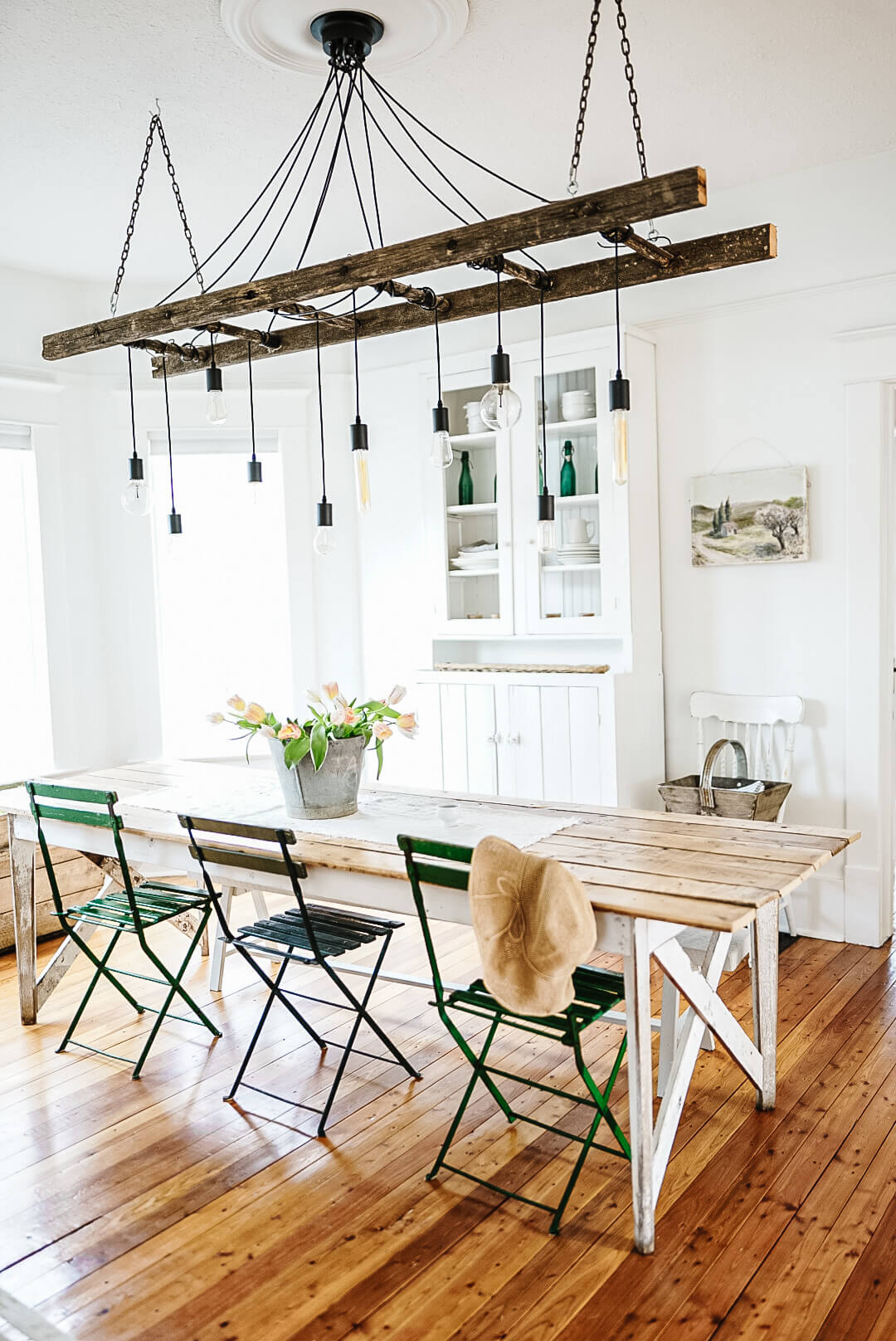 Shop the Dining Room
Video: How To Make The Antique Kitchen Hutch
I hope that you found this useful in deciding what you want for the perfect kitchen hutch. Don't worry if it takes a while to find what you want! Be patient and eventually, you'll get that diamond in the rough you were looking for. Would you ever consider building or making your own custom antique cabinet? For me, half the fun is in the challenge of the hunt! Make sure to check out all my tips on hunting for antiques. Let me know what you think of the kitchen hutch in the comments below. I would love to know your thoughts.
Frequently Asked
What To Look For In A Kitchen Hutch
I was so picky when I was hunting for antique pieces to use for my hutch. No matter if you are looking for a new cabinet or a vintage kitchen hutch, like I was, there are a few things to keep in mind. A good farmhouse kitchen hutch should be functional, practical, and aesthetically pleasing.
I will go over exactly what I was looking for in more detail below, however here are some key features that make a good farmhouse kitchen hutch:
Size: The hutch should be large enough to accommodate all your kitchen essentials, such as dishes, glasses, and silverware.
Storage: The hutch should have ample storage space, with shelves and cabinets that are adjustable to accommodate different sizes of items.
Material: A good farmhouse kitchen hutch should be made of high-quality materials that are durable and long-lasting. Solid wood, such as oak or maple, is a popular choice for farmhouse-style furniture.
Design: The design of the hutch should complement the overall style of your kitchen. Farmhouse-style hutches often feature rustic details, such as distressed finishes, beadboard paneling, and metal hardware.
Functionality: The hutch should be easy to use and access. It should have doors that open and close smoothly, and drawers that glide easily.
Display: A good farmhouse kitchen hutch should have a display area for showcasing your favorite dishes, glassware, and other decorative items.
More DIY Projects
Looking for more Kitchen Farmhouse Hutch ideas? Check out Seeking Lavender Lane's post on The Best Farmhouse Style Dining Room Hutches!