This post may contain affiliate links. Please read our full Disclosure Policy.
Fall just isn't complete without the scents of fresh baking! Apples are readily available this time of year so we wanted to share our apple crumble and apple tart recipes with you!
Apple Crumble Recipe
ingredients
Apple Mixture Ingredients: 
8 apples

fresh lemon juice and lemon zest from 1 lemon

1 tbsp. cornstarch

fresh mint (optional)

1/2 tsp. cardamom

2 cinnamon sticks (or 1/2 tsp. cinnamon) 

2 tbsp. vanilla

1/4 c. maple syrup
Crumble Topping Ingredients:
1 1/2 cups brown sugar

1 1/2 cups quick oats

1 cup flour

1/2 cup butter

1/2 tsp. cinnamon

1/2 tsp. cardamom
directions
1. Peel, core and slice 8 apples. You can even mix varieties of apples for more flavour. 
2. Zest 1 lemon over apples and squeeze the juice from the lemon over apples. Add 2 tbsp. vanilla extract and 1/4 cup maple syrup to apples. You can either add 2 cinnamon sticks or cinnamon powder. Add cardamom at this time to (this is quickly becoming my favourite ingredient! It's a little spicy and enhances flavours.) I love to add fresh mint leaves as well!
3. Add a bit of cornstarch to the apples while simmering if there is a lot of liquid. The cornstarch helps to thicken the syrup and liquid produced from the apples. On the contrary if you use mostly granny smith apples you may need to juice an extra lemon and add extra maple syrup or water to produce liquid. 
3. Cook apple mixture in a cast iron pan for about 15 minutes. Just letting the apples get soft.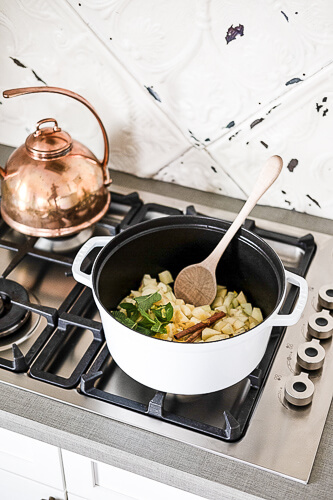 4. In a separate bowl combine flour, oats, brown sugar, cinnamon, cardamom. Cut the butter into the flour mixture. 
5. Add apple mixture to a baking pan (remove any mint leaves or cinnamon sticks at this time). Cover the apple mixture with crumble topping. You can also choose to make mini individual crumbles instead of just a large pan as well. I made both this time and the mini crumbles would be great for a dinner party!
6. Bake at 350 degrees Celsius for  35 mins.
7. Enjoy warm with vanilla ice cream or whip cream!
Tips for a Delicious Crumble
Now, we have all had an apple crumble that is either too sweet, to dry, or the apples are crunchy. By pre cooking the apples slightly you get more flavour and don't have to over bake the crumble topping to get softer apples. 
Another tip is that if you are using sweeter apples like honey crisp then cut back on the sugars or maple syrup you use to cook the apples with. Alternatively if you are using a less juicy apple like granny smith apples then add more lemon juice. 
When filling your pans with the crumble I like to try and fill half way up the pan with the apples. Then fill remainder of pan with the crumble topping. This ratio seems to produce the perfect Apple Crumble! If you run out of crumble to fill half a pan you can always whip a bit more crumble topping! Remember the crumble is the best part…don't leave your guests wanting more!
Apple Tart recipe
ingredients
2 tablespoons unsalted butter
1/4 cup packed brown sugar

2 tablespoons granulated sugar

6 cups sliced peeled apple

2 teaspoons fresh lemon juice

1 teaspoon ground cinnamon

1/4 teaspoon ground nutmeg

1/2  package refrigerated pie dough or homemade pie crust

1 teaspoon ice water

1 teaspoon granulated sugar

1 teaspoon water
directions
1. Melt butter in a large skillet over medium-high heat. Add brown sugar and 2 tablespoons granulated sugar; cook until the sugars dissolve.
2. Stir in apples, lemon juice, cinnamon and nutmeg.
3. Cover, reduce heat, and cook 20 minutes or until apples are tender, stirring occasionally.
4. Remove apple mixture from heat; cool to room temperature.
 5. Preheat oven to 400°.
6.  Place the dough on a piece of parchment paper. Roll dough into a 14-inch circle. Place dough and parchment paper on a baking sheet.
7. Arrange cooled apples in centre of dough, leaving a 2-inch border. Fold the edges of dough toward center, pressing gently to seal .
8. Brush dough with 1 teaspoon ice water, and sprinkle evenly with 1 teaspoon granulated sugar.
9. Bake the tart at 400° for 45 minutes or until golden brown.
Apple Tart Tips
This apple tart recipe tart is meant to be rustic! No need to be fancy with the dough. Overfilling the tart with apples will lead to a mess…make sure you leave room for the apples to expand.

Looking for another apple recipe? Check out our Homemade Apple Juice Recipe here!
Fall Feels
As busy as this time of year can start to get, we always find it relaxing to step back and spend some time in the kitchen. Plus our families are always a little happier when we create yummy treats for them!
Aside from apples we love to bake with pumpkins! You can find out favourite pumpkin recipes plus a fun baking challenge HERE!
May your holidays be joyful and full of delicious treats like this apple crumble or apple tart recipe! We would love to know if you try these recipes and what you think of them! And of course we always love to hear from you so leave a comment below!