This post may contain affiliate links. Please read our full Disclosure Policy.
I have always loved the simplicity of a Scandinavian Christmas. It's all about creating a cozy home with less. That's what inspired this simple but elegant Scandinavian tree stand DIY. With a few simple steps, see how to take any old tree stand and turn it into the beautiful Scandinavian Christmas tree stand of your dreams!
Original Images and Tutorial by Brittany Dawn. Make sure to head over and check out Brit's beautiful new A-frame, Scandi-style home and blog!
DIY Scandinavian Tree Stand
The Scandinavian style is such a simple thing to achieve, but it is usually overthought. We are so conditioned to decorate our trees with heavy ribbons and decor that we forget how to simply enjoy the season. If you aren't ready for a naked tree just yet, try simply decorating your tree with just twinkle lights for a few days. If you still feel the need to add decorations after, then go for it! There's no harm in trying something new.
Tools and Supplies For a DIY Christmas Tree Stand
Generic Tree Stand (for live trees)
Spray Paint (Britt used 2 brass colours to add the appearance of texture)
Dark Finishing Wax
Cozy elements (Blankets, Twinkle lights, wooden ornaments, anything you'd like!)
Here is a BEFORE image of the tree stand …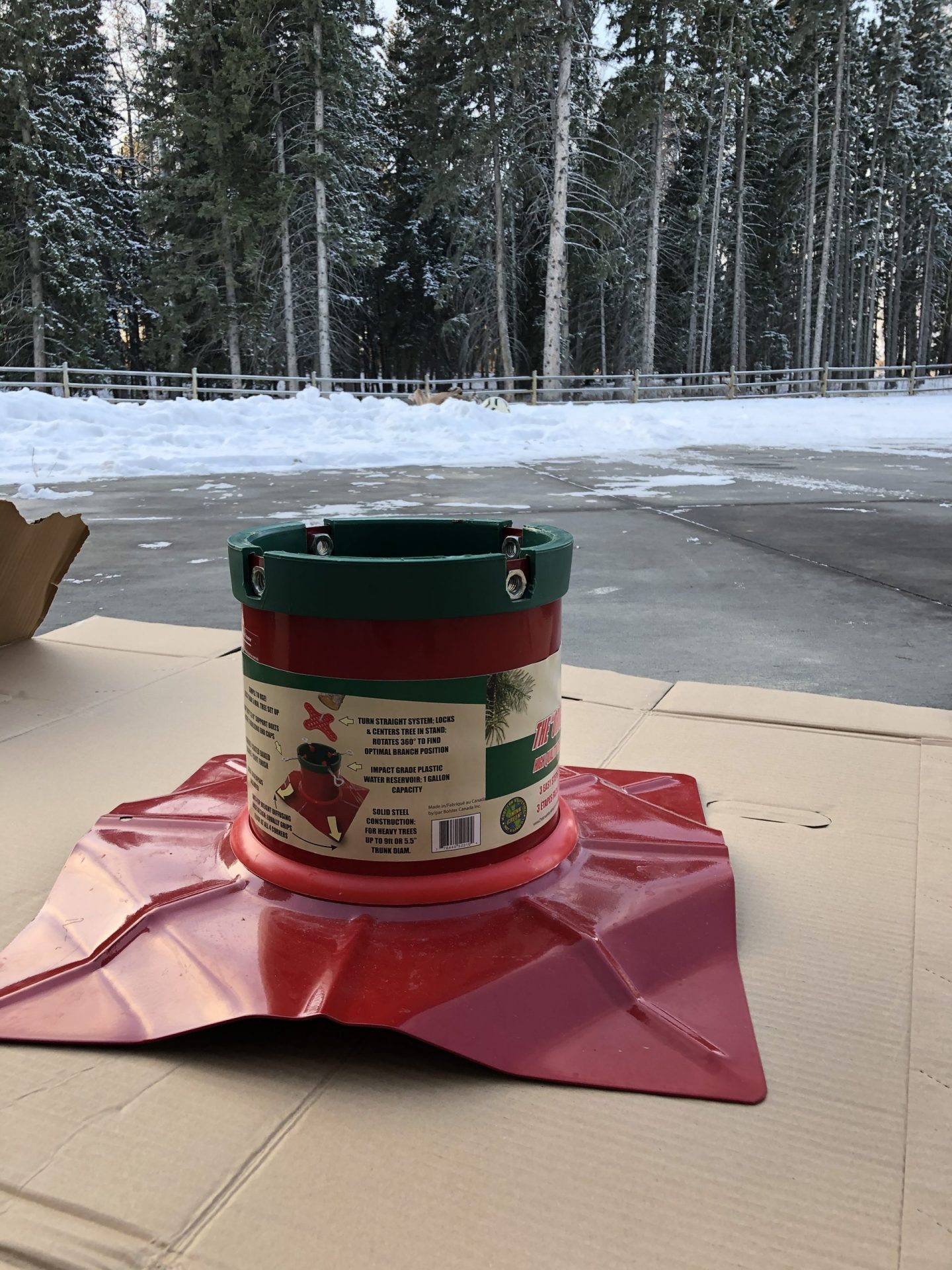 Step by Step DIY Christmas Tree Stand
Take the screws out of the tree stand before you begin
Pick a spray paint colour. This tutorial is done using a brass colour, but matte black would also be stunning and timeless. Or even mixing silver colour spray paints to give it a mercury glass appearance! Honestly, almost any colour that matches your decor would look pretty. Cover the entire stand in one solid coat. Repeat coats if necessary.
Lightly spray on a 2nd colour of spray paint to add depth. Don't spray the entire stand. If you add too much of the 2nd colour you can go back and add some of the 1st colour again. There is no exact right way to do this.
Using a cloth, rub on a dark finishing wax for depth
Add your tree
Decorate UNDER the tree and enjoy!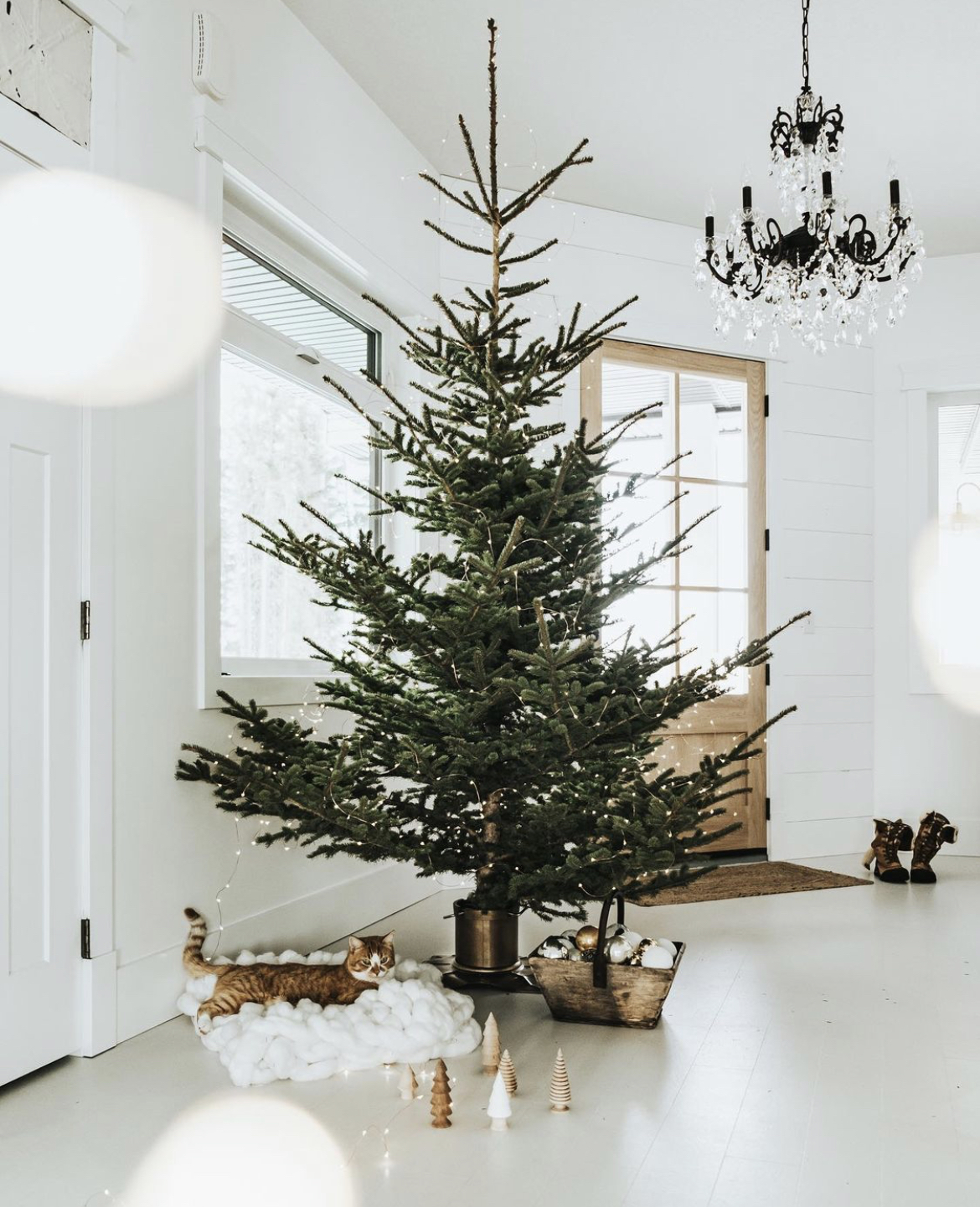 Christmas Tree Food
Make sure to properly care for your natural tree once you finish your base. Use a simple sugar and vinegar solution that you can use when caring for fresh cut flowers or Miracle Gro Christmas Trees works great too.
Get inspired with these 10 ideas on how to decorate a minimal Christmas tree or Scandinavian tree.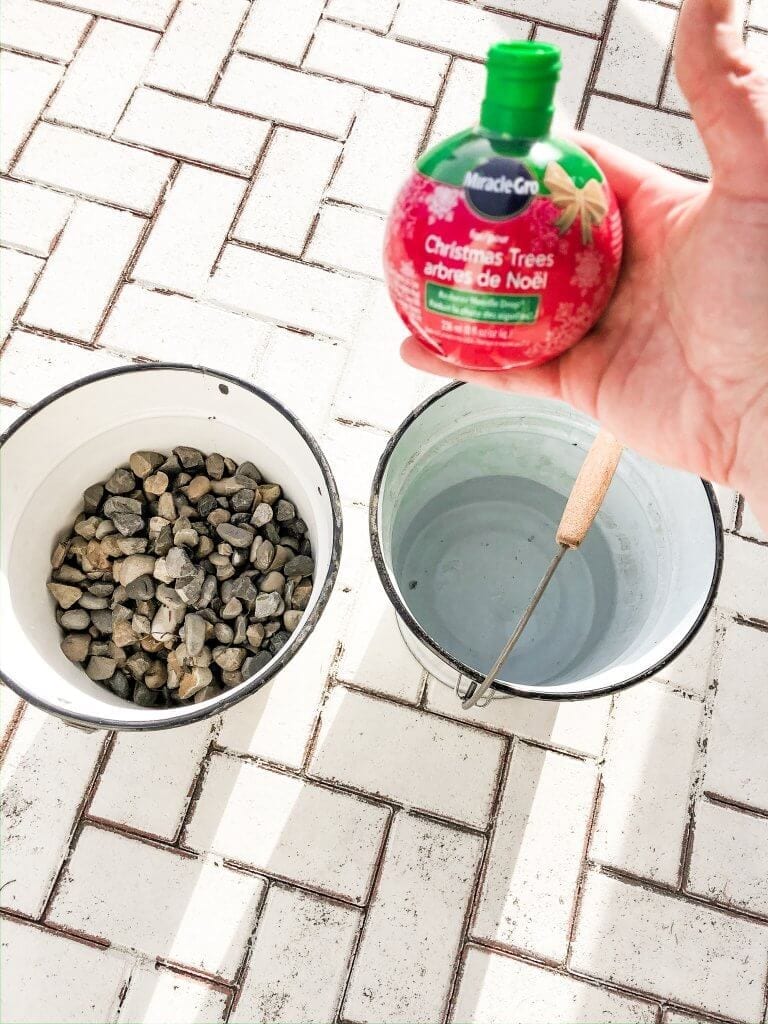 Scandinavian Christmas Tree Base
If you don't have a tree stand that you are looking to revamp and don't want to buy something new just to paint it, try a different Scandinavian tree stand approach. Take a vintage enamel bucket and stick a tree in it! I use rocks to support the base, then fill it with water. Simple and timeless. Let me know which tree stand you prefer in the comments.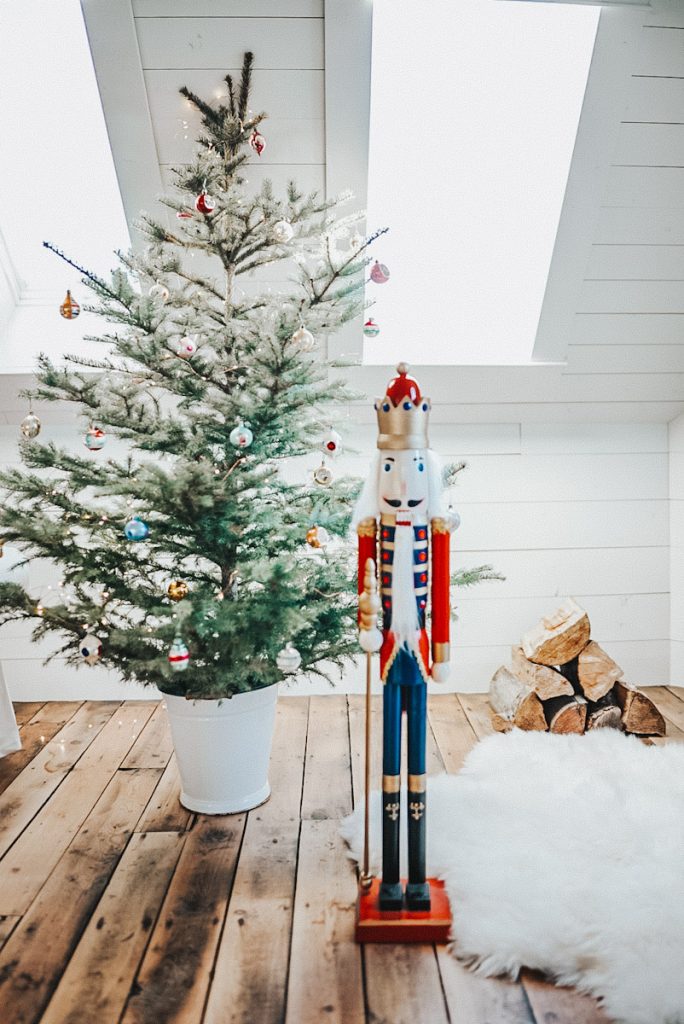 Looking for more inspo or easy holiday DIY's? Check out these simple Clay Christmas ornaments! You can also head to the B Vintage Style Shop to purchase a beautiful antique container to use for a tree stand or more Scandinavian Christmas decorations too!