This post may contain affiliate links. Please read our full Disclosure Policy.
Finding the perfect Farmhouse Coffee Table can be a challenge. After scouring online for options we often find the best coffee tables are salvaged or vintage pieces that we DIY. Check out these unique coffee tables we have added to our farmhouses! 
Types Of Farmhouse Coffee Tables
Aside from finding the perfect table for your living room, the hardest part can be figuring out what shape the farmhouse coffee table should be! Now you can always hire a designer or we want to share a few guidelines. 
1. Size of your living room. Finding a table that not only has the right dimensions but also "balances" out the weight of the room proportionally. Generally square coffee tables can feel heavy compared to a rectangular shaped table.
2. Consider the "FLOW." How do you want people in the space to move? Are you trying to restrict certain walk ways? Or are you trying to invite more movement? Round coffee tables invite more flow and movement throughout a space.
3. Furniture in the room. Do you have a sectional, couches, chairs, love seats, ottomans? If you have a couch in the space a good rule to follow is that the main coffee table should fit with the couch. Smaller side tables can be used around chairs and love seats.
Round Farmhouse Coffee Table Ideas
Round coffee tables offer great flow to a living room. They invite people to move throughout the space with ease by not creating defined lines.
This farmhouse-style of coffee table is both pretty and practical! This is a combination that we always try and achieve with home decor pieces in our homes! If you are willing to put in the elbow grease spool tables can be very affordable! 
Spools can be stained or painted after they have been cleaned. These tables have been jumped on by our kiddos and dings and dents are hardly noticeable! These are a great budget friendly option for your farmhouse coffee table!
Rectangle Tables
Rectangular tables are often a great option. Tables this shape often are the right size and proportion to a couch. They usually offer people sitting the most useable space compared to a round table.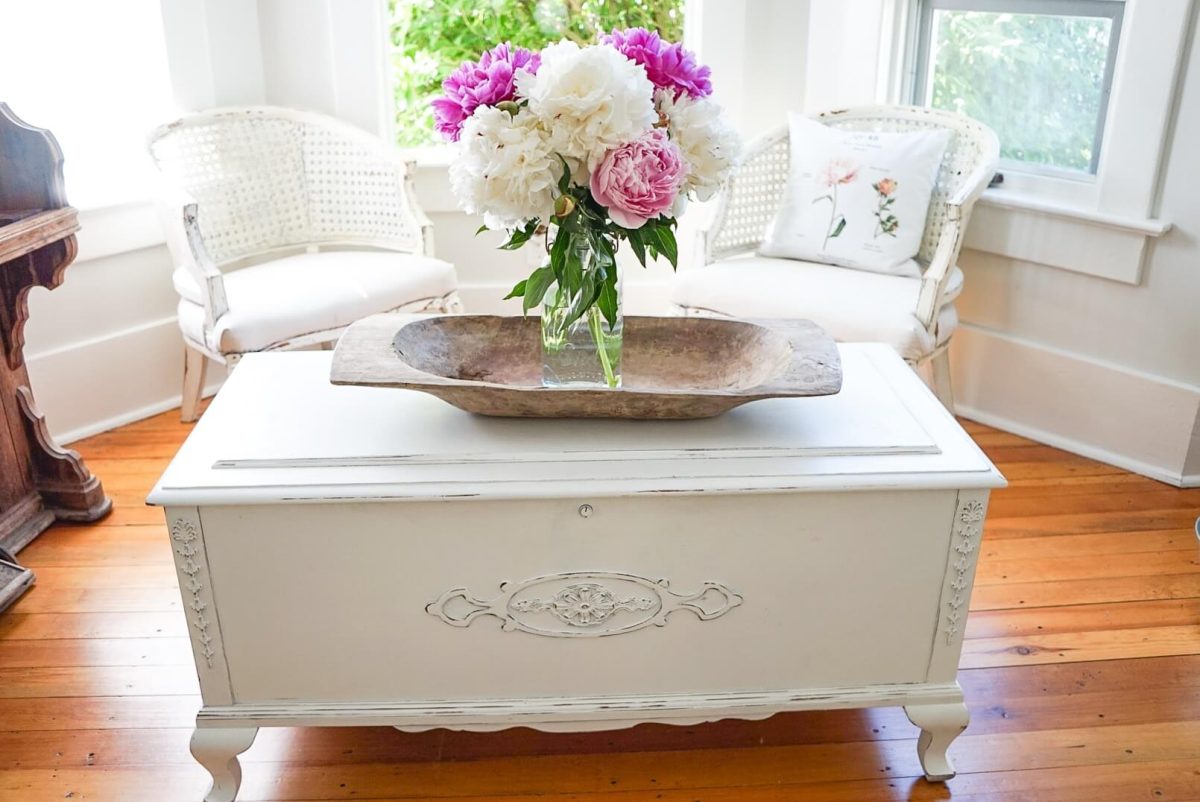 As Britt's style has evolved she was ready for a farmhouse coffee table that felt a bit "lighter" in the space. The new rectangle table with a top made of Silestone by Cosentino in the colour Iconic White in a Matte finish is a welcomed addition to her living room. 
Deb also substituted out her spool table for a Vintage Farmhouse Table which provided more user space on both couches.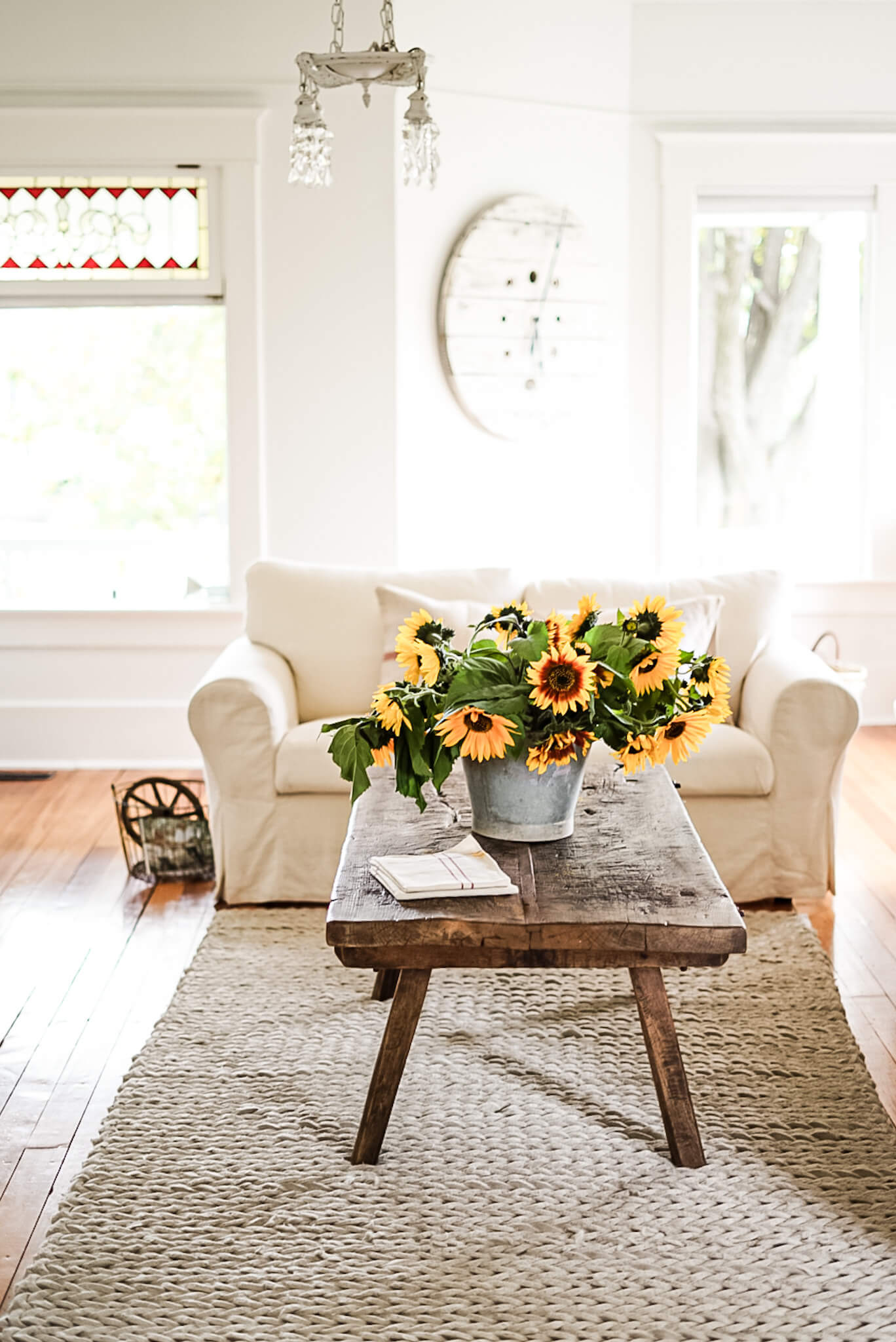 Find the perfect Farmhouse Dining Table for your space with 20 different styles to choose from!
Square Tables for your living room
The last shape we will discuss is square coffee tables. Square tables can be a great option when you have 2 couches that are situated in an L-Shape and the couches are the same size. When you have balanced furniture a square shape can make the space feel uniformed and well balanced!
We love this unique table that Becky Cunningham added to her living room. 
Salvaged Farmhouse Coffee Tables
Now probably our favorite part of coffee tables is the uniqueness they can add to a room! Sometimes you need to think outside the box when you look at an item.
Deb wanted something rustic and not too flashy or feminine for her attic space. She was searching for the perfect salvaged coffee table when she tried the beat up wash stand base on her front deck. At first it may not seem like a coffee table, but add a handy tray and voila…instant coffee table.
While Britt and Deb were in France (read about their trip HERE) Britt knew she wanted to find a piece to replace her spool table in her living room. When she stumbled upon a vintage French Army cote that was the perfect size she knew she could find a way to make it work! Laporte Surfaces is amazing at creating unique ideas out of stone. 
When using salvaged pieces please remember …
Reinforcing the strength of the army cote was important! Britt added metal braces and a solid piece of plywood to the top for the Silestone by Cosentino top to rest on. Laporte surfaces created a large metered edge to give this farmhouse coffee table a grande feel!
Deb also has an army cot that she has used as a table to hold her television in the attic for a few years. She simply used a mis cut piece of glass for a shower as the top so the weight wasn't as heavy as Britt's stone! The reinforced stone version of the table is a much more practical for a busy family to use as a coffee table but both tables look light and airy and have the perfect vintage look for the girls!
Thinking about adding shiplap to a space in your home? Check out our best tips and tricks for shiplapping in your home!
Adding elements like unique, salvaged coffee tables can help set your farmhouse apart from the rest. Don't be afraid to think outside the box and turn unusual furniture into the perfect piece for your home!
We would love to hear any one-of-a-kind pieces you have seen used as a coffee table… share them below!
Love French Farmhouse Style? Want to incorporate this style in your home? Check out this amazing post from Seeking Lavender Lane on French Farmhouse Styles!