This post may contain affiliate links. Please read our full Disclosure Policy.
Vintage Finds
Nothing sparks a twinkle in our eyes as much as a vintage find with a beautiful patina. I share this love for all things vintage with many others, but especially with my friend Maria Ward. With a home filled to the brim with beautiful antiques and salvaged patina pieces that she's collected over the years. Read on and find out all the tips on how to shop and decorate with vintage finds.

Welcome Marie Ward
Decorating with Antiques
Adding vintage decor to your home can add so much charm and character to your space no matter what your decorating style is. The patina that comes from years of use just makes a piece more beautiful. Whether your style is farmhouse, bohemian, industrial, cottage, or a mix of decorating styles, vintage decor can be a beautiful and functional asset to your home.
This lovely office space belongs to Maria
Vintage Patina on Antique Pieces
The change in colours of copper, silver or brass just gets better with the years. The dents, scratches, and wear patterns on an old table or wood furniture is one that many try to replicate with milk paint and creative painting techniques, but the true patina of an old piece is truly hard to match.
I began my married life with little spare change and I happily received hand me downs from family to fill our home. I was not picky about what I accepted since purchasing new items was not in the budget. When I did buy something it was usually used, from a yard sale or auction. At that time in my life buying second hand was a necessity. I truly wished I could purchase new and coveted new items.
Lavender for sale in France a trip to Province
Now that our family is grown and life has changed, I still like to hunt for not only a bargain but for used and vintage items that have patina from years of use. I am now choosy about what comes into our house and only purchase items that I need or will be of use, unless of course I find something that I absolutely love. When this is the case I know I will find a place or use for it!! If I am looking for a specific item I usually check Etsy or Ebay, yard sales, auctions, or estate sales before buying new. I find that an older or vintage item is often of better quality than new with still many years of use left.
Integrating Old Antique and New Home Decor
Integrating vintage items into your home does not mean everything has to be old. Vintage items can live side by side with new items and still blend seamlessly into any design. You may have new furnishings with vintage accessories or vise-versa. This is what makes decorating with vintage items so much fun.
By combining a little bit of new with a little bit of old can make a personal design statement unlike that of others. You may have the same sofa as your neighbour, but your vintage lamps may give it a completely different look. Or you may have the same kitchen cabinetry yet your vintage knobs and pulls gives the kitchen a different twist.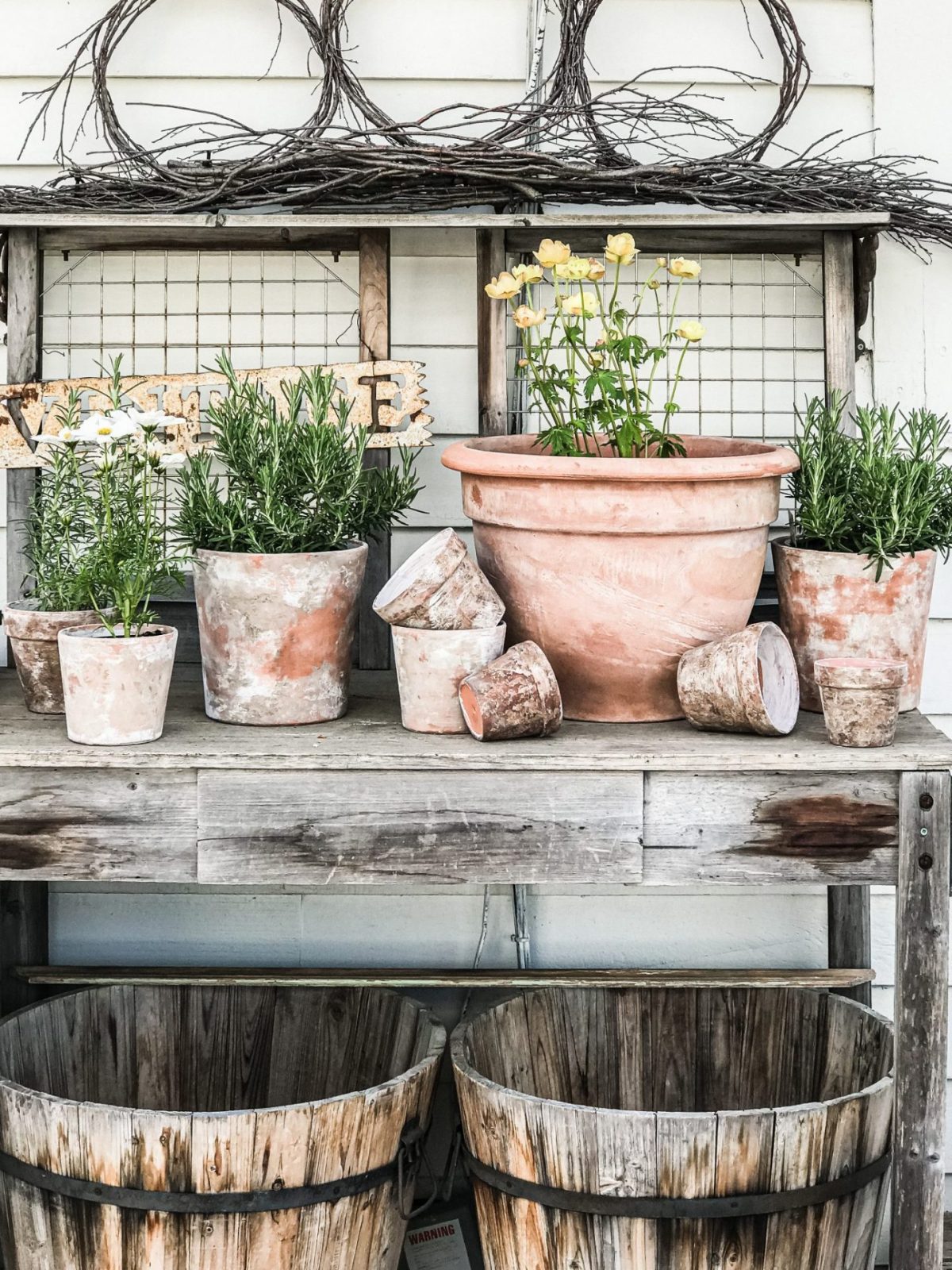 Learn how to make your very own aged terra cotta pots HERE!
Making Something New Out of Vintage Finds
When purchasing vintage items think about how the item was used, and then think about how it could be used. For example, a vintage cup and saucer could make for a beautiful candle holder. An old chicken crate could make a nice coffee table. Perhaps an empty picture frame would make a great mirror or frame for new artwork. The bureau that is sturdy but old might make a nice kitchen island. Think about how the item could be functional for you.
To help make decisions when on the hunt for vintage items, it is a good idea to keep a notebook with items that you are looking for. Make sure to include minimum and maximum measurements for any specific space. This helps so much when you find something that you like and try to decide if it would be useful in our home.
Home Decor Ideas for Vintage Finds
When you are considering a new purchase I encourage you to think vintage. Think about your space, your colour combinations, and how you will use and enjoy your new vintage items. I think you will like the texture and patina of an older piece much better than what can be purchased new.
Some of the vintage items that are beautiful in a home are;
Electric Insulators
Electric insulators make

wonderful bookends or paper weights

Old Vintage

Books

Use old vintage books for decor and to add height in a grouping
Antique P

icture Frames

– for mirrors, or left empty to add interest to a gallery wall.
Old

Chicken Crate

– as an outdoor coffee table
A

Sap Buckets

– as planters

Ceramic Crocks

– as planters & utensil holders

Antique Pitchers

– as vases & decoration
Vintage Furniture or A Bureau -as a vanity
Salvaged Corbels – as book ends. They also make a great base for a wall desk.
For more ideas, take a look at these 7 tips how to decorate your home with antiques or vintage home decor.
Who wouldn't want to curl up in Maria's master bedroom suit?
Vintage Finds in a Bedroom
We also have vintage lighting in our bedrooms. I find the patina of the brass to be very pretty and quite different than that of a new light. Older furniture and bureaus are old but made so sturdy with dovetail joints which is not often the case in new furniture.
Also remember to check out older upholstered furniture. The older furniture is usually very well made and the size and shape can be very nice. Don't let the ugly 1970's fabric turn you away from what could be a great addition to your home. New upholstery or custom slipcovers can work wonders!!!
Shop these Vintage Finds
Adding Vintage Elements Outdoors
Vintage items are also a great way to add interest to your porch, patio, and yard, you can read more about that in this post – Simple Summer Front Porch Decor. There are some really cute greenhouses made from old windows and doors which are so inventive! You could make a makeshift table from a vintage door as we did for our patio which will get a lot of use during the Summer. Or try using a wagon wheel to add interest to a bare corner.
Happy treasure hunting!!! I would love to hear from you. Let me know how you use vintage items in your home.