This post may contain affiliate links. Please read our full Disclosure Policy.
All of us at some point in our lives will need to have more storage. No matter if it is your first home, the fact that you are starting a growing family or you have just taken on a hobby that is taking up more space than before. Storage space-saving and organization ideas for small spaces are a must for most of us.
Keeping our home organized allows us to be more prepared and function systematically, thus allowing for less chaos. Storage solutions are the key to staying on top of being organized. I have combined some of the practical and useful space-saving ideas our family uses and hope you can try some of these in your homes.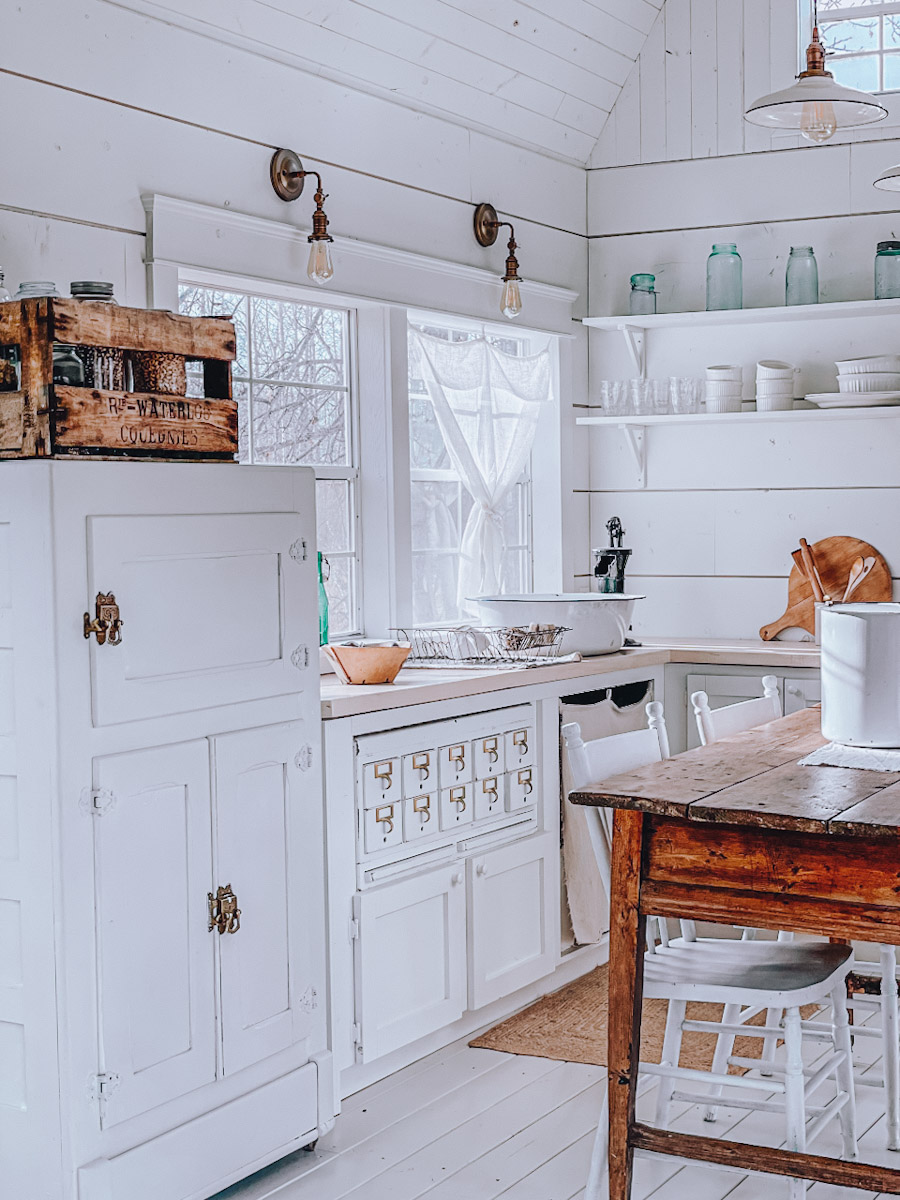 Storage And Organization Planning Ideas
Organization can be a lot of work, even in a small space, but the effort pays off tenfold. It is a good idea to start any organizing project by making a plan and a checklist as a guide! This way, you can have the satisfaction of checking things off as you go.
There are several ways of getting started when you are planning a space for organization. You can choose to take on the space room by room or you can create categories that fit your needs and belongings in your home. This is the professional organizer, Marie Kondo's approach. Instead of storing your items by location, try storing them by category! Having your items in areas that are designated by categories makes it a really easy 'go-to' spot to find your things
I love to take one space at a time but for a small space, breaking down your belongings into categories tends to work best! As the saying goes, "A place for everything, and everything in its place.
Be sure to Pin this post to return to over and over!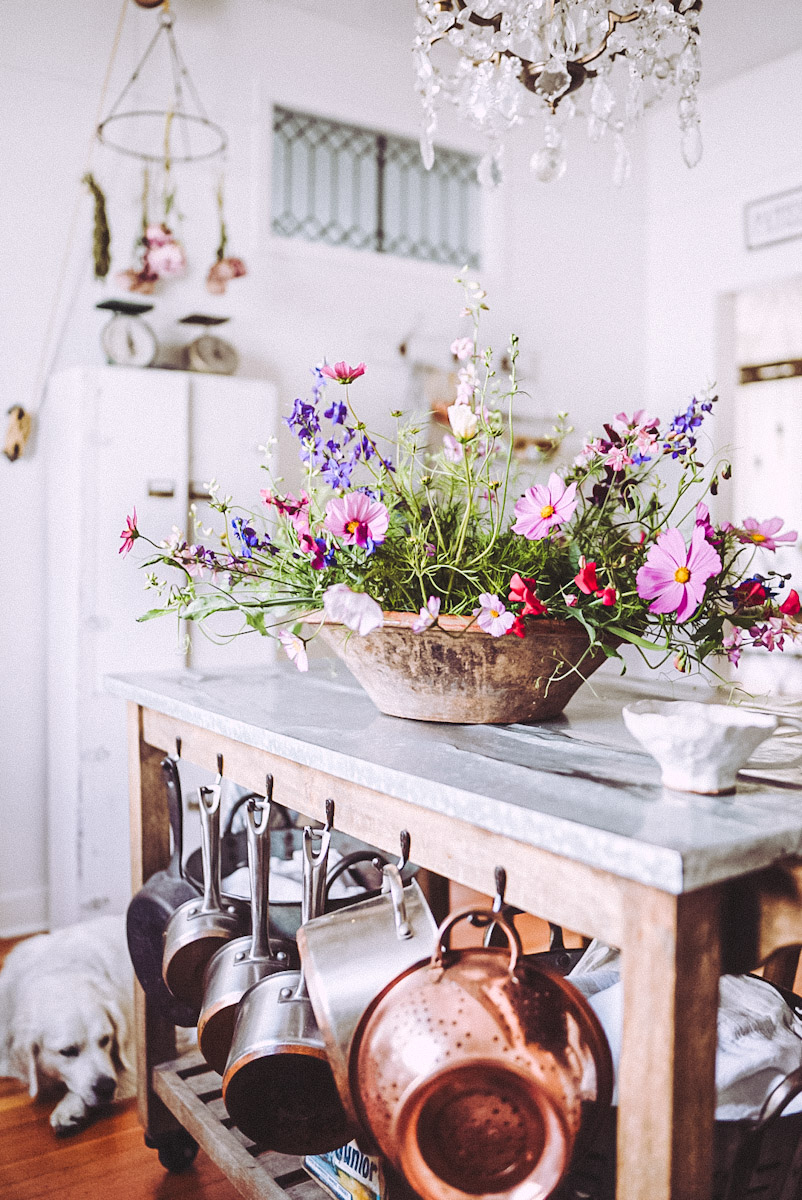 Adding Storage To Your Home
There are so many ways to add storage to any existing space with or without doing a major renovation. Thinking outside the box and coming up with clever or creative ideas is a must. The key to a great organization idea for a small space is to think of storage options that are both functional and look good too.
Our first tiny home was only 900 sq ft in size, so we had to come up with some creative home hacks to organize and keep our home functioning optimally. We became resourceful and had to come up with organization ideas for small spaces. Every single inch of that home needed a purpose! With two young children, a dog, and a mother with a large closet of shoes! Our family needed all the space savers we could find!
Once we put these practices in place they didn't seem hard to maintain, we even carried a large amount of them into our new, much larger home. Of course, I am also able to use these methods in our tiny house cabin too.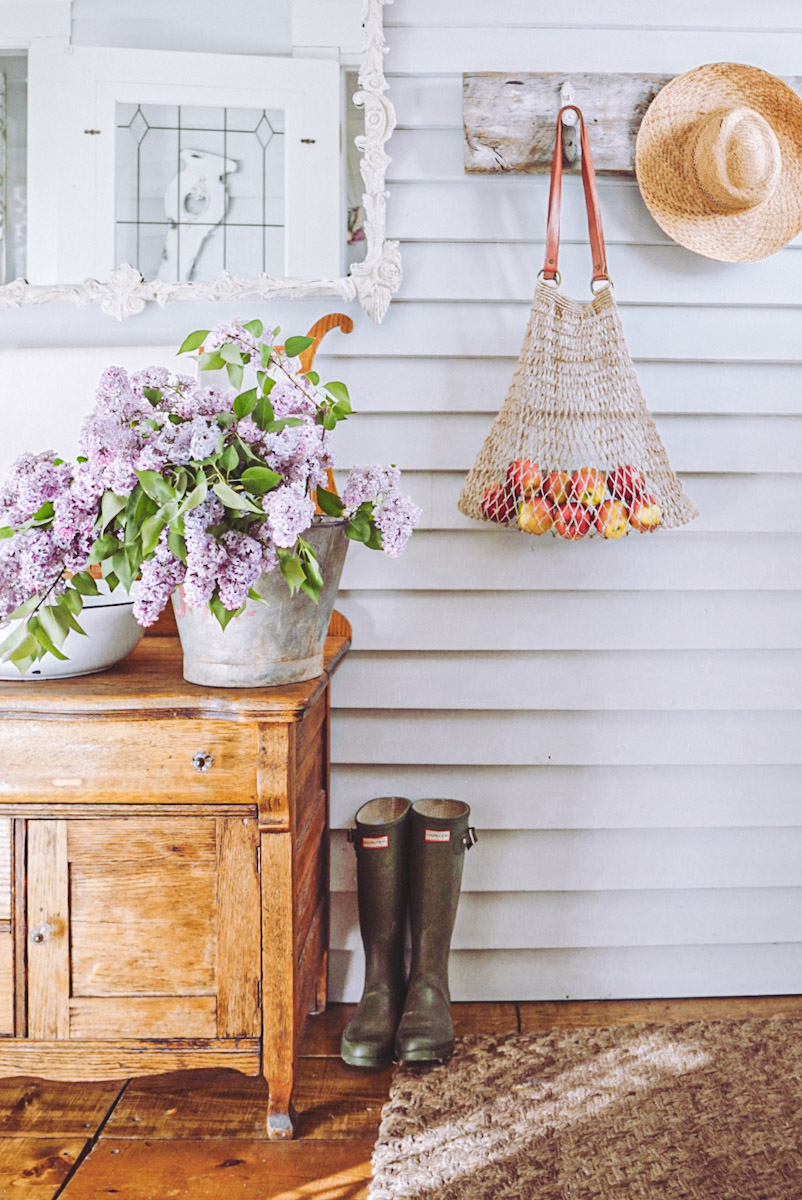 Organization Ideas For Small Spaces
Declutter Your Home
Before you begin thinking about storage for your tiny space or small home, do a declutter or purge. This could help to significantly reduce what you require storage for. There is no need to hold on to items you haven't used in months or even years. Try these tips on decluttering and simplifying your home and be sure to grab my printable cleaning checklist too!
Map Out Your Area
Like so many things in life, preparation is key to success. If you take the time to plan and map out your area, you are more likely to have a better outcome. Try to think through what the area will be used for and what design or layout will cover the most effective amount of storage.
Pull out the good ol'tape measure and a roll of painter's tape, then measure and tape the area so that you can actually see what the space will look like and how much room you will have. Seeing the layout can sometimes help you make decisions that could help save money down the road.
Use Vertical Space
Another important design element to think of when you are deciding on storage in any space is to think vertically. There is a lot of unused space from the floor to the ceiling of a room, if you can utilize this space, it can sometimes make a huge difference in your storage area.
Ways to Maximize Storage Space
Coming up with creative ways to maximize home storage and organization ideas for small spaces is a must for so many people. There are plenty of ways to add creative and functional design elements and permanent storage solutions.
I find that by using some of these methods, I am able to keep my home cleaner and more organized and I operate more efficiently because I rarely lose track of things. Here are a few of those ideas to try.
Small Space Storage Furniture
There are many different types of organization ideas for small spaces and furniture with storage is right at the top! A beautiful kitchen hutch, a filing cabinet, and even coffee table trunks. In fact, the coffee table serves so many different purposes and is truly the perfect solution for lack of storage. Finding an ottoman or trunk to use instead of a traditional coffee table is a great way to store blankets, games, controllers, and more.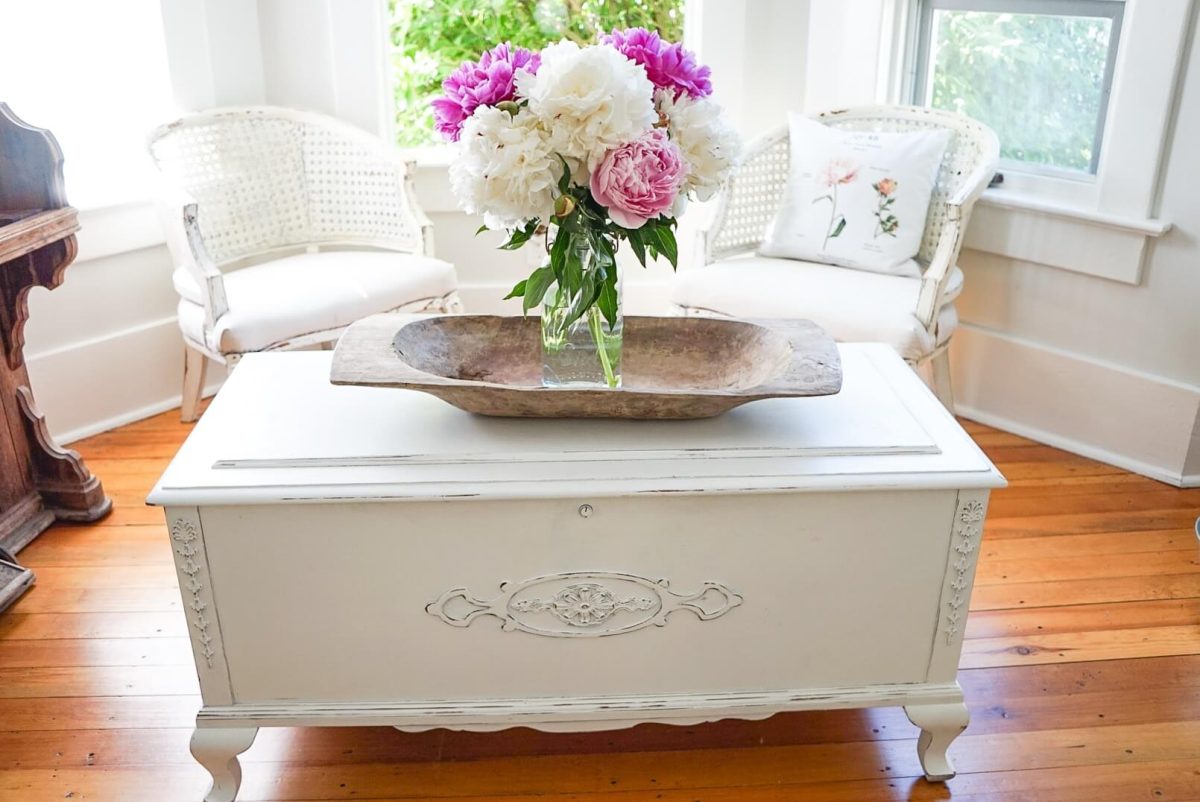 This storage solution became key when we had our kids. They didn't want to have a toy room to play in, they wanted to be where we were, so the coffee table doubling as a toy chest worked perfectly. Then as the kiddos got older we changed out the toys for our comfy blankets in this space!
Check out these tips on how to style beautiful coffee table decor too.
Seasonal Clothing Storage
No matter the size of the closet you have, it never seems to be enough! If you don't have a large bedroom closet, try cycling your clothing out for the seasons. Storing your clothes off-site is a great way to make sure you only have items you will use out at one time. Plus as an added bonus, every time you go to bring clothes back in, you should be able to purge what you don't think you are going to wear.
A great option for extra space is to invest in vacuum bags when you store your clothing. This will insure that none of your clothes get ruined in storage and give you more space because the bags become so compact. An off-site storage unit may be the best way to give you enough space at home. It may seem like more work to have clothing stored off-site, but the pleasure of having an organized and functional closet is worth it.
Assign A Junk Drawer
The "Junk Drawer" is also known as the holder of all things! Everyone has a drawer like this that seems to be jammed with all things that don't have a place! While there is nothing wrong with having a junk drawer, I recommend cleaning it out and sorting it every few months to keep it organized. Resist the urge to hoard more than you need in this drawer too. Can you really think of a time that you will need 50 twist ties? Me either, so get RID of them!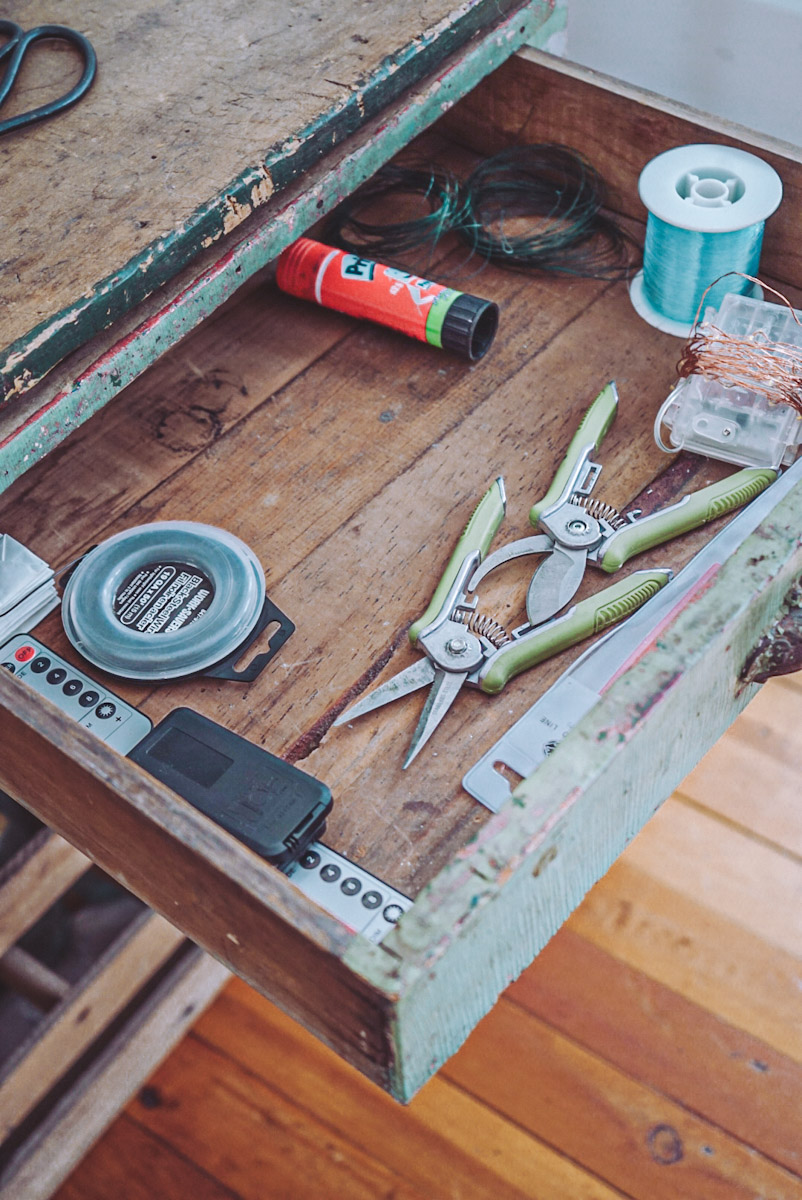 In our house, each one of us has a kitchen drawer that is an 'Our' drawer. These drawers are located right when you walk into the home and we each know to stay out of the other person's drawer! This kicked that awful habit of having everyone leave their odds and ends on my kitchen counters when they come in the door.
It also gives you a great place to put keys and wallets and other important items that you don't want to go missing when you are in a rush to get somewhere.
Use Under Bed Storage
One of the best organization ideas for small spaces is using under-the-bed storage! There is so much wasted space under a bed, which makes it the perfect space to add storage!! Nowadays, you can purchase the perfect-sized bins that will fit under any standard bed. Some of these bins can be used as bed drawers underneath and come with rolling wheels which makes them even more convenient. Add a bed skirt and you won't have to worry about seeing any of the bins at all.
I have bins under all of our beds and it makes the best storage, plus then the kids can't shove unwanted junk under there! I keep a bin for my painting/work clothes, one for my gym gear, and one for my jams!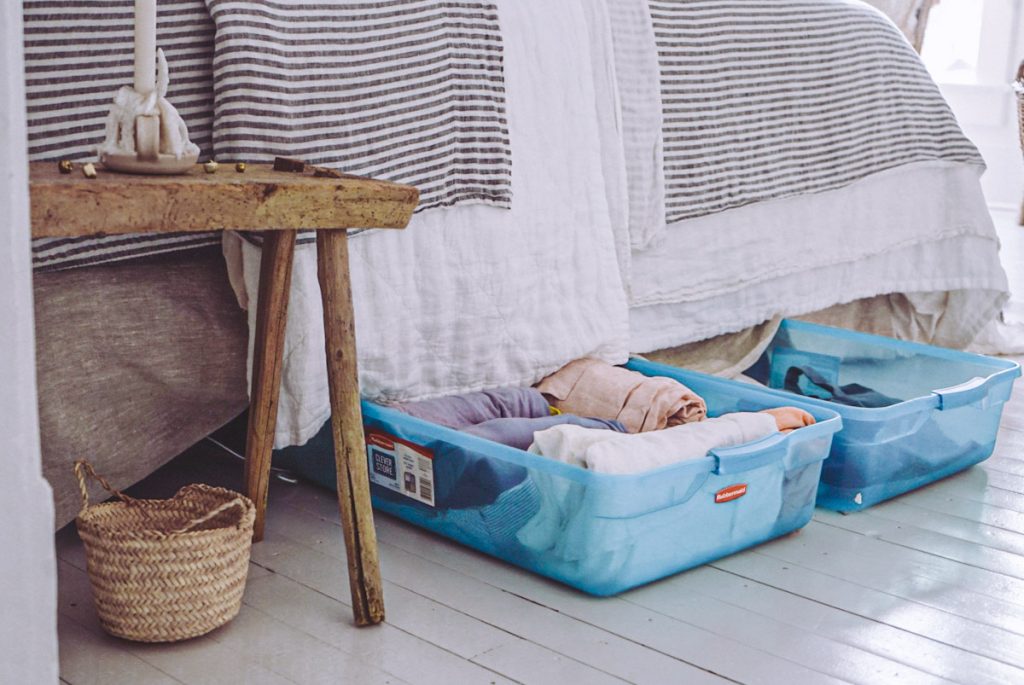 Utilize Baskets Or Storage Bins In Small Spaces
Ok! This one is a no-brainer! Wicker baskets and bins are a great way to add texture to any room so why not use these space savers to hide your unwanted visual items too? Use them to store craft supplies in a craft room, blankets and toys in a living room, or other small items for kitchen storage or in an office.
French market baskets are another great space saver. I love hanging one of these cuties on the back of a chair or beside my office desk! I store my day timer, camera, and sometimes even my laptop in mine.
Install Drawer Organizers And Cabinet Organizers
Having a drawer organizer or cabinet organizer is a wonderful way to add storage to a kitchen, garage, office, or craft space. There are so many amazing customizable options out there now too.
However, if you have an older kitchen, like mine, you can purchase drawer savers that can be added to any existing drawer or cabinet. Here are a few great options: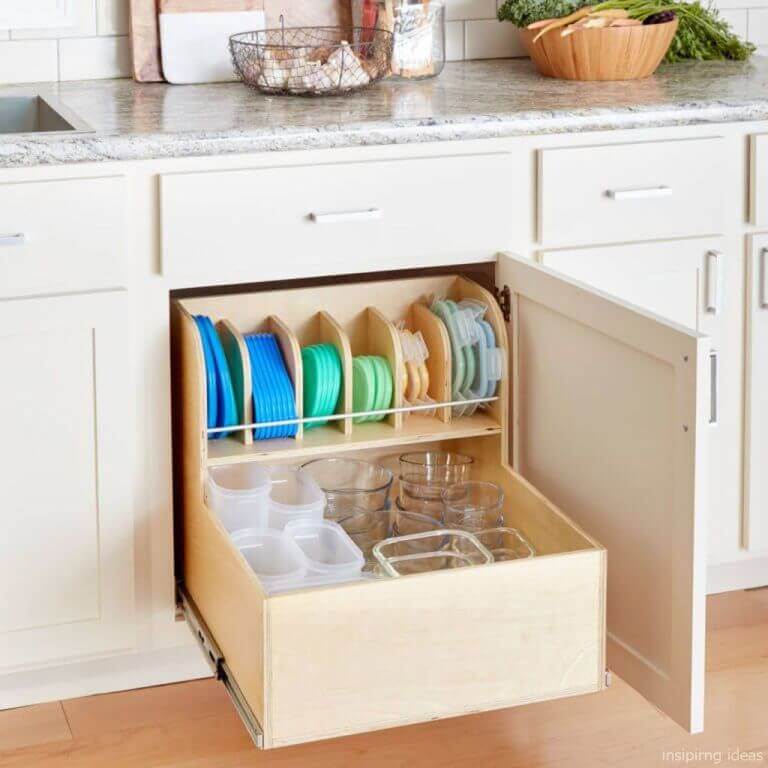 Back Of A Door Organization
This is an oldie but goodie! There is a lot of unused vertical space in most people's homes. Use the inside of cabinets or doors as storage areas. Place storage cubbies or a door organizer on the back of a kitchen or office door as a practical place to put the kid's school information and bills that need to be taken care of. This stops things from piling on your counters and in the office and is one of my favorite organization ideas for small spaces.
Hang frequently used items on hooks or hangers that can be permanently attached to a bathroom or closet door. You can even add peg board into kitchens, garages, or craft rooms.
I also painted the inside of the cabinet doors with chalkboard paint so that I can write any lists or messages that I want the family to know. We added this large storage base behind the door in our kitchen for all the canned goods we use a lot as well.
I love this vertical back of the door storage unit as it has adjustable shelves and can fit mulitple size doors. Find it in Canada here.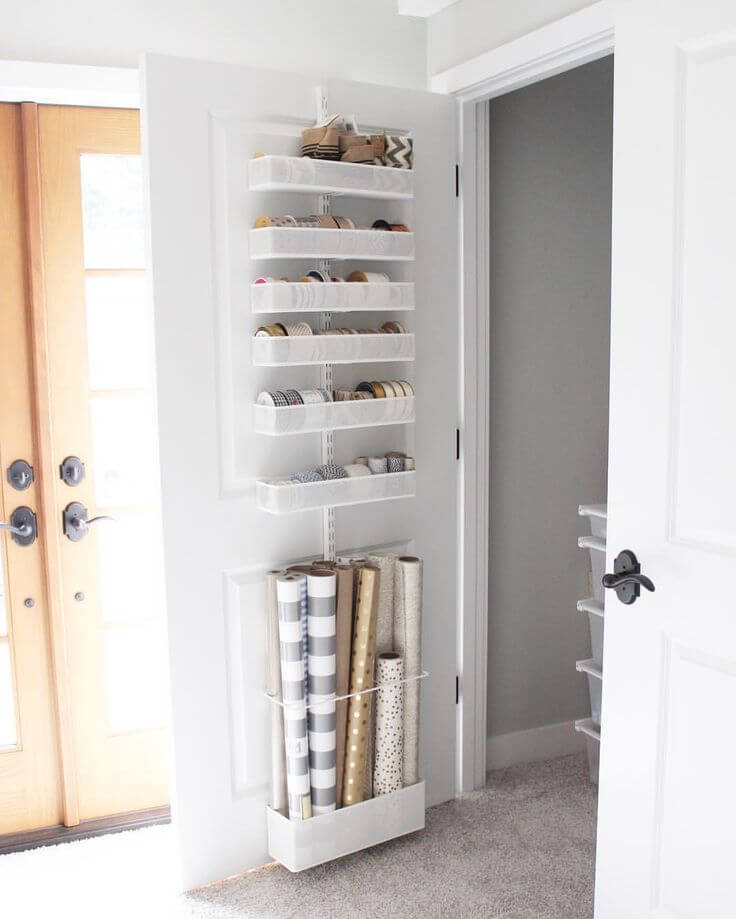 Organization Ideas For Under The Stairs
Another one of the best ideas for small space organization is to use up under-the-stairs storage! There is a TON of wasted space under the staircases in most people's homes. This is an excellent space to make use of. Closet this area, add an attractive cabinet that can hold items, or even build shelving under there instead.
This house has two staircases in it and we have made underneath both of these locations into storage savers! We made the front staircase into a closet for additional coats and boots while the back staircase has become a pantry and office area! I don't know what I would do without these two areas in the house now!
Simplify The Pantry
Another one of my favorite organization ideas for small spaces is to place your home goods and kitchen supplies in labeled jars instead of leaving them in bulky, awkward boxes. Doing this will give you a better idea of what you have on hand and what you will need to shop for. Jars or similar-style storage containers are also not as bulking so you should be able to add more items into your space.
This is something I started when I first moved in with my husband because we were forever running out of dry goods and I wouldn't even realize we were low until they were gone! It is a bit of work filling the jars every time they are low but it makes life and grocery shopping so much easier when you know exactly how much you have left of each product!
Add A Window Bench
Practical and resourceful! A window bench is a wonderful way to add seating and additional storage to any space where there is enough room. This can be a simple bench-style seat with a hinged lid or you can add a few custom-fit pillows to make the space extra comfortable.
There is nowhere else my little girl would rather read her stories than on a bench in the sunlight of a window. We have built-in seating in some of our rooms that are original to the home, but a bench with storage will give you the same effect.
Shop Storage And Small Space Organization Ideas
There are many organization ideas for small spaces and different ways to store your items but here are a few of the best space-saving products for a clutter-free space!
Damage-Free Hanging Wall Hooks, $14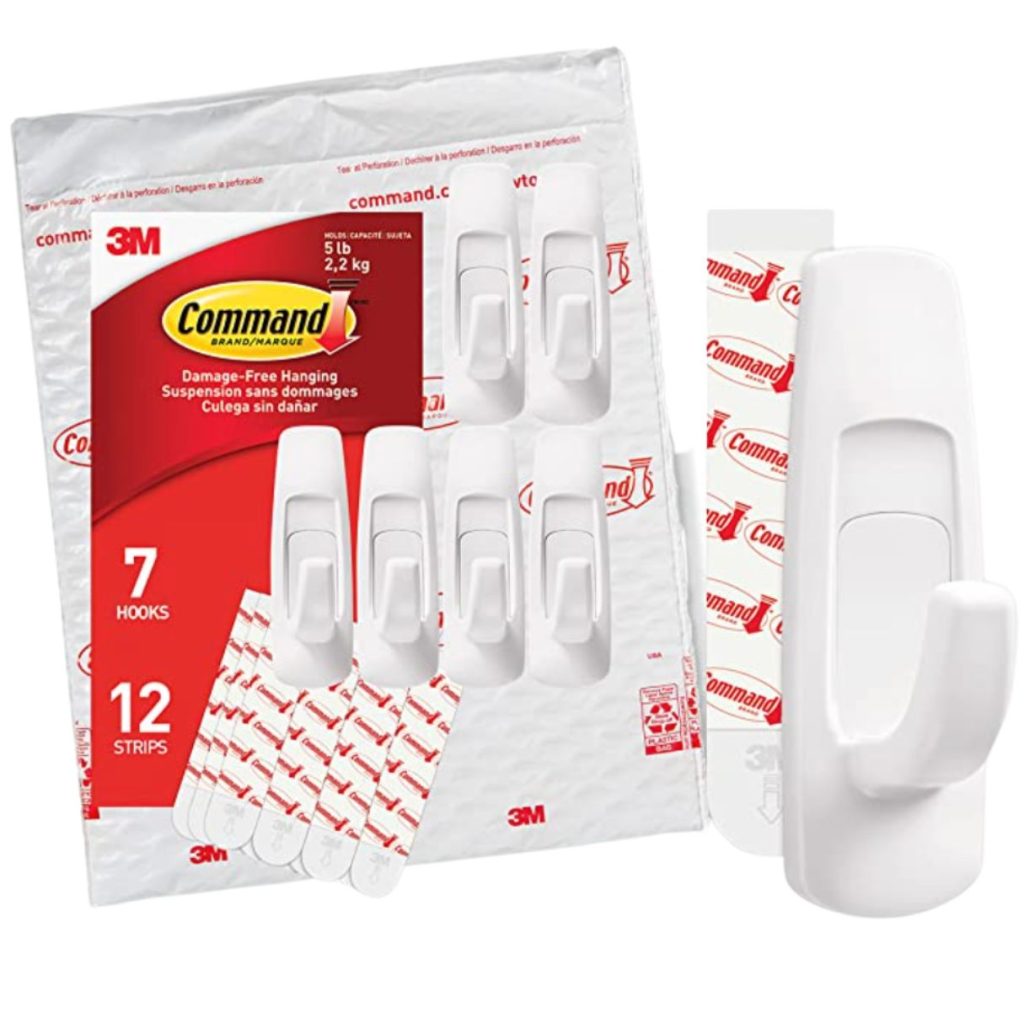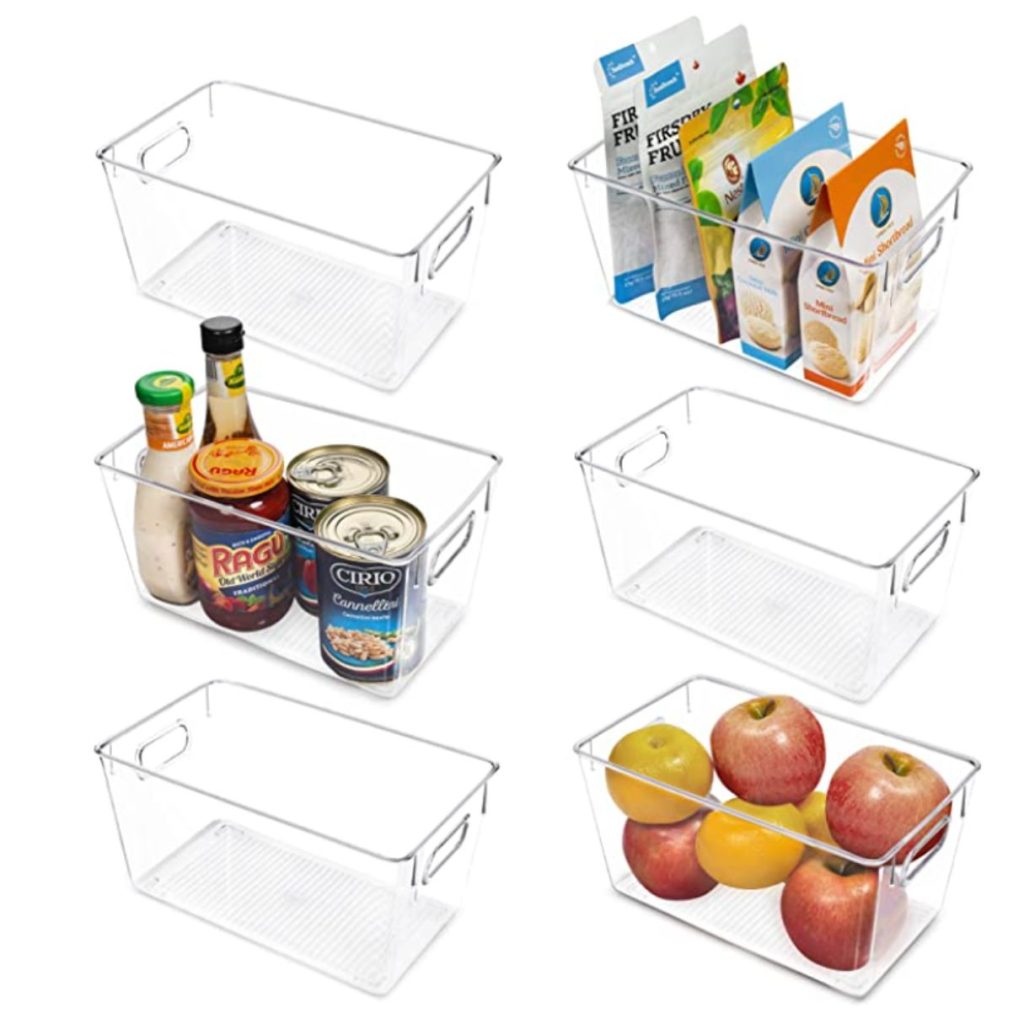 Large Wicker Basket
17″ Tall, $75.99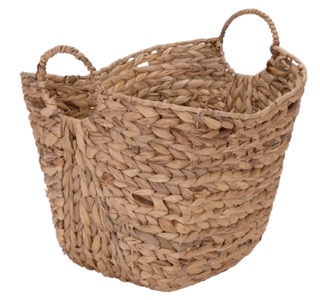 For more of my favorite storage and organizational products, check out the B Vintage Style Shop.
Tips and Tricks For Small Space Organization Success
Keep your linens in a dark, dry, well-ventilated space. Make sure that when you are storing linens, you ensure that there is proper ventilation in the area. (Check out why I love to use linen sheets and my tips on washing linen and keeping it white and bright.)
Rotate Seasonal Clothing. Keep the current season's clothes on hand, and store away the rest. Use vacuum-sealed bags to condense the amount of space your off-season clothes will take up.
Hang as much as possible on hooks or coat racks. Rather than filling your walls with decor, use the wall space as additional storage by hanging everyday items there instead.
Add a pot rack to your kitchen. This not only adds an element of decoration to the space, it also acts as additional storage in the kitchen.
I hope you have found some of these organizational ideas for small spaces useful. I promise that once you implement some of these into your home, you will be surprised at how easy they are to maintain and how much they help you and your family stay organized!
For even more tips, check out these tips on enjoying the little things that make a happier home, and don't forget to grab my 5-step simple living guide while you are over there.
FAQ On Organization Ideas for Small Spaces
How do you organize a small room space?
There are many organization ideas for small spaces but before you begin, always have a plan in place! Begin by decluttering the space and try to take on a minimalist approach. Use areas of your home that are sometimes overlooked, like under your bed, under the stairs, and in vertical wall space.
Where do I start decluttering when overwhelmed?
Organizing any space, small or large, can sometimes be completely overwhelming! There are a few ways to change your approach and mindset when you begin taking on a space like this.
Of course, you want to start with a plan, and map out the space! You can also try the 80/20 rule of decluttering. Studies show that most people use 20% of their belongings, 80% of the time. So take a good look at how much you use each item in your home. Keep the items you use all the time and start to purge the rest.
What are your favorite storage solutions? Leave them for me in the comments below and make sure you add this post to your Pinterest board so that you can come back and read it again.