This post may contain affiliate links. Please read our full Disclosure Policy.
All of us at some point in our lives will need to have more storage. Whether it is your first home, the fact that you are starting/have a growing family or you have just taken on a hobby that is taking up more space than before.  For our lil'family, keeping our home organized allows us to be more prepared and function systematically, thus allowing for less chaos. Storage solutions are the key to staying on top of being organized. I have combined some of the practical and useable  home hacks our family has with my 9 Storage Saving Solutions. I hope you can try some of these in your homes.
Enjoy
There are so many ways to add storage to any existing space with or without doing a major renovation. When we moved from our Kensington apartment into our first 900 square foot home, we had to come up with some creative home hacks to organize and keep our home functioning optimally. We become resourceful! Every single inch of that home needed a purpose with two young children, a dog and a mother with a large closet of shoes! We needed all the space savers we could find! Once we put these practices in place they didn't seem hard to maintain, we even carried a large amount of them into our new, much larger home. I find that by using some of these methods, I am able to keep my home cleaner, more organized and I operate more efficiently because I rarely lose track of things.
Home Hack #1. Coffee Table Trunk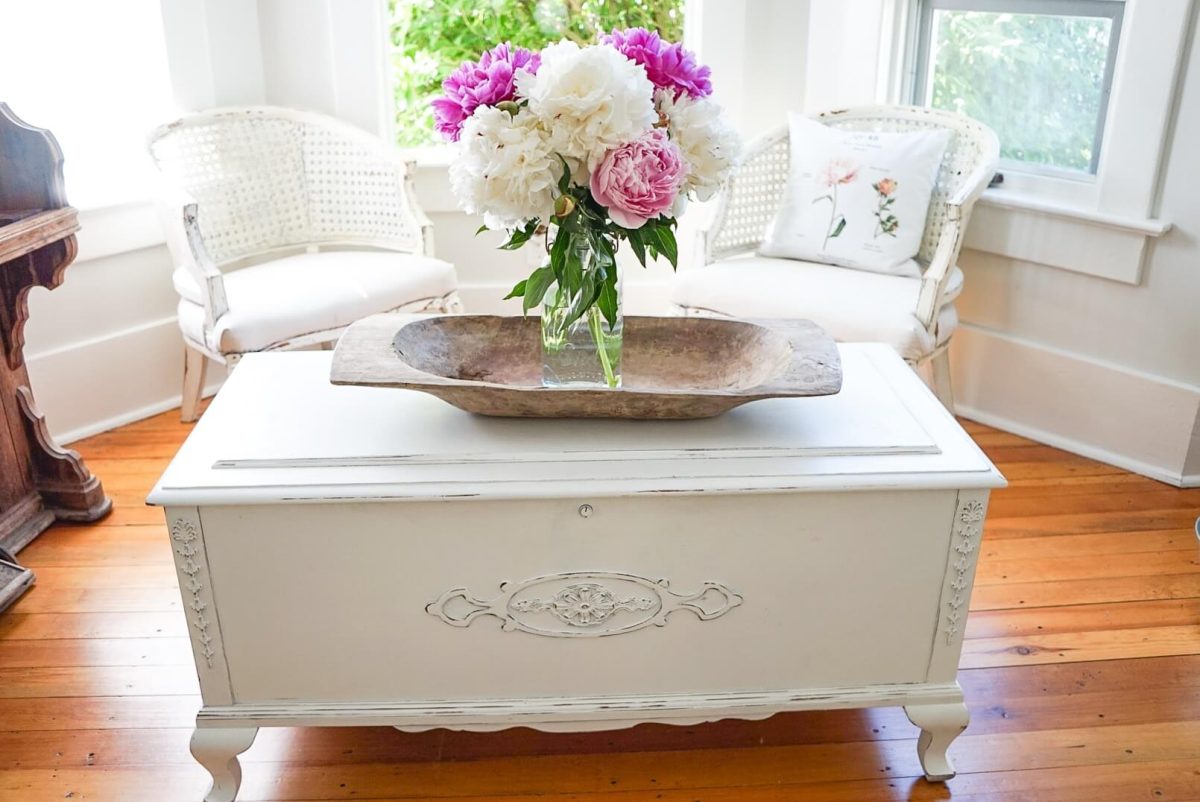 This storage solution became key when we had our kids. They didn't want to have a toy room to play in, they wanted to be where we were, so the coffee table doubling as a toy chest worked perfectly. Then as the kiddo's got older we changed out the toys for our comfy blankets in this space!

Home Hack #2. Individualized Kitchen Drawers
Ok folks! This one is a game changer! In our house, each one of us has a kitchen drawer that is 'Our' drawer. These drawers are located right when you walk into the home and we each know to stay out of the other persons drawer! This kicked that awful habit of having everyone leave they odds and ends on my kitchen counters when they come in the door. It also gives you a great place to put keys and wallets and other important items that you don't want to go missing when you are in a rush to get somewhere. Having the drawers in the kitchen makes it a really easy go to spot to find your things as this is the spot most of us venture just before or right when we are leaving the house.
Home Hack #3. Bins Under the Bed
This is one of my favourite storage home hacks! There is so much wasted space under a bed so why not?!!! I have bins under all of our beds and it makes the best storage, plus then the kids can't shove unwanted junk under there! I keep a bin for my painting/work cloths, one for my gym gear and one for my jams! Check out these ones available at Walmart for a great price!!
Some Of My Favourite Storage Solutions

Home Hack #4. Market/Wicker Baskets

Ok! This one is a no-brainer! I LOVE texture in a room and wicker baskets are one of my favourite ways to achieve this! Why not use these space savers to hide your unwanted visual items. French market baskets are another great space saver. I love hanging one of these cuties on the back of a chair or beside my office desk! I store my day timer, camera and sometimes even my laptop in mine.
Home Hack #5. Drawer Savers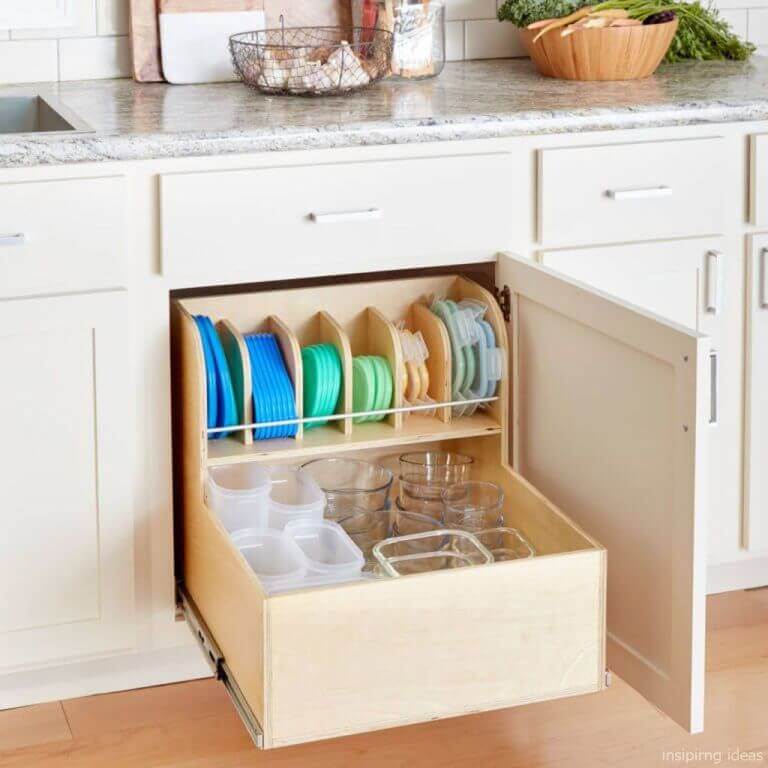 Image from Pinterest
This is one home hack that I can't wait to do in my own kitchen when we upgrade!! I drool every time I work on a new kitchen and see what is now out there for storage solutions.
Image from Pinterest
For more pantry and kitchen organizing ideas, check out my friend Becky's Pantry!
Home Hack #6. Back Of The Door Storage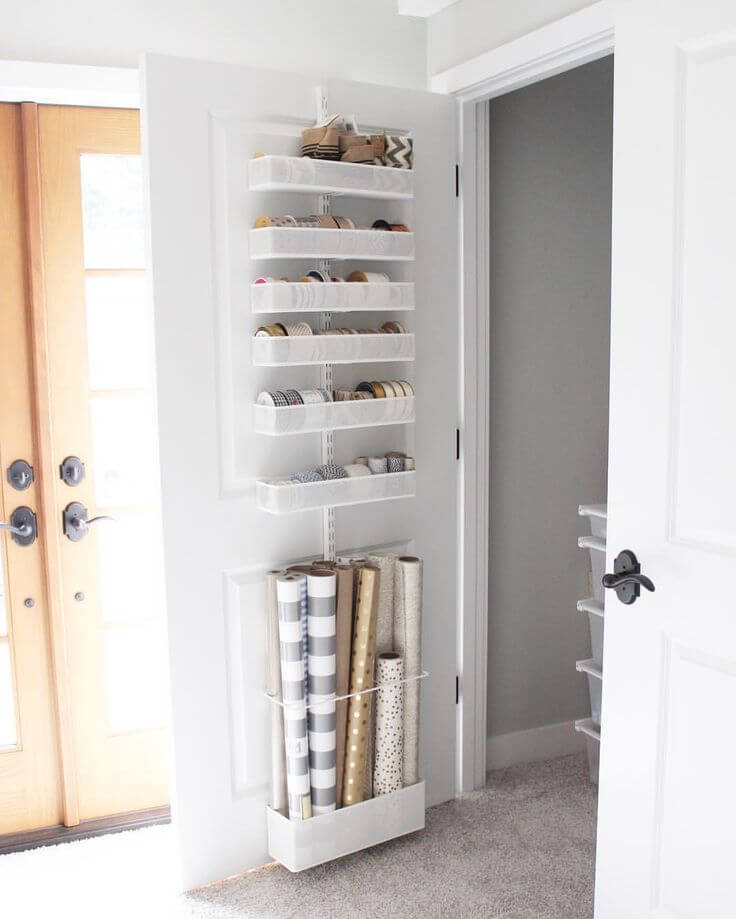 Image from Pinterest
This is an oldie but goodie! I use the inside of my cabinet doors all the time! I have cute storage cubbies on the back of my kitchen doors with practical places to put the kid's school information and bills that need to be taken care of. This stops things from piling on your counters and in the office. I also painted the inside of the cabinet doors with chalkboard paint so that I can write any lists or messages that I want the family to know. We added this large storage base behind the door in our kitchen for all the canned goods we use a lot of as well.
Home Hack #7. Under The Stairs Wasted Space
This house has two staircases in it and we have made underneath both of these locations into storage savers! We made the front staircase into a closet for additional coats and boots while the back staircase has become a pantry and office area! I don't know what I would do without these two areas in the house now!
Home Hack8. Jar Cupboard Of Dry Goods

This is something I started when I first moved in with my husband because we were forever running out of dry goods and I wouldn't even realize we were low until they were gone! It is a bit of work filling the jars every time they are low but it makes life and grocery shopping, so much easier when you know exactly how much you have left of each product!
Home Hack #9. A Window Bench
Practical and resourceful! There is nowhere else my little girl would rather read her stories than on a bench in the sunlight of a window. We have built-in seating in some of our rooms that are original to the home, but a bench with storage will give you the same effect.
I hope you have found some useful tips with my 9 Storage Saving Home Hacks. I promise that once you implement some of these into your home, you will be surprised at how easy they are to maintain and how much they help you and your family stay organized! If you also like to keep an organized home, check out my 5 Tips for a Simple Home HERE. What are your favourite storage solutions? Leave them for me in the comments below