This post may contain affiliate links. Please read our full Disclosure Policy.
Wood floors are sometimes looked at like an extra wall in a space! Adding painted floors into a space is a beautiful way to give an extra element to your interior design! I had been thinking about painting my wood floors for WAY too long and finally took the plunge! So LET's dive into the process for painted wood floors and how they are holding up!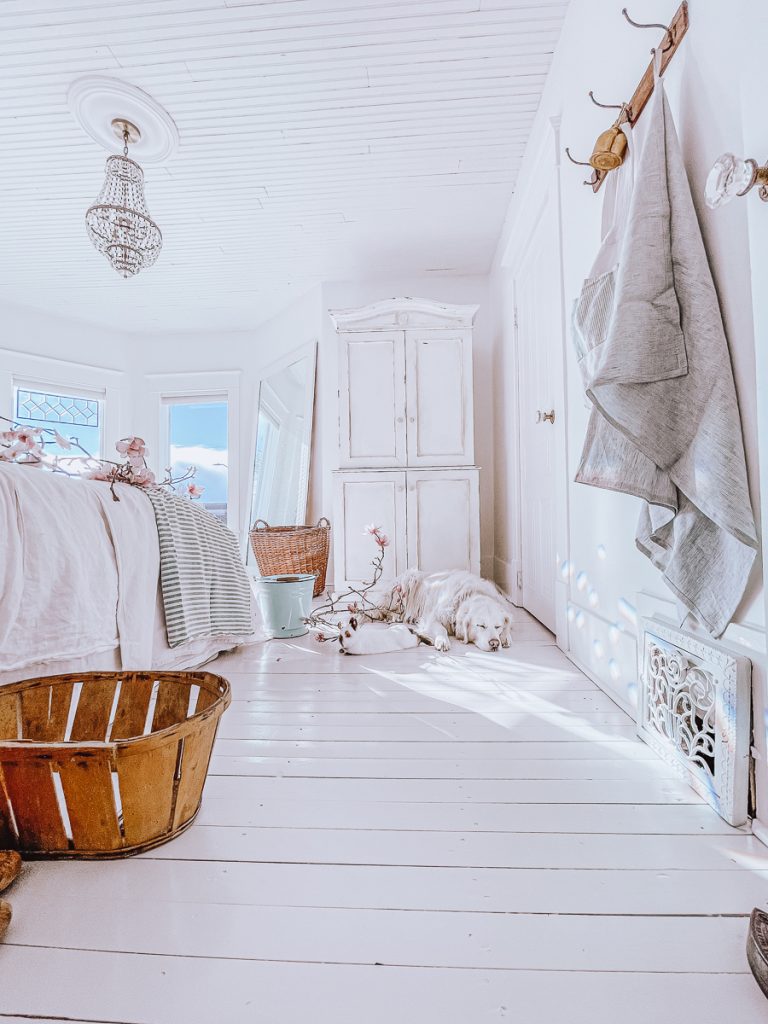 Can You Just Paint a Wood Floor?
A question I used to ask myself all the time was… Can You Just Paint a Floor? The answer is ABSOLUTELY! Almost any wood, stone, cork, laminate, concrete or any other type of flooring you can think of can be painted BUT it's very important to do the right steps and have the right products so that all your hard work isn't peeling or flaking away after just a short period of time! Painting your wood floors is also no small task! You will need to move out all of your furniture from the space and be prepared not to use the room for several days while the coats dry. Again, you want to make sure you are prepared for this other wise you risk chipping or scrapping your floors by using them too soon afterwards!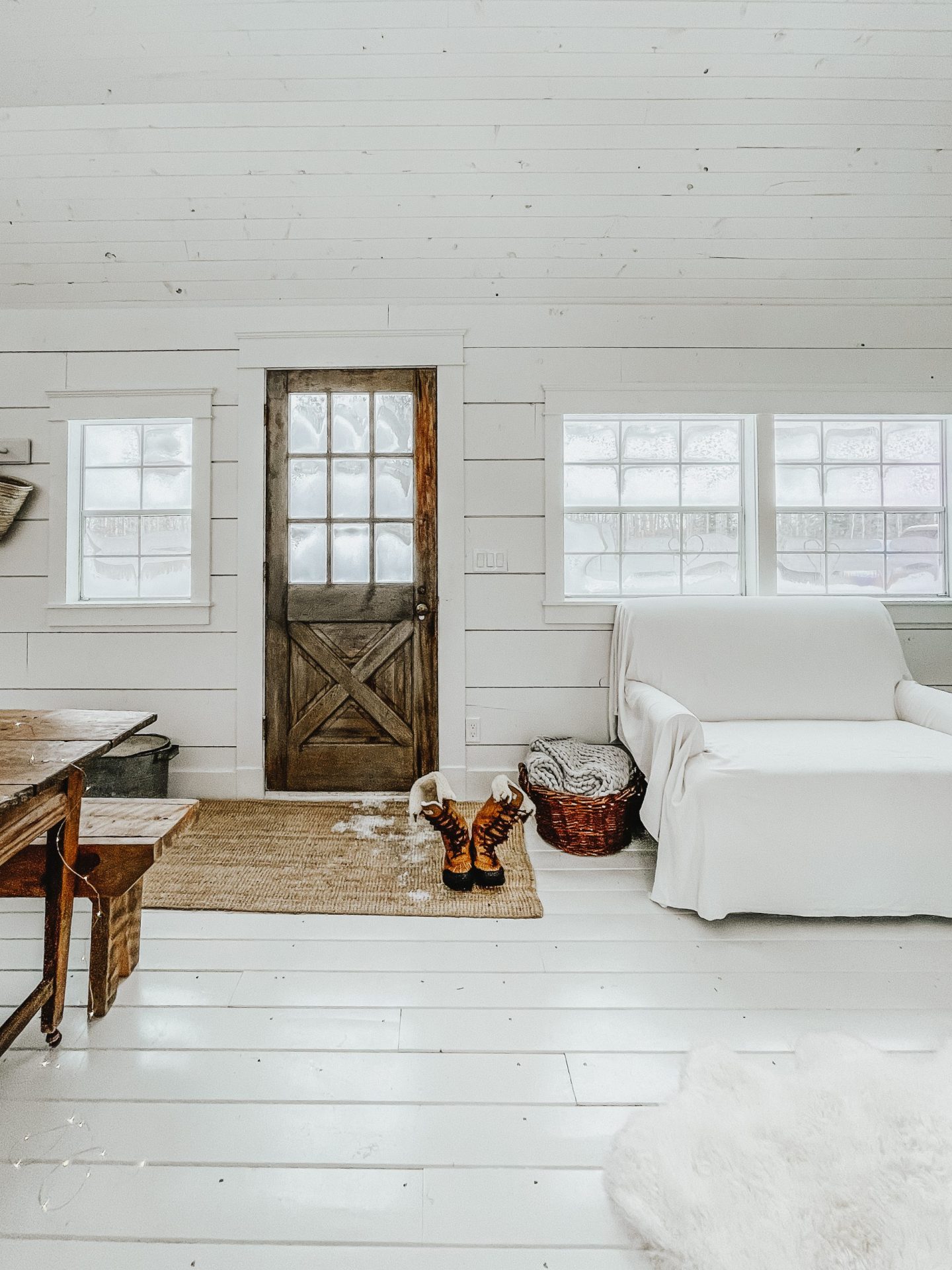 Why Paint Wood Floors?
For me it was the best colour option due to the type of hardwood in my house! I have Fir hardwood floors in my home which have a very orange undertone! After a ton of research, to find out if I could bleach out the orange or perhaps change the pigmentation, I decided that the best option for our family was to paint them! I am still loving them after 2 years! It's CLASSIC and AFFORDABLE!
I had looked at multiple heritage homes to purchase before we finally got the one we are in! In a lot of these older homes, the wood floors had been painted at some point along the way! I  loved the look of the painted floors and the way it looked with wear overtime. 
Over the years, I have tried so many different types of products for painting floors! You can use Oil-based enamel paint and latex enamel paint are the two types of porch and floor paints. You can achieve a high gloss finish by using an oil-based enamel, while a low sheen (no glare) or semi – gloss finish is achieved by latex enamel paint. In the past I have also finished my painted wood floors off by using a clear polyurethane or harding top coat! I have recently found a cabinet paint product that includes a hardening agent and that works much better! As an added bonus, it also elements the time it takes to apply these last top coats!
What is the Most Durable Floor Paint?
The most durable floor paint will always be an epoxy floor coating however it is a bit intimidating to work with and if things go sideways, it is not an easy fix! Epoxy floor coatings coatings are waterproof and capable of withstanding significant amounts of abuse, such as heavy weight, and high traffic areas!
The most durable paint product that I have used for wood floors is C2 Cabinet & Trim Paint comes in multiple different sheens and I opted for the satin finish.  I recommend adding an extra "hardener" (Up to 10% ) to the paint for more durability. This product dries extremely fast, so you can walk on the floors within a few hours if you need to but I do suggest you try to stay off for a few days if it's possible). It is easy to work with; durable cleans nicely. The best part, though … you can do touch-ups and can hardly tell where you applied the new paint because the colour stays the same.
 C2 Paint also makes a pretty good primer. The primer from c2 does not dry as quickly and hard as the Zinsser primer that we recommend below. However, the c2 primer is water-based, and the Zinsser is oil-based. 
Here is the exact paint colour coding that I have used on my floors. It is white with a warm grey tone. I still loving this colour!
Why Paint Your Floors?
Painting your floors is not a forever commitment!! As much as some people think it is taboo to paint over an original surface, if you don't love it down the road, you can always sand it off! Plus it is an extremely cost effective way to update a space, no matter the type of flooring that you are covering! 
For years, I had been admiring painted wood floors from some of my favourite ladies on Instagram like Liz Marie Galvan and Karin Buitenhuis. Painting the floors a lighter colour seemed to make the home require less home decor. I think of the space as a canvas and the pieces of home decor I have really stand out against the light coloured architecture! Every detail that goes into a room with white floors almost becomes amplified thus making it even easier for LESS is MORE decor style!
How Long Will Painted Floors Last?
Let's chat quickly about the durability of painted floors!  It is completely dependant on what type of floor you paint ( a porous tile will hold the paint product longer than a smooth hardwood or laminate floor) , which products your use to paint, how much prep work you do and how high of a traffic area it is! Painted flooring, like any other painted surface may scratch overtime! Paint sits on the surface of the floor, rather than soaking into the floor, so it wears away faster.  If you take the correct steps to prep your flooring, it will last much longer then if you don't! I'm ok with a few scratches in mine so I like to touch up every 6 months to a year or so. The C2 Cabinet Paint I mentioned above is fantastic for touch ups, you can't tell at all where scratches were!
When Should I Paint My Floors?
When you are renovating a space and refinishing your floors is out of the questions due to a limited budget, painting your floors can be an excellent way to save some money!  It is an inexpensive alternative to replacing flooring, and there is much less work, too. Plus, leaving the floors in place means less waste in the landfill. Painting floors can also help hide imperfections. You should also paint them if you love the look! I put brand new wood floors in the tiny house cabin and painted them because I love the look of it!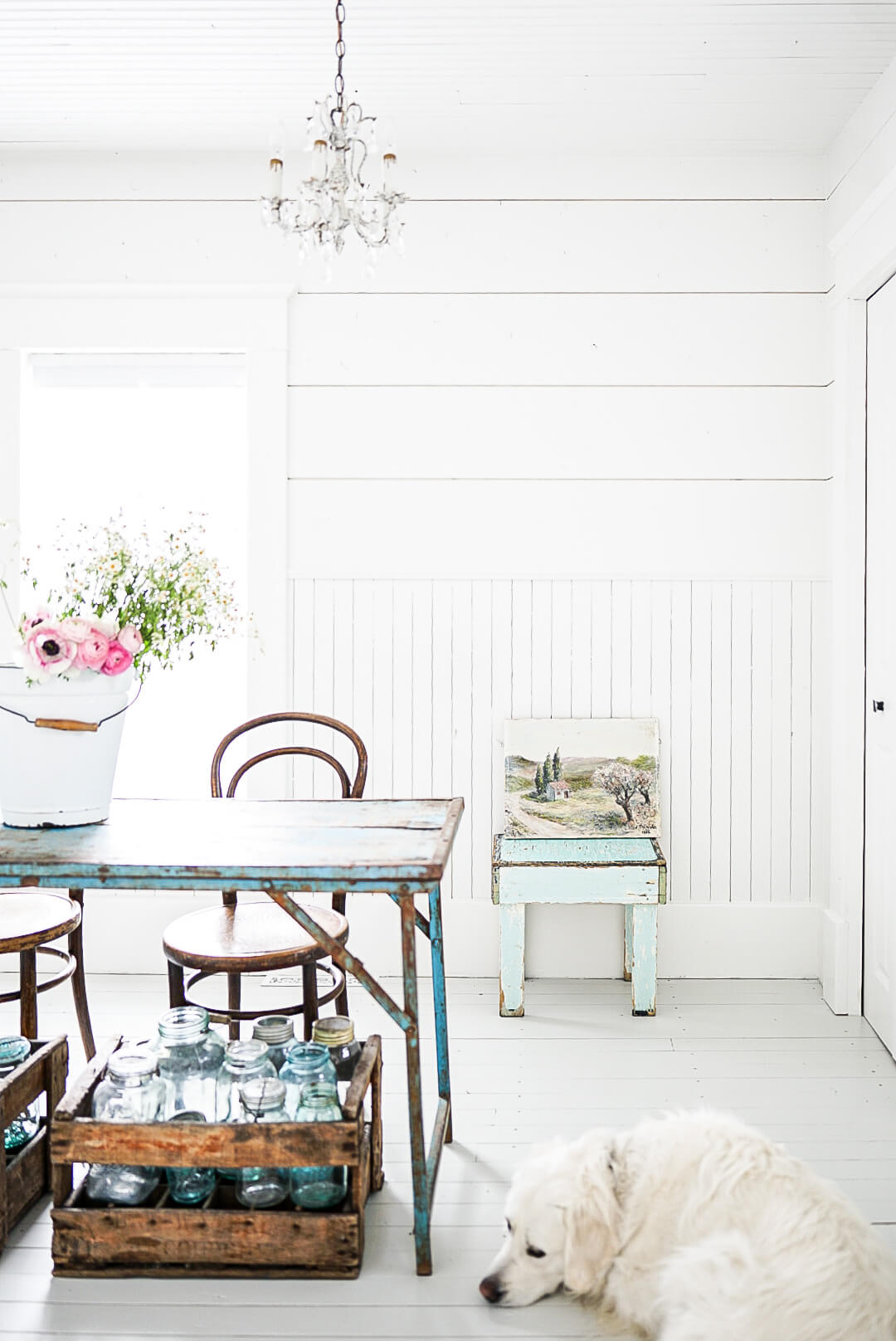 Shop my favourite products for painted wood floors.
How to Choose a Paint Colour for Floors
The colour of the floor in a room contributes significantly to the overall feel of the space, and the shade you choose for the room's walls can either magnify or balance the effect of the floor. You also want to consider the volume of traffic and where the painted floors will be located in the home! For me, I didn't want a pure white floor! I knew that dealing with two dogs and a kids coming and going through the house, a pure white floor would make me crazy! The custom colour I chose is a very soft grey and will not show nearly as much of the scuffs or dirt then a pure white!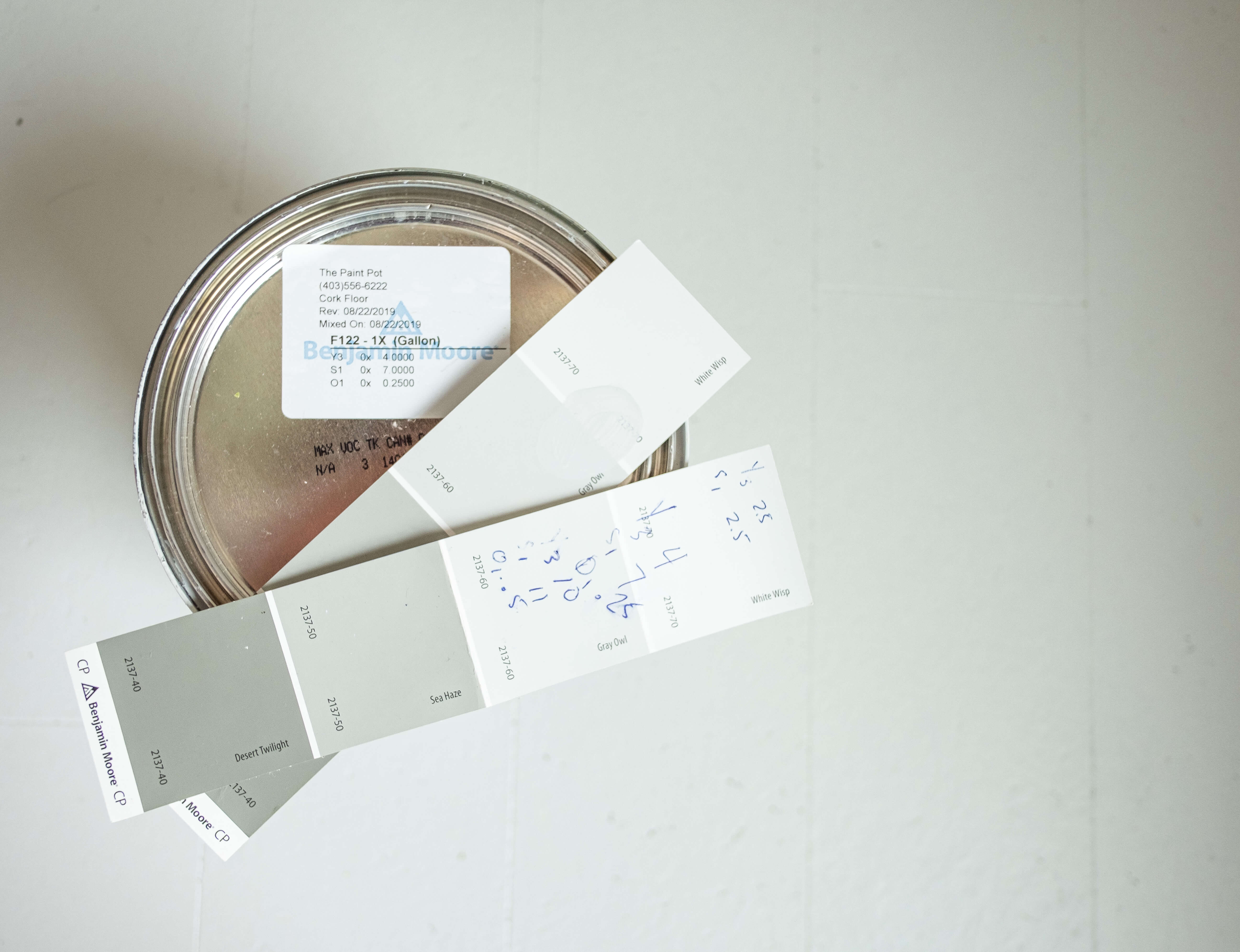 If you want more advice for picking out the perfect paint colour you can check out the post on selecting the perfect paint colour for your home.
The Perfect Colour For Painted Floors
The custom colour the perfect light shade of grey! Here is the custom formula in the Benjamin Moore Solid Stain. 
Test the Floor Paint Before You Commit
Wood floors are very easy to paint, but the key is completely in the prep! I still HIGHLY recommend getting a sample piece of flooring similar to your own flooring before you fully commit to your actual floors. 
Check out another beautiful painted floor by our friend Mysha, Remington Avenue
 Check out how my friend Marci Schneider updated her bedroom!
Painted floor process 

Tools Used For Painting Floors 
 ( See my favourites linked above)
Brush to go along the edges 
 Paint roller, lint free with heavy coverage
a Primer, my favourite is the shellac base from Zinnser
Solid Cabinet Paint with added Hardener. I recommend C2 Cabinet and Trim paint as mentioned above! 
One of the biggest pieces of advice is to keep a vacuum nearby. You almost vacuum as you go because pet hairs and dust seem to continually appear throughout the entire process.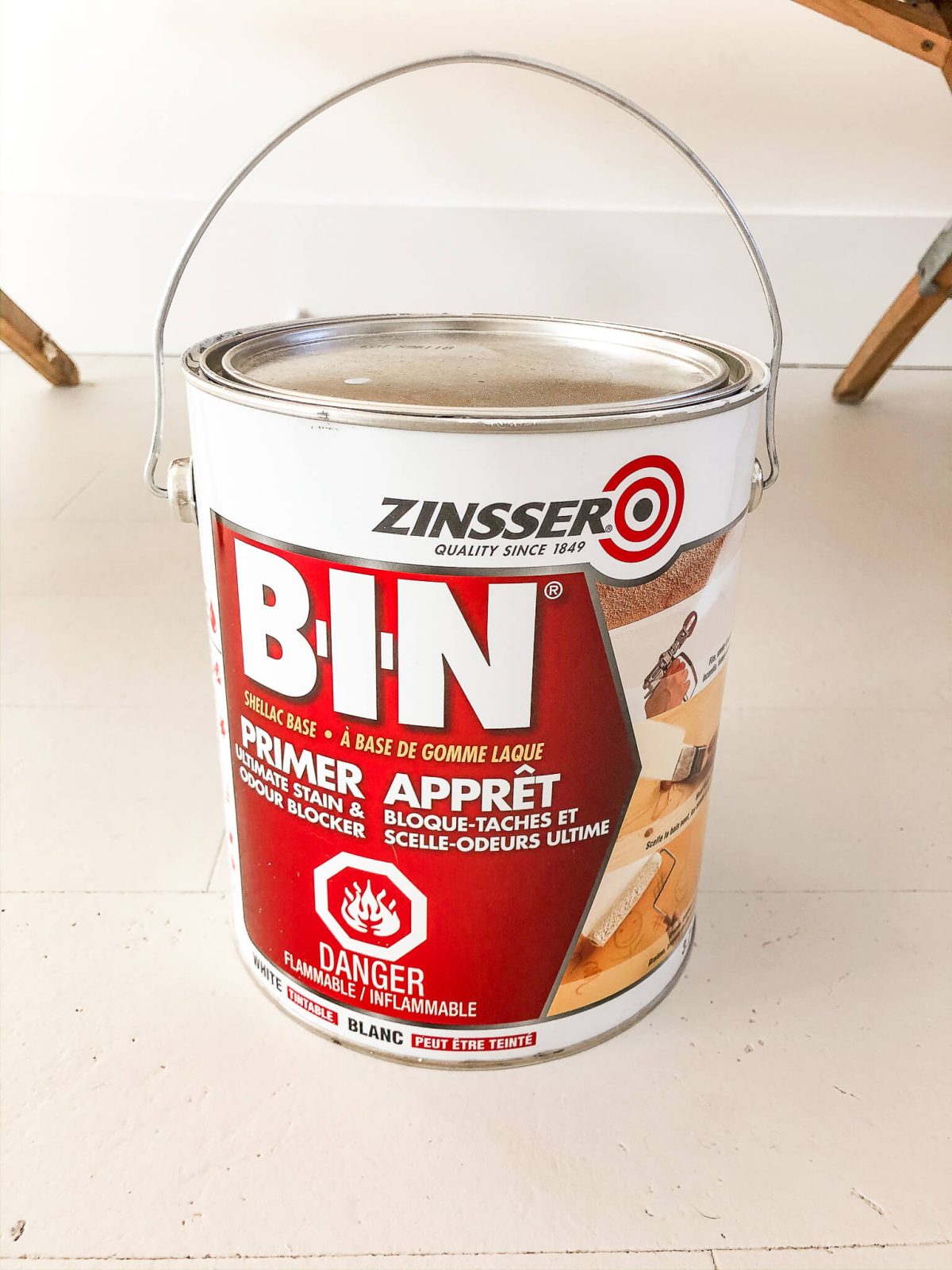 Steps to Painting Wood Floors
Step One – Lightly sand the area using a belt or orbital sander and  60 grit sandpaper. If it is a very large area, you can use a drum sander.  When painting a wood floor, it doesn't need to be sanded down as much as a floor you are refinishing with stain and poly. 
Step Two – Clean the area throughly! Vacuum the surface and wipe it down with hot soapy water and a damp cloth. If you are refinishing an old floor, make sure you try and get everything out of the cracks in between the boards! Otherwise the debris will stick to your paint brush or poly brush! Let it dry completely before you begin with the primer.
Step 3 – The Primer Coat – Apply a coat of primer to the surface. Deb also used the Zinnser Shellac based Primer. She was sure she would need to apply more than one coat on the old floors because they would bleed, but this product was amazing and only require one coat.
 Step 4 – The Colour Coats – Apply 2 coats of solid cabinet paint in the colour of your choice. You can use a paint brush to cut in on the edges and corners then a roller for the main part of the floor. Make sure to allow the stain to fully dry before applying the next coat. Deb waited about 8 hours in between each coat!
Optional if you use the C2 Cabinet Paint**
Step 5 – The Polyurethane Coat – Apply a thin coat of poly to the surface. I use an outdoor, water based, non yellowing clear coat to the surface with a stain brush! Make sure to use a brush that is no bigger than the plank size for the best results! Again, make sure to let the coats of poly dry thoroughly before apply the next coat. The product Deb uses dry's quickly but it should still be given ample time to dry before applying the next coat. Make sure to do at least 2 coats of poly for proper protection, if you are painting a floor in a bathroom you can do even more coats.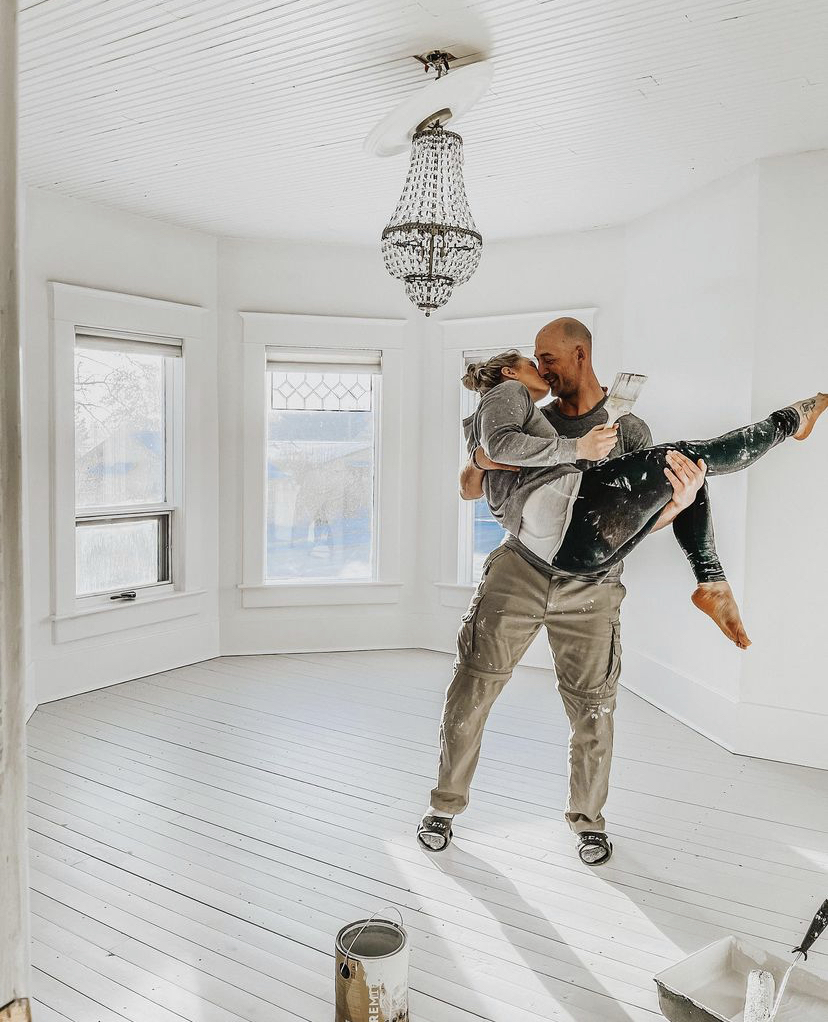 Finish off your space with these vintage and vintage inspired pieces 
Letting Painted Floors Cure
The cure time is quick! In fact, you have to move quickly while applying it to make sure it doesn't harden while you are still working with it however it is important to be as gentle on the floors for the next week or so as possible.
Caring for Your Painted Wood floors
Caring for painted floors is very simple! I love to use a double strength vinegar with essential oils and a mop to clean mine. Otherwise, any scuffs that a damp clothe won't take off can be wiped away easily with a Magic Eraser! Otherwise, they can be washed the same way as any other hardwood floor! Like I said above, touch ups with the cabinet paint make these floors a breeze and of course if you aren't fussy, then any wear and tear over the next few years will be just the patinated look that so many old homes get over the years! 
Have you dreamed of having white or painted wood floors? Let me know what kind of flooring you want to paint! Also feel free to leave a comment if you have any questions about painted floors below!