This post may contain affiliate links. Please read our full Disclosure Policy.
Building an outdoor wood fireplace is truly an amazing expansion for any backyard living space. A great lounge area and dining space are wonderful to have in those summertime months and the addition of an outdoor wood-burning fireplace or stove can be the perfect cherry on top. I have had a backyard vision for this house ever since we first moved in and am so happy that we are finally to the point where it is all coming together.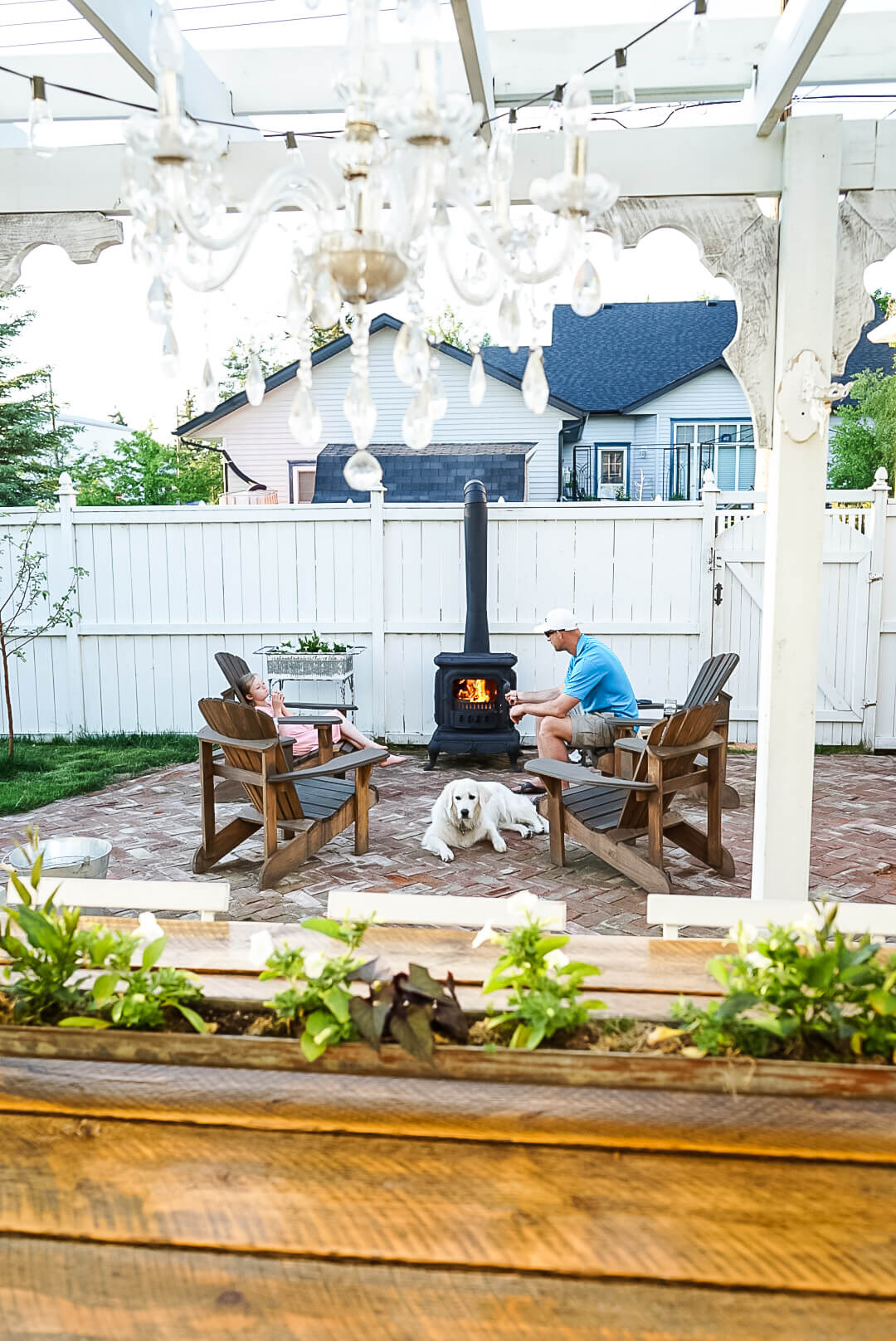 This years project was to build a beautiful DIY outdoor wood burning fireplace and I partnered with Rust-oleum for this project! I LOVE how this turned out and wanted to put together a step by step guide on how I did it. Please take a peek below at my 6 Step Guide to an Outdoor Wood Burning Fireplace. 
Step by Step Tutorial For Building A Outdoor Wood Fireplace
 This big house has been a labour of love as so many of you know. Every year we try and take on a new outdoor project at the house in the summertime. Last year, we added this beautiful salvaged brick patio pad to the backyard, check out the DIY here, and this year we wanted to add an outdoor fireplace to the mix.
Originally, the idea was to build a large stone, free standing fireplace, however we didn't plan things out very well for that. A portion of the fence would need to be removed and a concrete pad would need to be installed over top of the just finished brick patio. As much as I know it would be worth it, I just haven't been able to convince Mr. Mac to take the plunge on tearing down the fence. So I had to come up with a different idea.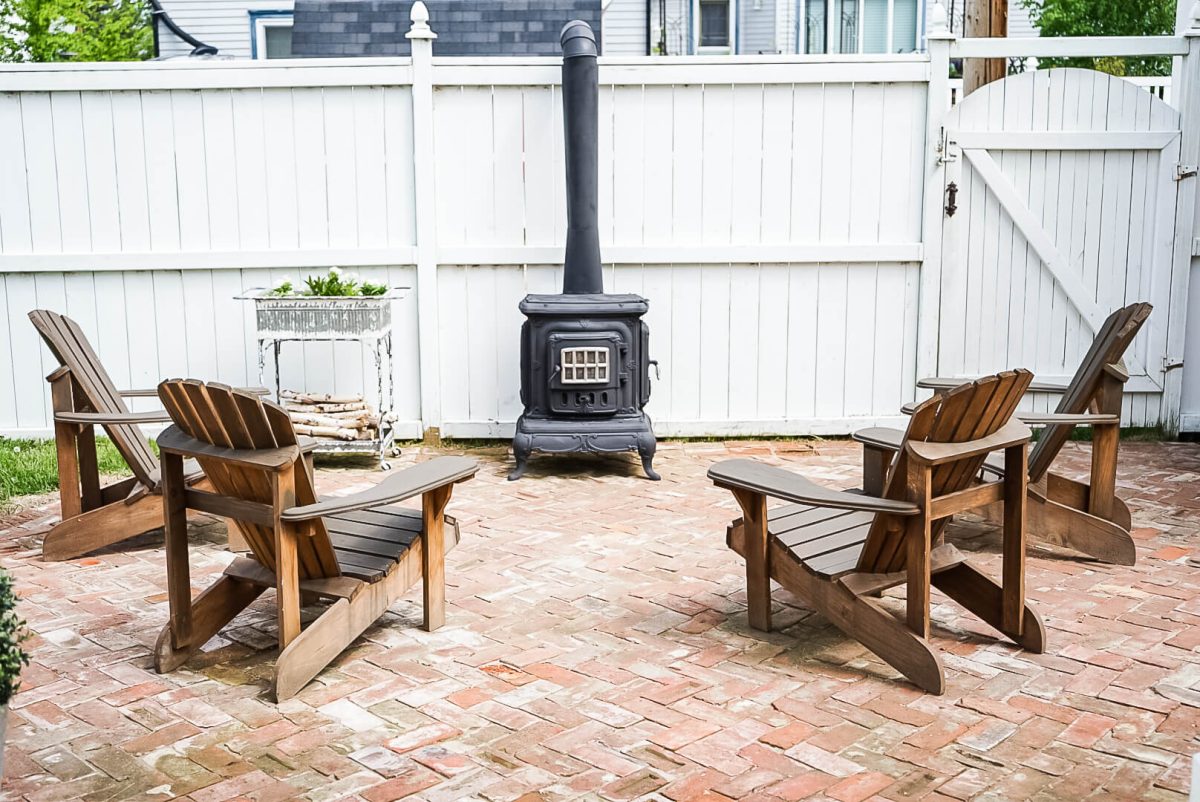 When we bought the house it had been a rental for close to 50 years. I had high hopes of finding some forgotten goodies in the attic or basement but truly came up empty handed. The one hidden gem however, that we did find left stuffed in the corner of the garage, was this stunning, antique wood burning stove! We figured it would have been the original stove from the kitchen of the house so we held onto it. I thought we may use it when we build a cabin out at our lake property, but this year, after thinking long and hard about what to put as an outdoor fireplace, I decided it would be a beautiful, creative addition to our space! I had my husband help me move it outside and it just fit the space perfectly!
The detail and vintage style of the fireplace go so well with the rest of the yard!
 I love the patina and rusted look it has but I also know that if I leave it as is, it will just end up full of holes from being unprotected in the weather and elements. I also needed to add a pipe to the top so that the smoke would go upwards and out of the yard as directed. 
A few things I recommend looking for in an outdoor fireplace are:
Durability – You don't want to have to haul it in and out or move it for the winter months so it needs to be able to hold up in the Canadian winters. Not to mention the rain and hail storms through out those summer months.
Practicality – What is the best part of having an outdoor firepit or wood burning fireplace???? Roasting marshmallows and hotdogs! So look for something that you can enjoy with family and friends. I love that I can also cook on the stove we have. Our family cooks a lot of seafood so this is a great alternative to cooking it indoors as it doubles as a stove.
Appearance & Aesthetics – It needs to be a place of comfort but also something you love the look of. That is what will make all the difference and will make your family want to spend a lot of time using it!
I am always up for a DIY challenge, so this project was right up my alley. I wasn't sure how difficult it was going to be but in the end this project was probably about a 6 on a scale of 1-10. The hardest part for sure was getting the chimney stack to fit properly. Below are the steps I used to refinish my outdoor wood burning fireplace.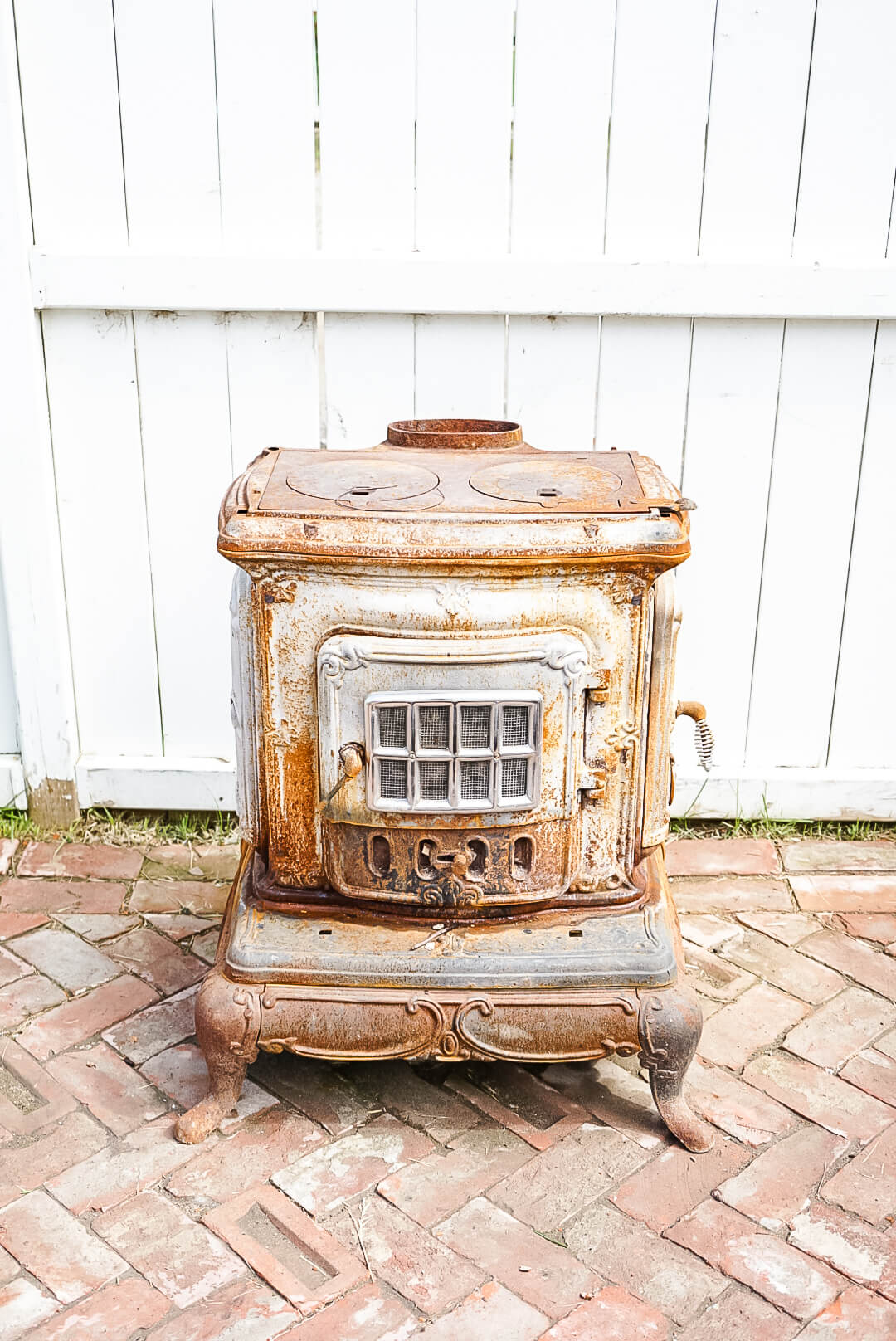 Materials
Old wood burning stove

3 foot piece of 6″dia black stove pipe

6" dia black stove pipe elbow

Custom built steel piping for the base piece

Painters Tape

Newspaper or Painters Paper

120 Grit Sandpaper

Paper Towel

6 Cans of Rust-oleum High Heat  

spray paint in Satin Black finish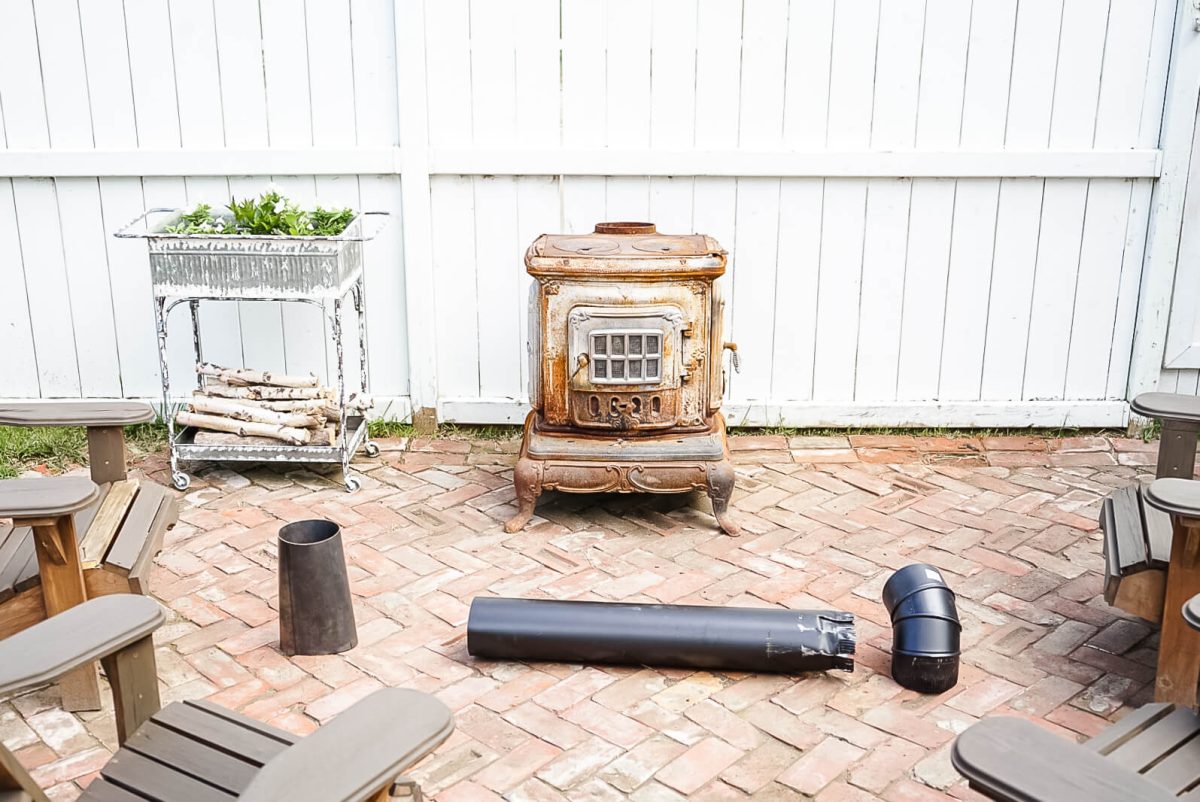 Instructions
Step 1 – Measure the stack hole and have your local welding shop custom build an attachable piece of steel to use on the top of the stove. Have them use a 6" diameter pipe so that you can fit a standard stove pipe into the top when it is finished.
Step 2 – Attach the 3' stove pipe to the custom steel pipe fitting, you may need to use some tin snips to make this fit properly or take it into the welding shop and have them fit it there. You will also want to add the 6" elbow as well at this point.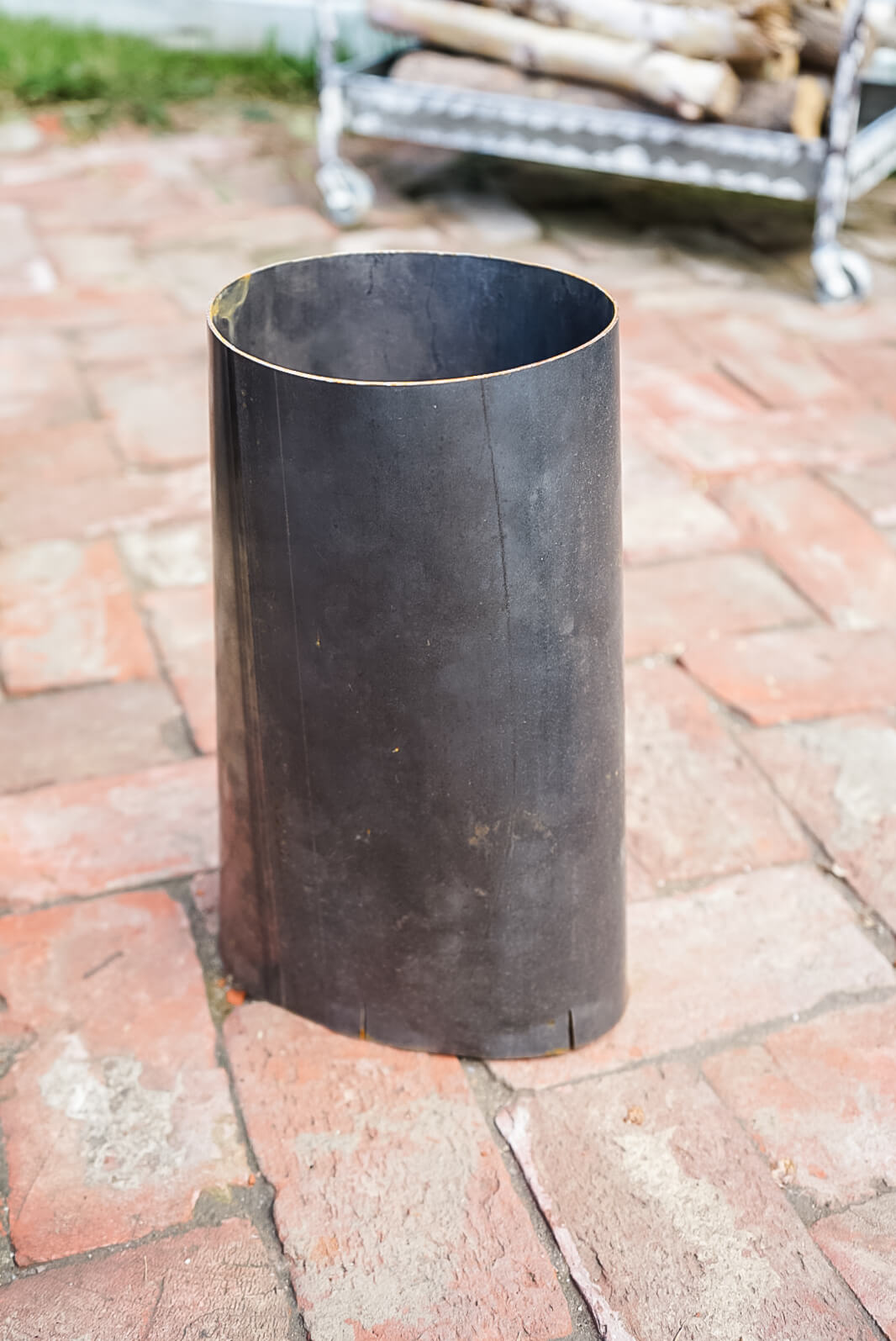 Step 3 – If you have any areas of the stove you don't want painted, you should cover them now using the painters tape and paper roll or newspaper. I needed to tape off the front of the stove as it was chrome and I wanted it to stay that way.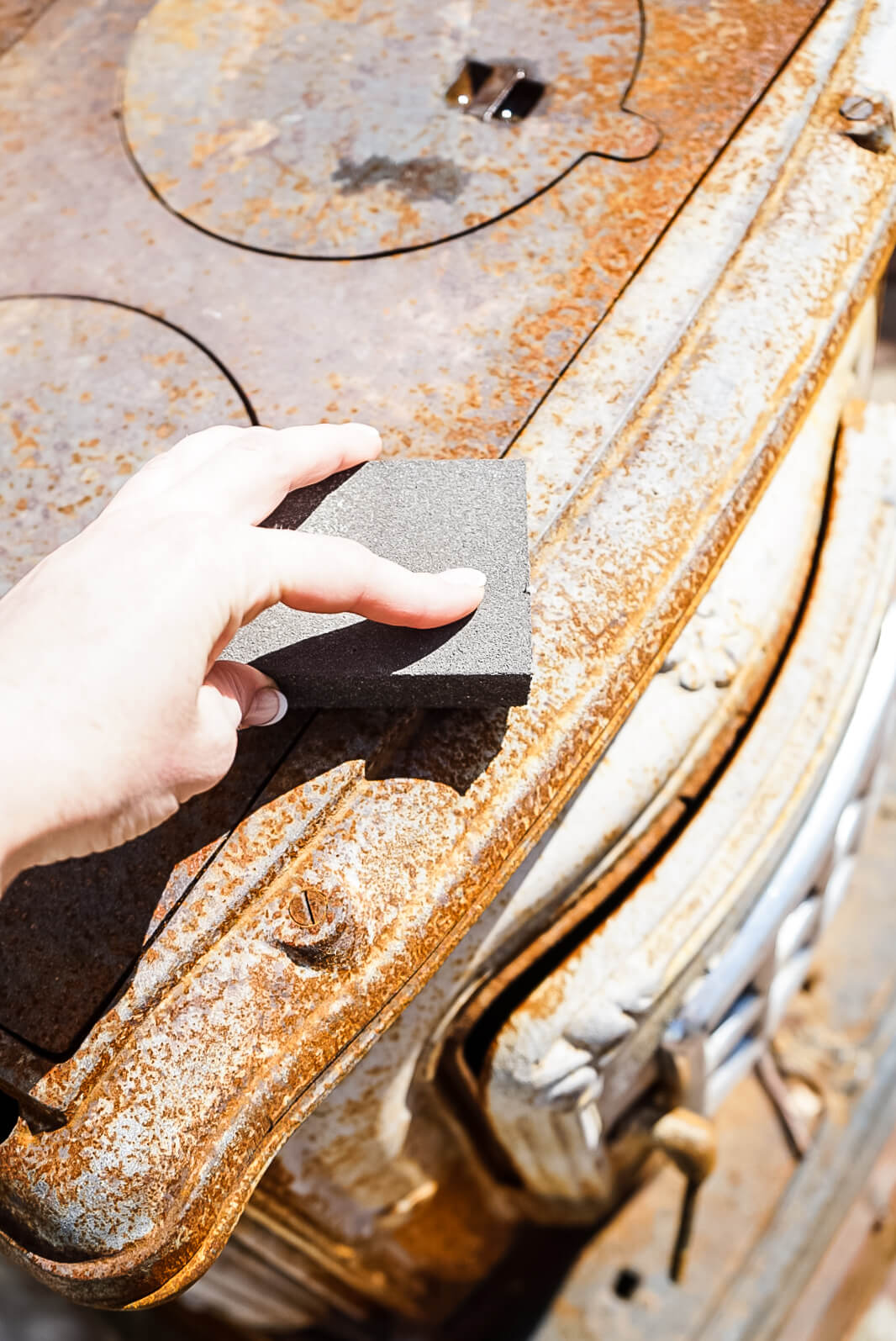 Step 4 –Now you will want to clean off loose rust and any flaking parts to the piece. I used a 120 grit piece of sandpaper to do this step. You don't need to get down to bare, shiny metal. Just clean off the flakes and powdery surface rust that prevent paint from adhering. However, badly rusted metal areas will need more prep work.  
It's amazing what a little elbow grease and coat of paint can do – Deborah, B Vintage Style
Step 5 – Wipe the area clean using a damp cloth and allow it to dry completely before beginning to paint the area!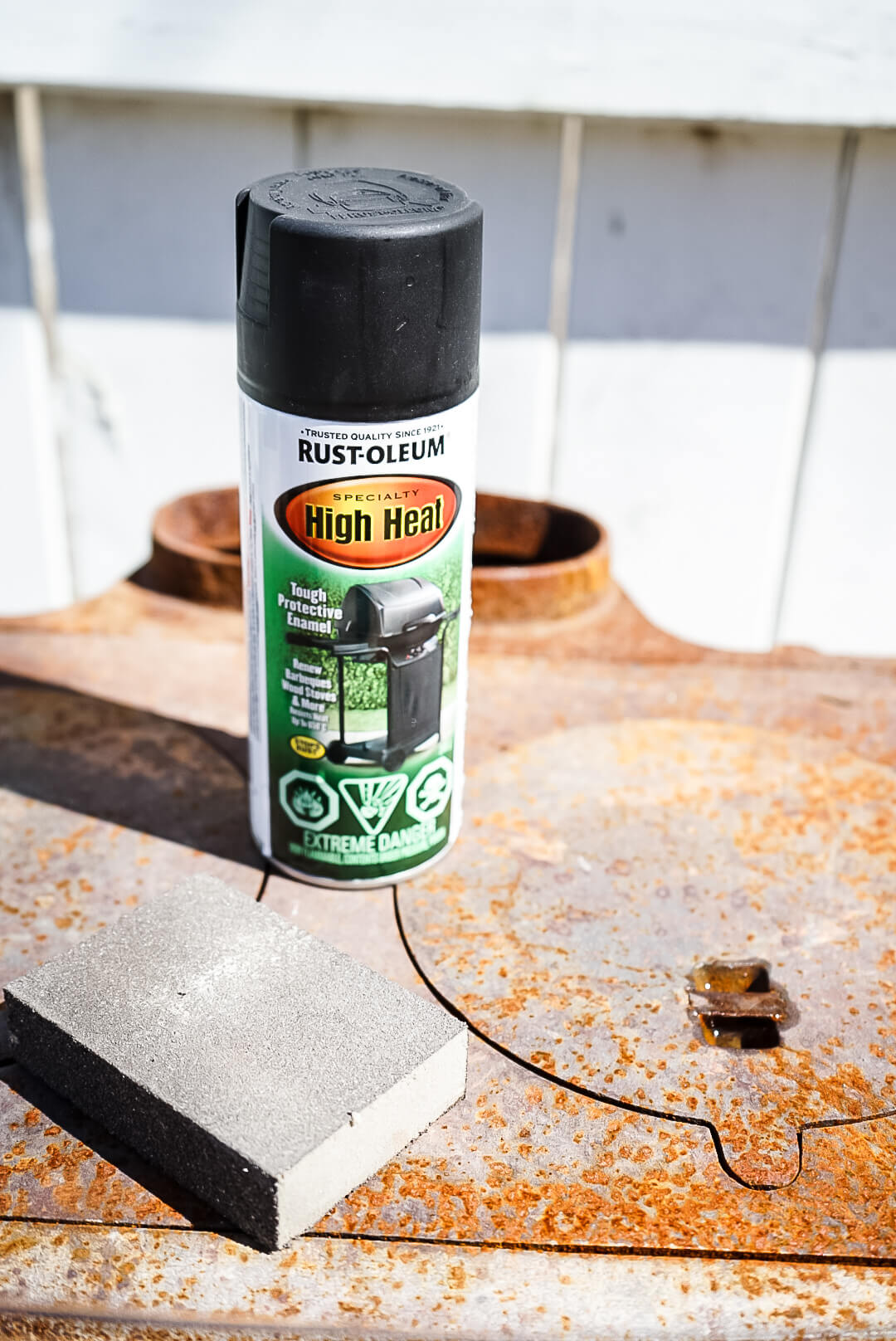 Step 6 – Paint! You can now begin the spray painting using the Rust-oleum High Heat Outdoor rust proof paint. Hold the can approximately 6-12" away from the piece when spraying.  It is very important that you don't spray to close to the piece or it could run the risk of pooling or running. If this does happen, blot the drip with a damp cloth and allow it to dry completely before you paint a second coat on the area. You should be able to have the drip not show at all if you do it properly. Allow the whole piece to dry completely in between coats. I did three coats for my fireplace as I wanted to have really good coverage on it.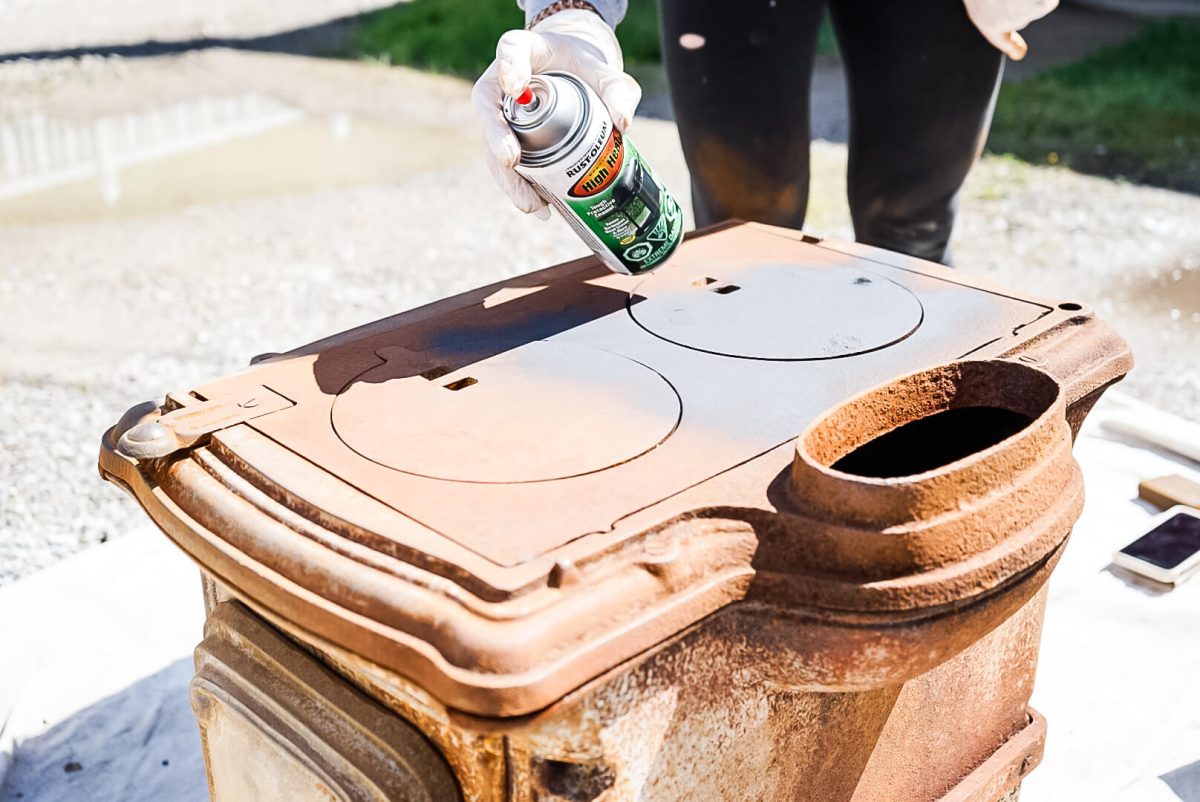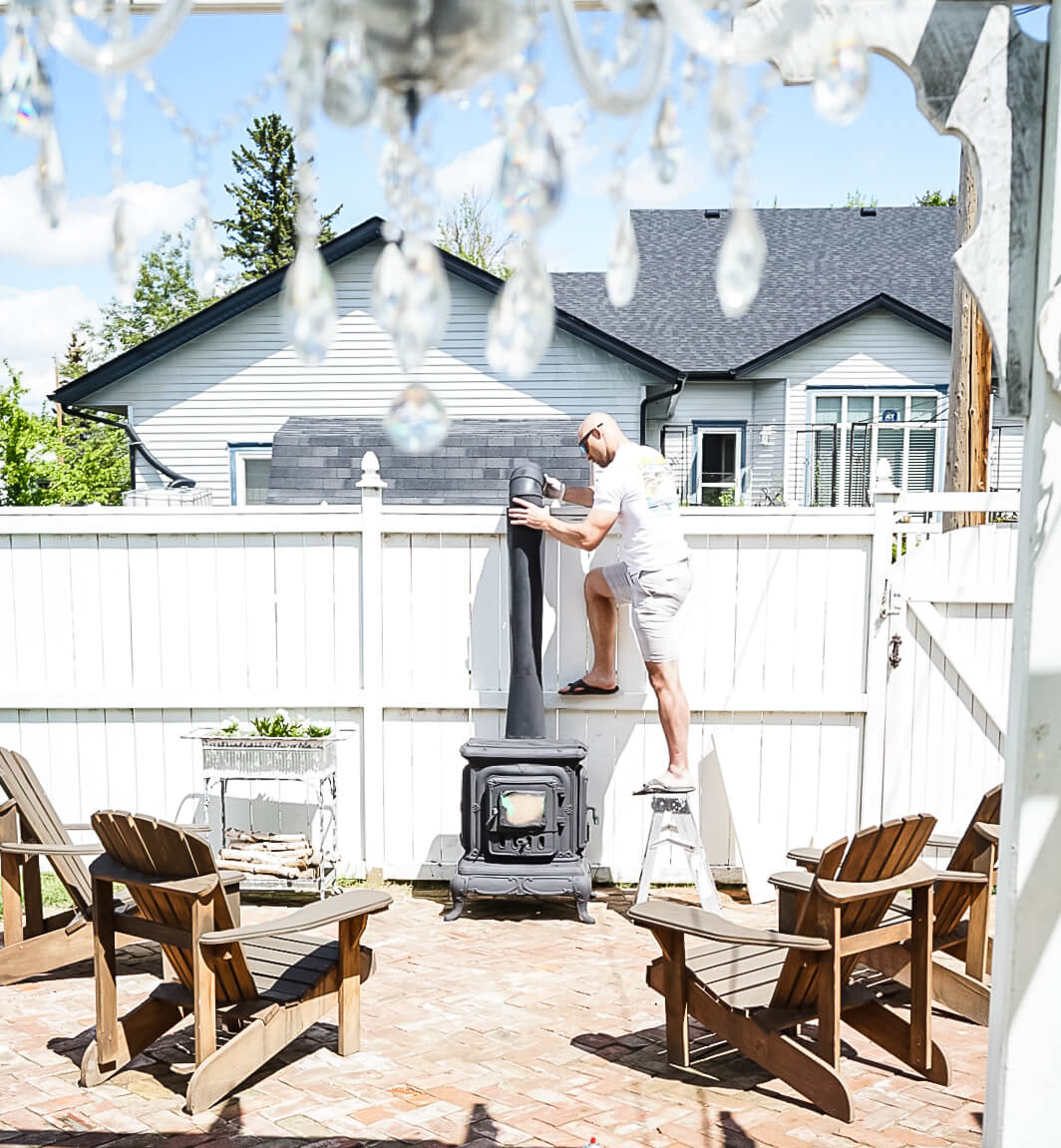 I am SO happy with how this amazing outdoor wood burning fireplace turned out! It is such a beautiful addition to our back yard and outdoor living space and I love how creative and unique it is!
 I also love having a tiny piece of history from the original house being recycled and reused somewhere on the property! It burns really well and  puts off a lot of heat considering it is not an open unit!
The kids love being able to roast marshmallows and hotdogs in it too! The view from my kitchen sink looks right out at this area so it also gives me such a beautiful space to look at. Now all there is to do is pour a glass of wine, sit back and enjoy! 
I love that the fireplace has a history with the house! It makes it extra special for our family to enjoy – Deborah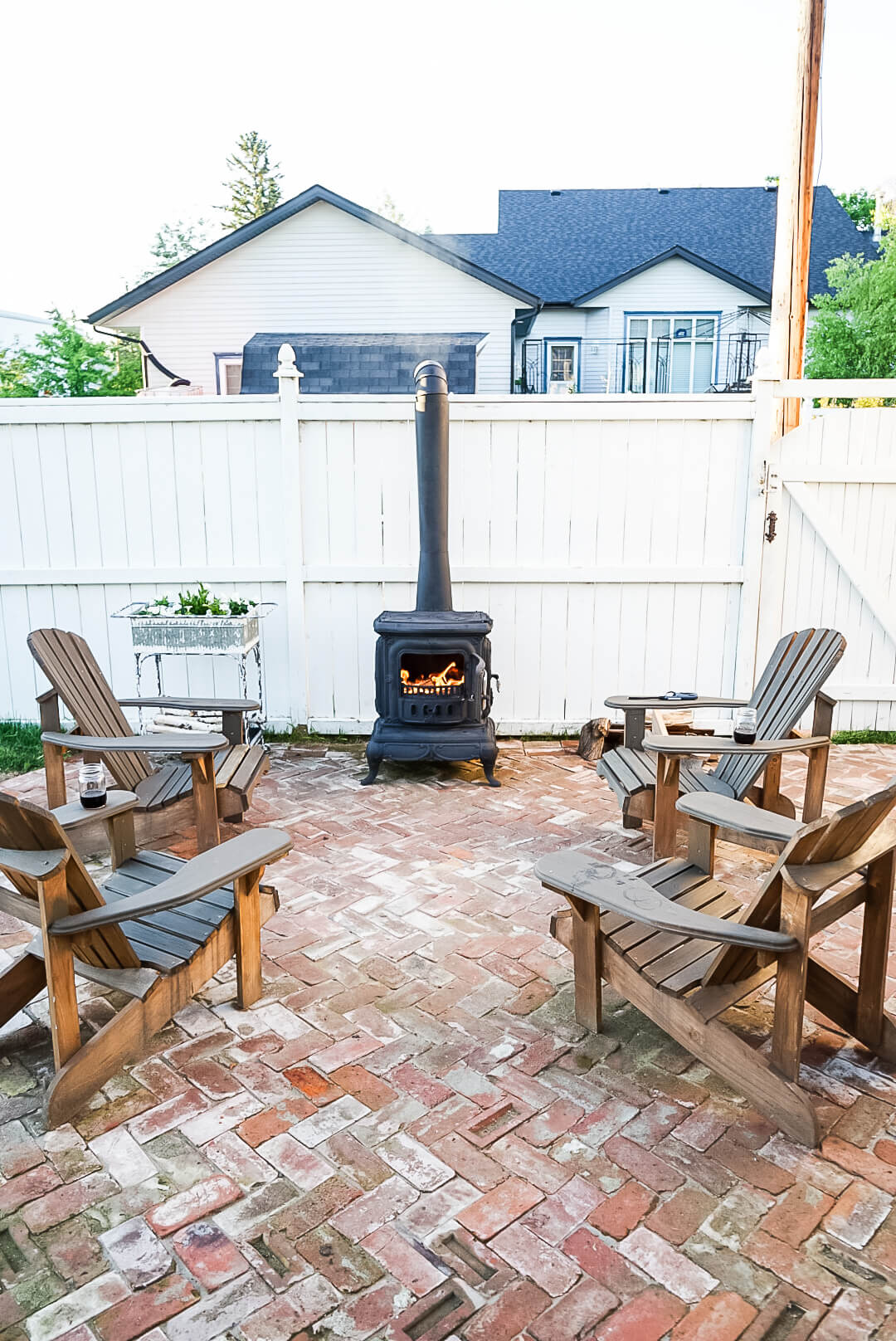 I am so impressed with how well the Rust-oleum High Heat spray paint worked on this fireplace project. A few of the most important features I needed out of this paint was to have it be weather resistant, have a good coverage and be able to stand up to extreme temperature's. So far, I can add a check mark beside each and every one of these.
The coverage was great and being an outdoor product, I should be good for a few years without needing to touch it up! The paint does warn to not to have it exposed to direct fire or heat. However because it is on the outside of the piece it is totally fine.
I am very excited to see how well it holds up over time, going with the satin finish it should help with the longevity of the paint as opposed to going over it with a high shine or glossy product.
​Check out the feature done on Rust-oleum  
 Have any of you ever made a wood burning stove into an outdoor wood burning fireplace? What are your thoughts on the look of this piece? As always, we love to hear from you so please feel free to leave us a comment below or send us an email!
You can also check out our post from earlier this year to get some inspiration and our 5 Best Tips on Decorating your Outdoor Living Spaces.  There is nothing better than coming home after a long day, putting your feet up and enjoying a beautiful outdoor oasis with your family!