This post may contain affiliate links. Please read our full Disclosure Policy.
Top Tips For Choosing Shiplap For Your Home
Do you have shiplap in your home? Do you want to install it in your home? Maybe you love the look of a shiplap ceiling? While some designers are saying shiplap is on its way out, there are lots of us who would disagree. Shiplap has been around for over a century and there are reasons that so many people still love it and have it in their homes! Let's dive into everything you need to know about shiplap!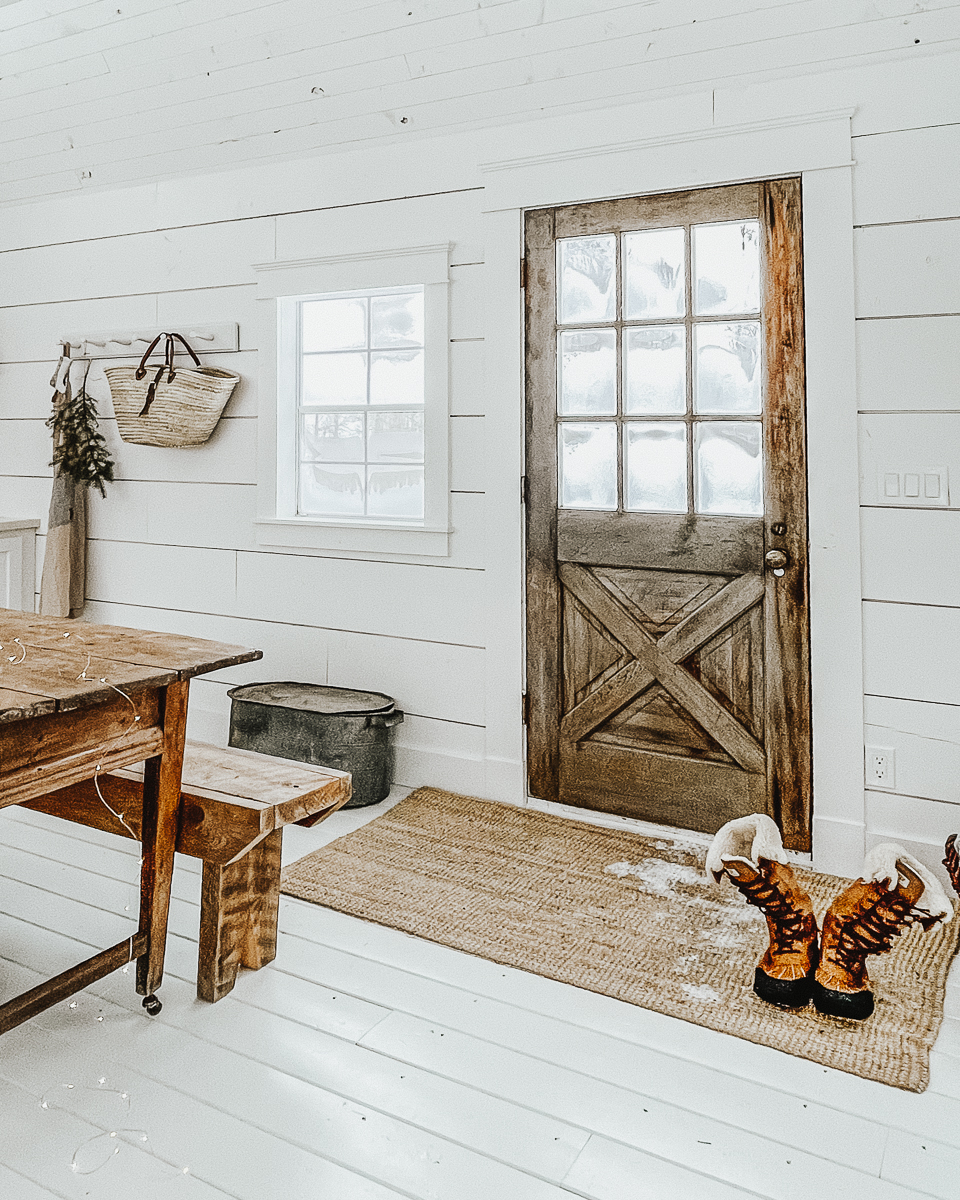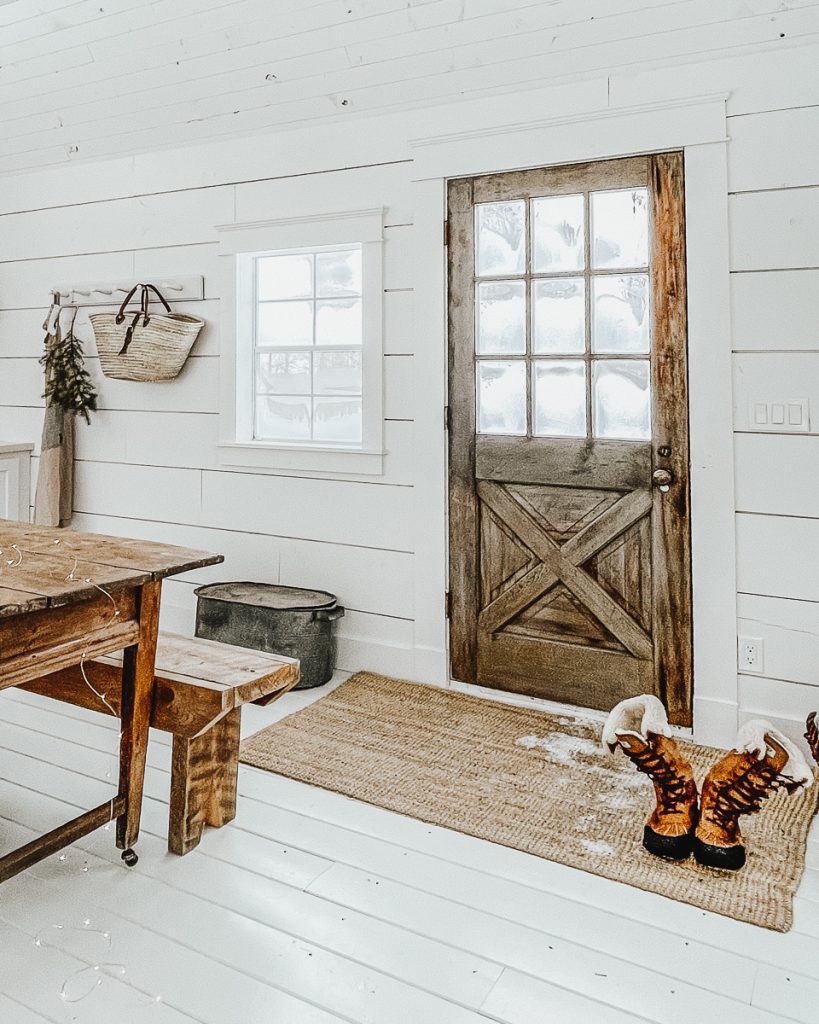 What Is Shiplap?
Although shiplap has been around since the late 1800's, it has made a huge comeback in recent years with the rise of farmhouse decor and design. Shiplap by definition is simply wood planking that has been rabbet cut so that the pieces fit flush together when layered on a wall or ceiling. Once installed, shiplap has the appearance of straight horizontal lines and varies in width depending on the size of the planking you choose.
How to Pick Shiplap for Your Home
Before you add shiplap to your home, there are a few things that you should consider. Deciding on the material type, budget, plank sizes and square footage of a space all come into play.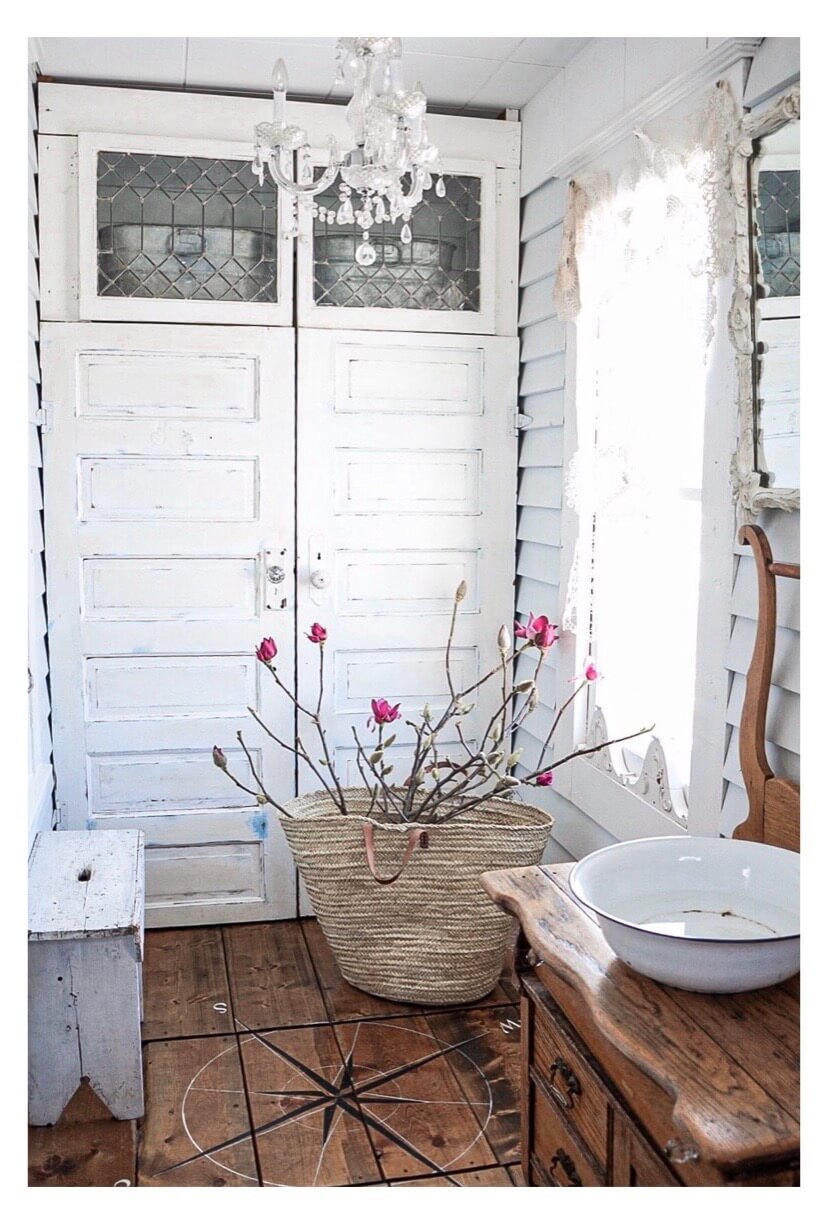 Types of ShipLap Material
Plywood
Plywood shiplap has quickly become a 'go-to' plank for those who are DIY-ing a space in their home. From a cost perspective, plywood seems to be a great price point however you may be trading quality for cost. This type of shiplap is usually a sheet of plywood that has been ripped into smaller size boards and is then stacked together on the wall giving the appearance of horizontal planking. Unfortunately, this type of plank will have a much greater chance of bowing and warping after the installation as time goes on. Especially if installed in a bathroom or somewhere that has high humidity.
Plywood also doesn't look quite right compared to traditional shiplap. Traditional shiplap has a small space in between the planks where the boards link together, however with plywood, if you leave a gap, there will be a space in your wall. If you are wanting a truly authentic shiplap look, this is not the material you will want to go with.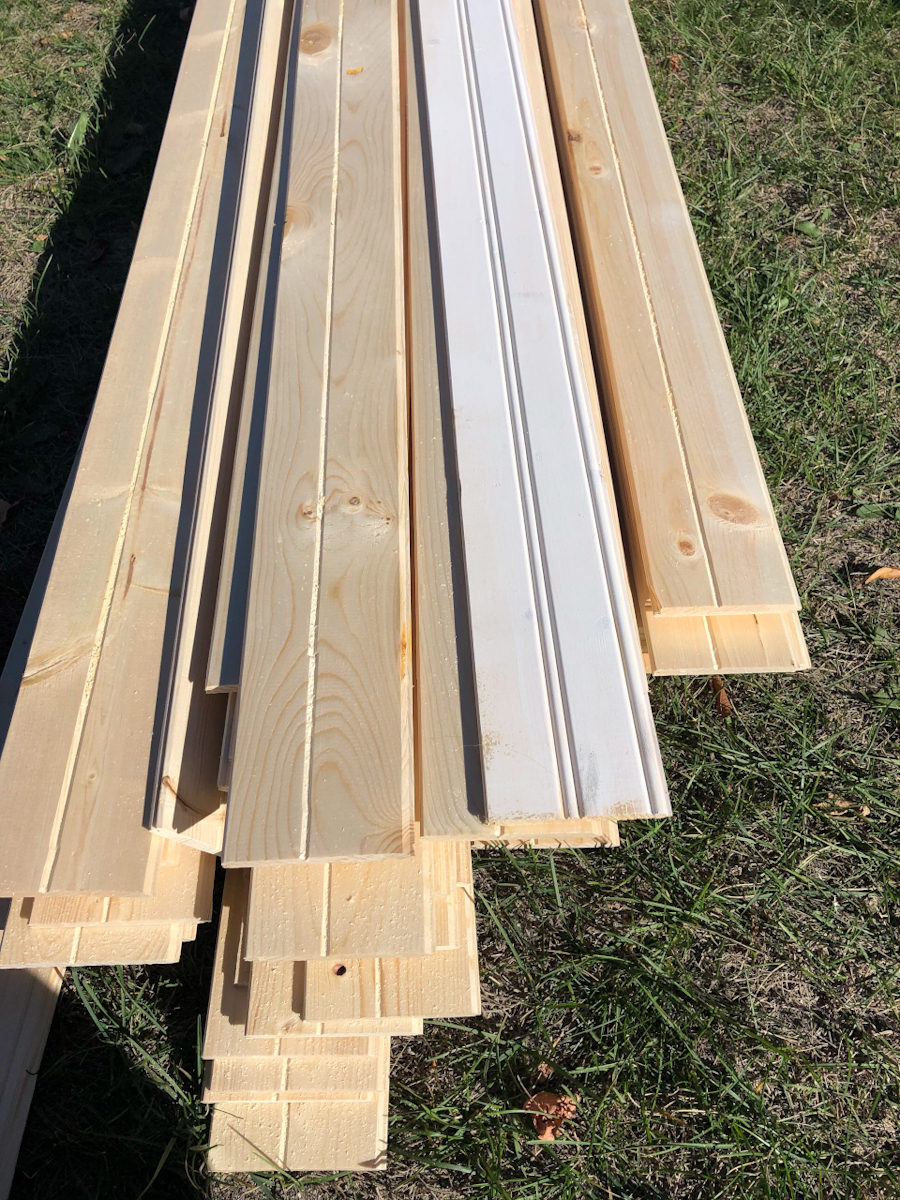 Milled Planks
Milled planks are probably the best product to work with to achieve the most authentic traditional-looking shiplap in any space! For this type of shiplap, you will need to DIY or have a carpenter mill and mitre the planks for you. Mitred edges allow the planks to slightly overlap and the finish looks like the traditional shiplap that you would find in old homes.
I have added milled shiplap in both my heritage house and in the shed house cabin. When you are deciding the size of the milled planks you are putting in your home, you will need a larger plank than the profile you are wanting. For example, in my tiny house, I wanted a 10″ on the shiplap, so we started with 1" x 12" boards and mitred the edges. Once the milled shiplap was installed, it gave the 10″ profile.
MDF Shiplap
MDF products are becoming more popular because of their lower price point. This kind of shiplap is now easily accessible and comes primed and sometimes painted which is a nice add-on. For a modern design or if you are working with a tighter budget this can be a great option. However, MDF lacks the character that a real wood product has. MDF is smooth and you are often limited to the width of planks available.
Also, another major downside to MDF is that it is not water-resistant like wood is. I would hesitate to put this product anywhere where there is high traffic or where water may be present. If MDF is installed in a bathroom and they will need to be very careful about how it is treated and how much water exposure it gets.
Pre Made Pine or Spruce Shiplap Planks
A newer product has come on the market is a pre made pine or spruce shiplap that has the traditional look and installation process. At this time, these pre made shiplap planks are available at most hardware stores but only come in a 5 1/2″ or a 8″ wide by 1/2″ thick plank. This type of pre made material does come with a higher price tag unfortunately but depending on your budget and project timing, may be the best option for your project.
I used these pre made planks in the 8″ profile in my upstairs bathroom remodel and my main level bathroom renovation. In both cases, these planks have held up very well in areas with a lot of humidity!
Tip** Use a solid outdoor wood stain instead of solid paint when you are covering wooden shiplap in a bathroom or kitchen. An outdoor stain will hold up better against the humidity in the space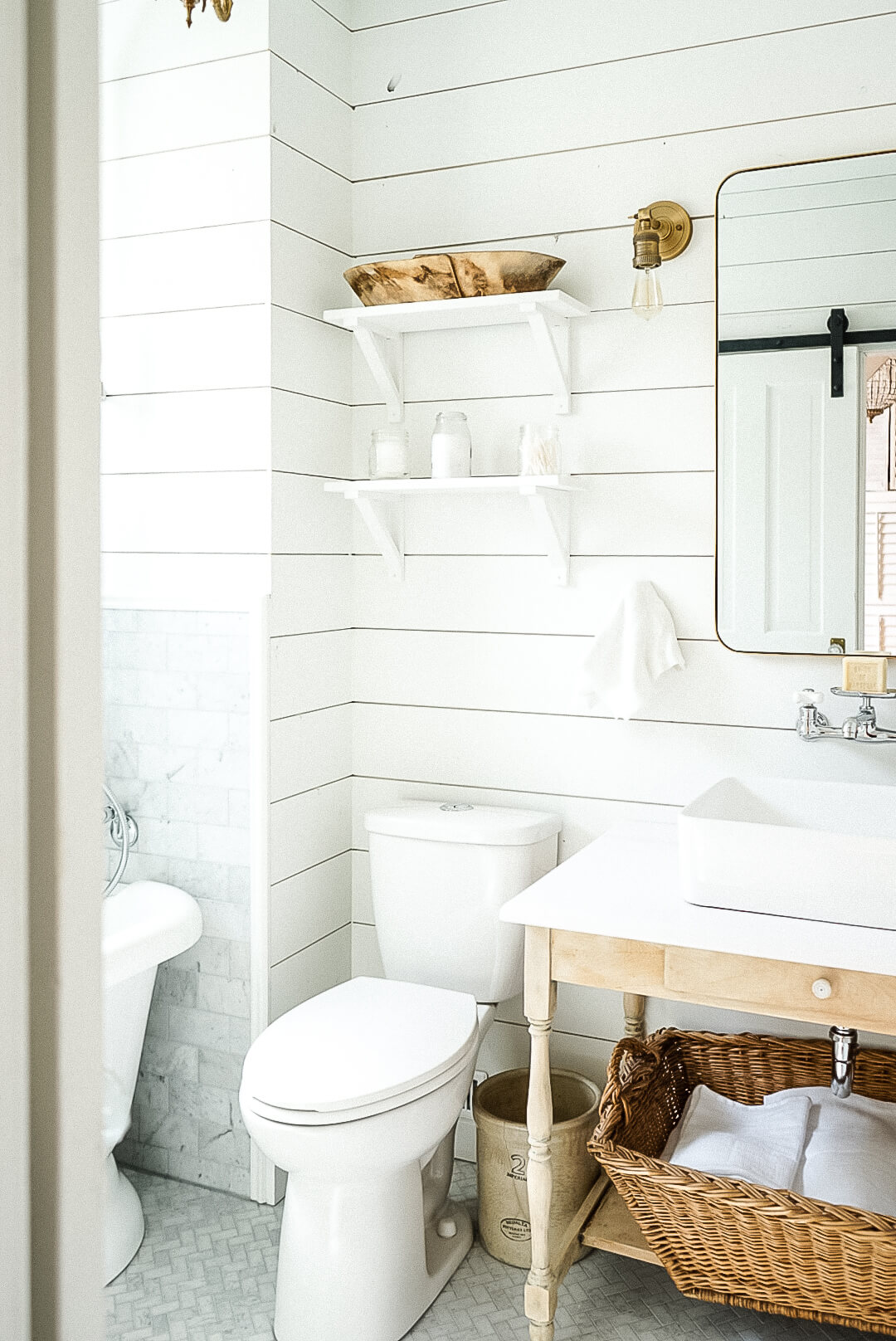 Shop my Bathroom

Cottage Grade Pine Planks
Cottage grade pine planks are not a true shiplap product but they do however, give a similar appearance at a fraction of the cost! This product is usually comes with knots and holes in the boards so it may not be for everyone but for those of your wanting a rustic or farmhouse shiplap look at a great price, cottage grade pine planks will give you just that! This product is going to be the best bang for your buck when you are refinishing a space as it is very affordable. It is also very easy to install and is manageable for just one person.
This is the shiplap product I used in the tiny house loft area and master bedroom. It was quick to install and gave the exact look I was hoping for.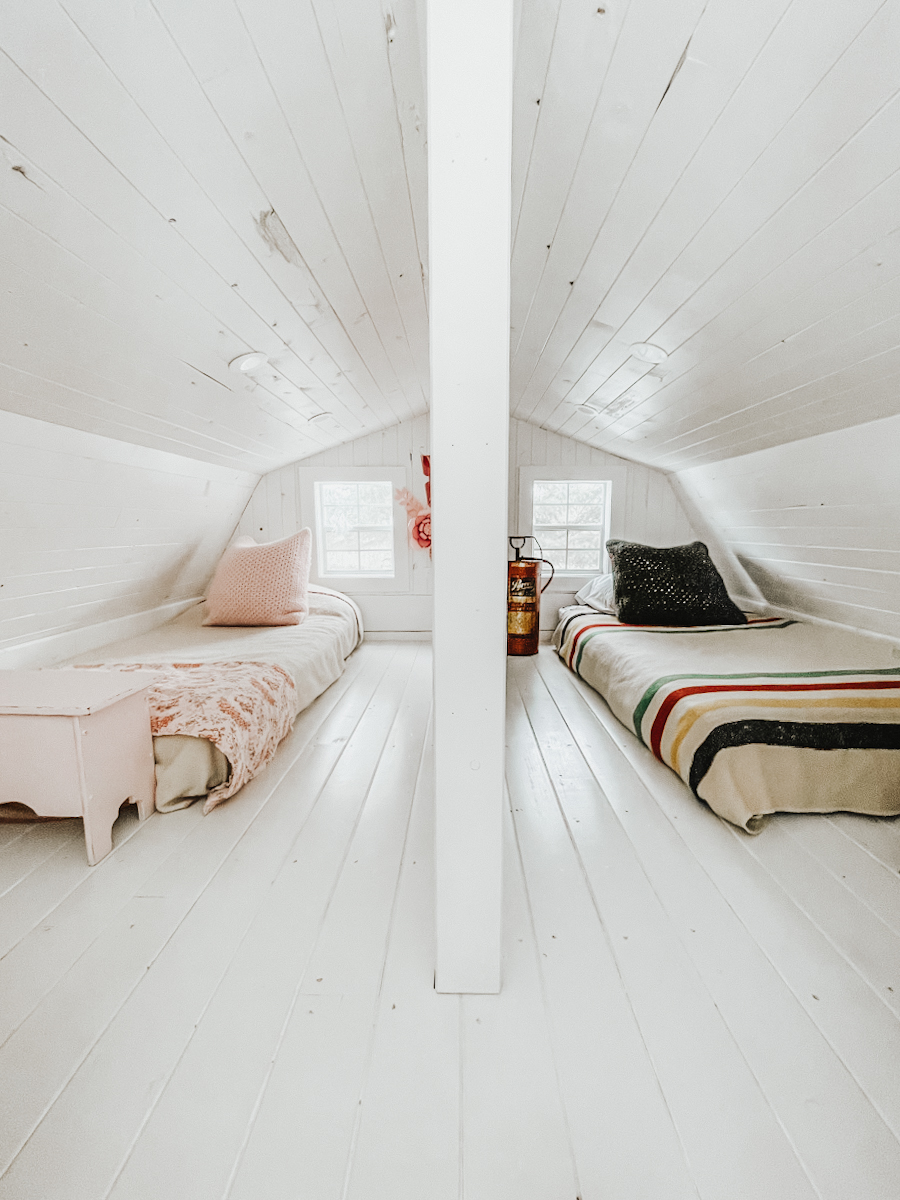 Budget for the Shiplap
Now that you understand the different types of shiplap material and planks, we can discuss the budget. Different materials are going to cost more than others. Some materials will be more durable and outlast others. If you know you are in a home that you will be in for a long time, it might be worth spending a bit more and getting a better-finished product. However, if you are looking for a quick update to add some character to your home using MDF or ripped-down plywood shiplap will also do the trick.
You can also save money by just featuring a wall of shiplap, rather than the entire space. I added a simple shiplap wall to my laundry area and still love the added detail it gives this space.
Shiplap Plank Sizes
Another consideration to think about is the size of the shiplap planks. If you decide to go with pre-made shiplap or cottage-grade planking, your options will be limited to a 5 1/2″ or 8″ profile. Of course, if you decide to go with a milled product or DIY your planks, you can choose the profile to be whatever you desire. Just remember that you will need to purchase lumber that is approx, 2″ wider than the profile you are wanting as you will need to mitre the edges. For example, if you want a 10″ profile, you will need to use 12″ boards.
If you have baseboards you are not wanting to replace or remove, you may also need to have the boards made into a 3/4″ thick profile.
The size of the space will also play a part in the size you choose to go with. In a small space, you may want to go with a wider profile, like a 10″ shiplap, otherwise, you risk the room looking extremely 'busy'. I used a 10″ in my tiny house cabin with a 5 1/2″ profile on the ceiling.
In our attic space, I have a 7″ profile on the knee walls with a 5 1/2″ on the ceiling. It looks beautiful in this space as it is quite a large in this room and can hold the busy look of the smaller profile. In my studio, I also had custom shiplap wainscotting made. My carpenter milled 1″ x 6″ boards in half and then add a mitred edge. This left a profile of approx 2.5″ which was displayed vertically below the horizontal 10″ shiplap above. It looks amazing!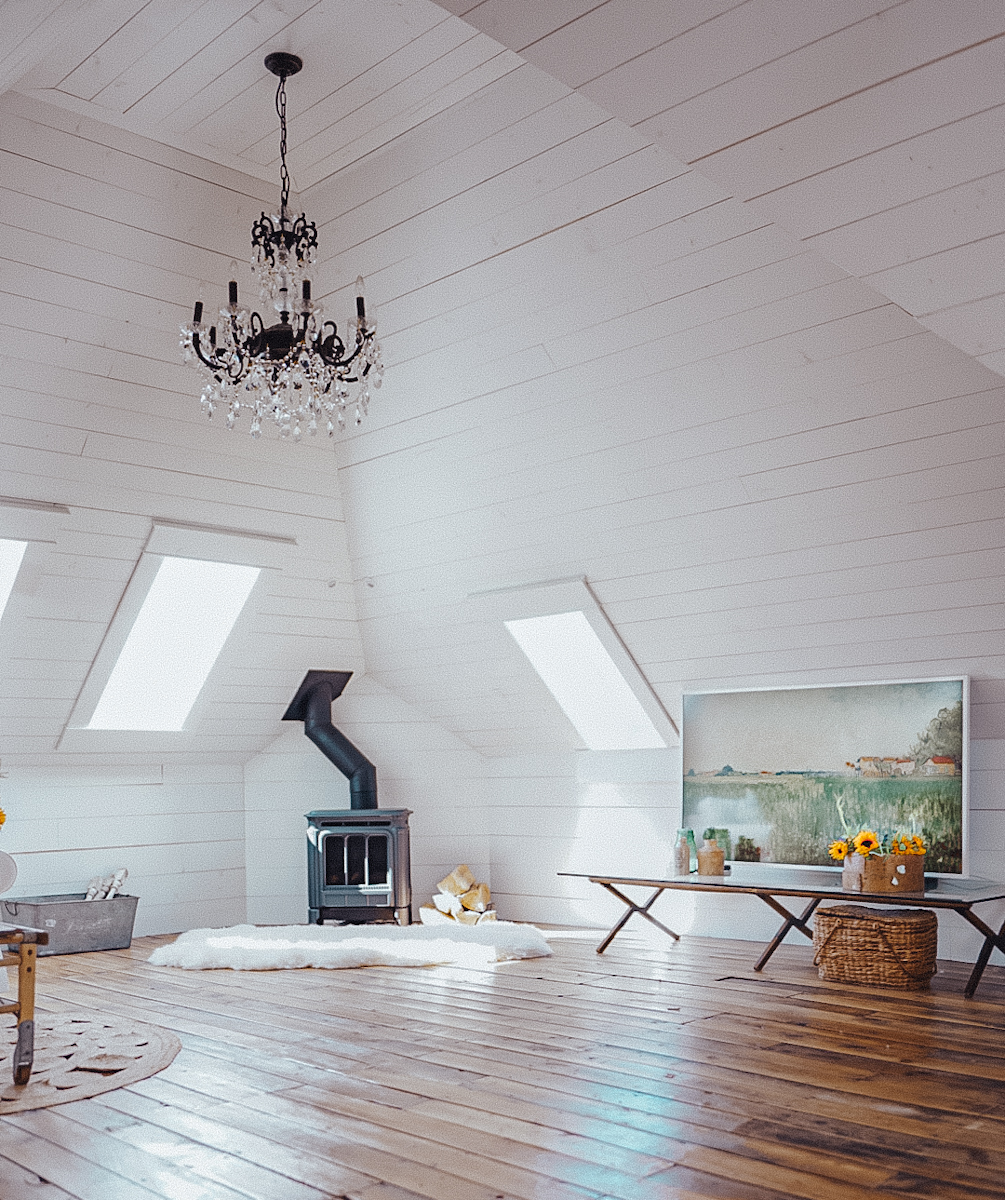 Shop my Attic Space

Measuring the Square Footage of the Space
One of the questions I get asked the most is how to measure the square footage of the space you are adding shiplap to. You can calculate the square footage by measuring the length and width of your area and then multiplying those two numbers together to get the area in feet squared (ft2). If you have an oddly shaped area, split it into multiple square or rectangular sections and treat them as separate areas. Calculate the area of each section then add them together for your total. If this all seems too confusing, then use this simple square foot calculating tool. Always order a bit extra for any project in case of miscuts!
Tip* Pre-paint all of the edges of the shiplap before it goes up on the wall! Then once the board is nailed to the wall paint that edge again before the next board goes up.
Consider your Flooring
Last but certainly not least, consider your flooring! Using shiplap planks that are the same width as your floor planks can look awkward, you need to create a contrast between the width of your flooring vs. the width of your shiplap. Another option would be to install a skinny lap! Skinny laps are planks that are approximately 2"-3" wide. While we do not recommend doing a whole room with this wide of planks, using skinny lap planks on a feature wall can give your room texture and character! Skinny lap also looks great leaving the planks raw wood or painting them a darker colour.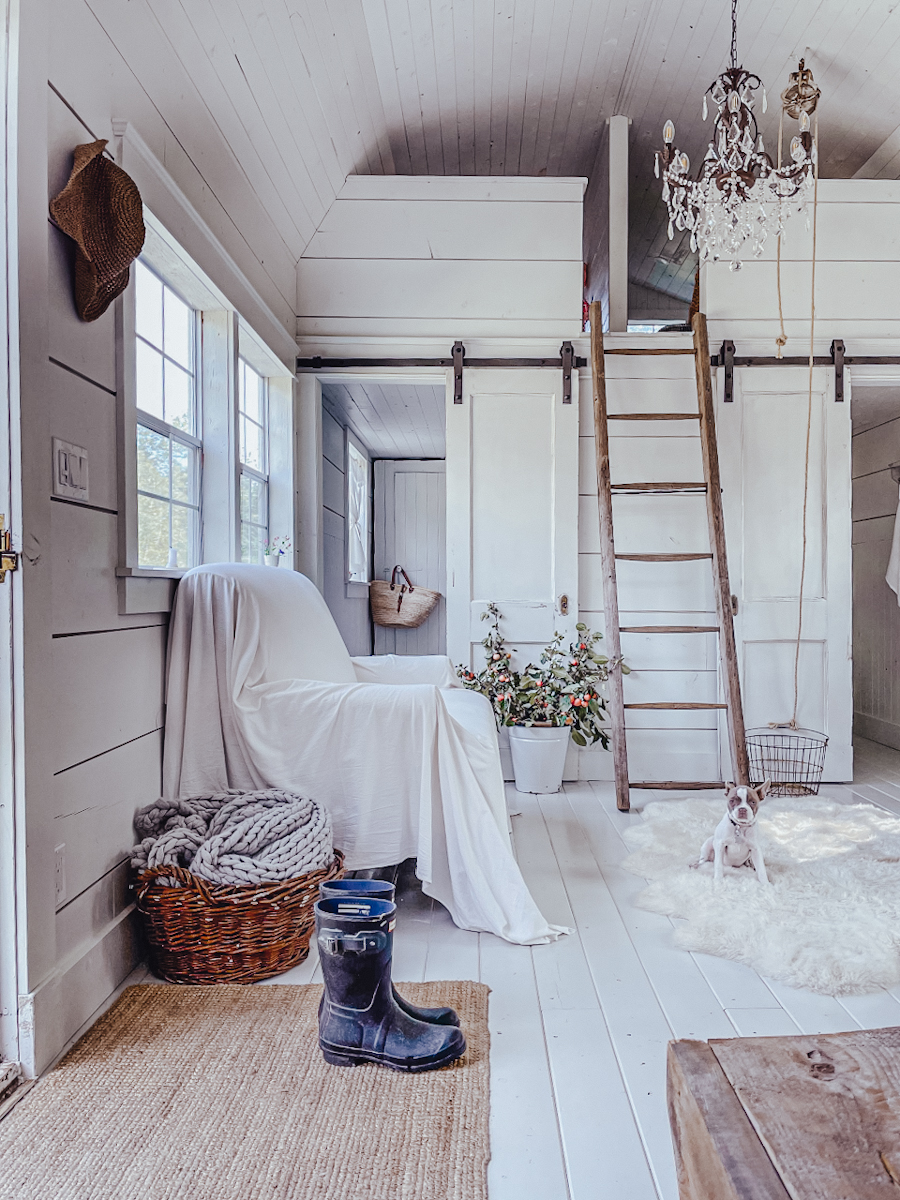 Shop or read more about my Cabin Shed Tiny House

Shiplap Checklist
Here is a recap or checklist, if you will, with the Do's and Don'ts to consider when installing shiplap in your home.
DO'S
Consider the height of your ceilings when deciding the width of your planks.
Decide on the width and thickness of the shiplap.
Paint in between the planks as you are installing (seriously cannot stress this enough!)
Base the type of shiplap material on the purpose of the space and your budget.
Always order a bit of extra shiplap for any project in case of miscuts!
DON'TS
Don't think shiplap will be a quick install if you are doing it by yourself for the first time.
Don't pick boards that is the same profile and size as your flooring.
Install shiplap in one tiny area of your home without trying to incorporate it into other spaces as well.
Install shiplap over a space without removing the baseboards.
Looking for an alternative to shiplap? Check out this unique modern wood feature wall from Joyfully Growing!
The Best Shiplap
Although most interior shiplap is made from pine, poplar or MDF, I would recommend using a lighter wood like over MDF or ripped down plywood if it fits in your budget or if you are going to be staining the shiplap after it is installed. The size of planks is dependent on what style you love the most however a wide profile will give you a more classic authentic appearance.
I had the 8″ wide planks made for the attic spacer as they are authentic to what was in this space before we renovated it and to a home that was built in 1904. We used multiple sizes for the attic, 8″ for the small vertical knee wall and 5″ on the slanted/vaulted ceiling. Mixing the sizes as it gives the space a bit more personality! You can see more of the shiplap I have added to my home in this post on touches of shiplap.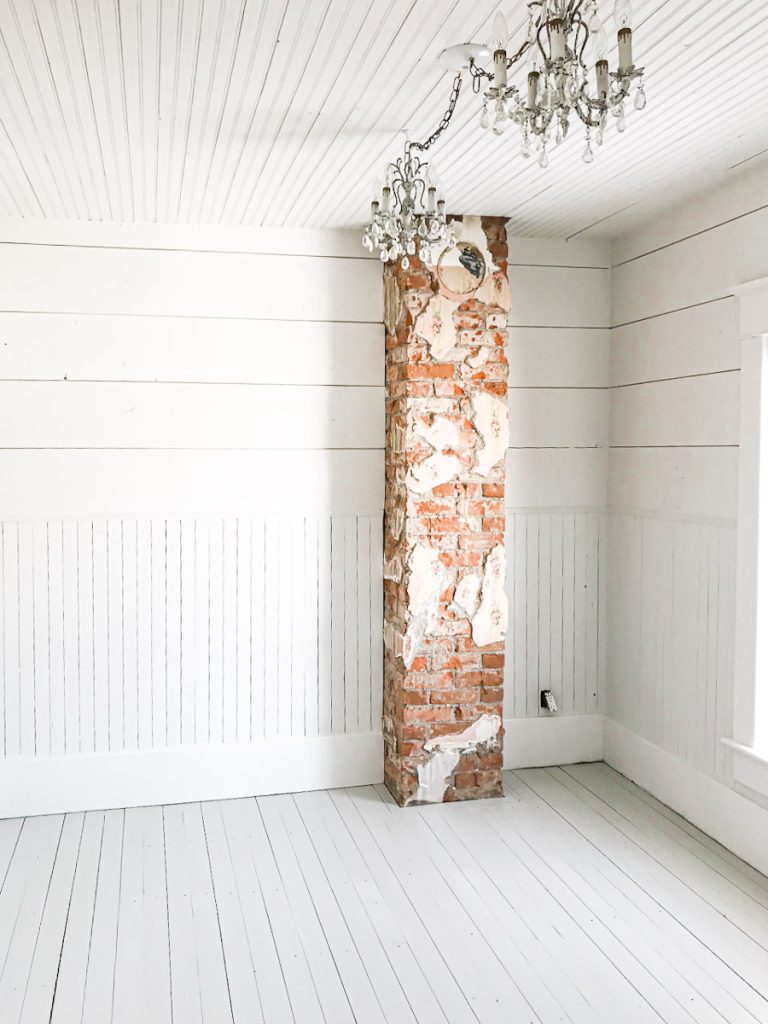 I hope you enjoyed this post about shiplap! It really does add an element of beauty and design to any space. If I have missed anything or if you have any questions, leave them in the comments below and I will do my best to answer. As always, you can also find me on Instagram. If you are wanting to see more of my homes, you can head over to my latest home tour and have a read.
Frequently Asked Questions
Why is shiplap called shiplap?


Shiplap is called shiplap because of the way the boards are designed and installed. The boards are cut with a rabbet joint, which allows them to overlap and fit tightly together, creating a watertight seal. This type of joint was commonly used on ships to prevent water from entering the hull, hence the name "shiplap." Today, shiplap is used in a variety of building applications, including interior and exterior walls, ceilings, and even flooring.
What is so special about shiplap?


Shiplap has become a popular design element in recent years because of its rustic and natural look. It provides a warm and inviting feel to a room and can be used in a variety of styles, from coastal to farmhouse. Shiplap is also versatile and can be used on walls, ceilings, and even as a decorative accent.
Another benefit of shiplap is that it is relatively easy to install. It can be nailed or screwed onto existing walls or ceilings, and the tongue-and-groove design of the boards makes it easy to fit them together. Additionally, it can be painted or stained to match any decor, making it a versatile choice for homeowners and designers.
Finally, shiplap is also durable and long-lasting. The tight-fitting joints help to prevent moisture and air from penetrating the walls, which can help to reduce energy costs and prevent mold and mildew from forming. Overall, shiplap is a popular choice for homeowners and designers looking for a natural, rustic, and durable design element.
More Home And DIY
Be sure to take a look at a few of the other home projects on the blog.
Want more information on skinny lap? Read about it here on The Inspired Hive!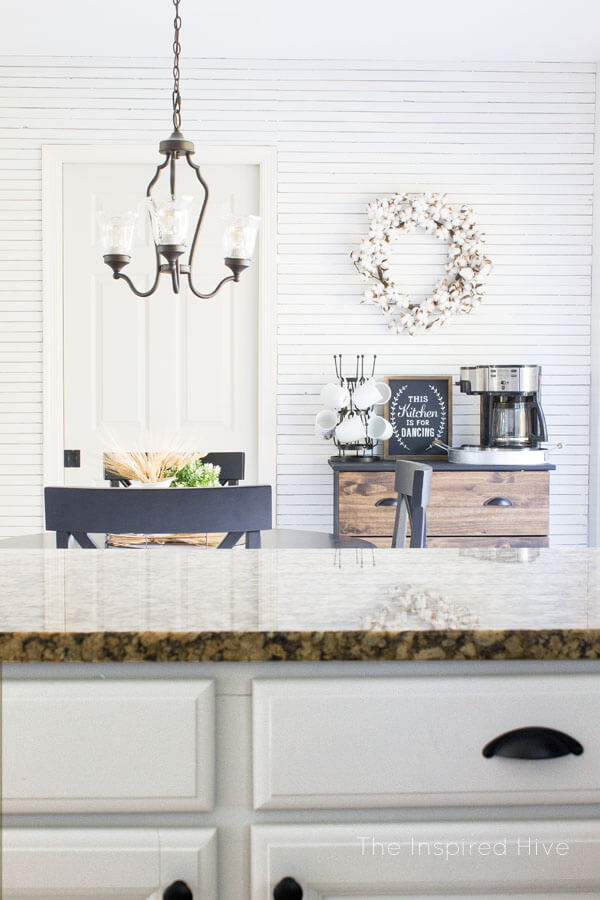 Looking for more easy tips on shiplapping? Check out Grace in my Space Easy Shiplap Tips!
Pin for Later