This post may contain affiliate links. Please read our full Disclosure Policy.
Do you want to cover up an old outdated ceiling? Perhaps you are building new but just love the look of a shiplap ceiling or cottage feel. This easy, DIY process is great for even a beginner DIYer. Just grab a partner and read all the tips and tricks below on how to get the stunning shiplap ceiling.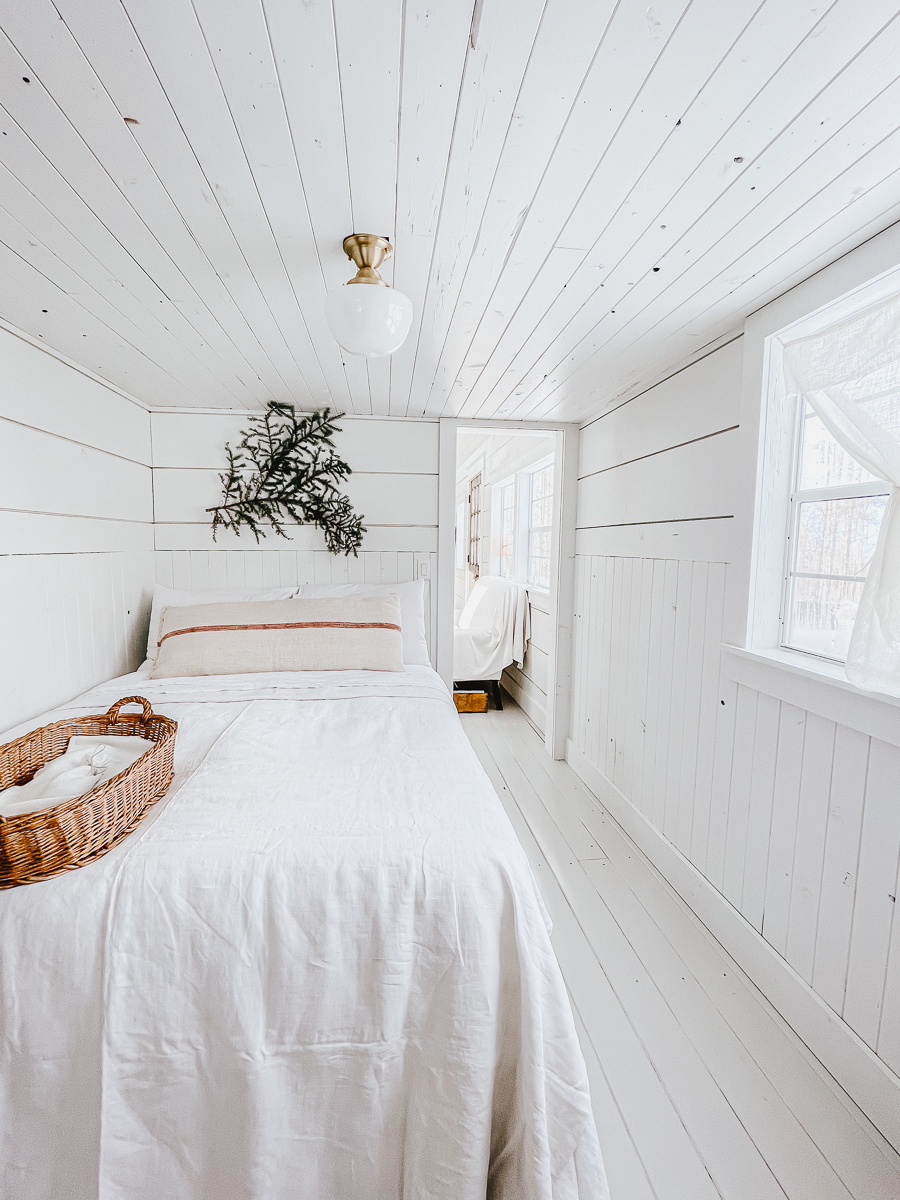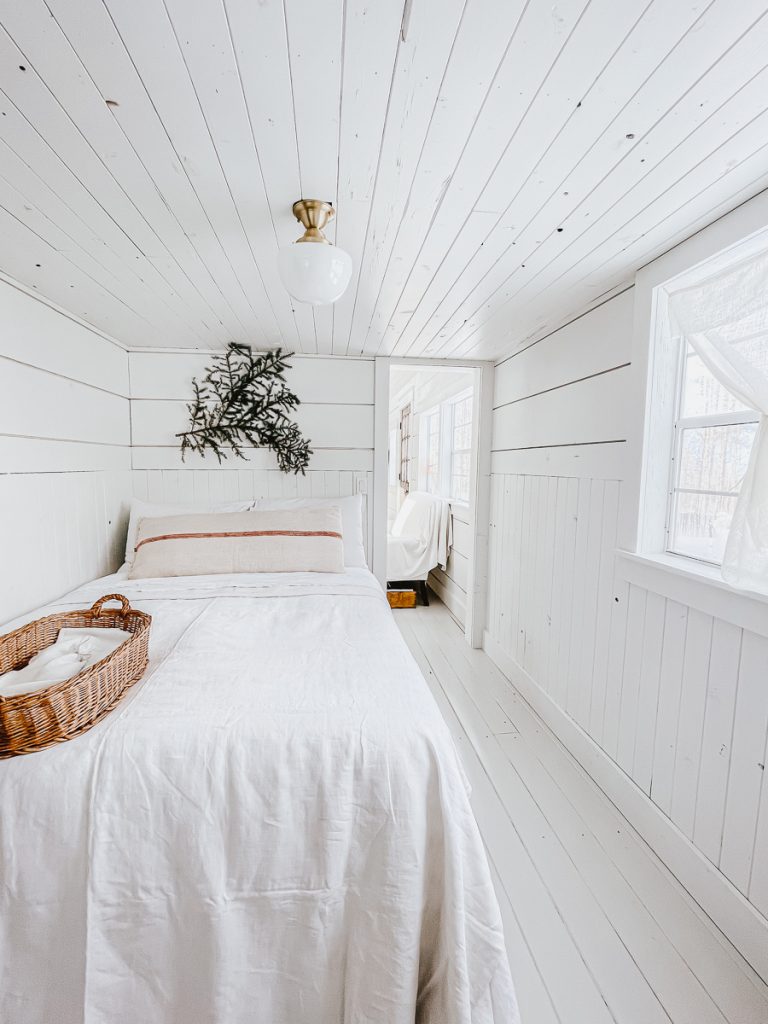 Types of Shiplap for a Ceiling
There are so many types of shiplap on the market, sometimes it can be overwhelming trying to decide which type to use. If you are unsure on what type you want to use for the wood tongue and groove ceiling, make sure to read this post on how to choose shiplap for your home first. Types of shiplap that can be used for a ceiling are
Pre-Made Tongue and Groove Shiplap
Milled Shiplap
MDF Shiplap Planks
Plywood Planks
Cottage Grade Pre-Made Planks
For this tutorial, we will be using cottage grade pre-made planking! You can purchase this product in different woods like pine, spruce, fir and cedar. If you are choosing to paint over it like I do, I would recommend using a pine or spruce product as it is the most cost effective and it doesn't bleed through the paint or stain the way that cedar or fir wood does. I have also milled this myself in the past as there was a shortage of product during the pandemic.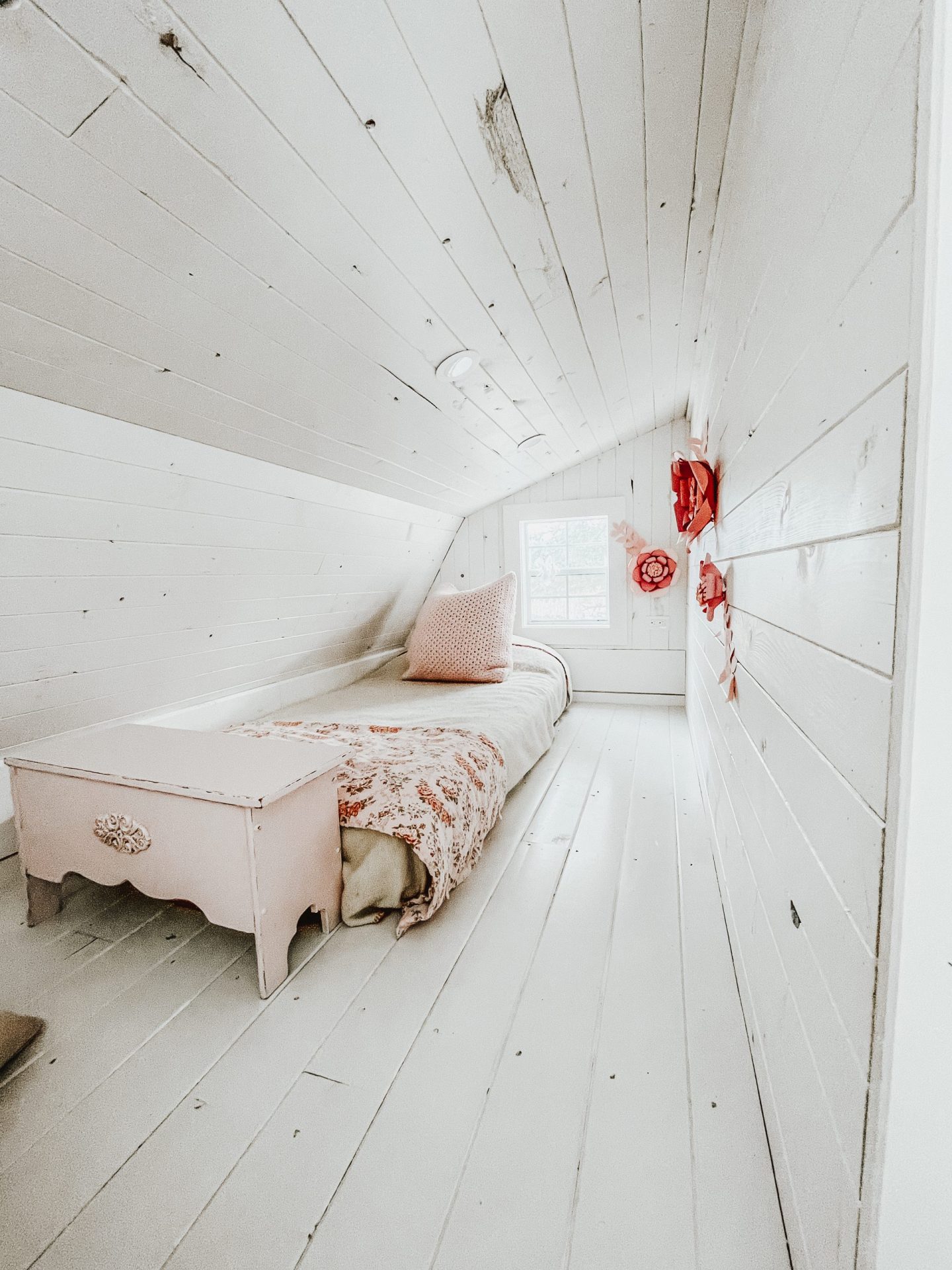 Covering Up Popcorn Ceiling
When I first bought this big historic house, there was so much work to be done. It was almost overwhelming the kind of shape that the house was in. For almost three full years, Patrick and I worked night and day to make this house the way we had always dreamed. Room by room, we gave the old girl a facelift. Now, we have lived here for almost eight years, the renovations that are left are simple upgrades but one of the things that drive both of us crazy is a 1970s popcorn ceiling. In our previous home, we tried to scrape the popcorn off of the ceiling. It was an awful experience! So this time around, we decided it would be a much better idea to cover it up! Not to mention I loved the look and detail of a shiplap ceiling. Although I used this process to cover up the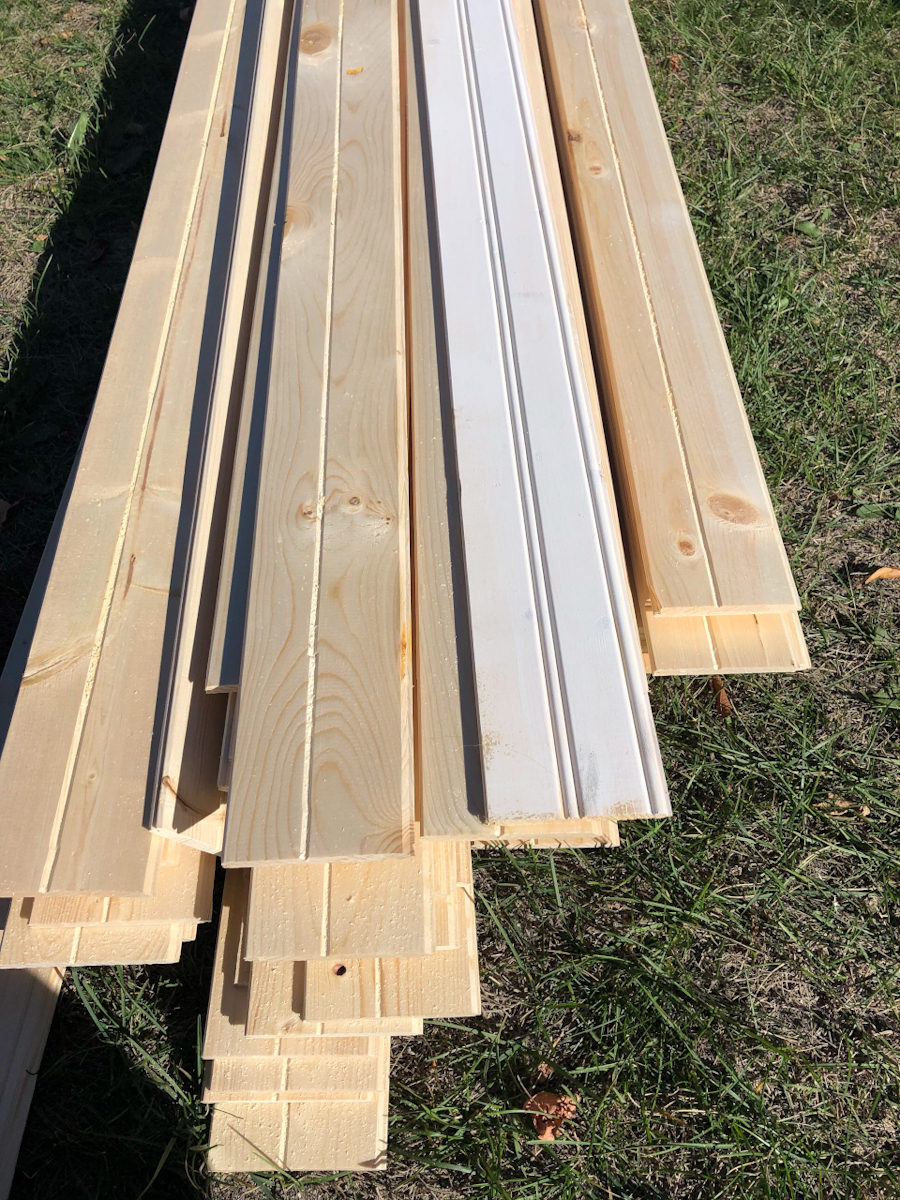 Using Shiplap for a Ceiling
Although planking a ceiling with shiplap is a great way to cover up an old ceiling or outdated popcorn ceiling, it can also be put into a new space. It is important to plan for this type of ceiling by adding the appropriate strapping to the the ceiling joists if necessary.
Shop For This Shiplap Ceiling DIY

The Cost of a Shiplap Ceiling
The cost of your shiplap ceiling will vary depending on which product you decide to go with. A lower quality, character grade pine planking will be significantly more affordable than milling your own shiplap or going with a cedar plank. If budget is a concern for you, still to MDF or cottage grade planking for the most affordable shiplap ceiling options. For a more authentic wood tongue and groove ceiling, you will want to use a pre-made wood shiplap or have a product made for you project.
Size of Planks for a Wood Tongue and Groove Ceiling
The last decision you will want to make prior to beginning your shiplap ceiling is the size of your planks. Do you want a 3″ wide profile or a 5″? Perhaps your looking for a penny-lap look like I have done in my home. If you are making your own shiplap tongue and groove, you need to purchase your planks slightly larger than your desired profile. For example, to have a 10″ profile on the ceiling, you will need to purchase a 12″ plank to mitred the tongue and groove. You can also purchase a pre-made 5″ or 7″ pine shiplap but it is a bit more pricy. The cottage grade pine planks currently come with a 3 1/4″ profile.
How to Make a Shiplap Ceiling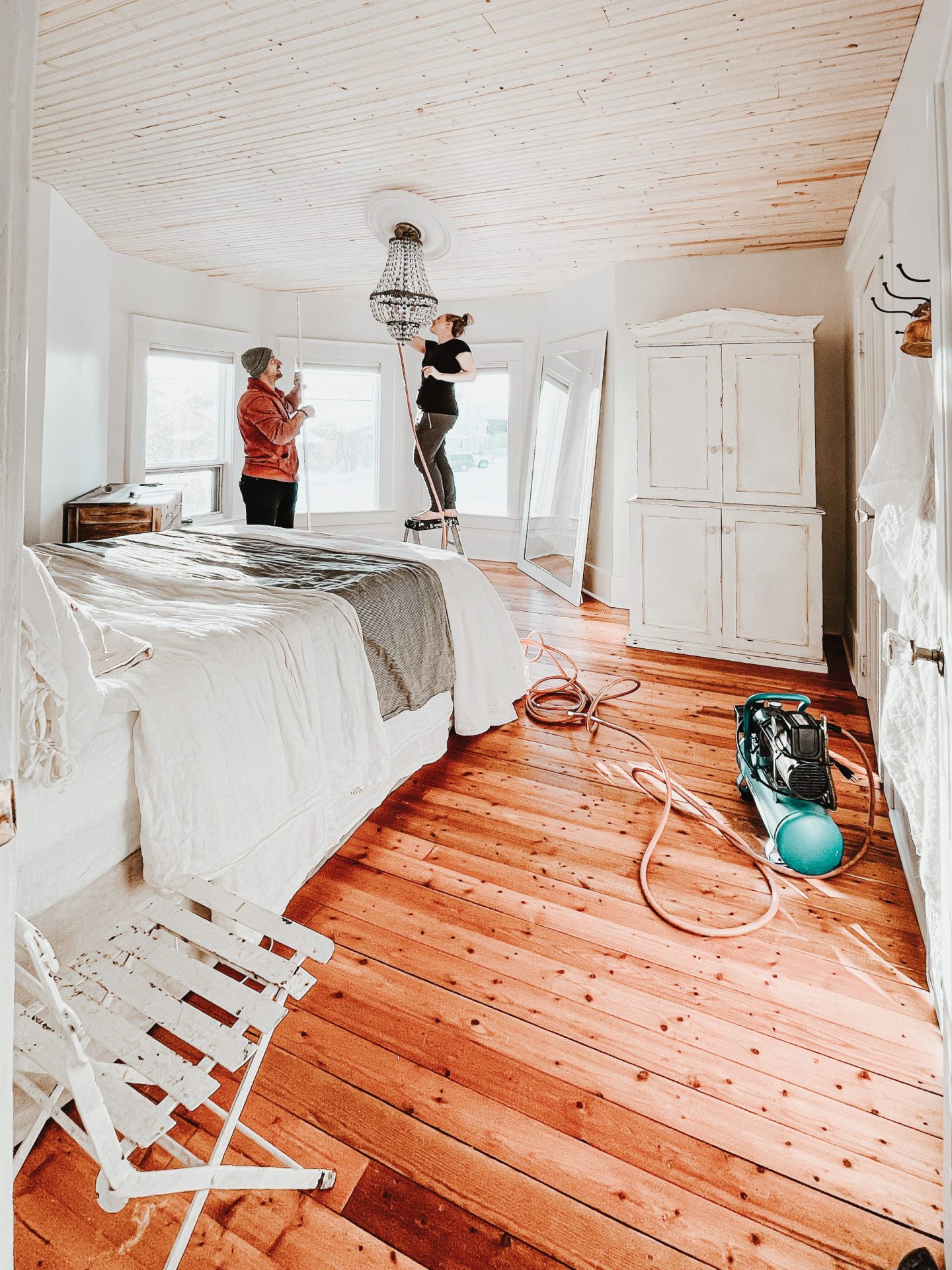 Now that you have considered all the costs and size decision associated with installing a shiplap ceiling, let's get started on the DIY! This process is much easier to do if you have two people for the job. If you aren't able to find help, you will want to have ladders set up to aid in holding your planks in place.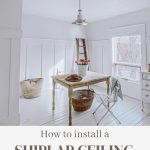 Print
How to Install a Shiplap Ceiling
Do you want to cover outdated popcorn ceilings and do you love the look of shiplap? Use this tutorial to create a beautiful shiplap ceiling.
Equipment
Mitre Saw

Nail Gun

Measuring Tape

Pencil

Ladder

Stud Finder

Chalk Line
Materials
5/16 – 1/4

" Cottage Grade Pine Planking

Liquid Nails

Dap or Caulking

Sandpaper

Paint or Wood Stain
Instructions
Before you begin, you will need to find your ceiling joists and which way they run, because you will be nailing the planks into those joints. Whichever way the joists run, you will nail your planks in the opposite direction, across the joists. You can find the joists by using a stud finder and marking them on the ceiling.

Use a chalk line to mark the joints so that you know exactly where to place your nails. For us, it was much easier as the ceiling is lath and plaster which is extremely strong so we skipped the above steps.

Place a plank and using the nail gun, secure it to the ceiling. You will want to start on one side of the room and work your way over. Make sure you are making adjustments as no room is completely square so you need to keep your boards tight together to prevent a slanted line at the end.

The planks are tongue and groove, so simply connect them together and then add a nail every 12"'s or so.

Stagger your planks as you install them. It is a more attractive look if you stagger the seams on each row by beginning every other row with a 4′ or some other different size board.

Use Dap or caulking to hide any nail holes or imperfections along the seams of the walls.

Stain or paint the planking before or after installation. I have done it both ways but prefer to paint the primer and first stain coat BEFORE installation and then finish with the final coat of stain AFTER when the panels are up.
Planked Ceiling Tips and Tricks
No room is ever totally square! It's very important to try and make the seams of the planks in the middle of the room very tight leaving any gaps on the sides. You will have to do some adjustments on the edges of the entire space but remember you can always use caulking after to touch things up. Be prepared to do a lot of cuts on your last row of planks.
Product choice is everything! For this DIY planked ceiling, the cottage-grade pine planking is a thin wood, which makes it inexpensive. They come in a package of six planks, for a total of 14 sq. ft per package. Some of the cottage-grade pine boards aren't straight, some will have lots of knots and imperfections, and some will have cracks and damage. If you are a perfectionist, you will probably want to go with a better grade of wood. I personally love the imperfections. For me, they add character to a room.
Looking for another great home DIY, check out this tutorial on how to paint the wood floors in your home.
I hope you have found this tutorial on how to install a shiplap ceiling helpful. If you do take on a ceiling, please let me know how it turns out in the comments below. Be sure to read all about the pros and cons of vaulted ceilings for another great ceiling option. As always, you can follow me over on my Instagram or YouTube channel for more tips, tricks and DIY projects.
Pin for Later